1. Dr No 1962
2. From Russia With Love 1963
3. Goldfinger 1964
4. Thunderball 1965
5. You Only Live Twice 1967
6. On Her Majesty`s Secret Service 1969
7. Diamonds Are Forever 1971
8. Live And Let Die 1973
9. The Man With The Golden Gun 1974
10. The Spy Who Loved Me 1977
11. Moonraker 1979
12. For Your Eyes Only 1981
13. Octopussy 1983
14. A View To A Kill 1985
15. The Living Daylights 1987
16. Licence To Kill 1989
17. Goldeneye 1995
18. Tomorrow Never Dies1997
19. The World Is Not Enough 1999
20. Die Another Day 2002
21. Casino Royale 2006
22. Quantum Of Solace 2008
23. Skyfall 2012
24. SPECTRE 2015
25. James Bond 25 2019

Not included in
Bondserie or
EON Productions
Casino Royale 1954
Casino Royale 1967
Never Say Never Again 1983
Producer
Albert "Cubby"Broccoli
Harry Saltzman
Barbara Broccoli
Michael G,Wilson
Writers to all Bond books
Ian Fleming
Amis Kingsley
Raymond Benson
John Gardner
Charlie Higson
Sebastian Faulks
Jeffery Deaver
Neal Purvis screenwriter
Robert Wade screenwriter
Bondbooks
James Bond actors
Barry Nelson
Sean Connery
George Lazenby
Roger Moore
Timothy Dalton
Pierce Brosnan
Daniel Craig

James Bond Composers
Monty Norman 1
John Barry 11
George Martin 1
Marvin Hamlisch 1
Bill Conti 1
Michael Kamen 1
Eric Serra 1
David Arnold 5
James Bond Music
22 Best Bondsoundtrack
Allias MI6
Moneypenny Maxwell/Bliss/Bond
Q Llewelyn/Cleese
M Lee/Brown/Dench
CIA Felix Leiter
Q = Desmond Llewelyn has
appeared in 17 Bond films
Bondgirls
Honey Ryder Ursula Andress
Britt Ekland
Izabella Scorupco
Maud Adams
Kristina Wayborn
Mary Stavin
Halle Berry JINX

Bond Villians
Jaws (Rickard Kiel)
Venz (Dolph Lundgren)

Pinewood Studios

Sir WinstonChurchill. Prime Minister twice (1940-45 and 1951-55)

Ian Flemings boss M

Pierce Brosnan Took 007 into 21st Century
Mission: Goldfinger
Released: September 20, 1964
James Bond: Sean Connery
Director: Guy Hamilton
Budget: $3.5 Million
Worldwide Boxoffice: $124.9 Million
Running Time: 111 Minutes
Villain: Auric Goldfinger
Organization: Red China
Scheme: The detonation of a nuclear device inside Fort Knox
Henchmen: Oddjob
Girls: Jill Masterson, Pussy Galore
Allies: Felix Leiter
Bond's Kill Count: 2
Bond's Conquest Count: 4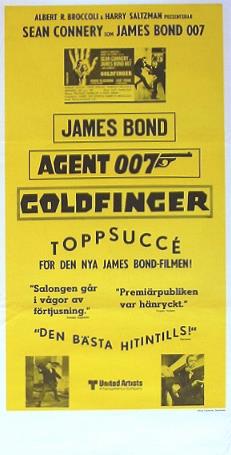 1964
Goldfinger
John Barry
Soundtrack
EP Vinyl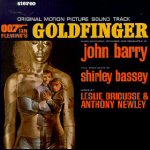 1964
Goldfinger
John Barry
Soundtrack
SNABBFAKTA
ÅR:
1964
SVENSK TITEL:
Goldfinger
VÄRLDS PREMIÄR:
17 September 1964
SVENSK PREMIÄR:
5 Februari 1965
LÄNGD:
108 min
PRODUCENTER:
Albert "Cubby"Broccoli
Harry Saltzman
REGI:
Guy Hamilton
MANUS:
Richard Maibaum
Paul Dehn
FOTO:
Ted Moore
SCENOGRAFI:
Ken Adam
KLIPPNING:
Peter Hunt
MUSIK:
John Barry
TITELMELODI:
"Goldfinger"
framförd av Shirley Bassey
INSPELAD:
Schweiz
USA
England
Pinewood Studios
FILMBOLAG:
United Artists
Actor:
Sean Connery
James Bond, 007
Honor Blackman
Pussy Galore
Gert Fröbe
Goldfinger
Shirley Eaton
Jill Masterson
Tania Mallet
Tilly Masterson
Harold Sakate
Oddjob
Cec Linder
Felix Leiter
M Lee
M
Moneypenny Maxwell
Miss Moneypenny
Q Llewelyn
Q
Michael G. Wilson
Soldat
1964Goldfinger John Barry Soundtrack EP Vinyl
GOLDFINGER (1964) James Bond Sean Connery Svenska Premiär Goldfinger

Goldfinger Mission
Agent 007 investigates a smuggling operation run by the obsessive millionaire Auric Goldfinger and uncovers a plot to irradiate the entire gold supply of the United States by detonating an atomic bomb inside Fort Knox.

Summary: Special agent 007 has just come face to face with one of the most notorious villains of all time. And now he'll have to outwit and outgun this powerful tycoon to prevent him from cashing in on a devious scheme to raid Fort Knox - and obliterate the world's economy!

Review: Over the years, Goldfinger has become known as the gold standard (sorry, couldn't resist) for Bond movies: so much so that the "Bond formula" is essentially based around this movie. It all started with the pretitle sequence, which was a mini-movie in itself. Bond quickly disrobes his wetsuit to reveal a perfectly-pressed white tuxedo underneath, quickly establishing his as a debonair and suave secret agent. He even gets his first pun in before the title sequence with "shocking, positively shocking."

The quintessential Bond movie, of course, had the quintessential Bond theme, as Shirley Bassey belts out what is, arguably, the most recognizable theme song in the entire series: except of course for the Bond tune itself…but that doesn't count.

As the movie continues, Bond continues to be on his A-game both in terms of the ladies (he hooks up with Dink and Jill before he even leaves the Miami hotel) and in regards to action. Also introduced early on, through the striking visual of his shadow against the wall, is Oddjob: yet another icon in the Bond movie canon. Without saying a word, Oddjob is both menacing and evil; he could send a shiver down the spine with a mere look. That said, his apparent invincibility to everything except raw electricity was a bit absurd and takes away from his character. For example, there's no way Bond could punch his face with a solid gold bar and not have Oddjob feel a thing.

Moving along the villain arena we come to he of "No Mr. Bond, I expect you to die!" fame: Auric Goldfinger. Due partly to the aforementioned line as well as his voice (even though it was dubbed) and his plot to detonate a nuclear device inside Fort Knox, Goldfinger is one of the most memorable villains of the series. Ken Adams also helped the cause by doing a brilliant job with the sets: especially those related to Auric. His den with rotating pool table and metal window shades truly accentuated Goldfinger's villainy.

Bad guys aside, Goldfinger features Pussy Galore, the woman with the most sexual name of the entire series. In addition, she was the first of the "bad girls" who would sleep with Bond and all of a sudden convert to the side of good. Heck, according to Ian Fleming's original source material, Bond even made her turn straight. The movie also featured Jill Masterson laying naked, dead and covered with gold paint: an image so iconic that it landed her on the cover of Life magazine.

The movie also gave us our first look at Q's laboratory with the gags in the background as well as his gadgets for Bond. The crowning glory of Q's lab was the introduction of the Aston Martin DB5 which has become synonymous with Bond. Finally, Connery has achieved the perfect Bond character and along with a great script, supporting cast, and score, he made the best performance of his Bond career.


Date of Release
World Premiere 17th September 1964, Odeon Leicester Square,
London
Running Time
130 minutes
James Bond
Sean Connery
Bond's Women
Pussy Galore (Honor Blackman)
Jill Masterson (Shirley Eaton)
Bonita – the night-club dancer (Nadja Regin)
Dink (Margaret Nolan)

Bond's Enemies
Auric Goldfinger (Gert Frobe)
Oddjob (Harold Sakata)
Capungo (Alf Joint)

Bond's Allies
Felix Leiter (Cec Linder)
Tilly Masterson (Tania Mallet)
'M' (Bernard Lee)
Miss Moneypenny (Lois Maxwell)
Q Llewelyn

Bond's Car
Aston Martin DB5

Bond's Gadgets
Aston Martin DB5 with accessories: bullet-proof windscreen, smoke screen, oil sprayer, front-wing machine guns, retractable rear bullet-proof shield, tyre-slashing hub cap blades, homer tracking screen, and front passenger ejector seat.
Homing devices for tracking vehicles / people

Main Title Music
'Goldfinger' sung by Shirley Bassey
End Title Music
'Goldfinger' sung by Shirley Bassey
Music Score
John Barry
Production Design
Ken Adam
Main Titles Designer
Robert Brownjohn
Editor : Peter Hunt
Screenplay
Richard Maibaum & Paul Dehn
Director of Photography
Ted Moore
Director
Guy Hamilton
Producers
Harry Saltzman & Albert R. Broccoli


Film Locations
Pinewood Studios, London, England
Burnham Beeches, Buckinghamshire, England
Esso oil refinery, Stanwell, England (opening sequence)
Fort Knox, Kentucky, USA
Louisville, Kentucky, USA
Miami, Florida, USA
Southend-on-Sea, Essex, England, UK
Stoke Park House, Stoke Poges, Buckinghamshire, England
Switzerland

Budget
$2.5 million

Worldwide Box Office
$124.9 million

Worldwide Box Office Gross Income 2002 inflation-adjusted
$726 million

Mission: Goldfinger
Released: September 20, 1964
Bond: Sean Connery
Director: Guy Hamilton
Budget: $3.5 Million
Worldwide Boxoffice: $124.9 Million
Running Time: 111 Minutes
Villain: Auric Goldfinger
Organization: Red China
Scheme: The detonation of a nuclear
device inside Fort Knox
Henchmen: Oddjob
Girls: Jill Masterson, Pussy Galore
Allies: Felix Leiter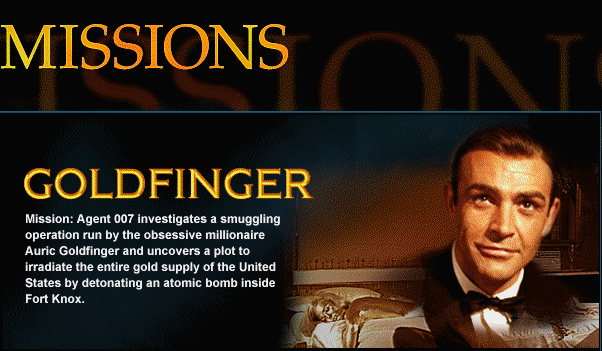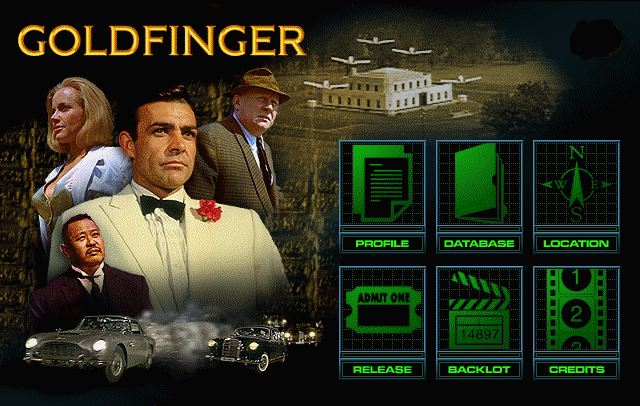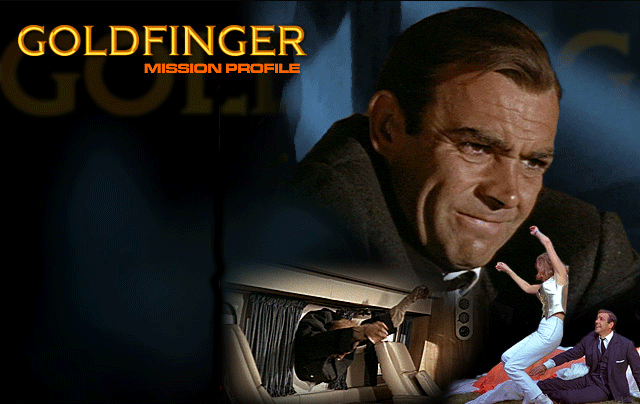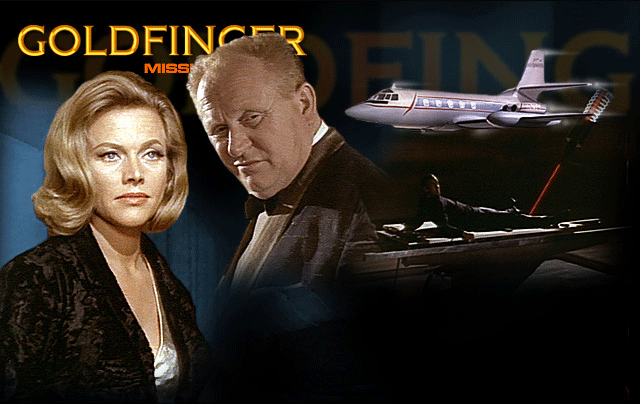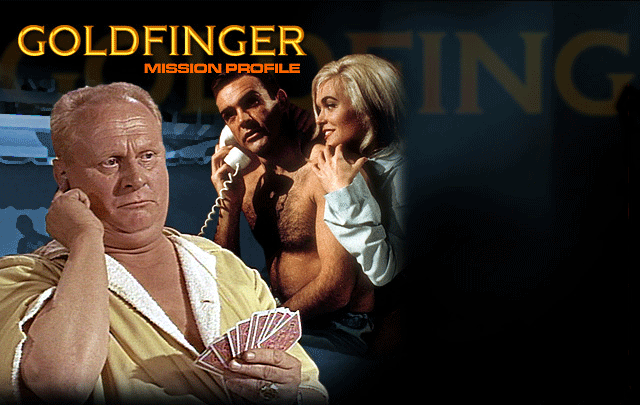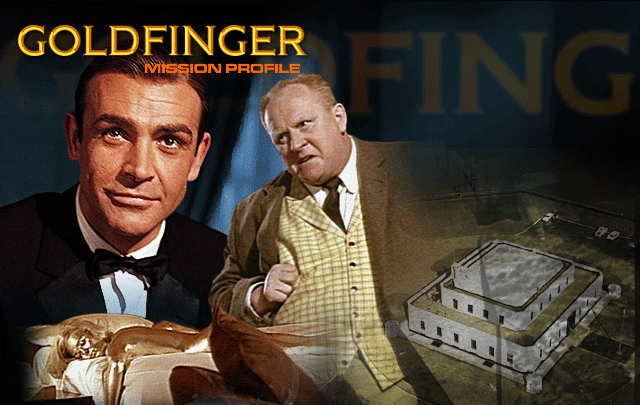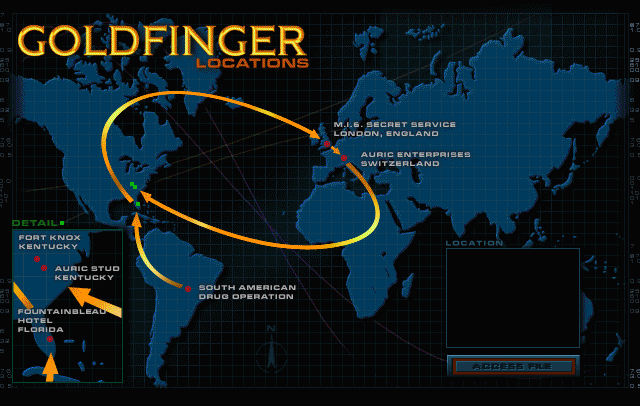 Locations Goldfinger: MI 6 London, Auric Enterprises Switzerland,
South America drug operation, Fountainblau Hotel Florida,
Fort Knox Kentucky, Auric Stud Kentucky.