.

Since 1959 James Bond 007 Museum Sweden, Nybro.
The 007 museum 1000 sq.m. world`s only James Bond 007 Museum
Emmabodav. 20, 38245 Nybro


Contact: 007museum@telia.com

Phone+4648112960 Open Daily 10-17 Sat 10-14 Media To do and see Buy/Köp info Links
James Bond Theme Party PPKGuns Omega Bmw Bollinger Corgi Cd Swatch Posters Specials James Bond store
Raymond Benson Bondförfattare 1997-2002 Ian Fleming
Raymond Benson Bondwriter 1997-2002
RAYMOND BENSON has worked as a composer, computer game designer, stage director and lecturer. His career as an author began with the publication of THE JAMES BOND BEDSIDE COMPANION, which quickly became a standard Bond reference work. Raymond Benson followed John Gardner as the official author of the James Bond novels and his first full-length 007 adventure, ZERO MINUS TEN, was published in 1997. A further five original Bond novels followed. In 2002 Raymond stopped writing Bond to concentrate on other projects, which have included the New York Times bestselling Splinter Cell novels, written under the name of David Michaels. *
Further information on Raymond's non-Bond work can be found on his
official website.

Raymond Benson is the fourth official writer of the James Bond 007 novels. The first was the character's creator, Ian Fleming. Fleming wrote twelve novels and two collections of short stories that were published in the 1950s and early 60s. Kingsley Amis was next, writing one book under a pseudonym (Robert Markham). John Gardner took over the mantle and wrote fourteen novels and two film novelizations before Raymond was hired to continue the series. (Note: Christopher Wood wrote two film novelizations and John Pearson wrote a "fictional biography" of 007 in the 1970s, but these two writers are not usually considered official Bond authors since they didn't write original novels in the oeuvre.)

Raymond Benson Bondförfattare 1997-2002

Bakgrunden är den att jag Ivan Morelius är personlig vän med Raymond Benson sedan mitten av 1980 då jag var på besök i New York under en vecka. Var där med anl. av den årliga utdelningen av årets EDGAR - alla deckarpriserna.

När så Raymond ombads att fortsätta skriva om James Bond föreslog jag och min hustru, Margareta, att han naturligtvis skulle "sätta" en thriller här i Spanien. Och så en dag kom ett mail där han berättade att nästa Ja-thriller skulle sättas i Spanien.

Jag ordnade då med Spanska kulturrådet i Torrevieja så att Raymond fick en gratis flygbiljett från New York-Alicante samt hotell för två veckor.

Han kom med sin hustru, Randi, och de stannade här i en vecka innan det var dags att med vår bil bila söderut till Malaga och Marbella, där boken skulle utspelas.

Vi hjälpte Raymond med researchen, besökte bl a Ronda, där Raymond fick sitta i samma barberastol som "the Old man" Hemingway en gång gjort. (nej, det var inte samma barberare).

Kulturrådet tog väl hand om oss och vi fick varsin svit på det 5-stjärniga hotellet i Marbella. En guide var speciellt avdelad för oss under vår vistelse i Marbella.

Ja, för att göra en lång story kort så blev kontentan av det hela boken DOUBLE SHOT och både min hustru Margareta och jag är med i boken ifråga. Jag som den mycket berömda svenska kirurgen Iwan Morelius och Margareta som en fame fatal, som faktiskt förför James Bond."

Raymond Benson var fram till 2003 den officielle författaren till James Bond 12 st böckerna.

Bondböcker efter Fleming.
Efter Flemings död har andra författare fortsatt skriva om James Bond. Kingsley Amis skrev under pseudonymen Robert Markham boken Colonel Sun (1968). Mellan åren 1981 och 1996 skrev John Gardner 16 st böcker. Sedan har Raymond Benson skrivit 12 böcker om Bond och numera är Charlie Higson den officielle Bondförfattare
BENSON, Raymond.James Bond in Doubleshot. SIGNED

BENSON, Raymond. Doubleshot. A James Bond Novel. London, Published by Hodder and Stoughton, 2000.

FIRST EDITION, FIRST IMPRESSION, With publisher's bookplate SIGNED by the author loosely inserted.

Hardback volume approx. 9.5 x 6", bound in publisher's cloth with pictorial dustwrapper.

Both the book and the dustwrapper are absolutely fine /as new. Warehoused by ourselves since publication.

The hardcover versions were printed in tiny numbers (typically around three or four thousand copies only), and all are now rather elusive.

While officially on medical leave, James Bond uncovers a murderous plot by the "Union," a shadowy criminal syndicate determined to destroy SIS and kill its most famous agent.

This novel was provisionally titled 'Doppelganger' by the author.

Raymond Benson was the fifth author appointed to write James Bond novels, following creator Ian Fleming and his successors Kingsley Amis (as Robert Markham), Christopher Wood and John Gardner. His first James Bond short story appeared in Playboy magazine, and between 1997 and 2002 Benson wrote six original series novels and three novelisations for the Pierce Brosnan 007 films 'Tomorrow Never Dies', 'The World Is Not Enough' and 'Die Another Day'.

Mr Benson was an obvious choice as he was something of a Bondian expert, having published the impressive 'James Bond Bedside Companion' in 1984, and an updated version in 1988.

As leading James Bond First Edition retailers we held several booksigning events at our shop as part of Raymond's UK visits to promote the 007 novels.

BENSON, Raymond.James Bond in Doubleshot. SIGNED
In The James Bond 007 Museum 2011-01-26

Item specifics

Adrian Harrington Rare Books

| | | | |
| --- | --- | --- | --- |
| Condition: | New: A brand-new, unused, unopened and undamaged item. | Publication Year: | 2000 |
| Author: | Raymond Benson | Language: | English |
| Format: | Hardback | Subject: | Action/Adventure |
| Series: | James Bond | Special Attributes: | 1st Edition, Signed |
Raymond's tenure as Bond author began in early 1996 and ended at the beginning of 2003. At that time Raymond felt that after six original novels, three film novelizations, and three short stories, he needed to do some things of his own. At the same time, a new administration at Ian Fleming Publications Ltd. wanted to explore a different direction with the character (the "Young Bond" series young adult readers, written by Charlie Higson). For further information about the publishing activities of Ian Fleming Publications Ltd..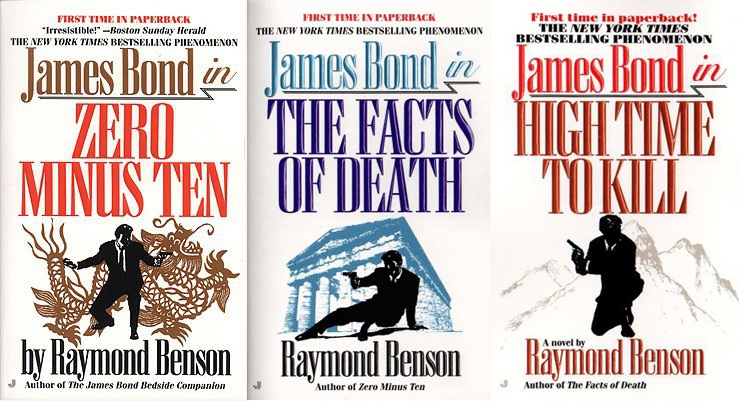 NEVER DREAM OF DYING (2001) Raymond Benson

Ett krig har brutit upp mellan världens säkerhetstjänster och The Union. Bond är på jakt efter dess ledare, den mystiske Le Gérant och hans jakt för honom bland annat till en filminspelning, skådespelerskor och till och med filmfestivalen i Cannes. Även en del gamla vänner hinner dyka upp för att hjälpa honom.


Medverkande personer:


| | |
| --- | --- |
| Le Gérant | Ledare för The Union |
| Julius Wilcox | The Unions främste mördare. |
| René Mathis | Bond gamla vän från den franska säkerhetstjänsten, som även han är på jakt efter Le Gérant. |
| Leon Essinger | Fransk filmproducent på nedgång. |
| Tylyn Mignonne | Leons fru, tillika en av världens främsta toppmodeller. Kan Bond motstå detta? |
| Bertrand Collette | SIS man i Paris (Station P). |
| Nigel Smith | Bonds nya sekreterare - en man! (M's påfund :). |
| Goro Yoshida | Japansk affärsman som anlitar The Union för ett jobb. |
| M, Miss Moneypenny och major Boothroyd (Q) | är med |
| och Bill Tanner och Felix | nämns. |

Övrig Trivia:
Boken är dedicerad 'For Max' (Raymonds son).

James Bond använder sig av gamla Walter PPK plus P99. Han använder även Walter's Tactical Knifes.
Han kör sin gamla Aston Martin DB5:a samt en hyrd Renault Mégane.

Detta är del tre i Bensons serie om brottsorganisation The Union. Den började i "High Time To Kill" och fortsatte i "Doubleshot" och avslutas nu i denna bok.

Utspelar sig i:
Frankrike, England, Monaco samt lite i USA och Kurilöarna (mellan Japan och Ryssland).

NEVER DREAM OF DYING (2001) Raymond Benson



A war has broken between the world's security services and the union.

Bond is looking for its leader, the mysterious Le Gérant and his hunt for him, among other things for a film recording, actresses and even the Cannes Film Festival.

Even some old friends may appear to help him.

Contributors:

Le Gérant
Leader of The Union
Julius Wilcox
The Union's foremost murderer.
René Mathis
Bond old friend from the French security service, who is also looking for Le Gérant.
Leon Essinger
French film producer on decline.
Tylyn Mignonne


Leon's wife, also one of the world's premier top models.

Can Bond resist this?
Bertrand Collette
SIS man in Paris (Station P).
Nigel Smith


Bond's new secretary - a man!

(M's affection :).
Goro Yoshida
Japanese businessman who hires The Union for a job.
M, Miss Moneypenny and Major Boothroyd (Q)
Is with
And Bill Tanner and Felix
mentioned.
Other Trivia:
The book is dedicated 'For Max' (Raymond's son).


James Bond uses old Walter PPK plus P99.

He also uses Walter's Tactical Knifes.
He runs his old Aston Martin DB5 and a hired Renault Mégane.


This is part three of Benson's series of crime organization The Union.

It began in "High Time To Kill" and continued in "Doubleshot" and is now terminated in this book.

Takes place in:


France, England, Monaco and little in the US and the Kuril Islands (between Japan and Russia).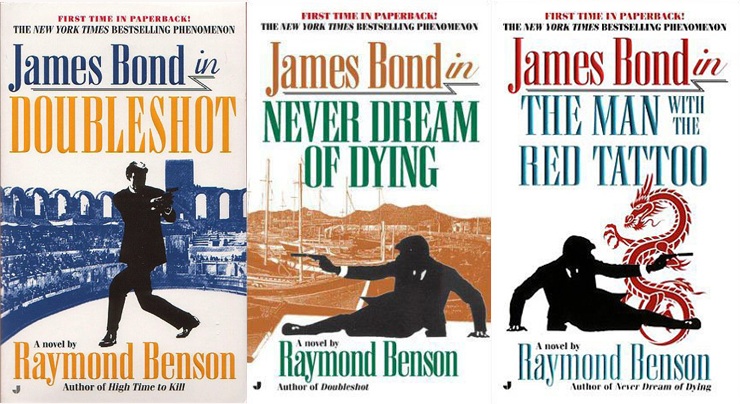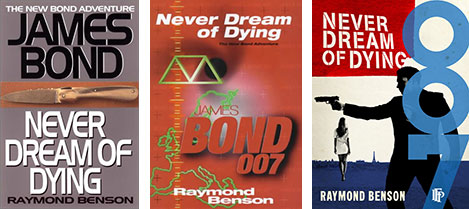 Novels
ZERO MINUS TEN (1997)
THE FACTS OF DEATH (1998)
HIGH TIME TO KILL (1999)
DOUBLESHOT (2000)
NEVER DREAM OF DYING (2001)
THE MAN WITH THE RED TATTOO (2002)
THE UNION TRILOGY (2008) (Anthology containing HIGH TIME TO KILL, DOUBLESHOT, NEVER DREAM OF DYING, and the short story BLAST FROM THE PAST)
Short Stories
BLAST FROM THE PAST (1997)
MIDSUMMER NIGHT'S DOOM (1999)
LIVE AT FIVE (1999)
Film Novelizations
TOMORROW NEVER DIES (1997)
(based on the screenplay by Bruce Feirstein)
THE WORLD IS NOT ENOUGH (1999)
(based on the screenplay by Neal Purvis & Robert Wade and Bruce Feirstein)
DIE ANOTHER DAY (2002)
(based on the screenplay by Neal Purvis and Robert Wade)
Non-Fiction
THE JAMES BOND BEDSIDE COMPANION (1984; updated 1988)
Computer Games
A VIEW TO A KILL (1985)
GOLDFINGER (1986)
Role-Playing Games
YOU ONLY LIVE TWICE II-BACK OF BEYOND (1986)
Stage Play
CASINO ROYALE (1986) (unproduced)
(based on the novel by Ian Fleming)

Geoffrey Boothroyd and Ian Fleming picture from Ivan Morelius


Bondböcker efter Fleming.

Efter Flemings död har andra författare fortsatt skriva om James Bond. Kingsley Amis skrev under pseudonymen Robert Markham boken Colonel Sun (1968). Mellan åren 1981 och 1996 skrev John Gardner 16 st böcker. Sedan har Raymond Benson skrivit 12 böcker om Bond och numera är Charlie Higson den officielle Bondförfattaren

Charlie Higson
Charles M Higson, född 3 juli 1958 i Frome i Somerset, mer känd som Charlie Higson, är en brittisk skådespelare, komiker och författare. Han har även varit manusförfattare och producent för flera brittiska tv-produktioner

Efter att ha tagit examen vid University of East Anglia i början av 80-talet sjöng Higson i bandet The Higsons från 1980 till 1986. Han arbetade sedan som hantverkare innan han började skriva för komikern Harry Enfield (som medverkade i Saturday Night Live) tillsammans med sin vän Paul Whitehouse.[1] Han började samtidigt uppträda som komiker. Tillsammans med Whitehouse skapade Higson den brittiska komediserien The Fast Show som sändes på BBC Two 1994-2000. Showen gjorde honom känd för en större publik i Storbritannien.

I april 2004 tillkännagavs att Higson fått i uppdrag att skriva en serie böcker om en ung James Bond, inriktade på Bonds skoltid på Eton, med yngre läsare som målgrupp. Den första boken, Silverfena (engelsk titel: Silverfin), släpptes på engelska i mars 2005 och ett drygt år senare på svenska. Den andra boken, Blodsfeber (engelsk titel: Blood Fever), släpptes på engelska i januari 2006 och på svenska i juni 2007. Ytterligare två böcker har släppts på engelska: Double or Die (2007) och Hurricane Gold (2007). Higson har kontrakt på ytterligare en bok, som skrivs under arbetstiteln The Shadow War (release under 2008).[

Jag har fått kontakt med en man vars namn är Iwan Morelius, Bond-fan sedan decennier, ja alltsedan den första boken publicerades i Sverige.

Iwan har varit ett Bond fan sedan 50 talet och är god vän kontakt med Raymond Benson.

Iwan kontaktade mig med anledning av Ian Flemings 100 årsdag Jag upptäckte den här webbsidan först idag när jag var på jakt efter lite fakta om den kommande Bond-thriller nästa år med anl. av Ian Flemings 100-årsdag säger Iwan till James Bond museets grundare Gunnar Schäfer eller James Bond som han nu heter .

I ett brev till James Bond museet säger Iwan

"Då slog det mig, efter att ha läst igenom Din site att jag inte någonstans kunde hitta något om att det faktiskt finns två svenskar som medverkat i en James Bond-thriller. Kunde inte det vara något att ta med i Din site?

Bakgrunden är den att jag är personlig vän med Raymond Benson sedan mitten av 1980 då jag var på besök i New York under en vecka. Var där med anl. av den årliga utdelningen av årets EDGAR - alla deckarpriserna.

När så Raymond ombads att fortsätta skriva om James Bond föreslog jag och min hustru, Margareta, att han naturligtvis skulle "sätta" en thriller här i Spanien. Och så en dag kom ett mail där han berättade att nästa Ja-thriller skulle sättas i Spanien.

Jag ordnade då med Spanska kulturrådet i Torrevieja så att Raymond fick en gratis flygbiljett från New York-Alicante samt hotell för två veckor.

Han kom med sin hustru, Randi, och de stannade här i en vecka innan det var dags att med vår bil bila söderut till Malaga och Marbella, där boken skulle utspelas.

Vi hjälpte Raymond med researchen, besökte bl a Ronda, där Raymond fick sitta i samma barberastol som "the Old man" Hemingway en gång gjort. (nej, det var inte samma barberare).

Kulturrådet tog väl hand om oss och vi fick varsin svit på det 5-stjärniga hotellet i Marbella. En guide var speciellt avdelad för oss under vår vistelse i Marbella.

Ja, för att göra en lång story kort så blev kontentan av det hela boken DOUBLE SHOT och både min hustru Margareta och jag är med i boken ifråga. Jag som den mycket berömda svenska kirurgen Iwan Morelius och Margareta som en fame fatal, som faktiskt förför James Bond."

Raymond Benson var fram till 2003 den officielle författaren till James Bond böckerna.
Copyright © 1959-2017 www.007Museum.com All Rights Reserved





James Bond 007 Museum Nybro, Sweden . www.007museum.com
Contact: 007museum@telia.com tel. +46-481-12960 .Open Daily 10.00 - 17.00 (lunch 13-14) Sat 10.00-14.00
Adress: James Bond 007 Museum, Emmabodav.20, 382 45 Nybro, Sweden 0481-12960
James Bond Materials© 1962 - 2017 United Artists Corporation and Danjaq, LLC. 007 Gun Logo© 1962 United Artists Corporation and Danjaq, LLC. 007 Gun Logo, Iris Logo,
JAMES BOND and all other James Bond related trademarks - Danjaq, LLC. All Rights Reserved. Copyright