FACTS
ÅR:
1971
UK TITEL:
Diamonds Are Forever
VÄRLDS PREMIÄR:
14 December 1971
SVENSK PREMIÄR:
20 December 1971
LÄNGD:
119 min
PRODUCENTER:
Harry Saltzman
Albert R. Broccoli
REGI:
Guy Hamilton
MANUS:
Richard Maibaum
Tom Mankiewicz
FOTO:
Ted Moore
SCENOGRAFI:
Ken Adam
KLIPPNING:
Bert Bates
John W. Holmes
MUSIK:
John Barry
TITELMELODI:
"Diamonds Are Forever"
framförd av Shirley Bassey
INSPELAD:
USA
Tyskland
Frankrike
England
Pinewood Studios
FILMBOLAG:
United Artists
Skådespelare
| | |
| --- | --- |
| Sean Connery | James Bond, 007 |
| Jill St. John | Tiffany Case |
| Charles Gray | Ernst Blofeld |
| Lana Wood | Plenty O'Toole |
| Jimmy Dean | Willard Whyte |
| Bruce Cabot | Burt Saxby |
| Putter Smith | Mr. Kidd |
| Bruce Glover | Mr. Wint |
| Norman Burton | Felix Leiter |
| Joseph Fürst | Dr. Metz |
| Bernard Lee | M |
| Desmond Llewelyn | Q |
| Leonard Barr | Shady Tree |
| Lois Maxwell | Miss Moneypenny |
| Margaret Lacey | Mrs. Whistler |
| Joe Robindon | Peter Franks |
| David De Keyser | Doctor |
| Laurence Naismith | Sir Donald Munger |
| David Bauer | Mr. Slumber |
| Marc Lawrence | Attendant |
| Sid Haig | Attendant |
| John Abineri | Airline Representative |
| Ray Baker | Helicopter Pilot |
| Ed Bishop | Klaus Hergerscheimer |
| Nicky Blair | Doorman |
| Larry J. Blake | Barker |
| Edward Call | Maxie |
| Dick Crockett | Crane Operator |
| Catherine Deeney | Welfare Worker |
| Gary Dubin | Boy |
| CLifford Earl | Immigration Officer |
| Marl Elwes | Sir Donald's Secretary |
| Brinsley Forde | Houseboy |
| Donna Garratt | Bambi |
| David Healy | Vandenburg Launch Director |
| Karl Held | Agent |
| Bill Hutchinson | Moon Crater Controller |
| Janos Kurucz | Aide to Metz |
| Max Latimer | Blofeld's Double |
| Frank Man | Moon Crater Guard |
| Burt Metcalf | Maxwell |
| Frank Olegario | Man in Fez |
| Trina Parks | Thumper |
| Denise Perrier | Marie |
| Valerie Perrine | Unnamed Las Vegas Showgirl |
| Shane Rimmer | Tom |
| Henry Rowland | Dentist |
| Gordon Ruttan | Vandenburg Aide |
| Jay Sarno | Sideshow Barker |
| Tom Steele | Guard |
| Michael Valente | Attendant |
| Constantin de Goguel | Aide to Metz |
EON Productions movies
1. Dr No 1962
2. From Russia With Love 1963
3. Goldfinger 1964
4. Thunderball 1965
5. You Only Live Twice 1967
6. On Her Majesty`s Secret Service 1969
7. Diamonds Are Forever 1971
8. Live And Let Die 1973
9. The Man With The Golden Gun 1974
10. The Spy Who Loved Me 1977
11. Moonraker 1979
12. For Your Eyes Only 1981
13. Octopussy 1983
14. A View To A Kill 1985
15. The Living Daylights 1987
16. Licence To Kill 1989
17. Goldeneye 1995
18. Tomorrow Never Dies1997
19. The World Is Not Enough 1999
20. Die Another Day 2002
21. Casino Royale 2006
22. Quantum Of Solace 2008
23. Skyfall 2012
24. Spectre 2015
25. James Bond 25 2019

Producer
Albert "Cubby"Broccoli
Harry Saltzman
Barbara Broccoli
Michael G,Wilson

"Diamonds Are Forever" Mission
Following a trail that leads from the canals of Holland to the neon streets of Las Vegas, James Bond uncovers a plot by Blofeld to use the world's supply of diamonds to create a high powered laser satellite capable of destroying any target on earth, and it's aimed at Washington.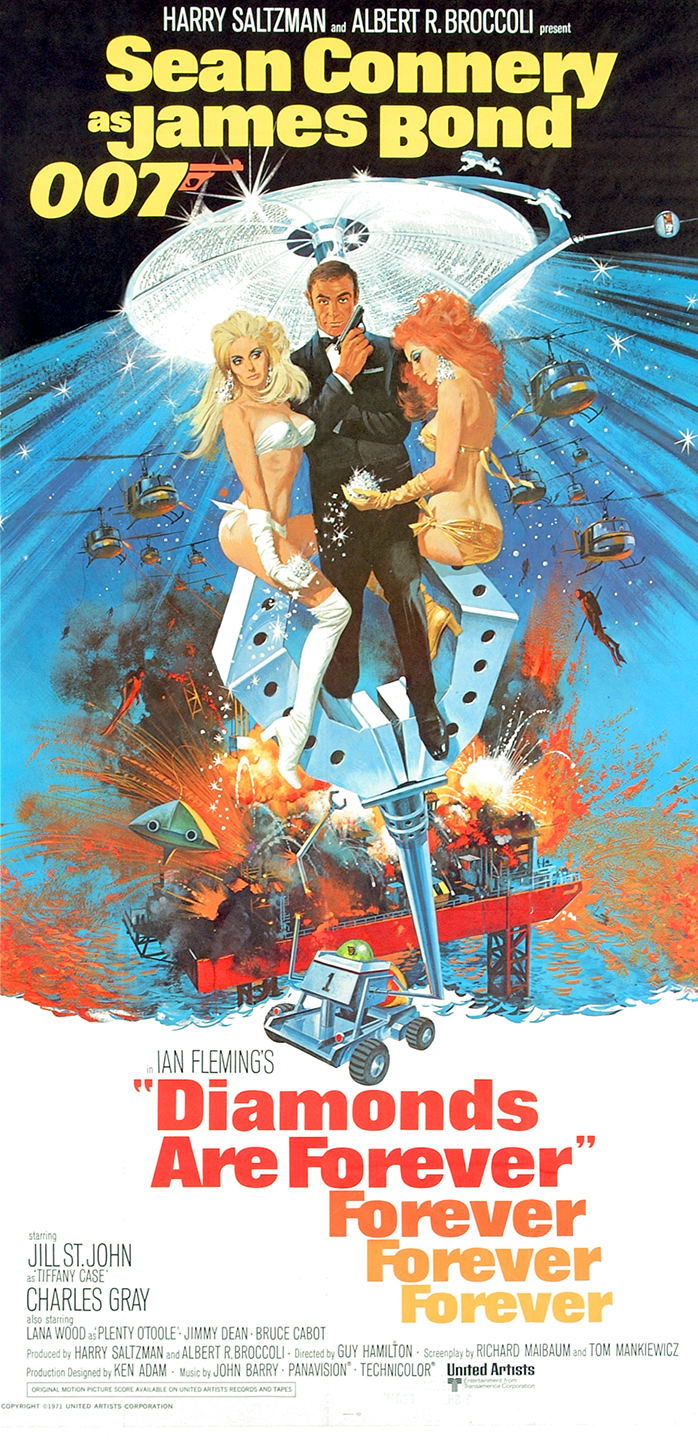 "Diamonds Are Forever"
Agent 007 chasing diamond smugglers. British action from 1971. When you discover that there is a wide diamond smuggling in South Africa called agent James Bond into. His mission is to stop smuggling, but he fails. Now, Bond must instead look for the weapons of destruction were built of stones and destroy it. The British action film Diamonds Are Forever 1971 is the seventh film about the British agent James Bond. A batch of diamonds disappear and intelligence becomes perplexed when they are not sold on the world market.
After killing Bond's wife in the previous film, 007 wants revenge on Blofeld. In the first scenes Bond aggressively extracts information from several people on the whereabouts of his nemesis. Meanwhile, Blofeld is performing plastic on a goon. When they leave, 007 makes his entrance disguised as a guard that he earlier dispatched. Bond is attacked by the mud bather and triumphs, only to be met with Blofeld and his two guards. After some pithy dialogue, a fight ensues and once again Bond is victorious. The two guards are dealt with he gets his time alone with Blofeld. After tying him to a stretcher, Bond pushes him into the mud pit and leaves.

Sir Sean Connery James Bond
The title is taken from Ian Fleming's fourth novel. Although diamonds are central to the plot of the film, the title is never mentioned. However, the phrase is used in dialogue in the 2002 film "Die Another Day".
Distinguishing feature
Connery's return. Tempted back into the Bond role for a then record sum of $1.25m plus a percentage of the profits. He donated the entire sum to his Scottish International Educational Trust.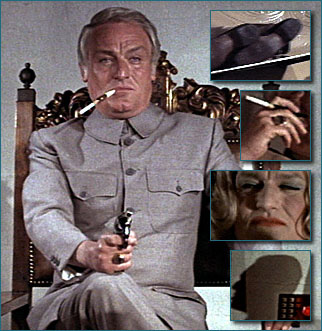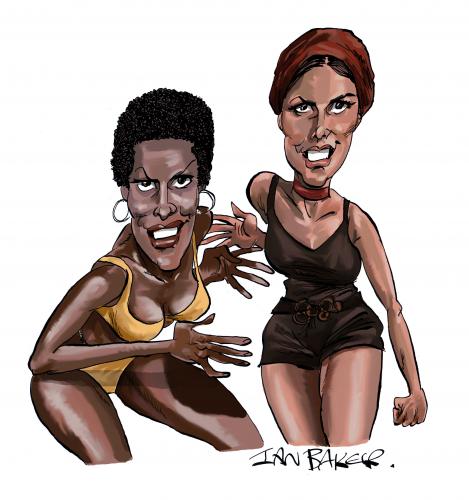 Q ring diamonds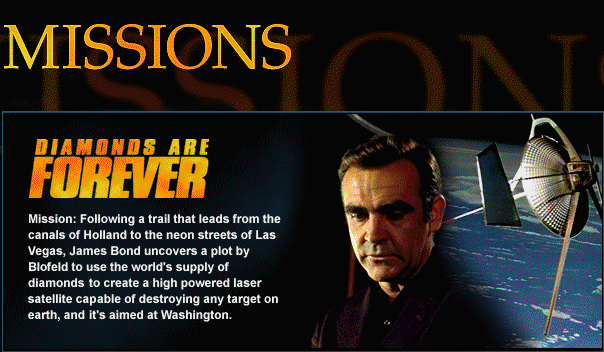 Sir Sean Connery James Bond MISSIONS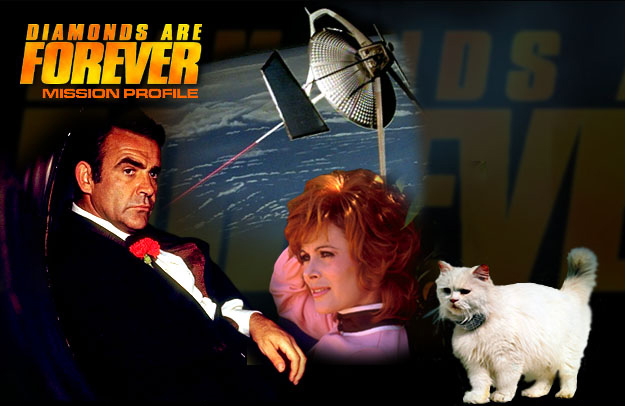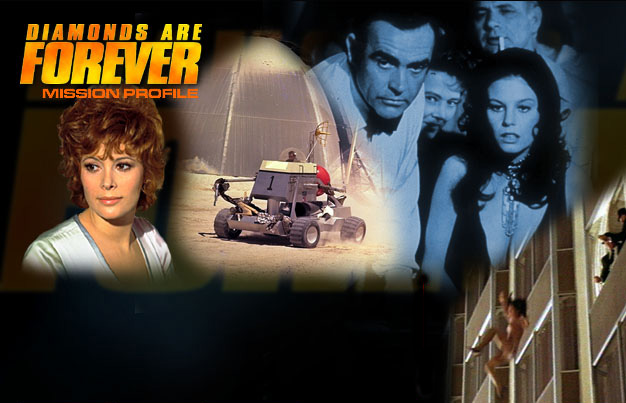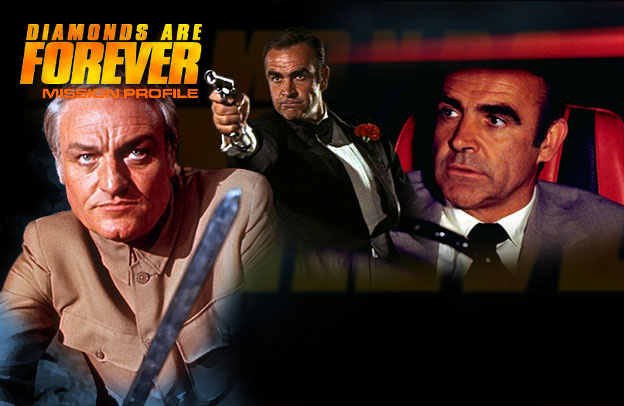 Sir Sean Connery James Bond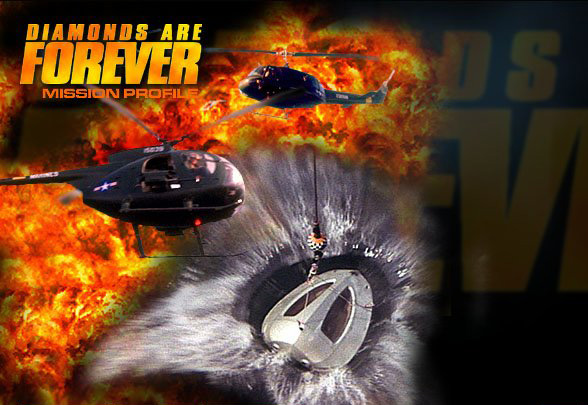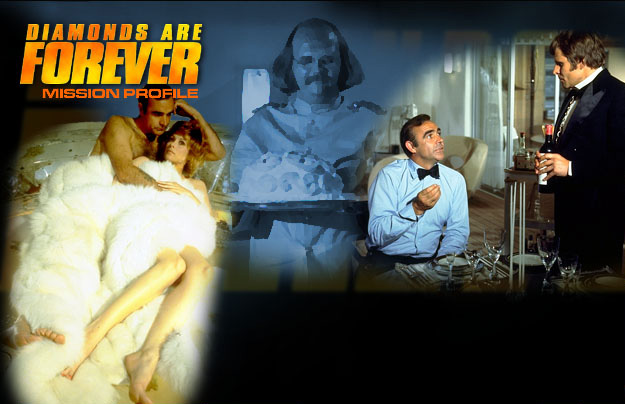 Sir Sean Connery James Bond