Gunnar Schäfer name is James Bond Visitors in James Bond Museum Sweden

.

Since 1959 James Bond 007 Museum Sweden, Nybro.
The 007 museum 1000 sq.m. world`s only James Bond 007 Museum
Emmabodav. 20, 38245 Nybro


Contact: 007museum@telia.com

Phone+4648112960 Open Daily 10-17 Sat 10-14 Media To do and see Buy/Köp info Links
James Bond Theme Party PPKGuns Omega Bmw Bollinger Corgi Cd Swatch Posters Specials James Bond store
Maxwell gjorde rollen för första gången i "Dr No - Agent 007 med rätt att döda" från 1962 och hade senast på sig sekreterarskruden i "Levande måltavla" från 1985
Och jag tror att James Bond egentligen villa bli tillsammans med Miss Monnepenny och vise versa.

Bond says! Moneypenny... A feast for my eyes

Roger Moore in A For Your Eyes Only

Lois "Moneypenny" Maxwell död. Woman who provided the inspiration for Miss Moneypenny dies aged 88 Kvinna som gav inspiration till Miss Moneypenny avlider 88 år.
Lois Maxwell, who starred as Miss Moneypenny in 14 the James Bond movies, has died , 80 years old.
En samling med ljudfiler från många av Miss Moneypennys filmer. En hyllnig till Lois Maxwell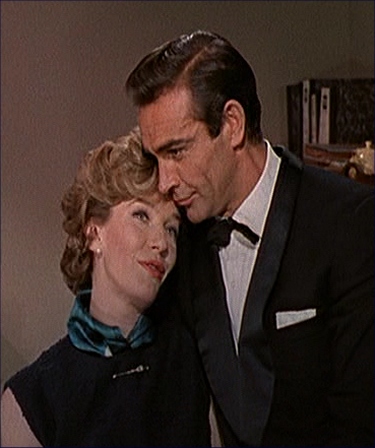 Pqersonal
information
Lois Maxwell playing Miss Moneypenny
Born in Kitchener, Ontario, Canada on 14th February 1927
Starred In Dr No (1962), From Russia with Love (1963), Goldfinger (1964), Thunderball (1965), You Only Live Twice (1967), On Her Majesty's Secret Service (1969), Diamonds Are Forever (1971), Live and Let Die (1973), The Man with the Golden Gun (1974), The Spy Who Loved Me (1977), Moonraker (1979), For Your Eyes Only (1981), Octopussy (1983) and A View To A Kill (1985).
film
information
Miss Moneypenny played by Lois Maxwell appears in fourteen James Bond films from Dr No up to and including A View To A Kill. In Dr No, Miss Moneypenny establishes the relationship with Bond that would remain for the next twenty-three years. In From Russia With Love, Miss Moneypenny still attempts to seduce James Bond but to no avail.
Moneypenny furthers her attempts to get Bond to visit her by promising to bake him a cake in Goldfinger, but Bond politely declines however when he tells her he has a business appointment. After telling him that's the flimsiest excuse he has even given, M calls through on the radio telling Moneypenny that Bond is dining with him tonight, giving her renewed hope.
Miss Moneypenny continues her flirts with Bond in Thunderball, although is caught out by M when she refers to him as 'the old man'. In You Only Live Twice, Miss Moneypenny tries to trick Bond into repeating his Japanese SIS codeword ("I love you") to her, but Bond gets wise to the plan. Moneypenny gets some comfort however in following M's orders to tell Bond to report whilst Bond enjoys a romantic moment with Kissy Suzuki.
On Her Majesty's Secret Service showcases perhaps the most important and impressive Miss Moneypenny scenes for Lois Maxwell. After telling Moneypenny to hand in his resignation into M, Bond is upset and disappointed when M approves the memo without comment; that is until Moneypenny advises him to read the memo – two weeks leave. In an emotional scene at Bond's wedding, Bond throws his hat at a crying Moneypenny before leaving for his honeymoon. Diamonds Are Forever sadly features only a small scene with Miss Moneypenny. Appearing as a customs officer at Dover, Moneypenny works with Bond to take on the identity of Peter Franks. When asked if he can bring her anything back from Holland, Moneypenny replies to Bond, "A diamond, in a ring" leaving him to comment "would you settle for a tulip?"
Live And Let Die only features Miss Moneypenny in a short scene where she helps Miss Caruso hide from M in Bonds closet. After she thinks she has a chance in The Man With The Golden Gun after Bond calls her 'darling', she sulks into M's office when Bond is only trying to get information from her. Once more Miss Moneypenny is barely seen in The Spy Who Loved Me who appears in two extremely short scenes. Sadly, once again Moonraker fares badly for Miss Moneypenny who appears in only a couple of very small scenes. For perhaps the first time Moneypenny flirts with Roger Moore's James Bond in For Your Eyes Only, like the excellent scenes with Sean Connery's Bond.
Octopussy marks the penultimate appearance of Lois Maxwell's Miss Moneypenny. Bond is treated to a delight when he sees the beautiful Miss Penelope Smallbone, Moneypenny's new assistant. Bond amusingly covers his interests in Miss Smallbone by not too convincingly telling Moneypenny how beautiful she also is. Unfortunately A View To A Kill marks the last appearance of Miss Moneypenny played by Lois Maxwell. She does however end her famous participation in the Bond series by accompanying Bond, M and Q to the horse racing at Royal Ascot where she gets perhaps too involved in the racing!
character
information
Secretary to M, Miss Moneypenny is always happy to welcome Bond for his meeting with M. Since Dr No, Miss Moneypenny has held a special relationship with Bond, flirting with him at any opportunity, hoping the world's most famous secret agent will succumb to her charms.
Lois Maxwell is the classic Moneypenny. Her scenes with Bond are comical and always welcome in the film. Bond enjoys her numerous flirtations, however their relationship never goes any further. Her portrayal of Moneypenny is loyal, caring, hoping (!) and a very good friend. She is always the first person to help Bond if she can, and does so on many occasions. §
MGM MOVIES FEATURING:


Lois Maxwell 14 movies

Movie
Role
Diamonds Are Forever
Supporting Cast
Dr. No
Supporting Cast
For Your Eyes Only
Supporting Cast
From Russia With Love
Supporting Cast
Goldfinger
Cast
Live And Let Die
Supporting Cast
The Man With The Golden Gun
Supporting Cast
Moonraker
Supporting Cast
Octopussy
Supporting Cast
On Her Majesty's Secret Service
Supporting Cast
The Spy Who Loved Me
Supporting Cast
Thunderball
Supporting Cast
You Only Live Twice
| | |
| --- | --- |
| Caroline Bliss .... Miss Moneypenny Caroline Bliss .... Miss Moneypenny | Miss Moneypenny played by Samantha Bond |
| | |
Copyright © 1959-2017 www.007Museum.com All Rights Reserved





James Bond 007 Museum Nybro, Sweden . www.007museum.com
Contact: 007museum@telia.com tel. +46-481-12960 .Open Daily 10.00 - 17.00 (lunch 13-14) Sat 10.00-14.00
Adress: James Bond 007 Museum, Emmabodav.20, 382 45 Nybro, Sweden 0481-12960
James Bond Materials© 1962 - 2017 United Artists Corporation and Danjaq, LLC. 007 Gun Logo© 1962 United Artists Corporation and Danjaq, LLC. 007 Gun Logo, Iris Logo,
JAMES BOND and all other James Bond related trademarks - Danjaq, LLC. All Rights Reserved. Copyright