Gunnar Schäfer name is James Bond Visitors in James Bond Museum Sweden

.

Since 1959 James Bond 007 Museum Sweden, Nybro.
The 007 museum 1000 sq.m. world`s only James Bond 007 Museum
Emmabodav. 20, 38245 Nybro


Contact: 007museum@telia.com

Phone+4648112960 Open Daily 10-17 Sat 10-14 Media To do and see Buy/Köp info Links
James Bond Theme Party PPKGuns Omega Bmw Bollinger Corgi Cd Swatch Posters Specials James Bond store
Woman who provided the inspiration for Miss Moneypenny dies aged 88 Kvinna som gav inspiration till Miss Moneypenny avlider 88 år skriver TIMES idag.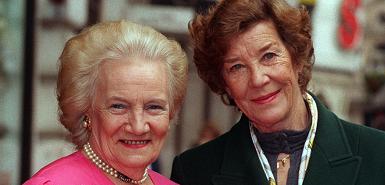 Dame "Paddy" Ridsdale, left, with Lois Maxwell, who played Miss Moneypenny, M's secretary, in 14 James Bond films.
Underrättelsetjänsten sekreterare som inspirerade karaktär av Miss Moneypenny i James Bond-berättelser har avlidit 88 år.
Dame Victoire "Paddy" Ridsdale gång beskrevs Ian Fleming som "definitivt James Bond i hans sinne". Dame Paddy var definitivt Miss Moneypenny - eller åtminstone en del av henne.
Fleming och Dame Paddy, Paddy Bennett, var kolleger i krigstid Naval Intelligence Institution: han var assistent till Chief of Naval Intelligence, hon var en sekreterare och en mest fruktansvärda en, med åtminstone några av de egenskaper som förknippas med Flemings näst mest älskade skapelse.
Dame Paddy gjorde ingenting för att dämpa spekulationer om att hon hade varit en modell för Moneypenny, även om det finns andra utmanare.
Läs mera på http://www.007museum.com/moneypenny.htm
Copyright © 1959-2017 www.007Museum.com All Rights Reserved





James Bond 007 Museum Nybro, Sweden . www.007museum.com
Contact: 007museum@telia.com tel. +46-481-12960 .Open Daily 10.00 - 17.00 (lunch 13-14) Sat 10.00-14.00
Adress: James Bond 007 Museum, Emmabodav.20, 382 45 Nybro, Sweden 0481-12960
James Bond Materials© 1962 - 2017 United Artists Corporation and Danjaq, LLC. 007 Gun Logo© 1962 United Artists Corporation and Danjaq, LLC. 007 Gun Logo, Iris Logo,
JAMES BOND and all other James Bond related trademarks - Danjaq, LLC. All Rights Reserved. Copyright