007museum@telia.com

EON Productions movies
1. Dr No 1962
2. From Russia With Love 1963
3. Goldfinger 1964
4. Thunderball 1965
5. You Only Live Twice 1967
6. On Her Majesty`s Secret Service 1969
7. Diamonds Are Forever 1971
8. Live And Let Die 1973
9. The Man With The Golden Gun 1974
10.The Spy Who Loved Me 1977
11.Moonraker 1979
12.For Your Eyes Only 1981
13.Octopussy 1983
14.A View To A Kill 1985
15.The Living Daylights 1987
16.Licence To Kill 1989
17.Goldeneye 1995
18.Tomorrow Never Dies1997
19.The World Is Not Enough 1999
20.Die Another Day 2002
21.Casino Royale 2006
22.Quantum Of Solace 2008
23. Skyfall 2012
24. SPECTRE 2015
25. James Bond 25 2019
26. James Bond 26 2021
27. James Bond 27 2024
28. James Bond 28 2027
29 .James Bond 29 2030
30 James Bond 30 2033

Not included in
Bondserie or
EON Productions
Casino Royale 1954
Casino Royale 1967
Never Say Never Again 1983
Producer
Albert "Cubby"Broccoli
Harry Saltzman
Barbara Broccoli
Michael G,Wilson
Writers to all Bond books

James Bond Homepage
Ian Fleming
Amis Kingsley
Raymond Benson
John Gardner
Charlie Higson
Sebastian Faulks
Jeffery Deaver
William Boyd Solo
Audiobooks Ian Fleming
Neal Purvis screenwriter
Robert Wade screenwriter
Bondbooks
James Bond actors
Barry Nelson
Sean Connery
George Lazenby
Roger Moore
Timothy Dalton
Pierce Brosnan
Daniel Craig

James Bond Composers
Monty Norman 1
John Barry 11
George Martin 1
Marvin Hamlisch 1
Bill Conti 1
Michael Kamen 1
Eric Serra 1
David Arnold 5
James Bond Music
22 Best Bondsoundtrack
Allias MI6
Moneypenny Maxwell/Bliss/Bond
Q Llewelyn/Cleese
M Lee/Brown/Dench
CIA Felix Leiter
Q = Desmond Llewelyn has
appeared in 17 Bond films
MI6
CIA
Bondgirls
Honey Ryder Ursula Andress
Britt Ekland
Izabella Scorupco
Maud Adams
Kristina Wayborn
Mary Stavin
Halle Berry JINX
Vesper Lynd Eva Green
Bond Villians
Jaws (Rickard Kiel)
Venz (Dolph Lundgren)
Lars Lundgren
Pinewood Studios
"I don't think that Bond is a role model or that he should be a role model. He's only part of a particular kind of story. I don't think anyone should grow up wanting to go around killing people. I don't think anyone should grow up wanting to be a secret agent."
In the 1980s, Dalton began to work on an increasing number of American productions, finding the public lack of interest in the stage disheartening. His short stint in the US included "Chanel Solitaire" a moody biopic of Gabrielle 'Coco' Chanel, and the Hughes picture "Sextette". Dalton returned to London to shoot the pulpy action flick, "Flash Gordon" and tried his hand as a presenter in this era - hosting a variety of documentaries, notably "Survival Factor" which aired in 1987. In the late 1980s, Dalton returned to the UK once more and committed two further Shakespearian roles to his CV - "Antony and Cleopatra" in 1983 and "The Taming of The Shrew" in 1988 - both for the BBC.
In the Bond world, Moore's contract was drawing to a close and it soon became clear that he would not be renewing his double-oh licence. Dalton was called to audition for 007, now a more worldly actor, where he performed two scenes from "6. On Her Majesty`s Secret Service" - the film he turned down. Although he was offered the part almost immediately, Dalton took two weeks to accept the role. The classically trained actor was able to step into the super-spy's shoes last minute, as a theatre run Dalton was performing in was about to close and the other hot name - Pierce Brosnan - was tied to the US hit show "Remmington Steele".
Timothy Dalton

Facts
Full Name: Timothy Peter Dalton
Date of Birth: 21st March 1946
Place of Birth: Colwyn Bay, North Wales
Height: 6' 2" (1.88m)
Only Bond: The only Bond to have performed with the Royal Shakespeare Company before becoming 007.

Bondography
1987 - The Living Daylights
1989 - Licence To Kill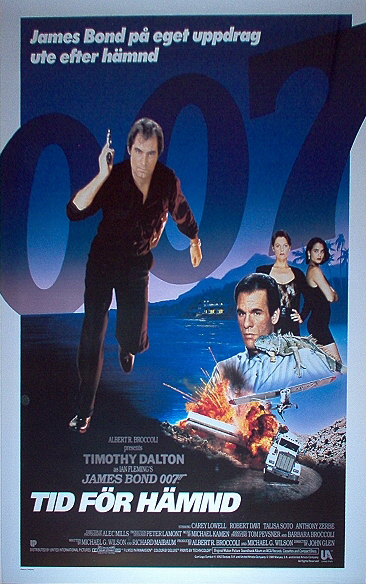 Biography
Timothy Peter Dalton was born on the 21st of March 1946 to an American mother and English father, who was both a solider and a successful advertising agent. The eldest of five in the family, Dalton grew up in Colwyn Bay, Wales, where they resided from the time of his birth. At the age of four, the Dalton family moved to Belper in Derbyshire (just south of Manchester), England, where the young Timothy was enrolled in a local Grammar school in Manchester - he thrived on sports and sciences before catching the acting bug.
During his school years, he attended several stage and theatre productions including Shakespeare's "Macbeth", which reportedly inspired Dalton to make a career on the stage. Also in school, Dalton first performed in "Arms and the Man" - a George Bernard Shaw play in which Timothy played Sergius, a gallant war hero. Dalton continued to perform on stage in a variety of productions, including "Billy Lair" at a local theatre. Dalton began his professional dramatic career on tour with the National Youth Theatre. In 1964 he won a role with the company's Shakespearian production of "Coriolanus" at London's Queen's Theatre.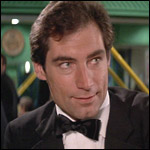 After leaving high school and with an already impressive resumé, Dalton won a place in the prestigious Royal Academy of Dramatic Arts in London. He never completed his course at RADA, and freely admitted that he found teaching was no substitute for intuition or experience when it came to acting. After dropping out early, Dalton set about finding an acting job. In 1966 he was welcomed back to the National Youth Theatre in London where he won the lead and title role in "Little Malcolm and His Struggle against the Eunuchs" as well as "A Game Called Arthur".
Through his work with the Youth Theatre, Dalton began to build on his range of roles and broaden his talents as an actor. After a run of "Little Malcolm And His Struggle Against The Eunuchs" Dalton was signed to the Birmingham Repertory Theatre. Soon after accepting that contract, Dalton's workload doubled as he began to be noticed by a range of influential film and television personalities. In the late 1960's, he was picked up for a role in "Sat'day While Sunday", a north-London based mini series in which he featured in 11 episodes. The production shot during the day every Saturday and Sunday so that Dalton could still fulfill his contract with the Repertory Theatre.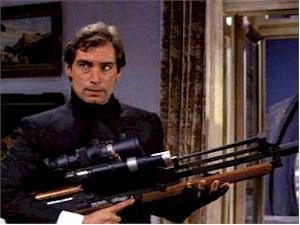 In 1968, Dalton made his breakthrough in to cinema in the Academy Award winning drama "The Lion In Winter". Based on the play by James Goldman, Dalton made his film debut as King Philip of France in this production. He played opposite screen legends such as Peter O'Toole (who had recommended Dalton for the role), Anthony Hopkins (who also made his Hollywood break with this picture), and of course the stunning Katharine Hepburn.
After this auspicious start in film, Dalton returned to local UK stage productions before winning a role in the BBC's "The Three Princes" which aired on UK television in the winter of 1968. Through carefully selecting each job and being ever determined to make the very best of each part he took on, Dalton began to develop a name for himself in the industry. It was in '68 that he was first approached by Bond producers, Albert "Cubby"Broccoli and Harry Saltzman to star in their latest Bond picture - " On Her Majesty`s Secret Service". Dalton turned down the role out of respect for the character, feeling he was too young to accurately play the famous British spy. However, he left a distinct impression with Broccoli, who vowed he would not take no for an answer next time.
Dalton continued to work an impressive and varied career as an actor and stage producer - taking on roles in the film adaptation of "War and Peace" and 1979's "Agatha", a biopic of crime-writer Agatha Christie, all the while developing his real dramatic passion: Shakespeare on stage.
Dalton performed on stage in "Royal Hunt Of The Sun" and "Mary Queen Of Scots" alongside Vanessa Redgrave during 1970, and portrayed Macbeth in Shakespeare's great tragedy the following year.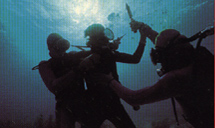 He would not return to the big screen until 1970 when Ken Hughes offered him the role of Price Rupert in his historical drama "Cromwell". Eight years later, Hughes and Dalton would work again on "Sextette", a more modern production than those in his previous resume but one that would begin to make Dalton a more globally recognised name.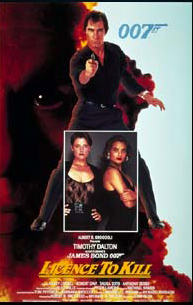 Americanized to "License To Kill" (with an "s"), but the British version won out. The title is referred to by M when 007 quits the secret service - "effective immediately, your licence to kill is revoked"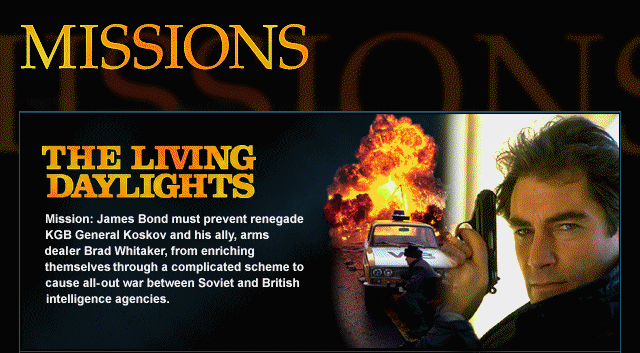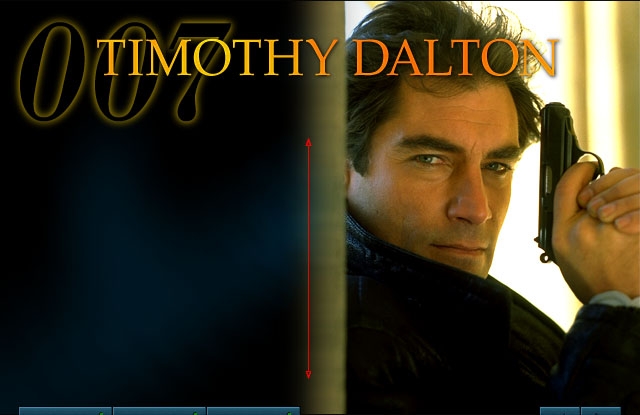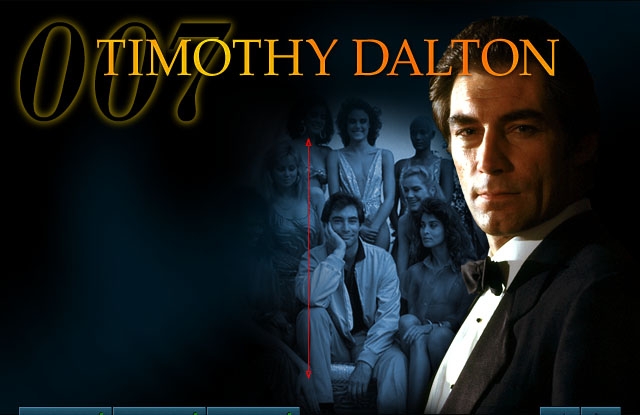 Dalton was introduced to the world as James Bond on August 7th 1986, and a month later was whisked to Vienna, Austria to begin location shooting for his first 007 adventure "The Living Daylights". While at first Dalton was weary of his newfound fame Bond had thrust upon him, he delivered a remarkable performance as 007 and held the job in the highest respect. Dalton brought a Fleming-esque realism to the shoot and the writers of the day made many alterations to suit Dalton's Bond. Despite the disappointing revenue and severe lack of publicity for his second outing "Licence To Kill ", Dalton had intentions of a 3rd Bond picture - as his 007 contract extended him until the early 1990s. After the legal battles put a delay on Bond 17, Dalton stood down from the role of 007 in a Variety-covered press release on April 12th, 1994.
After his short stint onscreen as 007, Dalton continued to perform regularly in theatre and dabbled in the US movie market with Disney's "The Rocketeer" and even signed onto a big-budget biopic of Christopher Columbus, later bowing out of the production due to disagreements and a change of creative staff.
In 1994 Dalton took the lead in "Scarlet" a brilliant historical drama and the follow up to "Gone With The Wind". The period mini series clinched two Emmy awards for art direction and hair and makeup. That same year Dalton read "Peter and the Wolf" to two sellout crowds at a live performance at Los Angeles' Hollywood Bowl.
Dalton appeared in many productions with British star Vanessa Redgrave and while nothing was ever formalised, Dalton remained close friends with the actress from 1980 until 1994. Dalton was later married for a short spell to Russian composer Oksana Grigorieva with whom he had one son, Alexander. Dalton resides in Los Angeles today performing in selected films and stage productions.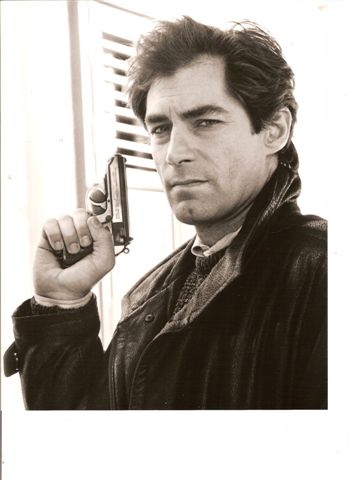 The Volksoper Vienna in The Living Daylights 1987
Volksoper house in Vienna
Over 150 Singers
95 orchestral musicians
64 choir members
over 100 dancers
218 technicians
1.000 surprises
in one single house!