Awaiting Direction
Lazenby twirls a gun beside potential Bond girl Marie-France Boyer. "I'm really looking forward to being Bond, for the bread and the birds," he told LIFE after his casting.
Photo: Loomis Dean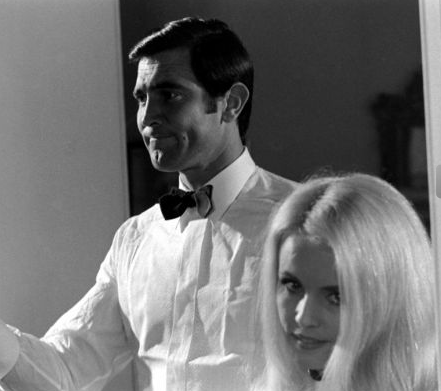 George Lazenby

Facts:
Full Name: George Robert Lazenby
Date of Birth: 5th September 1939
Place of Birth: Queanbeyan, NSW, Australia
Height: 6' 2" (1.88m)
Also Famous For: Universal Solider,
The Kentucky Fried Movie
Films: 1
Active Duty: 1969
Only Bond: The only 007 actor/athlete, winning two ski competitions in Australia.

Bondography
1969 - On Her Majesty's Secret Service
Bedside Manner
The actor looks comfortable beside Bond-girl hopeful Agneta Eckemyr — but once filming began, rumors sprouted that Lazenby had personality conflicts with the woman ultimately cast as his love interest Tracy, Avengers star Diana Rigg. Opinions about the movie they made are split — initially there was much grumbling about Lazenby's performance as compared with Connery's, but the years have been kind to On Her Majesty's Secret Service (Entertainment Weekly ranks it the sixth best of the franchise).
Photo: Loomis Dean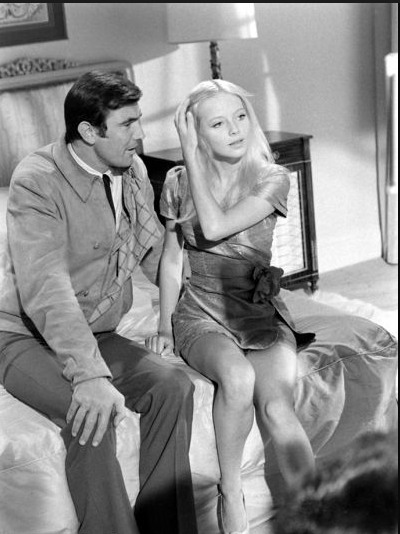 George Lazenby" On Her Majesty's Secret Service 1969" Bond-girl hopeful Swdedish Agneta Eckemyr
Character information
The producers of James Bond introduced George Lazenby to worldwide audiences in a way that is used for lots of other characters throughout the Bond films. As with Sean Connery in Dr No, and Ernst Stavro Blofeld in You Only Live Twice, the audience only gets to see parts of the character before they are introduced. Bond is seen lighting a cigar, the back of him, and him looking at Teresa Di Vicenzo through a telescopic sight. It is not until Bond rescues Tracy from the sea, that George Lazenby introduces himself to Tracy in James Bond's classic way.
Numerous elements where inserted into On Her Majesty's Secret Service to convince audiences that George Lazenby was still James Bond. The credits showed scenes from previous films slipping through an hourglass and a scene in James Bond's apartment where he examines famous artefacts from previous films. Unfortunately due to only doing one film George Lazenby did not really have chance to develop his character of James Bond. Who knows what would have happened if George Lazenby would have continued to develop his character in subsequent films, in his role as Bond, James Bond.