Quantum of Solace

by
Soundtrack

October 28, 2008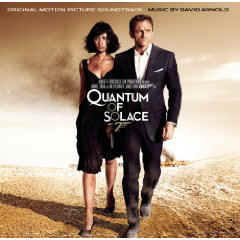 5.Somebody wants to kill you
7.Pursuit at Port Au Prince
8.No interest in dominic greene
10.Restrict Bond's movement
12.What's keeping you awake
20.Have you ever killed someone?
22.The dead don't care about vengeance
24.Another way to die - Jack White & Alicia Keys
Casino Royale

by
Soundtrack
November 14, 2006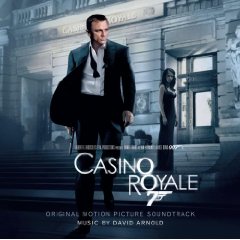 18.The End Of An Aston Martin
22.Fall Of A House In Venice
25.The Name's Bond....James Bond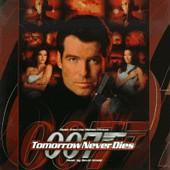 Tomorrow Never Dies CD
Music by David Arnold 1997
THE ORGINAL SOUNDTRACK
Tomorrow Never Dies: Music From The Motion Picture [SOUNDTRACK] 1997
1. Tomorrow Never Dies (Sheryl Crow)
2. White Knight (Arnold David)
3. The Sinking Of The Devonshire (Arnold David)
4. Company Car (Arnold David)
5. Station Break (Arnold David)
6. Paris And Bond (Arnold David)
7. The Last Goodbye (Arnold David)
8. Hamburg Break In (Arnold David)
9. Hamburg Break Out (Arnold David)
10. Doctor Kaufman (Arnold David)
11. -3-Send (Arnold David)
12. Underwater Discovery (Arnold David)
13. Backseat Driver (Arnold David ; Gifford Alex)
14. Surrender (Lang K.D.)
15. James Bond Theme (Moby)

A great piece of work by David Arnold. His first Bond soundtrack and he does a wonderful job. I really prefer the soundtrack to the movie itself. The theme song is just ok, "Surrender" is classic bond, "Backseat Driver" is my favorite track, "James Bond Theme" by Moby isn't that impressive, and the rest of the soundtrack is great, Arnold does a good job in bringing Bond back to his musical roots. Recommended.
Tomorrow Never Dies is the soundtrack of the 18th James Bond film of the same name.
David Arnold composed the score of Tomorrow Never Dies, his first full Bond soundtrack. Arnold came to the producer's attention due to his successful cover interpretations in Shaken and Stirred: The David Arnold James Bond Project — which featured major artists performing classic James Bond title songs.
The theme tune was chosen through a competitive process. There were approximately twelve submissions; including songs from Swan Lee, Pulp, Saint Etienne, Marc Almond, Sheryl Crow and David Arnold.[1] Arnold's entry--"Tomorrow Never Dies," sung by k.d. lang--a bold, brassy number in the classic John Barry/Shirley Bassey vein, was chosen as the official theme, and Arnold heavily incorporated elements of the song throughout the film's score. However, similar to the last-minute theme song switch that occurred with Thunderball three decades earlier, shortly before the film's release, the producers replaced Arnold and lang's theme with Sheryl Crow's, as Crow was a much bigger name at the time; Arnold's theme was re-titled "Surrender" and moved to the end credits. [2]
The score itself follows Barry's classical style in both composition and orchestration, together with modern electronic rhythms present in most cues. Because the title song was changed so close to the film's release date, there was no time to work Crow's melody into any of the score. As a result, melody patterns from "Surrender" appear prominently many times in the score, mainly in the action cues, but it can also be heard in the dramatic "All in a Day's Work" track.
The DVD version of the film has an "isolated music track" allowing the viewer to watch the film with just the background music.
Scoring of the film had not been completed when the soundtrack was released so on January 11, 2000 (2000-01-11) a second album was released by Chapter III Records which removed the theme songs, Moby's Bond theme remix and "Station Break", and had additional music, as well as an interview with David Arnold.[3]
Released
November 27, 1997 (

1997-11-27

)
Recorded
1997
Label
A&M
Arnold David James Bond Project
SHAKEN AND STIRRED
BY DAVID ARNOLD (1997)Shaken and Stired - the David Arnold James Bond Project (David Arnold)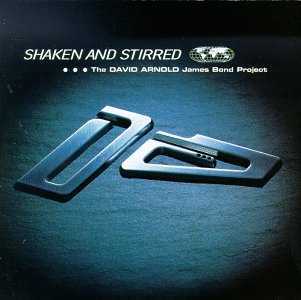 1. Diamonds are forever [featuring David McCALMONT]
2. Nobody does it better (from Dr. No) [featuring Aimee MANN]
3. Space March (from Dr. No) [featuring LETFIELD]
4. All time high (from Dr. No) [featuring PULP]
5. Moonraker (from Dr. No) [featuring Shara NELSON]
6. James Bond theme (from Dr. No) [featuring LTJ BUKEM]
7. Live and let die (from Dr. No) [featuring Chrissie HYNDE]
8. Thunderball (from Dr. No) [featuring Martin FRY]
9. From Russia with love (from Dr. No) [featuring Natacha ATLAS]
10. On her majesty's secret service (from Dr. No) [featuring PROPELLERHEADS]
11. We have all the time in the world (from Dr. No) [featuring Iggy POP]


Shaken and Stirred: The David Arnold James Bond Project is an album of cover versions of James Bond film themes organized and produced by David Arnold. Featuring contemporary rock and electronic artists of the time, it was compiled by Arnold in 1997 and released on East West Records in the United Kingdom and Sire Records in the United States. Arnold, following this project, would go on to compose the music for a number of Bond films.

John Barry, the composer of many of the themes on the album, was complimentary about Arnold's interpretation of his work; "He was very faithful to the melodic and harmonic content, but he's added a whole other rhythmic freshness and some interesting casting in terms of the artists chosen to do the songs. I think it's a terrific album. I'm very flattered."[1]

A version of "You Only Live Twice" by Björk was recorded but not included on the album. It is available as a free download from bjork.com.[2] Arnold had previously collaborated with Björk on the 1993 song "Play Dead".

The album peaked at #11 in the UK Albums Chart.[3] Two singles were released from the album in the UK: "On Her Majesty's Secret Service" and "Diamonds Are Forever", which reached #7 and #39 in the UK Singles Chart respectively.[4][5]