Contact: 007museum@telia.com Phone+4648112960 Open Daily 10-15 Sat 10-14 Media To do and see Buy
James Bond Theme Party PPKGuns Omega Bmw Bollinger Corgi Swatch Posters James Bond store Links
Welcome to The World's only James Bond 007Museum Sweden Nybro. Booking open mon-fri 10-17 sat 10-14


Open during September 2017 to May 2018 Monday-Friday 11-15. Saturday 10-14. Other times appointment.
| | |
| --- | --- |
| Casino Royale Soundtrack LP Record Stereo Herb Alpert | |
The Facts

Rated: PG
Official Year: 1967
Number in Series: Unofficial
Running Time: 131 minutes
Budget: $12 million
UK Premiere: April 13, 1967
US Premiere: April 19, 1967

Cast

James Bond: David Niven
Moneypenny: Barbara Bouchet
M: John Hston
Q: Geoffrey Bayldon
Bond Girl (Vesper Lynd): Ursula Andress
Villain (LeChiffre): Orson Welles
Henchman (Smernov): Kurt Kasznar

Crew

Writing Credits: Ian Fleming
Producer: Charles K. Feldman
Producer: Jerry Bresler
Director: Val Guest
Composer: Burt Bacharach
Title Song: Herb Albert & the Tijuana Brass
Production Design: Michael Stringer
Peter Sellers was well known for portraying various parts. On the left he mimics a Cary Grant-like pose as James Bond. On the right, he dresses up as artist Toulouse-Lautrec.
McGrath was a Scottish television director and worked with Sellers on shows such as Tempo. Sellers convinced Feldman that McGrath was the right choice to direct the film. According to Sellers' biographer, Roger Lewis, McGrath was chosen because Sellers wanted to 'recreate the happy anarchy of his early days on TV'.
In the summer of 1965, Feldman had approached David Niven to play the part of Sir James Bond. After reading the script at Feldman's home and than witnessing it being locked in a private safe, Niven agreed to play the part that would have him presiding over the Secret Service while observing a multitude of James Bonds fighting against Smersh.
The cast grew on a daily basis and began to resemble a British version of the film comedy, It's A Mad, Mad, Mad, Mad, World. Ursula Andress is added to the film in the role of Vesper Lynd as well as Orson Welles in the part of Le Chiffre. Followed by Daliah Lavi, William Holden, Charles Boyer, Kurt Kaznar, Jacqueline Bisset, George Raft, Jean-Paul Belmondo, Joanna Pettet, Barbara Bouchet, Angela Scholar, Anna Quayle, Ronnie Corbett, Bernard Cribbins, Tracy Reed, Geoffrey Bayldon, John Wells, Duncan Macrae, Graham Stark, Burt Kwouk, Vladek Sheybal, and Peter O' Toole. On January 11, 1966, Casino Royale began filming at Shepperton Studios, United Kingdom.
From Here On, All Hell Broke Loose
"There's been nothing like this since Michael Todd's 'Around the World in 80 Days'," said one man on the set. A comment that referred to the large scale production, with an all star cast including David Niven from ten years before. The only difference between the two films would be the adaptations from their original sources. Jules Verne's novel was faithfully recreated but Casino Royale most likely had the late Ian Fleming rolling in his grave. Feldman was aiming to make the biggest, star-studded, comedy in history and he began it by flooding the screen with the world's most beautiful women.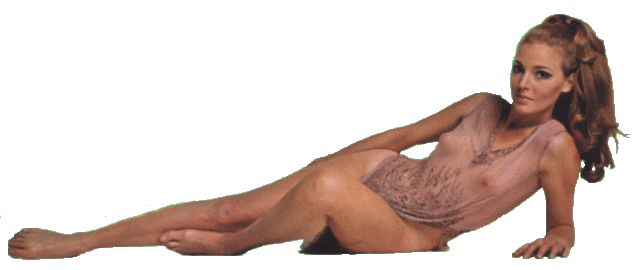 Joanna Pettet ended up portraying the sexy daughter, Mata Bond.
"No background dogs in my picture," barked an order from Feldman. "Get only real beauties." And with that literally hundreds of Britain's finest auditioned to play Fang Girls, Guard Girls, Casino Girls, Karate Girls, and 12 daughters of 'M', all between the ages of 16 and 18.
There was a filing system to help avert numbness: Type 'A': must have first, personality; second figure; third looks. Type 'B': first, looks; second, figure; third, no personality. Type 'C': those who just get by on all three. Whatever the system, Casino Royale certainly has the largest of any cast of beautiful women.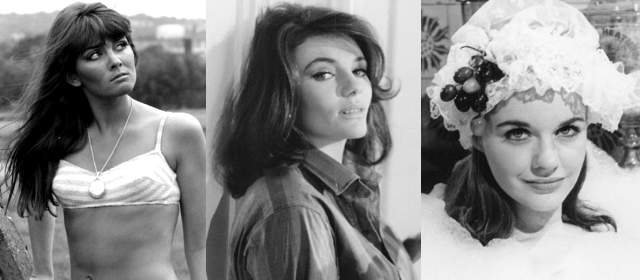 Three famous Bond girls. Caroline (The Spy Who Love Me) Munro, Jacqueline (The Deep) Bisset, and Angela (On Her Majesty's Secret Service) Scoular.
Perhaps the biggest problem behind the scenes was Peter Sellers. At the time he was married to Britt Ekland, who would later play Mary Goodnight in the 1974 Bond film The Man with the Golden Gun. Sellers marriage was on the rocks and he was chasing after her every weekend in order to save it. He refused to listen to any production assistant who was in-charge of getting him to the set and reportedly was late to the set daily or would not arrive at all.
Sellers ego would be his Achilles heel, he would really be annoyed if people did not pay attention to his needs as an actor. On one occasion, Leo Jaffe, the executive vice president of Columbia, visited the set and made a mistake by thinking Woody Allen was Peter Sellers. "When you put glasses on them," said Feldman, "they do sort of look alike." Sellers was not amused over this mistake.
During the baccarat scene long time Seller's friend, Princess Margaret, visited the set and rushed to meet Orson Welles. Reportedly ignoring Sellers. Welles, who played the part of Le Chiffre, gave a sarcastic comment to Sellers concerning his tardiness and causing the film to go over budget. This made Sellers so irate that he insisted that his scenes with Welles be done with a stand-in. Because of this on-set rivalry only one shot is shown during the entire scene with both Sellers and Welles in the same frame.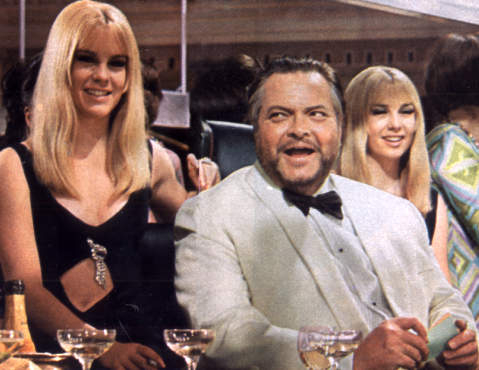 Orson Welles as Citizen Le Chiffre.
Sellers eventually lashed out against his long time friend Joseph McGrath and literally disappeared for weeks forcing the production to come to a halt. According to Val Guest, Feldman was furious and decided to terminate Sellers contract, firing him from the picture. Then he put plan two into operation and began rewrites and building of newer sets at Pinewood Studios and Elstree Studios. Because of Sellers tantrums, Feldman radically altered Royale's storyline. This left McGrath irritable and forced Feldman to hire four more directors, Val Guest, Ken (Chitty Chitty, Bang, Bang) Hughes, Robert Parrish, and John (The Maltese Falcon) Huston. Richard Lester was also asked to join but turn down the offer because he was friends with both Sellers and McGrath. The film would now be directed in four parts "Our concept for this film includes not only multiple stars, but also multiple directors," said Feldman in the March 2, 1966 edition of Variety.
Feldman also hired a small army of writers to 'juice up' the script. Famous writers and directors such as Billy Wilder, Joseph Heller, Terry Southern, and Michael Sayers added their inputs. The situation was too much for McGrath. He left the unfinished film after he completed his contractual agreement.
Sellers eventually came back to film other scenes, but kept calling his friend McGrath and begging him to return. "Please come back! Charlie will give you a Rolls Royce if you come back. He gave me one!" After a while, Feldman did call McGrath and offered him a Rolls Royce if he would return. McGrath did not. Two years later, co-producer Jerry Bresler drove up to McGrath in a white Rolls Royce and said, "I'm driving the car Charlie Feldman was going to give to you if you came back to the movie."
Biblical Proportions
John Huston was fresh off of finishing the epic film The Bible before he was invited to direct a sequence of Royale. He was asked how did he get from King James to Ian Fleming?
"Well, it was broached to me as a lark, which it was. I said, I'll do it if you let me write my segment of the picture and shoot it my way." (New York Times interview June 26, 1966)
Huston went on to say that Robert Morley was first asked to play the part of 'M' but was too busy. Feldman then offered Huston a painting if he would play the part, so he did, bald and with a Guards mustache. However, he preferred to be paid not by a painting but by a Greek bronze head, which he recently fallen for. Ironically, it turned out to be worthless.
Huston directed his scenes with David Niven at Pinewood Studios under the false working title "The David Niven Story". Unfortunately, TIME magazine exposed the ruse and wrote, "Casino Royale is shooting there and from the looks of what's happening, shooting is too good for it."
John Huston directing a scene at M's castle and Deborah Kerr as a converted double agent.
Actress Deborah Kerr found herself in Royale by accident. She dropped by to visit her friend, John Huston, and was given a choice guest part that grew from ten days into two months of work. She purchased a new 'luxury' swimming pool she later dubbed 'The Charles K. Feldman Memorial Swimming Pool'. Miss Kerr played the part of double agent Mimi and pretended to be the late 'M's widow Lady Fiona McTarry. Her part became so outrageous that in the end she had converted to being a Catholic nun.
"She's played nuns so often she takes her nun kit everywhere she goes," said Julie Harris, the film's fashion designer.
Ms. Harris, one of the many unsung heroes behind-the-scenes, added that Ursula Andress, who plays Vesper Lynd, was excited about a circus scene where she would be riding atop an elephant. She had Harris create a shocking pink Elephant Boy outfit with pink-blue feathers.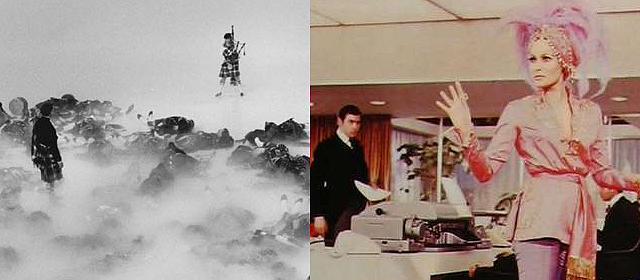 Peter Sellers changed the scene where he and Ursula Andress are riding an elephant and made it into a dream sequence with 104 kilted Highlanders. The Elephant Boy costume can be seen worn by Ursula in the spy control room.
Unfortunately, Peter Sellers had one of his nightly prophetical dreams where his mother was saying not to do the scene because it was dangerous. So the circus scene went away and 104 kilted Highlanders was born. Ursula was so upset that Feldman created another scene where she could wear the Elephant Boy outfit while prancing around her spy control room with David Niven. Thus the line from a curious Sir James, "Why don't you wear that on the street?" "People might stare," says Vesper.
An expensive solution, but one must feel sorry for the elephant owner when he arrived with his five-toed pachyderm at the Shepperton Studio gates, only to be told from a disgruntled security guard that he was at the wrong studio.
Director Robert Parrish replaced McGrath and was perplexed when he was greeted with a huge, bare, white, cylindrical set. "There was nothing in the script to indicate what it was for. I didn't know what to do with it and for a few days I just hoped it would go away. But then Peter came up with his dream sequence and those damn pipers." (New York Times interview May 22, 1966)
One of those pipers was actor Peter O'Toole. Feldman paid him a case of champagne for his brief cameo role.
Director Val Guest said in a Scarlet Street interview, "I went on under contract for eight weeks, and I was still under contract nine months later. Feldman was a madman. There were days when you could hug him, and then other days when you could throttle him!"
Guest was in charge of directing the scenes with Woody Allen as the evil Dr. Noah. Allen was quoted as saying he would have to leave in the middle of a sentence if this film went on much longer. He had been in London for months waiting and doing nothing except writing a Broadway play (Don't Drink the Water), a screenplay (Take the Money and Run), and winning at poker. By the time he actually started work he was on overtime.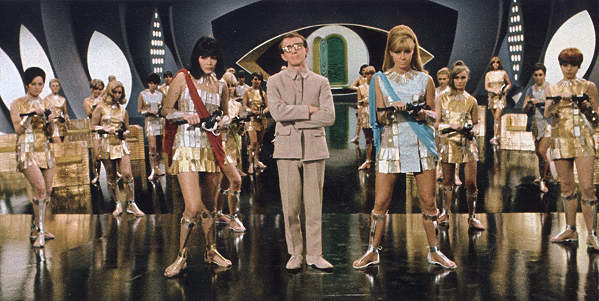 Woody Allen as Dr. Noah with his Guard Girls.
"My part has been steadily changed, even up to two days ago," Allen explained in the November 15, 1966 LOOK magazine. "No matter what anybody brought in to be read at story conferences, their material was generally received all the way from enthusiastic to wildly enthusiastic. Then this stuff was never heard from again, in any form whatever." Allen, who wrote most of his scenes, claimed he had a theory that there was an unseen house writer chained in Feldman's dungeon. Allen demanded a signed confession from Feldman that he, Woody, did none of the writing, although he tried.
"Think of the old pyramid builders," said Allen, "and you have some idea of what Charlie Feldman is like, lavish in the Egyptian tradition of lavish."
Director Ken Hughes, who directed the Cubby Broccoli film The Trials of Oscar Wilde, was the last director hired. When he showed up on his first day he was surprised to see that the Art Department had built a $30,000 replica of the Taj Mahal. "I just wanted a simple backdrop to suggest a temple where Joanna Pettet does her shimmy with all these swinging monks," he said. "Instead, they went and built this behind my back. I won't use it. Take good care of old Ken, Feldman said."
Top Left: Geraldine Chaplin (Charlie's daughter) and Richard Talmadge can be seen as the Keystone Cops. Top Right: Moneypenny and Sir James sneak around Dr. Noah's island hideout from this deleted scene. Bottom: Another deleted scene finds two lovers embraced during the final battle scene in Casino Royale (Photos courtesy Playboy).
Legendary stuntman and director Richard Talmadge, was in charge of the second unit. His contribution to the film is the final chaotic battle scene inside Casino Royale. "Let's blow up the whole picture," Talmadge said to LOOK magazine. Dubbed Custer's Last Stand it included U.S. Calvary and American Indians colliding with Smersh's croupiers in a scene that looked as if it had been lifted from an old silent Keystone Cop film. The entire scene took six weeks to film and featured 200 actors and extras.
Insurance firm, Lloyds of London, was so worried about this scene that they suspended the insurance during this portion of the film. The main reason was due to Talmadge, who had directed the train wreak scene in How the West Was Won, when one of the stuntmen was crushed under fallen timber. Feldman was gambling on Talmadge's professionalism and said, "If he had lost, some widows might have owned his picture.
With all the mayhem, Feldman's health began to wane. He suffered a heart attack during the production, which he blamed on Sellers. "I'd be in my grave if I ever started anything like this again. Everyday a new crises with people who have reached a certain point, good or bad, in their careers. Stars are no real insurance for the success of a picture, you know, except possible for the performance they give. In my grave. . ."
Royale Pain
Columbia Pictures announced that Casino Royale would open no sooner than Christmas 1966. This would give United Artists' next Bond entry You Only Live Twice some breathing room with six months between pictures and no competition from a first run film. This probably gave some solace to producer Cubby Broccoli, who faced competition in another form after releasing his Oscar Wilde film in 1960 one week after Gregory Ratoff's version. Any form of a competing Bond film would spell disaster at the box office. However, Columbia's commitment came and went and the release date was pushed to mid April 1967.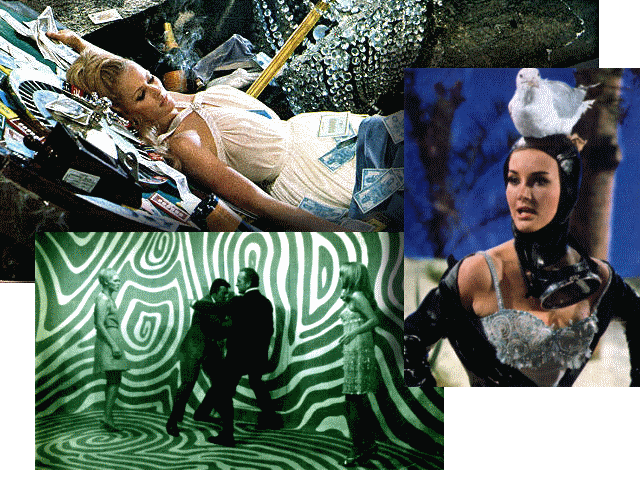 Three more deleted scenes - Top: Vesper is found dead on top of the roulette table. Right: Moneypenny evades Dr. Noah's guards by disguising herself in a wetsuit and fake duck (homage to Goldfinger's pre-credit segment). Bottom: Mata Bond, Cooper, Sir James, and Moneypenny try to break out of Dr. Noah's psychedelic maze.
By early January, John Huston walked away from the film with scenes still not filmed. He told a surprised Val Guest that he would be shooting his remaining scenes. Guest was now left alone to finish the monstrosity. For his dedicated commitment, Feldman offered an additional credit in the form of Coordinating Director. Guest barked, "This is coordinated? If you do that, I'll sue you!" A compromise was reached and Guest received 'Additional Sequences By' which is the last part of the opening credits.
Heavy publicity followed in the months leading up to the premiere. Columbia Pictures promotional department flooded countless magazines with articles such as the Playboy spread called 'The Girls of Casino Royale' with commentary by Woody Allen. Movie theaters hung huge posters depicting the actors and a nude, tattooed covered lady. Audio clips would play over their lobby speakers announcing the arrival of the film with the tag line - "Casino Royale Is Too Much For One James Bond" .
Terrence Cooper and Barbara Bouchet work overtime to save the free world.
The war of the Bond movies had reached a pinnacle when United Artists began to advertise You Only Live Twice with bold lettering saying "Sean Connery IS James Bond". Three campaign posters would be made depicting Sean Connery being bathed by geisha girls, flying his 'Little Nellie' helicopter while fighting off SPECTRE's flying army, and the interior of Blofeld's volcano hideout during the final battle scene with Connery hanging upside down from the crater opening. With all the exposure between these two films, James Bond was becoming 'too much for the average moviegoer'.
With all the negative morale during the production, Feldman was convinced he had a sure winner and proceeded to prove to the world that his film was the ultimate crowd pleaser.
In New York City, Feldman gave a press party on the roof of Broadway's Screen Building. He unveiled a 62' x 100' sign of the classic tattooed lady and served Hebrew National hot dogs and champagne. Also in attendance was 60's pop icon Twiggy, shown viewing the trailer to Casino Royale.
The Cannes Film Festival was hoping to get in on the fun by having Casino Royale as the show opener. Unfortunately, Feldman was unable to complete the film in time for the festival.
Legend has it that the film almost did not make it to its April 13, 1967 premiere at the London Odeon Leicester Square theater. Apparently a final cut was being prepared inside the projection room. The U.S. premiere would not happen until Friday, April 28th.
However, a week later on Saturday night, May 6, 1967 in Boston, Massachusetts, a riot broke out outside the Sack Savoy Movie Theater. According to the report, several thousand persons were denied admission to a 4am screening of Casino Royale. Radio station WRKO had promised free admission with doughnuts and coffee or soft drinks to any 'spy' who showed up wearing a trench coat. The theater manager, John P. Sullivan, decided to run the movie two hours earlier because the crowd, mainly youths, had grown to an estimated 15,000.
Before order was restored three hours later, some 30 persons had been injured, several stores looted and cars smashed. Fifteen persons were arrested on charges ranging from drunkenness to unlawful assembly.
As policemen converged on the mob outside, the capacity crowd inside the theater also became unruly. The theater's assistant manager, Frank Dubrawsky, said he kept the film running despite two fires in the seats and a broken fire hose that soaked portions of the audience.
"I was scared stiff to shut the projector down. They were fighting in the aisles every time someone left his seat," Dubrawsky said.
Allen Friedberg, General Manager of Sack Theaters, said, "Under no condition will there be another preview of this type by any Sack Theater. I never dreamed that this situation would have resulted."
Despite being a confusing spoof of the Bond films and a psychedelic run-up of the 1960s, Feldman's Casino Royale went on to gross $17.2 million dollars at the U.S. box office. Eon's You Only Live Twice would better that by $2 million more. To this date, debate continues whether Feldman's film actually did damage to future Bond films. There is no doubt that the 60s spy craze was fading and underground films such as Easy Rider and Billy Jack were becoming popular. Bond films such as 1973's Live and Let Die were still attracting audiences, but not as good compared to Goldfinger or Thunderball a decade earlier. For it would not be until 1979's Moonraker when Bond would break new U.S. box office records.
Perhaps the most redeeming part of Feldman's Casino Royale is the music score by Burt Bacharach. With lyrics by Hal David and the title song performed by Herb Alpert & The Tijuana Brass, the soundtrack became a cult favorite and a highly sought after collectible among audiophiles. By the late 1980s the LP record could fetch up to several hundred dollars. The reason behind this was the way the recording studio processed the record. By increasing the volume to near over-modulation, the sound gave most stereo sound systems a run-for-its-money. When the soundtrack was reproduced for the CD generation, the sound from the original 1/4" tapes was faithfully restored.
On May 25, 1968, Charles K. Feldman died of cancer. He was 63. His prophetic remark, "I'd be in my grave if I ever started anything like this again.", reverberated off the obituary of the New York Times. Two years later Casino Royale would premiere on CBS television on September 18, 1970. Unfortunately it would not be a rating blockbuster the network was hoping. The film would eventually fall into syndicated broadcast oblivion for the next two decades.
To Bond fans worldwide the 1967 version was a confusing mess. However, in 2000 the Director of Film Studies at the University of Colorado, Robert von Dassanowsky, wrote a very compelling article on the artistic values of Casino Royale.
Gone, But Not Forgotten
For years after 1967, the film rights to Casino Royale hanged in limbo.
On June 29, 1979, at the New York Museum of Modern Art, producer Cubby Broccoli, director Lewis Gilbert and film critic Judith Crist, answered questions from audience members during a panel discussion on Moonraker and the OO7 films. One question was asked about the fate of Casino Royale and whether Eon owned the rights. "No, we don't own it." said Broccoli. "When the first deal was made with the Fleming estate to make Bond films, that was already sold." (Bondage magazine #9)
Ten years later during a visit to a James Bond film class, the same question would be asked to Cubby's stepson and co-producer, Michael G. Wilson.
"United Artist bought out Charlie Feldman's rights and Columbia owns the rights in common, so they're in a Mexican standoff." Wilson continued, "I think it's an interesting (Fleming) story - whether it's in our style, the right way to go with Bond, I don't know? It's a very heavy story in a way. To fall in love with a woman who is a double agent and be completely misled after all Bond has been through with her is tough. Then have her commit suicide and have Bond feel good about it - that's kind of a heavy film." (Bondage magazine #17)
Wilson shared the forum with Bond fan and future writer of the official novels, Raymond Benson. In 1985, Benson proposed to Glidrose (the literary owners of James Bond) that he would write a James Bond stage play based on Casino Royale.
"I wrote the play in 2-3 months and then held a staged reading of it in New York City in February 1986, using professional actors." said Benson during an online interview with John Cox of CommanderBond.net. "The reading went very well and we then had a discussion with the audience about what worked and what didn't. It's a shame that Glidrose couldn't attend that reading because the outcome might have been different. Anyway, Glidrose paid me and then they submitted the play to a British theatrical agent. She was very elderly and in my opinion she just didn't get it. She recommended that the play not be produced. After further thought, Glidrose shelved it with the ultimate decision that a James Bond stage play simply wouldn't work. The films had Bond in a monopoly and there was no way a play could compete. I disagreed, but it was their property."
In early 1997, Thunderball producer Kevin McClory and Sony/Columbia Pictures teamed up to begin work on Warhead 2000, a James Bond film based loosely on a treatment McClory worked on with Ian Fleming in the late 1950s. Sony/Columbia was looking for a franchise movie series and McClory was the stepping stone they needed in perhaps the most outrageous lawsuit in the annals of Hollywood history.
In short, McClory/Sony/Columbia sued MGM/UA and Eon Productions on the grounds that McClory's story elements from Thunderball had been exploited in every James Bond film since 1962's Dr. No. A claim that could yield McClory and Sony millions, if not billions, and the control of the cinematic rights to James Bond.
The suit was considered 'dirty pool' in Hollywood. The thought of undermining the series away from the Broccoli family, who has made it successful for over 35 years, was pathetic in the minds of fans all over the world. By late 1999, Sony/Columbia still had no competing Bond film. Faced with a negative ruling from a Los Angeles judge, Sony decided to drop the suit and settle out of court which in turn gave MGM the distribution rights of Casino Royale. Two years earlier MGM also won the distribution rights to McClory's Never Say Never Again from TaliaFilms. Now Eon Productions had control of all the Bond theatrical titles.
And the First Shall Be Last
In 2004, MGM/UA was sold to Sony/Columbia Pictures. Their entire library of the best loved musicals, comedies and dramas would now be controlled by the rival studio. The fate of the James Bond franchise was in question and delayed the start of Bond 21 until 2006. However, on February 3, 2005, after the dust had settled between Sony/Columbia and MGM/UA, Eon Productions made the announcement that the next James Bond film would be Casino Royale. Fans could not have been happier except that there was no mention if Pierce Brosnan, the current actor to play OO7, would return. Other actors such as Dougray Scott, Hugh Jackman, Heath Ledger, Clive Owen and Eric Bana were potential contenders for the role but on October 14, 2005, the world was in for a bigger surprise than expected.
Arriving in a military speed boat, actor Daniel Craig (click here for video), the sixth official actor to play OO7, made his grand entrance in front of the world press. Craig would later reveal that he was not interested in the part but was persuaded by producer Barbara Broccoli to reconsider. "I will not accept the part unless I see the script." Craig said. After several months and a revised script by Paul Haggis, Craig was more than satisfied.
According to Premiere magazine (November 2006 issue), while in Baltimore, Maryland working on his latest film with Nicole Kidman called The Invasion, Craig was picking up laundry detergent in the Whole Foods Market aisle when his cell phone rang. On the other end, and literally on the other side of the Atlantic, was Barbara Broccoli. "It's over to you, Kiddo!," were the words and with that Craig dropped the detergent and headed to the local liquor store for a bottle of Vodka and Vermouth. He obviously did not need to shake it, he already was himself.
He gave his mother a call to tell her the news and to keep it quiet until after the press conference. Unfortunately, one tabloid reporter called his mother and said, "The news has broken. What do you think about your son becoming the new OO7?" His mother nonetheless let the cat out of the bag. A cheap trick that anyone would have fallen for it.
Unfortunately, the Royale curse continued and now had Craig in its grasp. "He's too blonde, too ugly." said some Internet outlets. "He's not tall enough. He looks more like a villain than a hero." said other press sources.
On the website Absolutely James Bond one disgruntled fan said: "My god, don't the producers have any brains? Craig is not Bond material. Bond must be tall, dark and handsome. Or at least two of the three, and he isn't even one!"
Perhaps the biggest news was not Daniel Craig but the website danielcraigisnotbond. A site endorsed by approximately 50 disappointed fans who feel that Pierce Brosnan is the only actor who can play Bond. This immediately attracted the attention of the press and before the cameras began rolling, Craig was the most unwelcome Bond actor since the early days of George Lazenby.
Negative rumors continued to flood the Internet on a day-to-day basis. Anything from Daniel Craig being unable to drive a car with a clutch, to having his front teeth knocked out during a staged fight scene. Both stories are untrue. Craig, being raised in England, obviously can drive a clutch and the teeth incident was merely a capped tooth that had come unglued. The headlines obviously disturbed Craig, but the results were more positive. He approached the role more serious and more determine than any other role he had played. He worked closely with the script and suggested that a scene with a suicide bomber be dropped because the people who do that for real are divided on religious and political grounds. "If you are going to show someone setting up a bomb to kill people," Craig said to Premiere magazine, "Then have him walking away with a case of money afterwards." Craig even had input into the music and title song.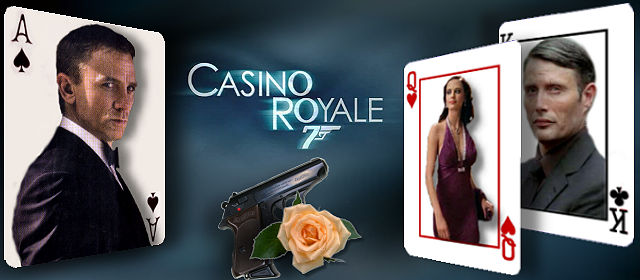 Daniel Craig becomes the sixth actor to play OO7. Eva Green as Vesper Lynd and Mads Mikkelsen as Le Chiffre.
As the months rolled on however, photos and news clips would leak onto the Internet showing a very buff and muscular Daniel Craig, who would spend three hours a night working out in the gym. The rest of the cast would slowly be announced with Danish actor Mads Mikkelsen playing a thin Le Chiffre, Eva Green playing the Bond girl who breaks our secret agent's heart - Vesper Lynd, and Jeffery Wright playing a black Felix Leiter (previously played by white actors). By late-summer the majority of fans and non-fans were beginning to warm up to Daniel Craig as OO7 as the official trailer made its way onto the Internet. The trailer began in gritty black and white as a young Bond earns his OO agent status. The rest of the trailer is in color and sets up the story in modern times as Le Chiffre is the big investment banker for the world's terrorists. Bond, with the aid of Vesper, must defeat Le Chiffre in a winner-take-all poker game at Casino Royale. By the end of the trailer, the majority of Bond fans world-wide were completely satisfied.
Still some fans however have voiced their concerns about the grittiness of the film and whether it will be too much compared to the rest of the series. Mads Mikkelson said to Premiere magazine, "We're talking grittiness compared to the other Bond films. That's what we're talking, of course we're not talking gritty gritty. That would be a no-go. The task is to bring this magical universe — it's still a fairy tale, he's still Superman, I'm still the baddie — into 2006. That's the kind of grittiness we're talking about."
Unfortunately when one gambles long enough lady luck is sure to turn, on July 30, 2006, Pinewood Studios largest stage, The Albert R. Broccoli OO7 Stage, burned to the ground. Inside the stage was the remains of a Venetian set. Fortunately the crew had finished filming and production staff were in the process of dismantling the set. This is the second time this stage burned down. The first time was in 1984 during production of Legend. Fortunately, no one was hurt in either accident. The OO7 Stage is well known among Bond fans for housing the submarine set in 1977's The Spy Who Loved Me.
By late September, the main title song by Chris Cornell, "You Know My Name" leaked onto the Internet. The song was met with mediocre results since it lacked a Bondian tune. However, by mid-October a newer version showed up at Cornell's website with full orchestration. The results were better than the initial release and set the tone for the November 17th premiere.
Co-Producer Barbara Broccoli sums up the main reason why Eon finally filmed Casino Royale, "It was always an ambition of theirs (Cubby and Harry Saltzman) to be able to make this story but, sadly, they were never able to. So, when it finally became available to us, we leapt at the chance. I like to think that I'm doing this for my Dad."
Ironically Ian Fleming's first novel will be his last officially adapted for the screen by Eon Productions (all of his OO7 books have been used either by title or by story). Royale is the closest to any of his Bond novels since 1969's On Her Majesty's Secret Service. However, this film is more about how James Bond became the agent we all know and love than simply about his relationship with Bond-girl Vesper Lynd. On the other hand, the 1967 Feldman version is the opposite. It depicts an aging Sir James Bond, forced out of retirement to fight his greatest nemesis - his nephew. Only to be blown up with the rest of the world in the final moments of the climatic battle.
The good news in all of this is that where Feldman's version ended with no where to go, Eon's version will obviously begin a new chapter in James Bond's cinematic life. This will no doubt reverberate from the silver screen at the end of Casino Royale when the words 'James Bond Will Return'.
Cars in Casino Royale 1967
Casino Royale (Charles K. Feldman's Casino Royale [James Bond]), Movie, 1967

Copyright © 1959-2018 www.007Museum.com All Rights Reserved






James Bond 007 Museum Nybro, Sweden. www.007museum.com
Contact: 007museum@telia.com tel. +46-481-12960 Open Daily 10.00 - 17.00 (lunch 13-14) Sat 10.00-14.00
Adress: James Bond 007 Museum, Emmabodav. 20 382 45 Nybro, Sweden 0481-12960

James Bond Materials© 1962 - 2018 United Artists Corporation and Danjaq, LLC. 007 Gun Logo© 1962 United Artists Corporation and Danjaq, LLC. 007 Gun Logo, Iris Logo,
JAMES BOND and all other James Bond related trademarks - Danjaq, LLC. All Rights Reserved. Copyright