EON Productions movies


1. Dr No 1962
2. From Russia With Love 1963
3. Goldfinger 1964
4. Thunderball 1965
5. You Only Live Twice 1967
6. On Her Majesty`s Secret Service 1969
7. Diamonds Are Forever 1971
8. Live And Let Die 1973
9. The Man With The Golden Gun 1974
10.The Spy Who Loved Me 1977
11.Moonraker 1979
12.For Your Eyes Only 1981
13.Octopussy 1983
14.A View To A Kill 1985
15.The Living Daylights 1987
16.Licence To Kill 1989
17.Goldeneye 1995
18.Tomorrow Never Dies1997
19.The World Is Not Enough 1999
20.Die Another Day 2002
21.Casino Royale 2006
22.Quantum Of Solace 2008
23. Skyfall 2012
24. SPECTRE 2015
25. James Bond 25 2018
26. James Bond 26 2021

Not included in
Bondserie or
EON Productions
Casino Royale 1954
Casino Royale 1967
Never Say Never Again 1983

Producer
Albert "Cubby"Broccoli
Harry Saltzman
Barbara Broccoli
Michael G,Wilson

Writers to all Bond books
Ian Fleming
Amis Kingsley
Raymond Benson
John Gardner
Charlie Higson
Sebastian Faulks
Bondbooks

James Bond actors
Barry Nelson
Sean Connery
George Lazenby
Roger Moore
Timothy Dalton
Pierce Brosnan
Daniel Craig

James Bond Composers

Monty Norman 1
John Barry 11
George Martin 1
Marvin Hamlisch 1
Bill Conti 1
Michael Kamen 1
Eric Serra 1
David Arnold 5
James Bond Music
22 Best Bondsoundtrack


Sir George Martin - Composer and honorary Beatle
Live and Let Die CD Music by Sir George Martin 1973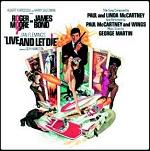 Born in London on 3rd of January 1926, George Martin is probably one of the most famous and respected producers of his generation, renown for his long-term friendship with the members of cult English pop band the Beatles, as well as being the first producer to grant them an audition upon hearing their songs. On the other hand, George Martin has also composed a handful of movie scores since the early 1960s, alongside his numerous entries as a producer. Obviously, Sir Martin is a man of many talents: the sheer amount of work he has put into the music industry can testify for this. However, his true vocation lies within score composition, and this is something that many people tend to overlook due to the overwhelming importance that popular music has in the eyes of mainstream masses.
How did Guy Hamilton's "Live and Let Die" win the Evening Standard British Film Awards in 1975? Most likely due to the soundtrack by George Martin. It wouldn't be fair to compare Live and Let Die's score with John Barry's masterworks in the Bond series, but it's impossible to deny the impact of this recording, as well as the strong relation with Barry's material itself. The title track was nominated for "Best Original Song" at the US Academy Awards in 1974, as well as receiving the title of "Best Album of Original Score Written for a Motion Picture" at the Grammy Awards. With Live and Let Die, Martin manages to capture that special James Bond Music sound texture and give it a new lease of life with seedy jazz segments, much like Lalo Schifrin's score for Dirty Harry in 1971, and South-American music, as well as a definite rock feel overall. Giving the locale of the eighth Bond picture, it's only natural that the composer should opt for Latin-American and African rhythms, on top of many associated musical styles such as Salsa. The film had a love-hate relationship with audiences and critics alike, even considering the hugely dissatisfying Diamonds are Forever, released a couple of years before. However, George Martin's score is the most energetic and diverse of all of them.
A Bond score wouldn't be a Bond score without the mandatory introductory song, thus Paul and Linda McCartney provide us with the picture's main title: "Live and Let Die". The famous Bond theme can be heard throughout the soundtrack in it's blaring and glorious form, in addition to the many variations based upon it, in tracks "Whisper Who Dares", "Snakes Alive", "Bond Drops in", "Solitaire Gets her Cards", "Bond to New York" and of course "James Bond Theme". In these tracks, George Martin has a great way of using clichéd material, sounding almost like an American TV-serial set in the 70's New York. The most interesting variation on the Bond theme appears in the track "Bond to New York", in which it is played alongside a high-speed militaristic drum pattern and distinctive 70's flute and electric guitar, a nod to Isaac Hayes' music from Shaft (Gordon Parks, 1971) in many ways.

Other than the Bond Theme, "New Second Line" is the only instrumental track on Live and Let Die that wasn't composed by George Martin. It's a charming jazz ballad by trumpeter Milton Batiste, performed before his major breakthrough in the jazz industry in the early 80's. "Gunbarrel/Snakepit" is another interesting track in which Martin opts for an African rhythm, sounding like it could have been performed on a darbouka drum; the same goes for "Sacrifice", performed in conjunction with fluttering wind sections this time around. The closest Martin comes to equating John Barry's mystique can be found in tracks such as "If he Finds it, Kill him", as well as in certain sections of "Bond Drops in". These two particular works are part of the best moments on Martin's soundtrack; they truly capture the romantic, the perilous, the suaveness, and the idealism of the Bond formula, with their soft percussion and breezy orchestration.



Live and Let Die with title song by Paul McCartney and Wings.
The Vinyl 7″ 45 rpm single record was introduced in 1949 by RCA.
The Apple records Granny Smith apple.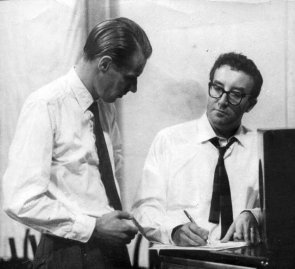 George Martin with Peter Sellers

Live And Let Die George Martin with the Beatles
Live and Let Die CD
Music by George Martin 1973

Nr : 007- 20080

THE ORGINAL SOUNDTRACK
Live and Let Die [SOUNDTRACK] 1973

George Martin, Wings, Paul McCartney, James Bond Films (Related Recordings)
Live and Let Die" (1973) introduced a new Bond, Roger Moore, and a new musical team, Paul McCartney and Wings and former Beatle's producer, George Martin, to set the tone. The primary focus here was to produce a hit title with Paul and Linda McCarney and Wings. Martin simply came with the deal. The title remains one of the most dramatic and best songs of the series, and was especially striking with Maurice Binder's amazing opening and end titles. George Martin's score included a foundation based on the James Bond theme and the title song, but he also introduced a fine theme for Solitaire, and interesting island music for "Baron Samedi's Dance of Death" and "Sacrifice." Without McCartney and Wings, George Martin would not have sufficed, but together they produced one of the best non-Barry soundtracks.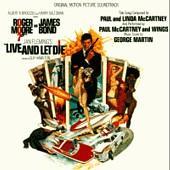 The 8th Bond film Live and Let Die with title song by Paul McCartney and Wings.