EON Productions movies
1. Dr No 1962
2. From Russia With Love 1963
3. Goldfinger 1964
4. Thunderball 1965
5. You Only Live Twice 1967
6. On Her Majesty`s Secret Service 1969
7. Diamonds Are Forever 1971
8. Live And Let Die 1973
9. The Man With The Golden Gun 1974
10.The Spy Who Loved Me 1977
11.Moonraker 1979
12.For Your Eyes Only 1981
13.Octopussy 1983
14.A View To A Kill 1985
15.The Living Daylights 1987
16.Licence To Kill 1989
17.Goldeneye 1995
18.Tomorrow Never Dies1997
19.The World Is Not Enough 1999
20.Die Another Day 2002
21.Casino Royale 2006
22.Quantum Of Solace 2008
23. Skyfall 2012
24.James Bond 24
25. James Bond 25

Not included in
Bondserie or
EON Productions
Casino Royale 1954
Casino Royale 1967
Never Say Never Again 1983
Producer
Albert "Cubby"Broccoli
Harry Saltzman
Barbara Broccoli
Michael G,Wilson
Writers to all Bond books

James Bond Homepage
Ian Fleming
Amis Kingsley
Raymond Benson
John Gardner
Charlie Higson
Sebastian Faulks
Jeffery Deaver
Neal Purvis screenwriter
Robert Wade screenwriter
Bondbooks
James Bond actors
Barry Nelson
Sean Connery
George Lazenby
Roger Moore
Timothy Dalton
Pierce Brosnan
Daniel Craig

James Bond Composers
Monty Norman 1
John Barry 11
George Martin 1
Marvin Hamlisch 1
Bill Conti 1
Michael Kamen 1
Eric Serra 1
David Arnold 5
James Bond Music
22 Best Bondsoundtrack
Allias MI6
Moneypenny Maxwell/Bliss/Bond
Q Llewelyn/Cleese
M Lee/Brown/Dench
CIA Felix Leiter
Q = Desmond Llewelyn has
appeared in 17 Bond films
MI6
CIA
Bondgirls
Honey Ryder Ursula Andress
Britt Ekland
Izabella Scorupco
Maud Adams
Kristina Wayborn
Mary Stavin
Halle Berry JINX
Vesper Lynd Eva Green
Bond Villians
Jaws (Rickard Kiel)
Venz (Dolph Lundgren)

Pinewood Studios

Sir WinstonChurchill. Prime Minister twice (1940-45 and 1951-55)

Ian Flemings boss M

Pierce Brosnan Took 007 into 21st Century
The James Bond Archives avaible in James Bond 007 Museum Nybro Sweden




James Bond star Daniel Craig has extended his contract to play 007 for four new films following his record-breaking debut in "Casino Royale" (2006).
MGM chairman and CEO Harry Sloan broke the news at the Forbes MEET II conference at the Beverly Hills Hotel on Thursday, amongst a swath of other plans relating to the studio.
Daniel Craig had previously stated that he had initially signed up to three Bond outings: Casino Royale (2006), Bond 22 (2008) and Bond 23 (TBA). Official details on the original deal were not revealed until Bond 22's delay, but Craig confirmed the plans during the US publicity tour for Casino Royale back in November 2006. It was later revealed that, due to the success of Casino Royale, Craig's pay deal had been upped to £5 million for Bond 22 and £8 million for Bond 23 - double the original sums.
If the new contract is completed, Craig will now play Bond in a total of five films, up to and including Bond 25. His second outing, the as-yet untitled "Bond 22 ", is scheduled for release on 7th November 2008. Filming is expected to commence in early January.
Daniel Craig

Datastream
Full Name: Daniel Wroughton Craig
Date of Birth: 2nd March 1968
Place of Birth: Cheshire, England
Height: 5' 10" (178cm)
Also Famous For: Layer Cake, Tomb Raider
Active Duty: 2005-present
Only Bond: He is the first Bond actor to have been born after the Bond series began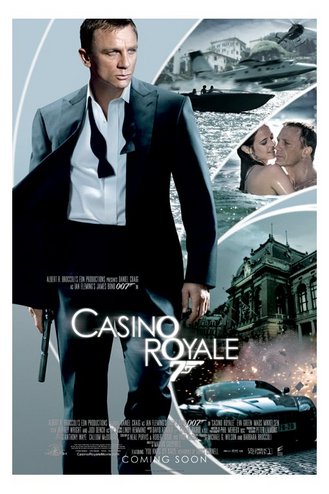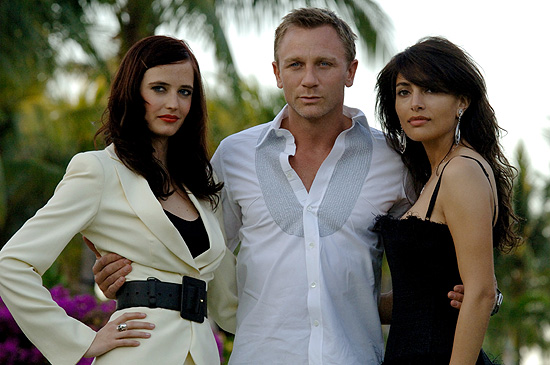 Bortom Bond James 007 Kändisskapets nackdelar



Bortom Bond James 007 Kändisskapets nackdelar
Craig själv har blivit mycket säkrare sedan hans första äventyr med Bond.

Förut kom han klädd i jeans och en t-shirt till intervjuer, men nu för tiden ser han ut som om han hör hemma på omslaget på en lyxig herrmodetidning. En av de exklusiva tidningarna utsåg till och med honom till årets mest välklädda man.

"Ja, just det", suckar han. "Jag menar, det är ju väldigt trevligt och så, men om jag går ut med soporna i flipflops, shorts och en t-shirt så är det paparazzi där och fotar och det kommer jag att få äta upp senare."
Vad händer härnäst?
Craig njuter av upplevelsen att vara Bond – den fysiska utmaningen, platserna och av att förnya en legend. Han tycker till och med om premiärerna. Men hur många fler filmer kommer han att göra?

"Och det frågar du när jag precis blivit klar med Quantum? Kom igen! Jag vill så klart göra en till. Men det beror på så många saker, inte minst vad som händer med den här filmen. Vi har väckt mycket intresse och det är bra. Det finns möjligheter till att göra åtminstone en film till. Det finns bra vägar att välja och intressanta saker att upptäcka. Efter det får vi se."