Gunnar Schäfer name is James Bond Visitors in James Bond Museum Sweden

.

Since 1959 James Bond 007 Museum Sweden, Nybro.
The 007 museum 1000 sq.m. world`s only James Bond 007 Museum
Emmabodav. 20, 38245 Nybro


Contact: 007museum@telia.com

Phone+4648112960 Open Daily 10-17 Sat 10-14 Media To do and see Buy/Köp info Links
James Bond Theme Party PPKGuns Omega Bmw Bollinger Corgi, Cd, Swatch Posters, Specials James Bond store
A SEXY St Trinian's actress will be the new Bond girl in only her secondfilm.
Gemma Arterton, 22, saw off 1,500 girls to star with Daniel Craig, 39, in Bond 22.Gemma, head girl Kelly in the new St Trinian's movie, sent mum Sally a text saying: "I got Bond!"An insider at Bond home Eon Productions said: "She has the modern look."William Hill said in-the-know punters had tried betting on Gemma to star. Filming starts in January.
The first shoot of Bond 22 Daniel Craig as James Bond


The first shoot of Bond 22 Daniel Craig as James Bond
LONDON. Inspelningarna börjar den 4 januari, men fortfarande finns ingen kvinnlig partner till 007 presenterad för den 22:a Bondfilmen.

James Bond to Switch Tuxedo Makers
NEW YORK —The world's most famous spy is about to change out of his Brioni tux. For the first time in 12 years, James Bond will not wear hand-stitched Brioni suits on screen. A Brioni spokeswoman told BTL that the Italian luxury label's decade-long relationship with the film franchise—during which Brioni dressed Pierce Brosnan and, more recently, Daniel Craig—had ended. "We're sorry to no longer be involved, but things change," the spokeswoman said. "There appears to be a new costume designer, and [with that] comes a new approach to the wardrobe."

Apparently 007 is going back to his English roots: London-based Dunhill is said to have landed the high-profile role of providing costumes for Bond. A Dunhill spokeswoman had no comment. However, this would be a natural progression for the Richemont-owned company. Dunhill has dressed Craig for a series of publicity events, including the world premiere of Casino Royale last fall. The still-untitled 22nd Bond film—the second to star Craig—is currently in preproduction and set to be released in 2008.
Bond 22 kommer att handla om dataintrång i MI 6 och i CIA!!
Den 7 november 2008 ´kommer " Casino Royale 2" att ha premiär.
Enligt källor och rykten som vi har haft kontakt med kan vi avslöja vad nästa bondfilm kommer att handla om.
Både MI 6 och CIA kommer att få påhälsnig av skurken Blofeld som har kommit tillbaka efter många års frånvaro han kommer att göra allt för att sätta käppar i hjulen på James Bond.
Inspelningen av den nya bondfilmen kommer att börja i Pinewood studios 4 januari 2008 http://www.007museum.com/

Nästa Bondfilm en sequel

2007-12-28 09:11
Casino Royale hyllades som en nystart på Bond-serien med sin tillbakagång till en kallare agent mer i Ian Flemings anda.
Nu planerar man att ändra hela formeln för serien också.
Nästa film ska bli en direkt uppföljare som tar vid där Casino Royale slutade. Tanken är att den ska bli en del 2 i en två delars story.
Det är Bond-scenografen Peter Lamont som kommer med avslöjandet enligt websajten Cinematical. Tidigare har varje Bond-filmen varit ett helt fristående äventyr. Men nu planerar producenterna ett nytt grepp där första filmen bara är en del av ett dubbelt så långt äventyr. Även producenten Barbara Broccoli har gett antydningar att det är riktningen nästa Bond kommer att gå i. På en pressturné för Casino Royale sade hon:
- I slutet av filmen lämnar vi mycket ouppklarat. Det finns en ond figur som han ännu inte kommit åt och han har också inre problem han måste klara av.
Även regissören Martin Campbell har antytt att man kommer att fortsätta där första filmen slutade.
- Nästa film kommer att bli en del 2 av en två delars story. Därför vill vi också att det ska bli ett så kort gap mellan de två filmerna som möjligt, sade han i en intervju i brittisk TV.
Man hade hoppats att släppa nästa Bond-film, eller Bond 22 som den än så länge bara kallas, redan i slutet av detta år, också av ett annat skäl. En film om agent 007 som sluter på ett år som slutar med 007. Faktum är att man började förproduktionsarbetet på den redan innan inspelningen av Casino royale började. Men snart insåg man att 2007 inte skulle vara möjligt. Nu är Bond 22 planerad att ha premiär i november 2008.
Swedish actor Rafael Edholm (pictured opposite) is in contention for the role of the villain in Daniel Craig's second outing as 007, due out November 7th 2008. Edholm confirmed that he will be screen testing for the part.
The 41 year-old actor, who was first discovered by director Oliver Stone, recently moved to Los Angeles and signed a new contract with a Hollywood agency. Edholm said landing the role "would be really cool" and joked that he would love to shave his head and get a cat.

Svenska skådespelaren Rafael Edholm är aktuell som skurk i nästa bondfilm mot Daniel Craig , det meddelar Edholm.Namn: Rafael Edholm. Ålder: 41. Familj: Flickvännen Daga Lamy. Sonen Gabriel från ett tidigare förhållande med Görel Crona. Bor: På Djurgården i Stockholm. Inkomst: 312 300 (2006).
MGM tar tillbaka 007 från Sony efter Bond 22
Variety meddelar att MGM kommer att återta kontrollen över distributionen av Bondfilmerna efter Bond 22.
Det finns en särskild klausul i kontraktet med Sony som reglerar detta och MGM kommer alltså att utnyttja den möjligheten.
MI6.co.uk | CBN

Det var en tysk och en norsk och en Bond
16 Juli 2007 -- Enligt nye 007, Daniel Craig, så kommer nästa Bond-film att bli mer komisk:
"They just want more gags. The next one's going to be a lot funnier. Octopussy and Pussy Galore style gags. They're all great names – but that's the thing, the Bond jokes will be flipped on their heads."
Alltså mer självdistanshumor som den som skymtade redan i "Casino Royale"? Den som lever (eller låter dö) får se.
Källa: Daily Express
Bond 22 - November 7th 2008
James Bond 007
Principal photography will start on 7th January 2008, at Pinewood Studios (UK) and foreign locations to be confirmed in South America and Italy
Pinewood Studios welcomes home James Bond
The 22nd James Bond adventure will begin filming at Pinewood Studios in December 2007.
Daniel Craig will reprise the role of James Bond in the yet to be titled Bond 22, which follows Casino Royale, the highest-grossing film so far in the most successful franchise in motion picture history.
Marc Forster has signed on to direct the next installment in the James Bond franchise for Columbia Pictures and MGM
Daniel Craig will reprise his role as Agent 007 in the film, which has a working title of "Bond 22."
Forster -- whose credits include "Stranger Than Fiction," "Finding Neverland" and "Monster's Ball" -- recently wrapped "The Kite Runner," based on Khaled Hosseini's best-selling novel.
Marc Forster regisserar Bond 22 Det meddelas nu att den tyske regissören Marc Forster kommer att regissera Bond 22. Forster är tidigare mest känd för Finding Neverland och Monster's Ball.
007 Stage i Pinewood studios kommer att användas vid inspelningen av Bond 22. Redan i slutet av året kommer de första studion till filmen att börja konstrueras.

Produced by Michael G. Wilson and Barbara Broccoli (Eon Productions), BOND 22 (title to be announced) is scheduled for release November 7th 2008 and will be directed by Marc Forster. Principal photography will start on 7th January 2008, at Pinewood Studios (UK) and foreign locations to be confirmed in South America and Italy. Paul Haggis has completed the script, based on a first draft screenplay developed by regular scribes Neal Purvis & Robert Wade. The story will be a direct continuation of the events of Casino Royale. It is British actor Daniel Craig's second outing as James Bond, following his debut film Casino Royale released November 16th 2006. Dame Judi Dench (M) and Giancarlo Giannini (Mathis) will also reprise their roles.

Bond 22 - November 7th 2008

Confirmed Cast

| | |
| --- | --- |
| Daniel Craig | James Bond |
| Judi Dench | M |
| Giancarlo Giannini | Rene Mathis |

Skurk Mathieu Amalric


Crew

| | |
| --- | --- |
| Marc Forster | Director |
| Michael G. Wilson | Producer |
| Barbara Broccoli | Producer |
| | Production Design |
| Neal Purvis | Writer (first draft) |
| Robert Wade | Writer (first draft) |
| Paul Haggis | Writer |

Production
Release Date: 7th November 2008
Principal Photography: December 2007
Produced By: Eon Productions
Distributor: Columbia Pictures
Budget: TBC (expected $150m)
Shooting Locations: Pinewood Studios (foreign shooting locations to be announced)

James Bond #22
Marc Forster regisserar

Bond #22 kommer att ha premiär den 7 november 2008 (för att sammanfalla med Ian Flemings 100-års jubileum).Ian Lancaster Fleming föddes den 28 maj 1908
När nyheten om filmen först kom, så var detta satt till den 2:a maj 2008, men detta har alltså skjutits fram.
Inspelningarna kommer att börja i 4 januari 2008 och kommer att blir en fortsättning av 'Casino Rayale'.
Daniel Craig kommer spela James Bond igen. Han kommer att göra tre filmer och detta är hans andra.
Michael G. Wilson och Barbara Broccoli kommer som givetvis att producera filmen.
Neal Purvis och Robert Wade (som skrivit manus till de senaste Bondfilmerna) kommer att skriva även denna.
Giancarlo Giannini som spelade Mathis i 'Casino Royale' kommer att vara med även i denna film i samma roll.
Peter Lamont kommer att vara production designer som vanligt.
Aston Martin DBS and Ford GT40 in Bond 22?
September 5th, 2007
Dan Bradley, the new second unit director for Bond 22, mentioned in a recent interview on BourneStuntSimulator that an Aston Martin DBS and Ford GT40 will be used in Bond 22.
Location shooting for the 22nd James Bond film could include an impressive Opera set in Austria, plus news of a ski sequence and a changing of the guard in production design....
Aston Martin DBS V12
Manufacturer
Aston Martin
Production
2007 - Present
Class
2-door Coupe
Related
Aston Martin DBR9
Aston Martin DBRS9

007 Stage Pinewood Studios
Dimensions (L x W x H):
374ft x 158ft x 41ft High (114m x 48m x 12m High)
59,092.0 sq.ft. (5,489.8 sq.m)
Tank Dimensions: 297ft x 73ft x 9ft deep (91m x 22m x 3m deep)
The world famous 007 stage at Pinewood was built in 1976 for the Bond movie The Spy Who Loved Me. Since then it has housed hundreds of sets for hundreds of productions. Cambodian Temples for Lara Croft Tomb Raider, The Hanging Gardens of Babylon for Alexander, The Louvre Gallery for The Da Vinci Code and The Chocolate River Room for Charlie and the Chocolate Factory to name but a few.
New 007 stage now open see http://www.007stage.com for full stage details.
Virtual 360 Tour
General News Story
PINEWOOD STUDIOS WELCOMES HOME JAMES BOND [Film, TV, Other]
25/07/2007
The world-famous British film studio hosts the 22nd adventure of Britain's most famous movie export, starring Daniel Craig.
Pinewood, the legendary Buckinghamshire film studios, which boasts the largest sound stage in Europe, the 007 Stage, will play host to the 22nd James Bond adventure. Daniel Craig will reprise the role of James Bond 007, following the runaway success of "Casino Royale", the highest-grossing title so far in the most successful franchise in motion picture history.
Marc Forster ("Monster's Ball", "Stranger Than Fiction" and "The Kite Runner") will direct the as-yet-untitled film, it was recently announced by Michael G. Wilson and Barbara Broccoli, producers of the James Bond films, Sony Pictures Entertainment and Metro-Goldwyn-Mayer Studios.
Forster also directed the award-winning and critically acclaimed film "Finding Neverland", which was shot at Shepperton and Pinewood Studios and was nominated for seven Academy Awards® including Best Picture.
Said Marc Forster on his return to the Pinewood Studios Group, "I'm delighted to be working at the studios again, particularly in the company of one of its favourite sons, James Bond 007".
Forster will commence work shortly with screenwriter Paul Haggis on a draft of the screenplay by Neil Purvis and Robert Wade.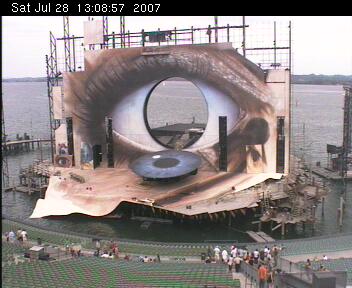 Reports state the Bond crew arrived during the Bregenz Festival and witnessed the production of Tosca, which is scheduled to be hosted on the floating stage until late 2008, complete with an enormous rotating eye and huge LED wall. Festival speaker Axel Renner confirmed the crew attended and filmed a piano rehersal of the Tosca production.
Altogether, eight representatives from the production team were in attendance to determine whether the stage would work as a location in the film. The scene is rumoured to see James Bond visiting a performance of Tosca and "intervening" in some manner. If it makes the final shooting script, and using the real stage and Opera with 7000 spectators proves suitable, three days of shooting in spring next year have been penciled in. A decision is expected to be made this autumn (fall). The production team also visited the Festival Opera House in the city, and are currently scouting locations for the film throughout Europe.
Tosca is an opera in three acts by Giacomo Puccini to an Italian libretto by Luigi Illica and Giuseppe Giacosa, based on Victorien Sardou's drama, La Tosca. The work premiered at the Teatro Costanzi in Rome on January 14, 1900. One of the most dramatic of operas, Tosca is, according to Opera America, the eighth most performed opera in North America.
Writers Neal Purvis and Robert Wade, who handed over the Bond 22 first draft script to Paul Haggis earlier this year, included Body Worlds - another real-world tourist event - in the previous film Casino Royale.
September 5th, 2007
Aston Martin, James Bond's car of choice, is the coolest brand in Britain, while the iPod and video sharing website YouTube are runners-up in the trendy stakes, according to a poll.
The fictional British superspy was back behind the wheel of an Aston Martin in the latest Bond film, Casino Royale, helping drive the British luxury car maker to pole position in the survey.
"The success of Casino Royale - and the rekindled love affair between the British public and Bond as a result - shows there is a deeply ingrained association with the man and the car in the minds of Britons," said Superbrands' CoolBrands Council.
Apple's portable iPod media player came second, video sharing internet site YouTube came third, Danish luxury audiovisual hardware firm Bang & Olufsen ranked fourth and internet search engine Google took fifth.
TOP 20 'COOL BRANDS'
1. Aston Martin
2. iPod
3. YouTube
4. Bang and Olufsen
5. Google
6. Playstation
7. Apple
8. Agent Provocateur
9. Nintendo
10. Virgin Atlantic
11. Ferrari
12. Ducati
13. eBay
14. Rolex
15. Tate Modern
16. Prada
17. Lamborghini
18. Green & Black's
19. iTunes
20. Amazon
"The Top 20 is a reflection of our changing needs, wants and interests," said Stephen Cheliotis, chairman of the CoolBrands Council.
"You could argue that it's split into two pretty clearly defined categories - on the one hand, things can become cool by virtue of their necessity or prevalence in your life, such as Google or Amazon.
"On the other, the things you really want, but may know you'll never get - such as a Rolex or a Ferrari - are considered just as cool.
"There seems to be a real divergence between aspiration and practicality, but both are deemed cool - which goes to show how the needs and desires of consumers are developing."
The Superbrands organisation presents expert and consumer opinion on branding.
Superbrands compiled the list from the votes of 2246 consumers.
Copyright © 1959-2017 www.007Museum.com All Rights Reserved





James Bond 007 Museum Nybro, Sweden . www.007museum.com
Contact: 007museum@telia.com tel. +46-481-12960 .Open Daily 10.00 - 17.00 (lunch 13-14) Sat 10.00-14.00
Adress: James Bond 007 Museum, Emmabodav.20, 382 45 Nybro, Sweden 0481-12960
James Bond Materials© 1962 - 2017 United Artists Corporation and Danjaq, LLC. 007 Gun Logo© 1962 United Artists Corporation and Danjaq, LLC. 007 Gun Logo, Iris Logo,
JAMES BOND and all other James Bond related trademarks - Danjaq, LLC. All Rights Reserved. Copyright