Sir Winston Leonard Spencer-Churchill,
(30 November 1874 – 24 January 1965) was a British Conservative politician and statesman known for his leadership of the United Kingdom during the Second World War. Widely regarded as one of the greatest wartime leaders of the century, he served as Prime Minister twice (1940–45 and 1951–55). A noted statesman and orator, Churchill was also an officer in the British Army, a historian, a writer, and an artist. He is the only British prime minister to have received the Nobel Prize in Literature, and was the first person to be made an Honorary Citizen of the United States,

Churchill was born into the aristocratic family of the Dukes of Marlborough. His father, Lord Randolph Churchill, was a charismatic politician who served as Chancellor of the Exchequer; his mother, Jenny Jerome, was an American socialite. As a young army officer, he saw action in British India, the Sudan, and the Second Boer War. He gained fame as a war correspondent and wrote books about his campaigns.


nobelprize.org/nobel_prizes/literature/1953/churchill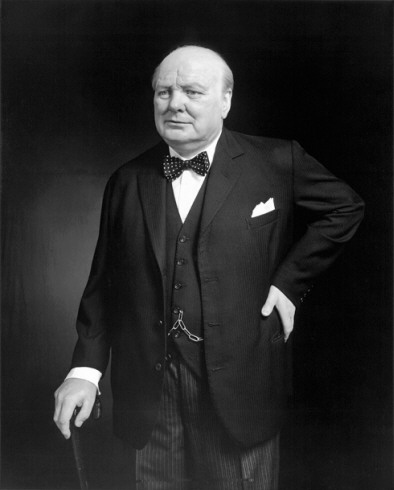 Sir Winston Leonard Spencer-Churchill, född 30 november 1874 på Blenheim Palace, död 24 januari 1965 i London, var en brittisk politiker, författare och officer. Han var brittisk premiärminister 1940-1945 och 1951-1955; dessutom erhöll han Nobelpriset i litteratur 1953. Churchill blev även amerikansk hedersmedborgare 1963.

Churchill inledde sin karriär som officer och krigskorrespondent. Han var därefter ledamot i underhuset 1900-1922 och 1924-1964 där han representerade det Konservativa partiet, med undantag för perioden 1904-1922 då han var medlem i det Liberala partiet. Han var handelsminister 1908-1910, inrikesminister 1910–1911, marinminister 1911–1915 samt 1939-1940, minister för krigsmateriel 1917-1919, krigsminister 1919–1921, kolonialminister 1921–1922, utsågs till Chancellor of the Exchequer (finansminister) 1924, och till premiärminister 1940-1945 samt 1951-1955
At the forefront of politics for fifty years, he held many political and cabinet positions. Before the First World War, he served as President of the Board of Trade, Home Secretary, and First Lord of the Admiralty as part of the Asquith Liberal government. During the war, he continued as First Lord of the Admiralty until the disastrous Gallipoli Campaign, which he had sponsored, caused his departure from government. He then briefly resumed active army service on the Western Front as commander of the 6th Battalion of the Royal Scots Fusiliers.

He returned to government as Minister of Munitions, Secretary of State for War, and Secretary of State for Air. After the War, Churchill served as Chancellor of the Exchequer in the Conservative (Baldwin) government of 1924–29, controversially returning the pound sterling in 1925 to the gold standard at its pre-war parity, a move widely seen as creating deflationary pressure on the UK economy. Also controversial were Churchill's opposition to increased home rule for India and his resistance to the 1936 abdication of Edward VIII.

Out of office and politically "in the wilderness" during the 1930s, Churchill took the lead in warning about Nazi Germany and in campaigning for rearmament. On the outbreak of the Second World War, he was again appointed First Lord of the Admiralty. Following the resignation of Neville Chamberlain on 10 May 1940, Churchill became Prime Minister. His steadfast refusal to consider defeat, surrender, or a compromise peace helped inspire British resistance, especially during the difficult early days of the War when Britain stood alone in its active opposition to Hitler. Churchill was particularly noted for his speeches and radio broadcasts, which helped inspire the British people. He led Britain as Prime Minister until victory over Nazi Germany had been secured.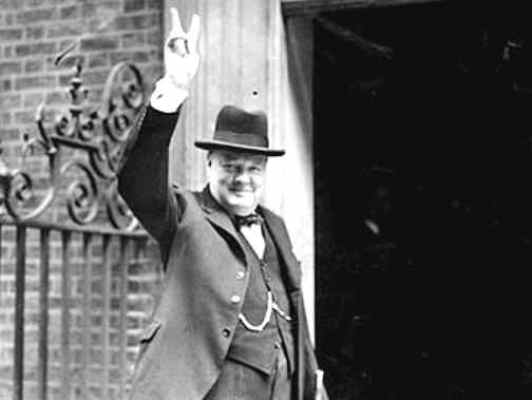 After the Conservative Party lost the 1945 election, he became Leader of the Opposition. In 1951, he again became Prime Minister, before retiring in 1955. Upon his death, Elizabeth II granted him the honour of a state funeral, which saw one of the largest assemblies of world statesmen in history.Named the Greatest Briton of all time in a 2002 poll, Churchill is widely regarded as being among the most influential persons in British history.
http://www.007museum.com/Ianflemming.htm
Ian Flemings boss juring the second world war 2
Winston Churchill - Biographical
The Right Honourable Sir Winston Leonard Spencer Churchill (1874-1965), the son of Lord Randolph Churchill and an American mother, was educated at Harrow and Sandhurst. After a brief but eventful career in the army, he became a Conservative Member of Parliament in 1900. He held many high posts in Liberal and Conservative governments during the first three decades of the century. At the outbreak of the Second World War, he was appointed First Lord of the Admiralty - a post which he had earlier held from 1911 to 1915. In May, 1940, he became Prime Minister and Minister of Defence and remained in office until 1945. He took over the premiership again in the Conservative victory of 1951 and resigned in 1955. However, he remained a Member of Parliament until the general election of 1964, when he did not seek re-election. Queen Elizabeth II conferred on Churchill the dignity of Knighthood and invested him with the insignia of the Order of the Garter in 1953. Among the other countless honours and decorations he received, special mention should be made of the honorary citizenship of the United States which President Kennedy conferred on him in 1963.

Churchill's literary career began with campaign reports: The Story of the Malakand Field Force (1898) and The River War (1899), an account of the campaign in the Sudan and the Battle of Omdurman. In 1900, he published his only novel, Savrola, and, six years later, his first major work, the biography of his father, Lord Randolph Churchill. His other famous biography, the life of his great ancestor, the Duke of Marlborough, was published in four volumes between 1933 and 1938. Churchill's history of the First World War appeared in four volumes under the title of The World Crisis (1923-29); his memoirs of the Second World War ran to six volumes (1948-1953/54). After his retirement from office, Churchill wrote a History of the English-speaking Peoples (4 vols., 1956-58). His magnificent oratory survives in a dozen volumes of speeches, among them The Unrelenting Struggle (1942), The Dawn of Liberation (1945), and Victory (1946).

Churchill, a gifted amateur painter, wrote Painting as a Pastime (1948). An autobiographical account of his youth, My Early Life, appeared in 1930.
From Nobel Lectures, Literature 1901-1967, Editor Horst Frenz, Elsevier Publishing Company, Amsterdam, 1969
This autobiography/biography was written at the time of the award and first published in the book series Les Prix Nobel. It was later edited and republished in Nobel Lectures. To cite this document, always state the source as shown above.
Winston Churchill died on January 24, 1965.
Churchill var son till den konservative politikern lord Randolph Churchill, som bland annat innehade posten som brittisk finansminister, och amerikanskan Jennie Jerome Churchill. Han blev bland annat far till Randolph Churchill (1911–1968).

Särskilt under krigsåren blev Winston Churchill känd för sina tal. Bland de många kända citaten finns: Now this is not the end. It is not even the beginning of the end. But it is, perhaps, the end of the beginning. ("Det här är inte slutet. Det är inte ens början på slutet. Men det är, kanske, slutet på början"). Citatet återspeglar Churchills bedömning av krigssituationen efter det avgörande slaget vid El Alamein.

Det sägs att Winston Churchill drack en flaska Champagne Pol Roger varje dag, och då blev kallad efter honom och att Champagne huset Pol Roger familjs samarbete fortsätter än idag.

Nobelpristagare
1953
Åren 1948-1954 utkom Churchills The Second World War i sex band, och 1953 tilldelades han nobelpriset i litteratur. Svenska Akademiens motivering löd: "...för hans mästerskap i historisk framställning samt för den lysande talekonst, med vilken han framträtt som försvarare av höga mänskliga värden.
Samma år 1953 dubbades han av drottning Elizabeth II till riddare av Strumpebandsorden, och blev Sir Winston. År 1963 förärade den amerikanska kongressen och president John F. Kennedy honom titeln "amerikansk hedersmedborgare".