EON Productions movies
1. Dr No 1962
2. From Russia With Love 1963
3. Goldfinger 1964
4. Thunderball 1965
5. You Only Live Twice 1967
6. On Her Majesty`s Secret Service 1969
7. Diamonds Are Forever 1971
8. Live And Let Die 1973
9. The Man With The Golden Gun 1974
10. The Spy Who Loved Me 1977
11. Moonraker 1979
12. For Your Eyes Only 1981
13. Octopussy 1983
14. A View To A Kill 1985
15. The Living Daylights 1987
16. Licence To Kill 1989
17. Goldeneye 1995
18. Tomorrow Never Dies1997
19. The World Is Not Enough 1999
20. Die Another Day 2002
21. Casino Royale 2006
22. Quantum Of Solace 2008
23. Skyfall 2012
24. Spectre 2015
25. James Bond 25 2019
Not included in
Bondserie or
EON Productions
Casino Royale 1954
Casino Royale 1967
Never Say Never Again 1983
Producer
Albert "Cubby"Broccoli
Harry Saltzman
Barbara Broccoli
Michael G,Wilson
Writers to all Bond books
Ian Fleming
Amis Kingsley
Raymond Benson
John Gardner
Charlie Higson
Sebastian Faulks
Jeffery Deaver
Neal Purvis screenwriter
Robert Wade screenwriter
Bondbooks
James Bond actors
Barry Nelson
Sean Connery
George Lazenby
Roger Moore
Timothy Dalton
Pierce Brosnan
Daniel Craig

James Bond Composers
Monty Norman 1
John Barry 11
George Martin 1
Marvin Hamlisch 1
Bill Conti 1
Michael Kamen 1
Eric Serra 1
David Arnold 5
James Bond Music
22 Best Bondsoundtrack
Allias MI6
Moneypenny Maxwell/Bliss/Bond
Q Llewelyn/Cleese
M Lee/Brown/Dench
CIA Felix Leiter
Q = Desmond Llewelyn has
appeared in 17 Bond films
Bondgirls
Honey Ryder Ursula Andress
Britt Ekland
Izabella Scorupco
Maud Adams
Kristina Wayborn
Mary Stavin
Halle Berry JINX

Bond Villians
Jaws (Rickard Kiel)
Venz (Dolph Lundgren)

Pinewood Studios

Sir WinstonChurchill. Prime Minister twice (1940-45 and 1951-55)

Ian Flemings boss M

Pierce Brosnan Took 007 into 21st Century
Dunn's River Falls was also featured in the James Bond Movie "Dr. No". Ian Fleming, who is the author of the James Bond movies, fell in love with Jamaica while visiting the island for a naval meeting and spent several winters there at his property. The movie included the well-known scene of Ursula Andress walking out on Jamaica's famous Dunn's River beach. The waterfalls are located near to the town of Ocho Rios.
The climbing of Dunn's River Falls has been done by the locals as well as so many tourists for so long that it is quite easy to believe that the waterfall was made for climbing. However, in truth and in fact, Dunn's River Falls is totally natural and all of the structures, crevices, and natural pools of water were made by the actual flow of the water's current.
Honey Ryder (Ursula Andress) Honey Ryder (Ursula Andress) Dr No 1962 and Casino Royale 1967






Data
Actress: Ursula Andress
Character: Honey Ryder
Movie: Dr No
Date of Birth: 19 March 1936
Place of Birth: Bern, Switzerland
Height: 5' 5" (1.65m)
Trivia: Is fluent in French, Italian & German

Pleased To Meet You
Honey emerges from the Caribbean waves in a skimpy white bikini singing "Underneath the Mango Tree" in the most iconic of Bond moments. On an exclusive and idyllic beach of Crab Key, Bond exchanges pleasantries and admires the view with this brazen beauty and the first Bond girl of the 007 screen adventures. Honey is protective of her prize shells, but Bond assures her he's not looking for shells, he's just looking! Dunn's River Falls is a famous waterfall near Ocho Rios, Jamaica and a major Caribbean tourist attraction that receives thousands of visitors each year.

Caught In The Act
It takes a substantial period for the strong-headed Ryder to warm to Sean Connery, but stuck on the island of villainous Dr No, the pair soon find many things in common. However, it is not until the mission is over and the lovers are rescued that Bond and Honey indulge in some 'slave time'.

"I put a black widow spider underneath his mosquito net... a female, they're the worst. It took him a whole week to die."

Profile
Honeychile Ryder is the sole child of a marine biologist. Brought up by her father, while travelling from topical island to tropical island, Honey indulged in swimming, walking and plenty of play-time. The young Honey Ryder is physically fit and beautiful enough to attract any man, let alone secret agent 007.

After the death of her father, Honey quickly learned to fend for herself and is reluctant, at first, to be told what to do by James Bond. Much of her learning and worldly knowledge comes from a set of encyclopedias she had read as a child - as a result Honey is sincerely literal in thinking and frequently exhibits an optimistic and cheerful personality.

Memorable Quotes
Honey: "What are you doing here? Looking for shells?"
Bond: "No, I'm just looking."

Bond: "I suppose you went to school somewhere?"
Honey: "I didn't need to, we had an encyclopedia. I started at A when I was eight, now I've reached T. I bet I know a lot more things than you do!"

Biography
Ursula Andress was born in Berne, Switzerland to an Italian-Swiss mother and a German father. Her first taste of the entertainment industry came on a family holiday in Rome. She began as a model for photographers and artists alike, before being picked up for the movie game. Although she had had no acting experience or training, Andress thrived in the film business thanks to her simple beauty and charm.

"I didn't see Dr. No for a year, but I liked it when I saw it. It was a fun movie. I don't like the Bond movies now. I hate special effects!" - Ursula Andress

Andress won roles in various Italian films before being recommended to producers, Saltzman and Albert "Cubby"Broccoli for a minor role in their new "big thing" - Sean Connery. Delighted with her screen test, the production team offered Andress the opportunity to become a screen legend and the first (and most iconic) of the Bond girls. During "Dr. No" Andress was dubbed by voice artist Nikki van der Zyl as producers felt the actress' Germanic accent was too strong for the character. For her role in 1962, Andress was honoured with the Golden Globe's "Most Promising Newcomer" award, the very same year.

Straight out of "Dr. No", Andress received a second, once-in-a-lifetime opportunity and grabbed at the chance to perform opposite Elvis Presley in the 1963 production "Fun in Acapulco" and in the same year she starred in "4 For Texas", a Frank Sinatra movie.

Back in 1957, Andress married American screen actor John Derek, who had supervised her career ever since her big break in 1962. The marriage eventually fell apart and afterwards, Ursula dated a host of Hollywood's biggest names including: Marlon Brando, James Dean and her "Dr. No" co-star, Sean Connery.

During the 1960s Ursula Andress clocked up her fair share of press attention and in contemporary times, her name stands up with the likes of Raquel Welch as an iconic '60s belle. All the while, the era was increasingly good to Andress who acted along side stars such as Dean Martin, Sammy Davis Jr., Peter Sellers as well as being directed by the ledgendary Woody Allen.

Since the '60s and '70s Andress. reduced her film career, and in 1980 gave birth to a son: Dimitri. Ursula still remains a household name as an icon of both James Bond and the 1960s.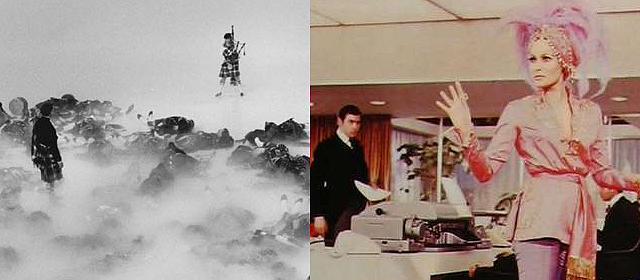 Casino Royale 1967 Ursula Andress