Gunbarrel: Den här filmen är den första att använda en pre-poäng sekvens, men utmärkande Gunbarrel öppning är naturligtvis kvar.
Sekvensen återanvänder de också Bob Simmons

bilderna från Dr No, men den här gången prick flyttas kontinuerligt över skärmen. Placeringen av Bond-tema liknar den som används i resten av filmen.
Efter skotthåll Bond bleknar den Gunbarrel blir en prick igen.
Soundtrack: Titelmelodin hörs när filmens tema spelas på radio. Senare när Bond är på väg till Istanbul han lämnar ett fotografi av Tania med Moneypenny. Han skriver meningen "From Russia With Love".
Den nya metoden: I Dr No den största förändringen som gjorts efter romanen är införandet av SPECTRE i filmen, i Flemings version av komplott mot Bond samordnas med SMERSH snarare än en utomstående att manipulera brittiska och Sovjet.


Avkodningsmaskinen kallades ursprungligen för Spektor men detta ändras till Lektor i filmen. Dessutom öppnades den sista delen av filmen med en helikopter och scener båten efter den långa sekvens på Orientexpressen.
Det finns också en smärre ändring av titeln, eftersom Flemings roman heter "From Russia, With Love", inklusive ett kommatecken som utelämnats ur filmen titeln.

I hennes majestäts hemliga tjänst:


M, som kallas "chefen för brittiska underrättelsetjänsten" av Blofeld,

Moneypenny tillbaka från den första filmen. Dock är filmen utmärks av det första utbrottet av Desmond Llewelyn som Q.

Men även Q Branch nämns för första gången, är Llewelyn karaktären endast kallat utrustning Officer och han krediteras som Boothroyd, som var namnet av vapensmed spelad av Peter Burton i Dr No. Det var Llewelyn bara rösterna när Burton varit otillgänglig. Förvisso är Q: s roll i denna film, mycket lik den vapensmed i den första filmen och hans karaktär har ännu inte fastställts.
The Universal Exports täcknamn för Secret Service används igen när Bond telefoner i när han är bleeped, även om han förkortar det till "UnivEx" (den enda gången som detta formulär används).
När Bond är i Istanbul han får hjälp av en annan utomlands station, Station T (Turkiet), som leds av gemytlig Kerim Bey

som tycker om utmaningen att intelligens tullar på Balkan efter börjar livet som en cirkus starke man. De flesta av nyckelpersoner på stationen, som använder en matta butik som täckmantel, är Kerim söner. När han är på flykt på Orientexpressen Bond ber om hjälp från stationen Y (förmodligen Jugoslavien, även om detta inte anges). Kapten Nash skickas att möta Bond i Zagreb, men tyvärr han möter Grant först. Senare, är Bond hjälp av någon som heter Paul Maxwell i Venedig, som antagligen är från en italiensk station (Maxwell verkar inte Bond utan talar till honom på telefon).
Det är klarlagt att tjänsten har ett erkännande kod så att dess agenter kan berätta för varandra utom som innebär att en av dem bad om en ljus och erbjuds en cigarett brev. Dock är koden kända för SPECTRE som tvingade den från en agent i Tokyo.
Platser: SPECTRE Island, organisationens träningsläger i en hemlig plats (men förmodligen någonstans nära Adriatiska havet), London (inklusive några närliggande landsbygden där Bond och Sylvia njuter punting), Istanbul, Turkiet, hela Jugoslavien på Orientexpressen (stannar vid Belgrad och Zagreb på väg till Trieste).

Skurken: Det finns ingen skurk, förutom SPECTRE organisationen i sig, som nämndes i Dr No. SPECTRE är baserad på en ö i en okänd plats och använder också en lyxjakt. Den har en logotyp bestående av en bläckfisk. Chefen för organisationen är (se "Om serien" nedan), men det finns tre huvudsakliga agenter som visas i filmen.

Kronsteen är SPECTRE nummer 5 och direktör för planering som är ansvarig för den komplott mot Bond. Han är tjeckoslovakisk och använder också sina färdigheter spelar schack. Han dog när han idiotsäkert tomt misslyckas.

Överste Rosa Klebb är SPECTRE Nummer 3. Hon var tidigare operativ chef för SMERSH, den sovjetiska underrättelsetjänsten, innan hon övergick till SPECTRE. Av någon anledning att ryssarna höll hennes avhopp tyst (Bond inte visste om det). Klebb blir skjuten av Tania.

Den sista medlemmen i teamet är Donald Grant, en psykotisk mördare som används som en lönnmördare som Spectre. Han var en dömd mördare som rymt Dartmoor fängelset år 1960 innan de rekryteras av SPECTRE i Tanger 1962.Han dödades av Bond.
Bond Flickan: korpral Tatiana Romanova (hennes vänner kallar henne Tania), en kontorist som arbetade på ryska konsulatet i Istanbul som har använts som en bricka i SPECTRE: s organisation. Hon utbildade sig till ballerina men växte ett par centimeter över tillåten höjd. Hon hade tre älskare före Bond och tror att hennes mun är för stor.
Bonds erövringar: Fyra - Sylvia, Vida och Zora (den zigenska flickor), och Tania.



Gadgets: Bond är före sin tid och har både en personsökare och en biltelefon.



Senare använder han en liten bugg detektor och en bandspelare som är gömd inuti en kamera.



Men är den viktigaste gadget i svart läder ATTACHÉVÄSKA

som numera standardutrustning för agenter (kapten Nash har en såväl som Bond). Den innehåller 20 patroner, en platt kastar kniv och 50 guldmynt, samt en kapsel av tårgas maskerade som en burk talkpuder som exploderar om fallet inte öppnas på rätt sätt. Också en del av kit är en 0,25 kaliber AR7 hopfällbar gevär med en infraröd syn. Inte att överträffat har också bevilja en dödlig leksak i form av en klocka med en tråd garotting wire.


(en avrättningsmetod tidigare praktiserat i Spanien, där en skärpt halsjärn används för att strypa eller bryta nacken av en dömd person.) Också av betydelse är Lektor maskin, som kan avkoda alla ryska's top secret sändningar. Det är en skrivmaskin formad maskin som väger ca 10 kg. Det är både Självkalibrerande och manuell med en inbyggd kompensator. Den har 24 symbol nycklar och 16 nycklar i registret.

Återkommande karaktärer: Bond syns för första gången tillbringa tid med Sylvia Trench, återigen spelad av Eunice Gayson, som han träffade i Dr No. Det nämns att Sylvia inte har sett Bond i sex månader. Avsikten var ursprungligen att Sylvia skulle vara en regelbunden karaktär och skapar en löpande skämt med Bond alltid anropas ifrån henne. Detta var dock filmen tecknet slutliga utseende.



From Russia With Love introducerar chefen för SPECTRE, som skulle finnas i ett antal senare filmer. Trots anges på skärmen bara som 1: han heter Ernst Blofeld i slutet filmen.
Men producenterna valde att skapa en atmosfär av mystik över karaktär, hans ansikte är inte inloggad och skådespelare kredit skall ersättas med ett frågetecken. Blofeld faktiskt spelas av Anthony Dawson (som var professor Dent i Dr No) och hans röst dubbades av Eric Pohlman. Intressant nog kan man konstatera att Blofeld har hår, i motsats till de kala personer som skulle bli berömd. Blofeld varumärke vit katt (som aldrig var namngivet) etablerades här.
Continuitet: Det finns två referenser till den föregående filmen. Kronsteen säger att SPECTRE är riktat mot Bond delvis som hämnd för sin döda Dr No, och senare Sylvia nämner henne förra gången med Bond då fick han kallas bort till Jamaica. Sylvia hänvisar också till sin golf hobby, som skapades i den första filmen.

Cameos: Det finns ett trovärdigt rykte att Ian Fleming själv gör en cameo framträdande i filmen. Scenen i fråga är när Orientexpressen passerar Kerim Bey är förbryllad son. Till höger finns en siffra på en gråhårig man i en vit tröja och mörka byxor som är stödd på en käpp. Han ser också mot kameran när tåget passerar bakom honom. Teorin om att detta är Fleming stöds av fotografier av Fleming besöka platsen för inspelningen From Russia With Love där han är klädd i liknande kläder och bär på en utsirad käpp.
Produktionsledare Bill Hill framstår som den verkliga kapten Nash. Dessutom var kvinnan som filmar Bond och Tania från bron i Venedig i slutet av filmen gift med regissören Terence Young.


Även om det inte är absolut en cameo, Terence Young var också med i filmen, en dubbning på för Pedro Armendáriz, som spelade Kerim Bey och var allvarligt sjuk under inspelningen (i själva verket begick självmord kort efter avslutad filmning).
Cuts: Filmen förlorade en sekvens där Grant kommentarer om filmen som han har av Bond i sängen med Tania ( "Vilken prestation!"). Detta förklarar Bonds kommentar i gondolen vid slutet av den färdiga filmen ( "Han hade rätt du vet"). En sekvens i Istanbul togs bort där Kerim Bey förhindra bulgariska agenten från följande Bond genom att krossa hans bil. Denna scen togs bort när det konstateras att Bond hade dödat den bulgariska agent tidigare i filmen!
Bond citat?
My Name is Bond...James Bond varumärke introduktion inte någonstans i filmen, antagligen på grund av att alla verkar ha en ganska bra uppfattning om vem han är.
Vodka Martinis: Bond förbrukar något under filmen. Istället dricker han medium kaffe med Kerim Bey och sedan tar vin med middag på Orientexpressen.
Gambling: Återigen ingen, annan än M och Bond beslut att gå till Lektor när allt är uppenbarligen en fälla!
Bond bitar: Bond har bruna ögon och ett ärr vid basen av ryggen. Han kör en grön vintage Bentley (i enlighet med Bond i Flemings romaner).
Övrigt: Bond nämns en gång att han var i Tokyo med M och de hade en "intressant upplevelse". När Bond och Tania är på Orientexpressen utger sig att vara ett gift par som heter David och Caroline Somerset återvänder till sina hem i Derbyshire efter en affärsresa, de har inga barn. Miss Miss Moneypenny har aldrig varit i Istanbul.

Något annat?: Öppningen schackspel mellan Kronsteen och McAdams byggde på en berömd match mellan Boris Spassky och David Bronstein (vanns av Spassky).



Den lucka i sidan av byggnaden som fungerar som Krilencu s räddningsväg döljs av munnen av Anita Ekberg i en affisch för en film som heter "Call Me Bwana". Denna filmen från 1963 med Bob Hope och Anita Ekberg producerades av Harry Saltzman och Albert R Broccoli och deras namn kan ses på affischen.
Receptionisten på Bonds Istanbul Hotel har samma röst som Honey Rider i Dr No, detta beror på det faktum att båda dubbades av Monica van der Syl (som också dubbade Claudine Auger i Thunderball).
From Russia With Love var den första filmen att tillkännage en efterföljare (James Bond will return) i slutet på filmen, en trend som kommer att fortsätta fram till Octopussy. I slutet av filmtexten var det ett misstag att skriva att James Bond-tema var av Monte Norman (i stället för Monty Norman).

James Bond Chess S.P.E.C.T.R.E. "From Russia With Love" 1963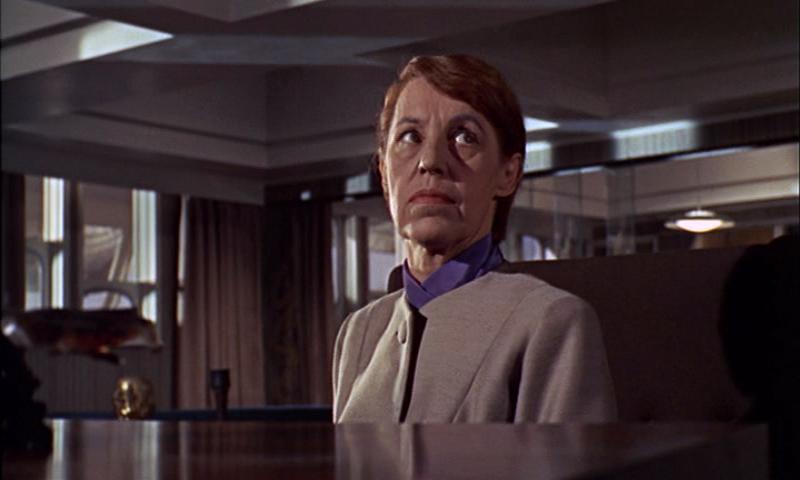 James Bond Chess S.P.E.C.T.R.E. "From Russia With Love" 1963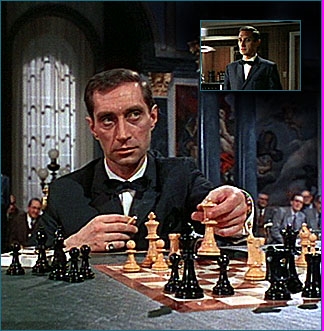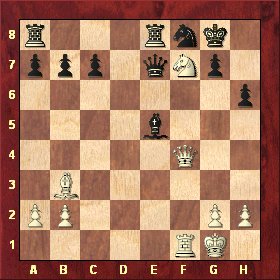 Vladek plays a villain named Kronsteen (or Number 5).
He is a member of S.P.E.C.T.R.E

Vladek plays a villain named Kronsteen (or Number 5).
He is a member of S.P.E.C.T.R.E.