FAKT
YEAR:
1987 Movie nr 15
TITEL:
The Living Daylights
VÄRLDS PREMIÄR:
29 Juni 1987
SVENSK PREMIÄR:
10 Juli 1987
LÄNGD:
125 min
PRODUCENTER:
Albert "Cubby","R"Broccoli
Michael G,Wilson
Barbara Broccoli
REGI:
John Glen
MANUS:
Richard Maibaum
Michael G,Wilson
FOTO:
ALec Mills
SCENOGRAFI:
Peter Lamont
KLIPPNING:
John Grover
Peter Davis
MUSIK:
John Barry
TITELMELODI:
"The Living Daylights"
framförd av A-Ha
"Where Has Everybody Gone"
"If There Was A Man
Chrissy Haines
framförd av The Pretenders
INSPELAD:
Marocko
Gibraltar
Österrike
USA
England
Pinewood Studios
FILMBOLAG:
MGM/United Artists
SKÅDESPELARE:
Timothy Dalton
James Bond, 007
Maryam d´Abo
Kara Milovy
Joe Don Baker
Brad Whitaker
Jeroen Krabbe
General Georgi Koskov
Art Malik
Kamran Shah
John Rhys-Davies
General Leonid Pushkin
Andreas Wisniewski
Necros
Thomas Wheatley
Saunders
Geoffrey Keen
Minister of Defence
Desmond Llewelyn
Q
Caroline Bliss
Miss Moneypenny
Robert Brown
M
John Barry
Orkester ledare
Michael G,Wilson
Opera Patron

Date of Release
World Premiere 29th June 1987, the
Odeon Leicester Square, London.

Running Time
130 minutes

James Bond
Timothy Dalton

Plot
Soviet General Georgi Koskov fakes his
defection to the West in order he is able to continue his capitalist pursuits and have the British Secret Service eliminate his colleagues who are close to exposing his corruption.

Bond's Women
Kara Milovy (Maryam d'Abo)
Linda (Kell Tyler)

Bond's Enemies
General Georgi Koskov (Jeroen
Krabbe)
Brad Whitaker (Joe Don Baker)
Necros (Andreas Wisniewski)
Impostor [Gibraltar assassin] (Carl Rigg)

Bond's Allies
Saunders (Thomas Wheatley)
Felix Leiter (John Terry)
CIA Agent Liz (Catherine Rabbett)
CIA Agent Ava (Dulice Liecier)
Rosika Miklos (Julie T. Wallace)
General Leonid Pushkin (John Rhys-Davies)
Rubavitch (Virginia Hey)
Kamran Shah (Art Malik)
General Anatol Gogol (Walter Gotell)
Agent oo4 (Frederick Warder)
Agent oo2 (Glyn Baker)
Frederick Gray (Geoffrey Keen)
'M' (Robert Brown)
Miss Moneypenny (Caroline Bliss)
'Q' (Desmond Llewelyn)

Bond's Car
Aston Martin V8 Volante (convertible)
Aston Martin V8 Vantage (hardtop)

Bond's Gadget
Philips Keyring Finder

Main Title Music
'The Living Daylights' performed by
a-ha

End Title Music
'If There Was A Man' performed by The
Pretenders

Music Score
John Barry

Production Design
Peter Lamont

Main Titles Designer
Maurice Binder

Screenplay
Richard Maibaum & Michael G. Wilson

Editors
John Grover & Peter Davies

Director of Photography
Alec Mills

Director
John Glen

Producers
Albert R. Broccoli & Michael G. Wilson

Worldwide Box Office
$191.2 million

Worldwide Box Office Gross Income 2002 inflation-adjusted $304 million

EON Productions movies


1. Dr No 1962
2. From Russia With Love 1963
3. Goldfinger 1964
4. Thunderball 1965
5. You Only Live Twice 1967
6. On Her Majesty`s Secret Service 1969
7. Diamonds Are Forever 1971
8. Live And Let Die 1973
9. The Man With The Golden Gun 1974
10.The Spy Who Loved Me 1977
11.Moonraker 1979
12.For Your Eyes Only 1981
13.Octopussy 1983
14.A View To A Kill 1985
15.The Living Daylights 1987
16.Licence To Kill 1989
17.Goldeneye 1995
18.Tomorrow Never Dies1997
19.The World Is Not Enough 1999
20.Die Another Day 2002
21.Casino Royale 2006
22.Quantum Of Solace 2008
23. Skyfall 2012
24. SPECTRE 2015
25. No Time To Die James Bond 25 2021
26. James Bond 26 2024
27. James Bond 27 2027
28. James Bond 28 2030
29.James Bond 29 2034
30 James Bond 30 2037

Not included in
Bondserie or
EON Productions
Casino Royale 1954
Casino Royale 1967
Never Say Never Again 1983

Producer
Albert "Cubby"Broccoli
Harry Saltzman
Barbara Broccoli
Michael G,Wilson

Mission
James Bond must prevent renegade KGB General Koskov and his ally, arms dealer Brad Whitaker, from enriching themselves through a complicated sheme to cause all-out war between Soviet and British intelligence agencies.
Armed with razor-sharp instincts and a license to kill, James Bond battles diabolical arms merchants in this thrilling, lightning-paced adventure. Timothy Dalton brings energy, humor, and ruthless cunning to his performance as Agent 007.
After Bond helps Russian officer Georgi Koskov (Jeroen Krabbé) make a daring defection to the West, the intelligence community is shocked when Koskov is abducted from his remote hiding place. Bond leaps into action, following a trail that leads to the gorgeous Kara (Maryam d'Abo), who plays Bond as easily as she plays her Stradivari Cello (Lady Rose). As they unravel a complex weapons scheme with global implications, they are forced into hair-raising chases, a riveting jailbreak, and an epic battle in the Afghanistan desert with tanks, airplanes, and a legion of freedom fighters on horseback.
Featuring high-tech gadgetry including Bond's sleek Aston-Martin automobile (outfitted with high-powered lasers and a rocket engine), it's a slam-bang action extravaganza with unbelievable stunts, ingenious plot twists, and sensuous encounters of overwhelming passion.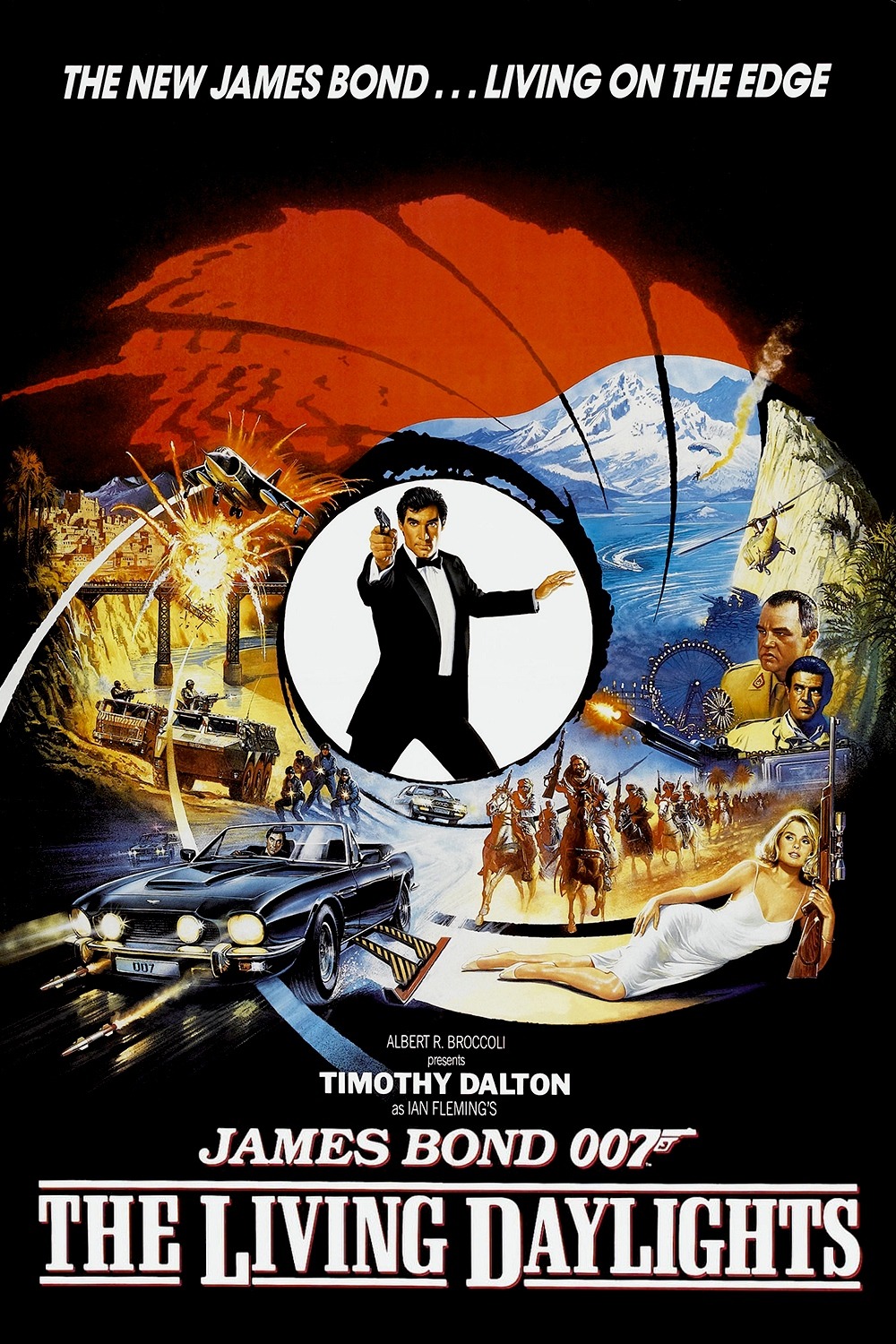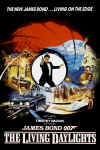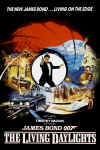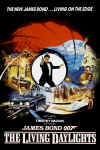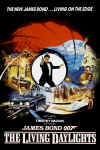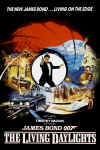 The Living Daylights (1987) Gadgets & Weapons
Whitaker's Assault Rifle: When Bond confronts Whitaker, the agent is armed with his trust Walther PPK. Whitaker, on the other hand, has this rifle which includes a bullet-proof face shield and can take up to eighty rapid-repeat rounds of ammunition. Bond gets the upper hand though... (see "Philips Keyring Finder")
Explosive Milk Bottles: When Necros infiltrates the safehouse, he does so as a milkman. It is fitting, therefore, that is means of terror should be through these explosive milk bottles. He simply throws then around the house to distract the attentions of the security officers while he deals with Koskov.


Philips Keyring Finder: So long as the enemy is within a range of five foot, 007 can disarm them by whistling "Rule Britannia". The result is that the keyring emits stun gas which will keep the opponent at bay for thirty seconds or so. It's second feature is that it also houses some high explosive. This is seen at the end when Bond is fighting Whitaker - he attaches it to a statue then wolf whistles. The statue falls on Whitaker, knocking him out cold. Finally, the keyring contains skeleton keys which, 'Q' claims, can open 90% of the world's locks.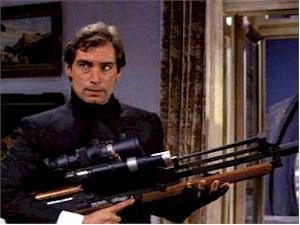 Walther Sniper's Rifle: In the sequence subsequent to the titles, Bond sets up the scene for the "defection". He uses this weapon to seek and eliminate any KGB snipers who could be on guard against the coup. The gun houses an infrared scope through which Bond identifies the sniper to be the novice Kara - he then misses on purpose as a result. The gun can use either soft-tipped or (007's preference) the steel-tipped bullets.
General Pushkin's Watch: During a tense scene in a Tangier hotel room, where Bond is trying to get information out of Pushkin, the General starts a silent distress signal by pressing one of his watch buttons. This is to alert his bodyguard that he is in trouble. Bond catches Pushkin in the act and manages to distract the incoming bodyguard by presenting him with Pushkin's topless wife. He capitulates easily leaving Bond in full control of the situation...
Conclusion: Back from the brink, somewhat, after the disappointment of this section in A View To A Kill. The explosive milk bottles are brilliant and the keys/keyring supplied by 'Q' are also very good. We are introduced to a series of weapons, like Bond's and Whittaker's rifles, which is in keeping with the arms dealing plot, but their use is not superfluous - the scene involving Bond's sniper's rifle is very involving.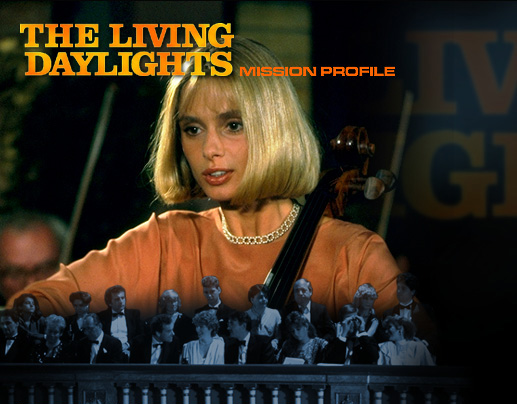 Kara Milovy (Maryam d'Abo)

Volksper Vienna, Sofien Säle
Straight over the road no less. You can go to the window from which Koskov made his escape.The interiors were shot in a different venue They are the Sofien Säle, also in Vienna. The window on the inside is facing a bar, and in the bottom right picture you can see what kind of view Kara would have had.
Conductor

Played by: John Barry

Description: John Barry, the man behind most Bond musical scores, makes a brief cameo appearance as the conductor of Kara's concert at the end of the movie at the Sofiensaal house in Vienna. The interiors were shot in a different venue They are the Sofien Sälel, (not pictured) also in Vienna.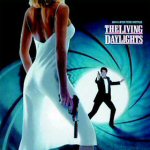 The Living Daylights John Barry Soundtrack LP
The Living Daylights John Barry Soundtrack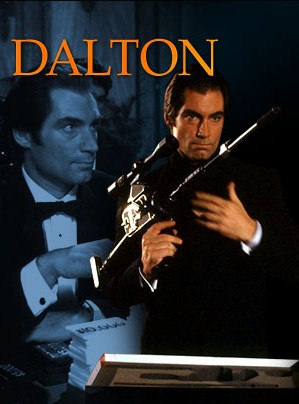 James Bond
Played by:
Timothy Dalton
Description:
Timothy Dalton became the fourth man to step into the role of James Bond, 007, and took the character back to his roots. Although he seems a bit stiff for the part, he fits right into the film and adds a gritty and dark aspect to the character.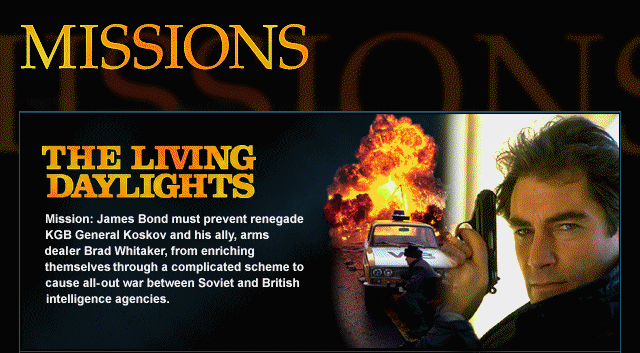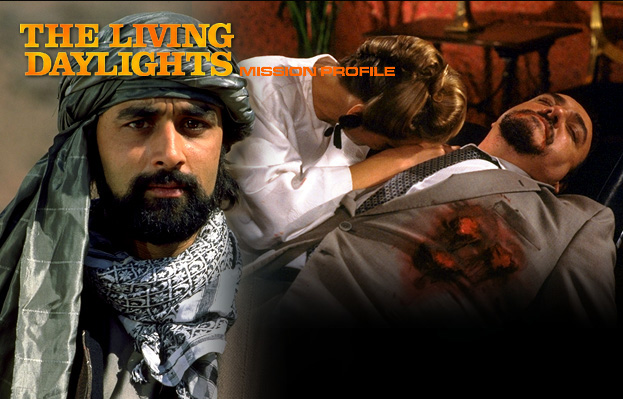 Kamran Shah (Art Malik)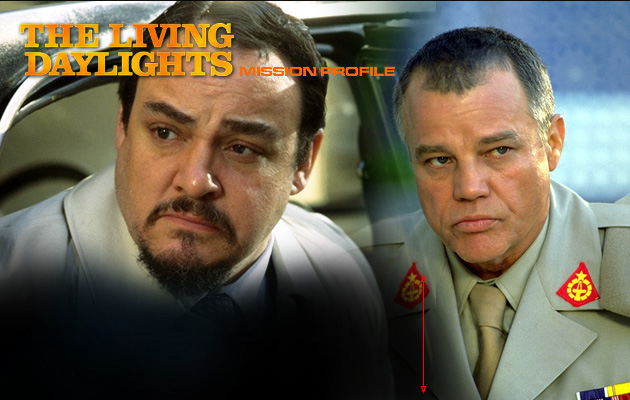 General Leonid Pushkin (John Rhys-Davies), Brad Whitaker
(Joe Don Baker)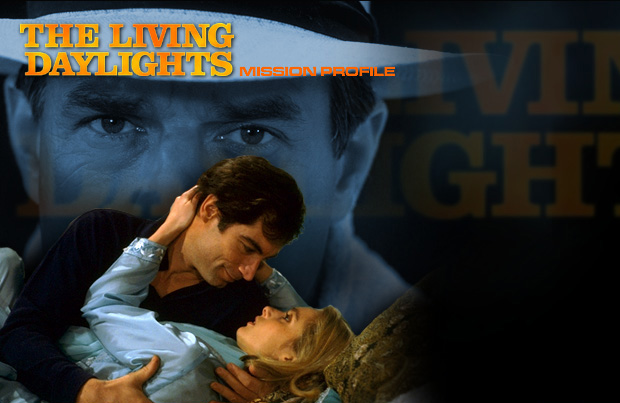 James Bond (Timothy Dalton) Kara Milovy (Maryam d'Abo)
Molto Allegro From Symphony #40 In G Minor K550
(The Living Daylights/Mozart)
Cara stradivarius lady rose.
Volksoper opera house Vienna


Kara Milovy (Maryam d'Abo) James Bond (Timothy Dalton)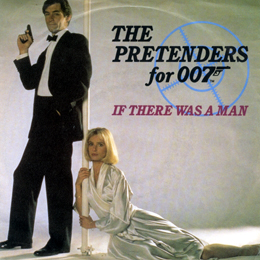 James Bond (Timothy Dalton) Kara Milovy (Maryam d'Abo)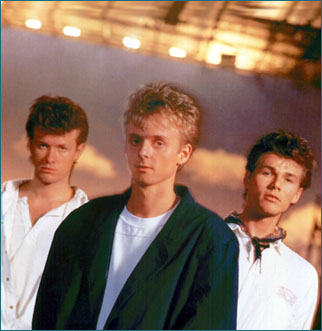 A-ha singing the soundtrack The Living Daylights
Morten Harket, the lead singer of pop group A-Ha (who performed the title song), was offered a small role as a bad guy in the movie. He turned down the offer due to extensive touring in Japan.
Norwegian pop group formed in 1985 comprised of: Morten Harket, lead singer and song writer; Magne Furuholmen (("Mags"), keyboards, piano, vocals and song writer, and Paul Waaktaar-Savoy
Crew
Writing Credits: Ian Fleming
Producer: Albert R. Broccoli
Producer: Michael G. Wilson
Director: John Glen
Composer: John Barry
Title Song: A-Ha
Cast
James Bond: Timothy Dalton
Moneypenny: Caroline Bliss
M: Robert Brown
Q: Desmond Llewelyn
Bond Girl (Kara Milovy): Maryam D'Abo
Villain (Brad Whitaker): Joe Don Baker
Henchman (Necros): Andres Wisniewski
The Facts
Rated: PG
Official Year: 1987
Number in Series: 15th
PDF File: tld.pdf
Running Time: 125 minutes
Budget: $33 million
UK Premiere: June 29, 1987
US Premiere: July 31, 1987
First appearance of Timothy Dalton as James Bond
First appearance of Caroline Bliss as Ms. Moneypenny
First appearance of Joe Don Baker (would later play Jack Wade in GoldenEye)
First time General Gogol is not for or against Bond (he merely appears as a casual observer) First and only time Bond escapes on a musical instrument case (cello)
First time Bond is in a training mission
First appearance of the Mujahadin (Afghanistan resistance)
First time 007 flies a C-130 transport
First time a Soviet officer is involved in drug trafficking
First time 007 poses as a organ donor
First time 007 goes to Vienna, Austria
First time a gas pipeline was used for defection purposes
First terrorist attack (at a safe house)
First time a Double-O agent is crushed to death with sliding doors
First time that Gibraltar was used as a site for a training mission
First time 007 is trapped in a Soviet-occupied country (Afghanistan)
First fully topless woman on screen in a Bond movie
First time Bond drives an Audi 200 avant turbo