1. Dr No 1962
2. From Russia With Love 1963
3. Goldfinger 1964
4. Thunderball 1965
5. You Only Live Twice 1967
6. On Her Majesty`s Secret Service 1969
7. Diamonds Are Forever 1971
8. Live And Let Die 1973
9. The Man With The Golden Gun 1974
10. The Spy Who Loved Me 1977
11. Moonraker 1979
12. For Your Eyes Only 1981
13. Octopussy 1983
14. A View To A Kill 1985
15. The Living Daylights 1987
16. Licence To Kill 1989
17. Goldeneye 1995
18. Tomorrow Never Dies1997
19. The World Is Not Enough 1999
20. Die Another Day 2002
21. Casino Royale 2006
22. Quantum Of Solace 2008
23. Skyfall 2012
24. SPECTRE 2015
25. James Bond 25 2019

James Bond be back 2019 in Bond 25
and Daniel Craig be back again 5th time


Not included in
Bondserie or
EON Productions
Casino Royale 1954
Casino Royale 1967
Never Say Never Again 1983
Producer
Albert "Cubby"Broccoli
Harry Saltzman
Barbara Broccoli
Michael G,Wilson
Writers to all Bond books
Ian Fleming
Amis Kingsley
Raymond Benson
John Gardner
Charlie Higson
Sebastian Faulks
Jeffery Deaver
Neal Purvis screenwriter
Robert Wade screenwriter
Bondbooks
James Bond actors
Barry Nelson
Sean Connery
George Lazenby
Roger Moore
Timothy Dalton
Pierce Brosnan
Daniel Craig

James Bond Composers
Monty Norman 1
John Barry 11
George Martin 1
Marvin Hamlisch 1
Bill Conti 1
Michael Kamen 1
Eric Serra 1
David Arnold 5
James Bond Music
22 Best Bondsoundtrack
Allias MI6
Moneypenny Maxwell/Bliss/Bond
Q Llewelyn/Cleese
M Lee/Brown/Dench
CIA Felix Leiter
Q = Desmond Llewelyn has
appeared in 17 Bond films
Bondgirls
Honey Ryder Ursula Andress
Britt Ekland
Izabella Scorupco
Maud Adams
Kristina Wayborn
Mary Stavin
Halle Berry JINX

Bond Villians
Jaws (Rickard Kiel)
Venz (Dolph Lundgren)

Pinewood Studios

Sir WinstonChurchill. Prime Minister twice (1940-45 and 1951-55)

Ian Flemings boss M
Mission: Goldfinger
Released: September 20, 1964
James Bond: Sean Connery
Director: Guy Hamilton
Budget: $3.5 Million
Worldwide Boxoffice: $124.9 Million
Running Time: 111 Minutes
Villain: Auric Goldfinger
Organization: Red China
Scheme: The detonation of a nuclear device inside Fort Knox
Henchmen: Oddjob
Girls: Jill Masterson, Pussy Galore
Allies: Felix Leiter
Bond's Kill Count: 2
Bond's Conquest Count: 4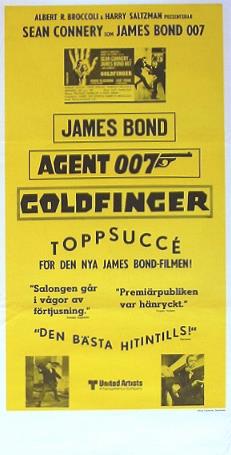 1964
Goldfinger
John Barry
Soundtrack
EP Vinyl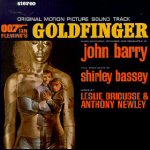 1964
Goldfinger
John Barry
Soundtrack
Mission: Goldfinger
Released: September 20, 1964
James Bond: Sean Connery
Director: Guy Hamilton
Budget: $3.5 Million
Worldwide Boxoffice: $124.9 Million
Running Time: 110 Minutes
Box Office
Budget:
$3,000,000 (estimated)
Gross:
$51,081,062 (USA)


Villain: Auric Goldfinger
Organization: Red China
Scheme: The detonation of a nuclear device inside Fort Knox
Henchmen: Oddjob
Girls: Jill Masterson, Pussy Galore
Allies: Felix Leiter
Bond's Kill Count: 2
Bond's Conquest Count: 4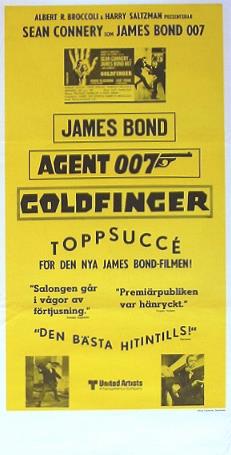 Recensioner av filmen Goldfinger:
Toppsucce` för den nya filmen.
SvD: "Salongen går i vågor av förtjusning"
DN: "Premiärpubliken var hänryckt"
Expressen: "Den bästa filmen hitintills
*
'Goldfinger' var den första Bondfilm som var inblandad i Oscarutdelningen. Norman Wanstall vann en Oscar för 'Bästa effekter/ljudeffekter'.
Ken Adam fick en BAFTA-nominering för bästa art direction och filmen fick det tyska Golden Screen-priset.
*
Tyske Gert Frobe är född Fröbe och bytte namn då han började göra film i England.
*
I slutscenen stannar bomben när det är '007' sekunder kvar. Detta lades till efteråt som en lustig effekt. Ursprungligen stannade klockan på '003'. Detta förklarar Bond's kommentar efteråt; "three more ticks...".
*
1938 byggde den ungerske arkitekten Ernö Goldfinger ett ultramodernt hus på Ian Flemings gata i Hampstead, London. Ian Fleming var en av dom som protesterade mot detta bygge. Tydligen lyckades han inte stoppa det, men som hämnd döpte han en av sina värsta skurkar efter honom...
*
Inspelningarna började den 20:e januari 1964.
*
Gert Frobe kunde inte tala engelska, så hans röst är dubbad av Michael Collins.
*
Margaret Nolan (Dink) är den 'guldflicka' som finns med i förtexterna och på planscherna.
*
Den pensionerade amerikanske armégeneralen Charlie Russhon hjälpte filmteamet med en hel del för att de skulle få möjligheter att ens närma sig Fort Knox. Detta tackade de för genom att skriva hans namn på en stor skylt i armélägret vid Fort Knox.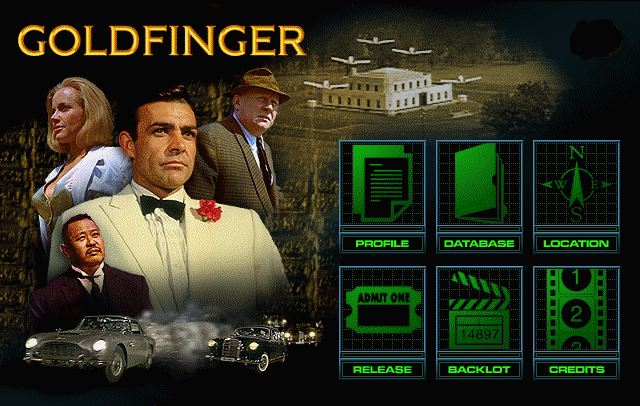 Goldfinger Handling
Under en vistelse i Miami stöter Bond för första gången ihop med Auric Goldfinger, och avslöjar honom som en fuskare. När Bond sedan kommer tillbaka till London, upptäcker han att Goldfinger ligger bakom en omfattande smuggeloperation av guld. Han ser till att stöta på honom under en golfrunda för att ta reda på hans planer. Men det är inte förrän Bond skuggar Goldfinger och hans urstarke betjänt Oddjob till Goldfingers bas, som han upptäcker det verkliga målet: att spränga en radioaktiv bomb i USA:s guldreserv, Fort Knox i Kentucky.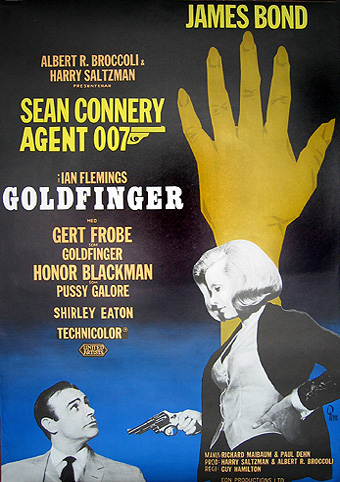 Biopremiär i Sverige: 5 Februari 1965
Biopremiär i England: 20 September 1964
Biopremiär i USA: 22 September 1964
Speltid: 110 min
Roll
Skådespelare
James Bond
Sean Connery Gör sin tredje Bond-film
Pussy Galore
Honor Blackman
Auric Goldfinger
Gert Frobe
Jill Masterson
Shirley Eaton
Tilly Masterson
Tania Mallet
Oddjob
Harold Sakata (Tosh Togo)
M
Bernard Lee Gör sin tredje Bond-film
Solo
Martin Benson
Felix Leiter
Cec Linder
Simmons
Austin Willis
Miss Moneypenny
Lois Maxwell Gör sin tredje Bond-film
Midnight
Bill Nagy
Kisch
Michael Mellinger
Johnny
Peter Cranwell
Bonita
Nadja Regin Hon spelade även Kerim Bey's flicka i 'Agent 007 Ser Rött'.
Smithers
Richard Vernon
Mr Ling
Burt Kwouk Spelar även med i 'Man Lever Bara Två Gånger'
och 'Casino Royale'
Q
Desmond Llewelyn Gör sin andra Bond-film
Mei Lei
Mai Ling Är även med i 'Man Lever Bara Två Gånger'
Swiss Old Lady
Varley Thomas
Dink
Margaret Nolan
Brigadier
John McLaren
Atomic Specialist
Robert McLeod
Blacking
Victor Brooks
Capungo
Alf Joint
Hawker
Gerry Duggan
och utanför rollistan:
Sierra
Raymond Young
Brunskill
Dennis Cowles
Strap
Hal Gallali Är även med i 'Casino Royale'
Betjänt på Goldfinger's ranch
Michael Mok Spelar här i sin andra Bond-film.
Henchman
Lenny Rabin
Soldier
Michael G. Wilson Cubbys svärson och en framtida Bondproducent
Inspelningsplatser: Pinewood Studios, Schweiz (USA).
| | |
| --- | --- |
| Regissör: | Guy Hamilton |
| Producenter: | Harry Saltzman & Albert R. Broccoli |
| Manus: | Richard Maibaum & Paul Dehn |
| Baserad på en roman av: | Ian Fleming |
| Cinematography: | Ted Moore |
| Musik: | John Barry |
| Production Design: | Ken Adam |
| Film Editing: | Peter Hunt |
| Theme Song Singer: | Shirley Bassey |
| Title Song Lyrics: | Leslie Bricusse |
| Titelsekvens av: | Robert Brownjohn |
| Assistant Director: | Frank Ernst |
| Wardrobe Supervisor: | Elsa Fennell |
| Assistant Special Effects: | Frank George |
| Wardrobe Master: | John Hilling |
| Sound Recordist: | Gordon K. McCallum & Dudley Messenger |
| Dubbing Editor: | Harry Miller |
| Art Director: | Peter Murton |
| Make-up Artist: | Basil Newall & Paul Rabiger |
| Title Song Lyrics: | Anthony Newley |
| Set Dresser: | Freda Pearson |
| Assistant Art Director: | Maurice Pelling |
| Assembly Editor: | Ben Rayner |
| Production Manager: | L.C. Rudkin |
| Action Sequences: | Bob Simmons |
| Special Effects: | John Stears |
| Wardrobe Mistress: | Eileen Sullivan |
| Dubbing Editor: | Norman Wanstall |
| Hair Stylist: | Eileen Warwick |
| Assistant Art Director: | Michael White |
| Continuity: | Constance Willis |
| Camera Operator: | John Winbolt |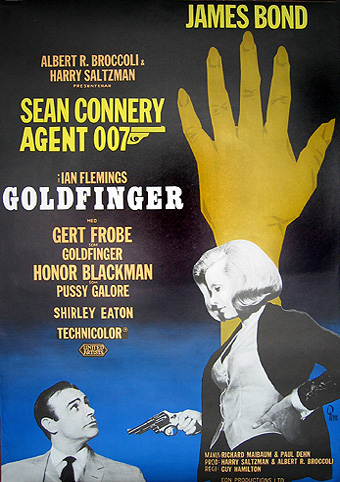 Jill Masterson: Shirley Eaton
Bonds första besök i Amerika
Första Bondfilmen inte att behandla SPECTRE
Första tecken på Röda Kina
Första gången Bond går till den fysiska labbet som kallas Q Branch
Första användningen av Aston Martin DB5



Första omnämnandet av en annan Double-O agent (008)
Första sexuellt suggestiva kvinnliga namn (Pussy Galore)
Första gången en henchperson hoppade (Pussy Galore)
Första gången en skurk röst var dubbad med i den amerikanska release (Goldfingers var den första och Largo's skulle bli den andra i Thunderball)
Första extravaganta slutar kamp sekvens med hundratals aktörer slåss
Första "formel Bond"-format film
Tilly Masterson är den första person att köra en Ford Mustang i någon film, inte bara Bond.
Första omnämnandet av Newfoundland

Första Bond-filmen att bli nominerad till en Oscar

Första användningen av skottsäker väst som helst. Utvalda i Q: s labb, var denna uppfinning år före sin tid och långt innan poliser använde dem.

Första gången en laser används i någon film

Första gången Bond flickan var lesbisk (Bond vände Pussy Galore rak när han "vädjade till hennes modersinstinkt)

Första gången som Ford Motor Company som fordon för användning i en Bond-film

Första gången Bond använder inte en PPK. Bond använder en Walther P-38 att han tog bort av Goldfingers ligister efter att han stoppar Aston-Martin. Detta är i samma sekvens som Tilly Masterson dödas.

Första gången Bond nämner The Beatles

Första gången en skurk använder ett gyllene pistolen (Scaramanga var den andra)

Första gången en Bondbrud dödas

Första hantlangaren som var en före detta olympisk (Harold Sakata)

Först hantlangaren med en psykiskt handikapp (Oddjob var tyst)

Första gången som 007 är omhändertagen av polisen (M nämner detta i sitt kontor efter 007 togs i förvar av Miami Beach PD)

Första gången 007 spelar golf Slazenger nr 1



Första gången en Bond-film spelades in i Stoke Poges Golfbana (platsen användes också under inspelningen av Tomorrow Never Dies, men var baserad i hotellkomplexet)

Första omnämnandet av British Airways United.

Golfspel är den första sekvens som visas i Storbritannien. (tidigare endast set-up scener var i England)



Första gången en tidigare medlem av gjutna av The Avengers visas i en Bond-film. Honor Blackman (Pussy Galore) hade uppträtt som Kathy Cale på Avengers.

Första temat sång framförd av Shirley Bassey, som senare skulle sjunga Diamonds Are Forever och Moonraker 1979.

Första gången Michael G Wilson gör en cameo.

Första gången filmen ändrades mellan biopremiär och hem video release (den timer som stannar på 007 sekunder stannade på 003 sekunder i bioversionen)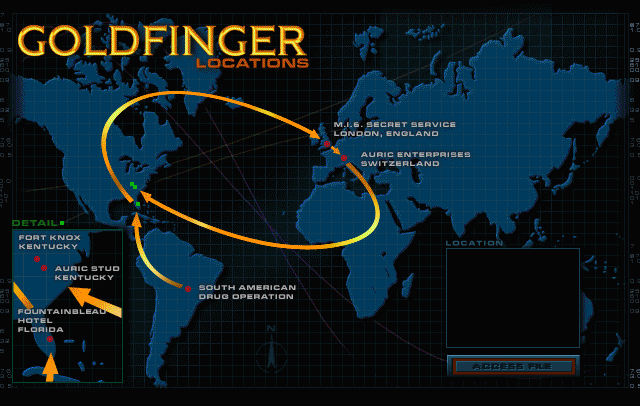 Locations Goldfinger: MI 6 London, Auric Enterprises Switzerland, South America drug operation, Fountainblau Hotel Florida, Fort Knox Kentucky, Auric Stud Kentucky.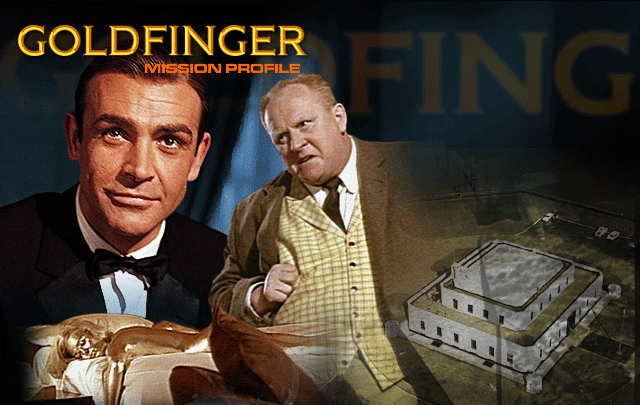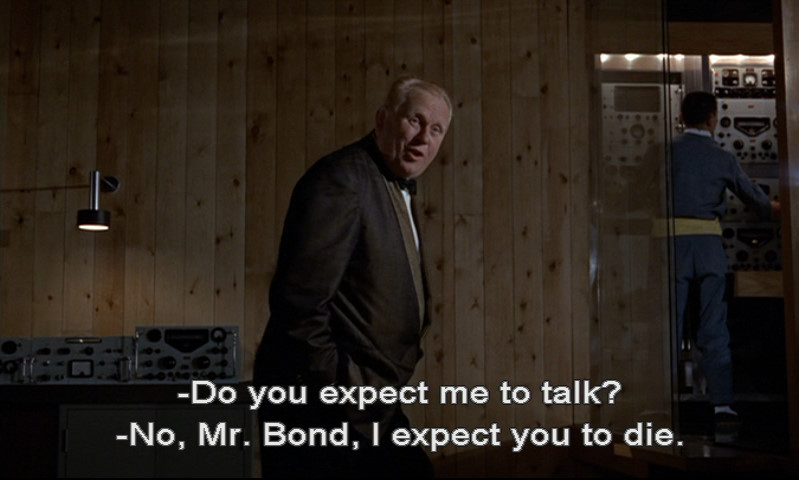 Gert Frobe röst dubbades av en engelsk skådespelare.


(

Michael

Collins

)

Honor Blackman var faktiskt en utbildad expert på Judo.



Redan trycka raderna av anständighet med Pussy Galore namn, var Bonds introduktion till hennes förändrats.

I den ursprungliga manuset linjen var:
Pussy: Jag är Pussy Galore.
Bond: Jag vet, men vad heter du?
Var dock scenen ändrats senare till Bonds nuvarande svaret av "Jag måste drömma!"



När Goldfinger släpptes första gången, visste de offentliga ingenting av lasrar.

Filmen fascinerad publik överallt.


Producenterna fick över 300 brev från fans undrar varför de fick filma i Fort Knox, medan presidenten inte ens släpps in.

En 24-timmarsperiod vakt skulle placeras vid Fort Knox som så att folk inte kunde stjäla den falska guldtackor.

Harold Sakata fick allvarliga skador från elstötar i hans karaktär för att han vägrade släppa tills regissören heter klippa, trots sin smärta.

Harold Sakata representerade USA vid 1948 års OS som tyngdlyftare.

Över 75 procent av alla biobesökare över hela världen har sett Goldfinger minst en gång.

Gert Frobe var ett underbarn på fiol.



Den berömda slut var bomben är desarmerad på 007 sekunder var faktiskt förändrats.

I den ursprungliga versionen som gick över hela Europa och resten av världen, var bomben desarmeras med 003 sekunder kvar, varför Bonds linje "Tre fler fästingar och Mr Goldfinger skulle har fått jackpot."

När filmen kom till Amerika, tyckte producenterna att det skulle ha en starkare verkan ändra den till 007 sekunder, men linjen fortfarande.

När planet rasar i slutet av filmen kan man faktiskt se strängarna för att filma sekvensen med en miniatyr plan.

CIA-chefen Allen Dulles tilldelas en forskargrupp för att avgöra om det är möjligt att homing systemet i Aston Martin.

Den "Golden Girl" Tanken var baserad på en verklig schweizisk modell som målade sig själv och dog av kvävning.



I Flemings roman, Pussy Galore lesbisk.

Detta ändrades i filmen att blidka det sociala klimatet i eran.

Sean Connery gick utanför som för ett par dagar och var tvungen att bli ombedd att återvända efter Harold Sakata s Oddjob levererade en full kontakt karateslag under de första att ta av "Golden Girl" scenen på hotellet i Miami.

The Falcon pick-up Oddjob Drives har whitewall däck på den när den tar krossade Lincoln, men det har Blackwall däck när den nådde sin destination.

Felix Leiter verkar i Goldfingers bok, är det dock bara för en kort tid och inte har en framträdande roll ända till slutet, till skillnad från filmen.



Auric Goldfinger hade den första gyllene pistolen, år innan Francisco Scaramanga.

Det var inte i Ian Fleming boken, men i filmen i scenen där amerikanska soldater plundra Fort Knox valv, kan du tydligt se Auric Goldfinger dra sätta en gyllene revolver och skjuta flera personer.





Pussy Galore var namnet på Ian Flemings husdjur bläckfisk.

Tillfällighet var Bondbrud uppkallad efter en av Ian Flemings husdjur,
och senare tjänade som ett tema för Octopussy 1983.




Miss Moneypenny James Bond 007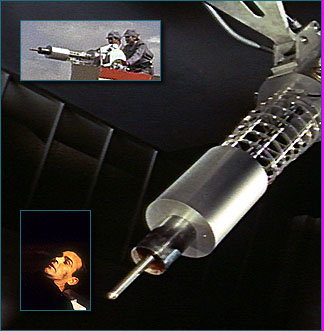 Goldfinger's Laser sråle.