Next time you are on Corfu Visit:
Filming locations for For Your Eyes Only (1981) James Bond 007

Achillion Palace, Gastouri, Corfu, Greece
(casino scene)

Achillion, Gastouri, Corfu, Greece
(Casino Scene)

Agios Spyridon Tower, Corfu Town, Corfu, Greece
(James Bond and Melina are shopping)

Balcony Terrace, Achillion Palace, Gastouri, Corfu, Greece
(Bond and Melina look out over Corfu Bay at night)

Bouas-Danilia Village, Corfu, Greece
(Greek wedding scene - Bond meets Q at village St. Cyril's Church)

Casino, Achillion Palace, Gastouri, Corfu, Greece
(casino scene)

Cliffs, The Old Fortress, Corfu Town, Corfu, Greece
(Bond kicks Mercedes off cliff with Locque in it)

Concrete Walkway, Kanoni Island, Corfu, Greece
(Melina arrives in Corfu on boat)

Kanoni Island, Corfu, Greece

Katami Bay, Corfu, Greece
(Melina visits her parents - Melina's parents on boat - Hector Gonzales kills Melina Havelock's parents)

Pagi Village, Corfu, Greece
(yellow Citroen 2CV car chase)

Paleokastritsa Road, Bouas-Danilia Village, Corfu, Greece
(yellow Citroen 2CV car chase - Bond advises Melina to take the low road)

Small Harbour House, The Old Fortress, Corfu Town, Corfu, Greece
(Albanian warehouse action sequence)

St Cyrils' Church, Bouas-Danilia Village, Corfu, Greece
(James Bond meets Q in confession box at village St. Cyril's Church)

St. George's Beach, Corfu, Greece
(beach buggy sequence)

Stone Entrance Gate, Bouas-Danilia Village, Corfu, Greece
(entrance to Gonzale's villa)

The Old Fortress, Corfu Town, Corfu, Greece
(Albanian warehouse action sequence)

The Stone Gate, The Old Fortress, Corfu Town, Corfu, Greece
(Bond shoots Locque)

The Tunnels, The Old Fortress, Corfu Town, Corfu, Greece
(Locque almost runs over Bond in his Mercedes)

Vatonies, Corfu, Greece
(near) (James Bond accelerates Lotus through the Spanish countryside)

Villa Sylva, Kanoni, Corfu, Greece
(Gonzale's spanish villa with swimming pool)

Vlacherna Monastery, Kanoni Island, Corfu, Greece
(near) (Melina arrives in Corfu on boat)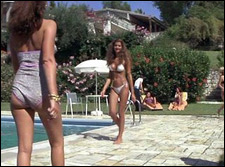 Tula's scene in For Your Eyes Only
bei meinem diesjahrigen Besuch in Ihrem Museum hatte ich Ihnen versprochen, Ihnen eine Original-Fotografie des Swimmingpool aus dem Film ,,In todlicher Mission" (For your eyes only) zu senden. Dieses Versprechen wollte ich nun einlosen.
Ich selbst habe im Jahre 1979 eine wunderschone Zeit auf dem dazu- gehorigen Anwesen und daher in diesem Pool auf der Insel Korfu verbracht.
Ich hoffe, die Aufnahme gefallt Ihnen und Sie konnen sie in Ihrem Museum verwenden.
Herzliche Griifie aus Naurod nach Nybro.
Horst Eckhardt On the Bangert 3 3
D-65207 Wiesbaden-Naurod eMail: H.Ecki @ t-online.de
James Bond James Bond Museum by Mr. Gunnar Schafer Emmabodavagen 20 S-38245 Nybro
Dear Mr. Bond,
during my visit to your museum, I had promised you, to send you an original photograph of the swimming pool from the movie, in todlicher mission "(For your eyes only). then this promise I wanted einlosen.

I myself have spent in 1979 a wonderfull time on the to-gehorigen property and therefore in this pool on the island of Corfu.
I hope the recording pleases you and you can use in your museum.
Cordial Griifie from Naurod to Nybro.
Horst Eckhardt Auf dem Bangert 3 3
James Bond Museum Mr. James Bond Gunnar Schafer Emmabodavagen 20 S-38245 Nybro Sweden
Sehr geehrter Herr Bond,