DOSSIER

Giorgetto Giugiaro's Italdesign unveiled a concept car at the Turin Motor Show in 1972 that was based upon a stretched Lotus Europa chassis. It was amongst the first of designer Giugiaro's polygonal "folded paper", or wedge-shaped, conceptions, and it caused a sensation in the automotive press. Lotus ultimately developed its Lotus Esprit using this design, and remarkably, little changed from the show car. The Esprit was launched in October 1975 at the Paris Auto Show, and it went into production in June 1976, replacing the Europa in the Lotus model line-up. With its lightweight chassis, mid-engine configuration, and fibreglass body shell, it furthered the reputation for class-beating handling long enjoyed by Lotus. At the time of its introduction, it was indisputably Britain's most advanced sports car.

The Lotus not only impressed the automotive world, but it also impressed film producer Albert R. "Cubby" Broccoli, who one day found a pre-production model parked directly in front of his office at Pinewood Studios outside London. The car had been conspicuously positioned there, without identifying badges, by Lotus PR Manager Don McLauchlan. McLauchlan had learned that preparations had begun for a fresh 007 adventure, and he wanted to make their extraordinary new car available for the picture. Experience with the vehicles from other films, particularly Aston Martins in prior Bond movies, had proven that the publicity and sales impact could be enormous. So a deal was struck, and Lotus delivered two production vehicles; each of these were equipped with an additional piece of sheet metal beneath the radiator to protect the cars from the rough streets of the Costa Smeralda, in Sardinia, where the surface sequences of the famous chase was to be filmed. Additionally, seven more body shells were supplied, with one of which being sealed all around for underwater scenes and converted into a submarine.

"PAY ATTENTION, 007!"

No Bond car has ever done anything as outrageous on screen as transform itself into a submarine; none except for this Lotus in the epic The Spy Who Loved Me. Breaking with tradition, Q is never given the opportunity to explain the car's features to 007. So, when the Lotus is fired (literally! – see sidebar) off a jetty into the sea, the audience was stunned, and captivated.

The specially prepared body shell was shipped to Perry Oceanographics, a marine engineering and construction firm based in Riviera Beach, Florida. Perry was known for their ingenuity in building all manner of submersible vehicles (including the Reef Ranger, also seen in the underwater battle), and they are world-renowned for their unique capabilities.

With guidance from Special Visual Effects Supervisor Derek Meddings, Perry re-envisioned the Lotus as a "wet" submarine (connoting that it is full of water as it travels beneath the surface). It moves forward via a bank of four propellers, with their electric motors being driven by batteries housed in a water-tight compartment. The articulated fins are adjusted with mechanical levers that are operated by its driver. Underwater, the Lotus has a turning circle of around 20 feet. Its dive and climb performance is regulated by ballast tanks, and it has been described as "crisply argonautic". Contrary to what movie magic suggests, there is no semblance of a road car interior in this Lotus; instead, inside one will find its underwater motors, batteries, levers, and other control apparatus, with only a platform seat for its driver. It was said to have cost over $100,000 to construct (nearly half a million dollars today).

Its driver was Don Griffin, a retired U.S. Navy SEAL who was employed as a technician and test pilot for Perry. As such, he was the obvious candidate to operate the Lotus on location, with the underwater sequences being filmed nearby in the Bahamas.

And Don Griffin was indeed the driver (in full scuba gear with auxiliary oxygen), and in so doing, he assumed one of the greatest anonymous roles in movie history. As the one and only fully functioning Submarine Car especially designed and built for the spectacular underwater sequences, the Lotus appears in the film for the lion's share of the screen time beneath the surface.

Dubbed "Wet Nellie" on the set, the Lotus was used to incredible effect in the film. It was fitted with mechanically operated enclosures that reveal the missile launchers in the front, a smoke screen exhaust in the rear, and a mine hatch on the bottom. When Griffin voiced the need for rearward vision, a prismatic mirror was mounted on the roof, which was sourced from Army surplus and came off of a tank. The stream of air bubbles following the vehicle was actually generated by utilising a giant cache of Alka-Seltzer tablets!

ENDURING ICON

The Spy Who Loved Me was the 10th film in the Bond franchise, and the third to star Roger Moore. At a pivotal moment in the celebrated progression of 007 films, Eon Productions needed a hit after the disappointing box office performance of The Man With The Golden Gun (1974). So, this time they pulled out all the stops by doubling the budget, bringing back Lewis Gilbert (You Only Live Twice) to direct, and giving Production Designer Ken (later Sir Ken) Adam appropriate latitude to create the phantasmagorical and futuristic sets for which he was famous. And then there was the Submarine Car, which was conceived by Adam, a Lotus owner and an admirer of the Esprit's streamlined shape. So, the fuse was lit and the fires of 14-year-old imaginations around the world were re-ignited: the secret agent as super hero (with a little technological assistance)! As a result of this renewed commitment, The Spy Who Loved Me became the highest-grossing Bond film to date, firmly re-establishing the 007 character as a contemporary action hero.

Along with supervision on location by Meddings, underwater cameraman Lamar Boren, himself a veteran of the underwater crew from Thunderball and You Only Live Twice, was also re-enlisted for the filming of Wet Nellie in the Bahamas. So, yet again in a James Bond film, the car was the star, and moviegoers couldn't stop talking about the Lotus.

LOT 16

Just over 32,000 miles from new 1983 LOTUS TURBO ESPRIT

Sold for US$ 46,200 (DKK 314,494) inc. premium

The Scottsdale Auction

28 Jan 2016, 12:00 MST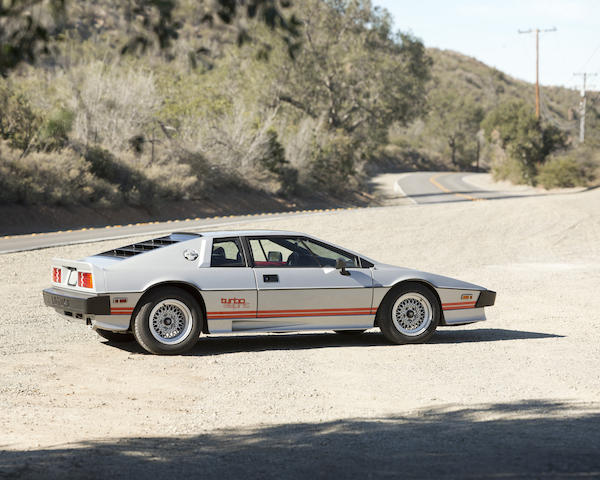 1983 LOTUS TURBO ESPRIT
DESIGN BY GIORGETTO GIUGIARO

VIN. SCCFC20A8DHF60363
ENGINE NO. LD910830720905

2,174cc DOHC 16-Valve Turbocharged 4-Cylinder Engine
2 Dellorto Carburetors
210bhp at 6,500rpm
5-Speed Manual Transaxle
4-Wheel Independent Suspension
4-Wheel Disc Brakes - Inboard at the Rear


*Highly original, low-mileage example of a 007 favorite
*Just over 32,000 miles from new and believed factory original paint and interior
*The sole example produced in Silver Metallic over Red Leather
*Recently serviced with new tires
*Offered with Lotus Certificate of Vehicle Provenance, CARFAX and history file


THE LOTUS ESPRIT

The Lotus Esprit became an instant star when James Bond and 'Q' chose it for the 007 film 'The Spy Who Loved Me', and the ultimate product placement came with its ability to transform into a submarine; looking even more svelte in the water. The Esprit design was unmistakably from the pen of Giorgetto Giugiaro, having come about following a chance encounter between Giugiaro and Lotus boss Colin Chapman. The Esprit featured all-independent suspension and Lotus's own 16-valve, four-cylinder engine placed transversely mid-ship, and mated to a five-speed transaxle. Disc brakes were fitted to all four wheels, the rears being mounted inboard.

The Esprit metamorphosed through several series, its first revision being when it gained a 2.2-litre engine and then turbo-charged induction. Introduced in 1980, the Garrett-blown Turbo Esprit produced 210bhp and was good for a top speed of 148mph, with 60mph attainable in just 6.1 seconds. A Bond-car just like the first series Esprit, the Turbo Esprit starred in 'For Your Eyes Only' as 007's four-wheeled weapon for both chasing criminals in Spain, or with skis strapped to the back for a skiing trip to Italy's posh Cortina ski resort. Hand built in limited numbers; the Esprit remains one of the most iconic and popular thoroughbred sports cars ever produced.


THE MOTORCAR OFFERED

Offered here is an incredibly well preserved, low mileage example of the desirable Turbocharged Esprit. Completed at Lotus Cars Ltd in August of 1983, this superb example was finished just as it appears today, in silver metallic with red decals over a red full-leather interior, optioned with air conditioning and equipped for the US market. According to the Lotus-issued Certificate of Vehicle Provenance, this Turbo Esprit was the 82nd of the 150 cars produced, of which 7 were finished in silver metallic, but is in-fact the sole example completed with red interior.

The new Esprit arrived in the US later that year, where it was soon after registered with the first owner. The CARFAX report states the Esprit residing in Washington State in the mid-1990s, before migrating to California in 2001, where it has remained until now. With just over 19,000 original miles recorded in 2001, the silver Turbo Esprit found a long-term owner in the San Diego area with a Mr. Anthony Gilmore. Service records indicate that Lotus service center Symbolic Motor Cars replaced the timing belt and serviced the car in June of 2002 with just over 20,000 miles on the odometer. Multiple logs on the CARFAX reports the Esprit's low mileage up through he 2000s, and service records from San Diego based Viking Motorsports can be found in the history file. Mr. Glimore would keep the car until 2013, where it passed through another San Diegan enthusiast, before being purchased by the consignor in 2014. The low-mile Lotus has since been used on weekend trips between San Francisco and Los Angeles, as well as on Sunday drives through Napa Valley, and was recently serviced with four new tires.

It is evident upon close inspection that this Turbo Esprit has been cared for since new. With an odometer reading of just over 32,000 miles, and a cosmetic condition to match it, few 30-plus year old cars present as well as this one. The silver paint is believed to be the original applied by Lotus from new, and the same goes for the interior. The cars original spare wheel is still present, and factory applied decals and tags are present throughout. Furthermore, the Lotus-issued Certificate of Vehicle Provenance confirms that the car retains its original, matching numbers engine. A very good example of a Roger Moore favorite, this highly original Esprit is ready for the next caretaker.
Saleroom notices