HANDLINGEN
Pierce Brosnan kastar sig ut i rollen som James Bond i detta passionerade och sprakande äventyr, som kombinerar andlös action och vackra miljöer, med smäktande sensualitet och sofistikerad humor.
Renard är en high-tech terrorist med en mycket speciell och farlig egenskap: En kula som sitter fast i hans hjärna gör att han inte kan känna smärta.
När han sätter sina ondsinta planer på att ta kontroll över världens alla oljetillgångar i verket, är Agent 007 mänsklighetens enda hopp.
Bonds uppdrag kantas av fara och skönhet, i form av en het oljearvtagerska och en mycket snygg atomforskare, när han kämpar mot en hänsynslös fiende som inte låter någonting stå i vägen för hans förödande plan.
Storslaget skådespel och oförglömliga actionscener (som en vansinnig racerbåtsjakt på Themsen och en hisnande fallskärmsattack i franska alperna), gör "Världen räcker inte till" till en tuff, sensuell och fantastiskt underhållande film!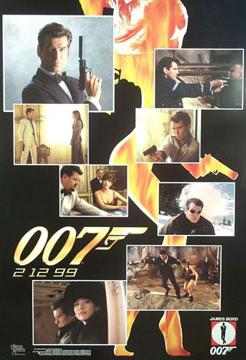 Efter att den brittiske oljekungen Sir Robert King, en personlig vän till Bonds chef M, dödats, ger M Bond i uppdrag att skydda hans dotter Elektra från hennes f.d. kidnappare, terroristen Renard, som Bonds kollega 009 sköt, och som nu har en kula i hjärnan som gör att han inte känner någon smärta. Elektra King åker genast till sin pappas olje-pipeline och tar befälet. Bond stöter där ihop med kärnfysikern Christmas Jones, och upptäcker att Renard har stulit en atombomb för att spränga Kings pipeline.
Men när Bond lyckas fly från Renard får han veta att M har blivit kidnappad - av Elektra King, som under kidnappningen blivit kär i Renard. (Se även Stockholmssyndromet). De har stulit en ubåt och tänker detonera atombomben i Istanbul där konkurrenterna har sina pipelines - så att de ska få monopol på olja.

Big Size 1740x2480
Poster prinnted and aproved by
UIP United International Pictures
United Artists




UIP UA UNITED INTERNATIONAL PICTURES UNITED ARTISTS AN MGM COMPANY
Release Data
UK: 26th November 1999 (12)
USA: 19th November 1999 (PG-13)
World Premiere: 8th November 1999 (Bruin & Fox Theatre, Los Angeles, USA)
UK TV Premiere: 14th November 2001, ITV
US TV Premiere: 3rd November 2002, CBS
Running Time: 128 minutes
Classification: 12 (UK), PG-13 (US)
Budget: $135m
Worldwide Box Office: $352m
US Box Office: $126.93m
US Admissions: N/A
UK Box Office: £28.57
Production
Producers: Barbara Broccoli & Michael G. Wilson
Director: Michael Apted
Screenplay: Neal Purvis, Robert Wade, Bruce Feirstein
Composer: David Arnold
Locations
Bilbao, Spain; London Pinewood studios, UK; Scotland, UK; Baku, Azerbaijan; Istanbul, Turkey.
Pre-Credits Sequence
Bond is in Bilbao investigating to a Swiss banker in order to retrieve £3m that Sir Robert King used to buy a stolen top-secret report and to get a lead on a dead MI6 agent.
When Bond doesn't get his demands, he ups the ante by roughing up the goons. Upon questioning the banker at gunpoint, a mysterious assassin later to be known as "Cigar Girl" thwarts his attempts. It soon becomes time to leave and Bond opts for the window, keeping one step ahead of the authorities.

Later back at the MI6 building Sir Robert has arrived to collect his money and is speaking to M when Bond enters her office. When offered a drink he notices that the ice in his finger is making a chemical reaction. The money Bond collected is a bomb and 007 is too late in warning King as an explosion rips throught the MI6 building.
Bond spots Cigar Girl in a powerboat on the Thames and steals Q's retirement project: a boat loaded with armaments for "fishing". After a spectacular chase, Bond catches up with the girl who is trying to escape in a hot air balloon. Bond is hanging on by a rope as Cigar Girl opts to blow herself up rather than face the consequences, leaving 007 dropping onto the Millennium Dome.
Title
Uttered by James Bond when Elektra King offers him the world, the title of the film is taken from Bond's family motto that adorned his coat of arms in "On Her Majesty's Secret Service". It is translated from the original Latin phrase "orbis non sufficit".
Cut Scenes & Alternate Versions
The trailer shows Christmas Jones telling Bond, "Someone is going to be after my butt." In the film, she says "Someone is going to have my ass."
Early press screenings ran for 160 minutes. The film was cut back to 128 minutes for release.
Scenes that were trimmed back include:
- Right after Bond jumps out of the Bankers office in Bilbao, the Cigar Girl comes into the Hotel Room from which Renard shot the guard. He says to her, he hopes that Bond will bring the money back.
- The boat chase sequence was originally 18 minutes long.
- The sequence in which King dies and Bond looks for the Cigar Girl was originally longer.
- Also shortened was the scene where Bond drives through the oil fields in Azerbaijan.
- While Bond is talking to Elektra her office was flown in by helicopter. It then expands to the size as it is seen in the film
Best Line
Zukovsky: "I'm looking for a submarine. It's big, and black and the driver is a very good friend of mine.
Best Mistake
When Elektra removes her earring to show Bond her mutilated lobe, it magically replaces itself in the next shot.
Distinguishing feature
007 shooting a 'Bond girl' for the first time, and Brosnan giving 007 a deeper personal.
Vital Statistics
Conquests: 3
Martinis: 1
Kills: 19
"Bond, James Bond": 2
Release Date: November 19, 1999 trailer
MPAA rating: 'PG-13' for MGM
intense sequences of action violence, some sexuality and innuendo
Running Time: 128 minutes
The World Is Not Enough Script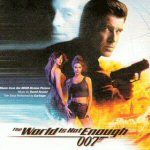 The World Is Not Enough Pierce Brosnan "Världen Räcker Inte Till"


The World Is Not Enough Pierce Brosnan "Världen Räcker Inte Till"

DENISE RICHARDS stars as Dr. Christmas Jones


The World Is Not Enough Pierce Brosnan "Världen Räcker Inte Till"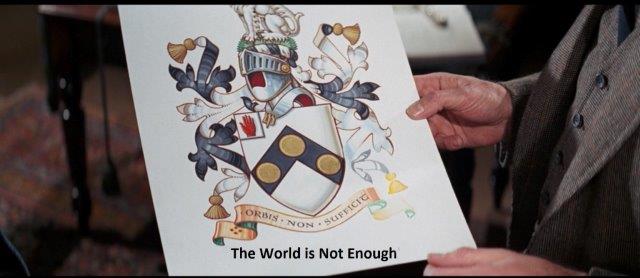 Orbis non sufficit means The World Is Not Enough. It's the James Bond family motto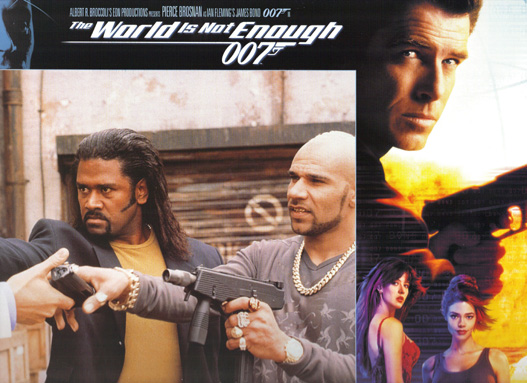 Gabor and Mr. Bullion
Bull Played by Goldie
Bull acts as Valentin Zukovsky's right hand man and driver. His mouth is filled with gold teeth and he always carries a gold-plated briefcase.
Gabor Played by John Seru
Gabor is Elektra King's right-hand man and bodyguard and poses a threat to Bond when Bond wants to question Elektra.