FAKTA
ÅR:
1969
SVENSK TITEL:
I hennes majestäts hemliga tjänst
VÄRLDS PREMIÄR:
18 December 1969
SVENSK PREMIÄR:
18 December 1969
LÄNGD:
139 min
PRODUCENTER:
Harry Saltzman
Albert R. Broccoli
REGI:
Peter Hunt
MANUS:
Richard Maibaum
FOTO:
Michael Reed
SCENOGRAFI:
Syd Cain
KLIPPNING:
John Glen
MUSIK:
John Barry
TITELMELODI:
On Her Majesty's Secret Service
We Have All The Time In The World
framförd av Louis Armstrong
INSPELAD:
Schweiz
Portugal
England
Pinewood Studios
FILMBOLAG:
United Artists
| | |
| --- | --- |
| Directed by | Peter R. Hunt |
| Writing | Ian Fleming (novel) |
| | Richard Maibaum |
| | Simon Raven (additional dialogue) |
| Produced by | Albert R. Broccoli |
| | Harry Saltzman |
| | Stanley Sopel (associate) |
| Original music by | John Barry |
| Cinematography by | Michael Reed |
| Film Editing by | John Glen |
| Production Design by | Syd Cain |
| Art Direction | Robert W. Laing |
| Set Decoration | Peter Lamont |
| Costume Design by | Marjory Cornelius |
| Makeup Department | Basil Newall (makeup artist) |
| | Paul Rabiger (makeup artist) |
| | Eileen Warwick (hair stylist) |
| Assistant Director | Frank Ernst (assistant director) |
| | John Glen (second unit director) |
| Sound Department | Gordon K. McCallum (sound recordist) |
| | Harry miller (dubbing editor) |
| | John W. Mitchell (sound recordist) |
| | Nicholas Stevenson (dubbing editor) |
| Special Effects | John Stears |
| Stunts | John Eaves (stunt skier) |
| | Richard Graydon (stunt double: George Lazenby) |
| | George Leech (stunt co-ordinator stunts) |
| | Chris Webb (stunt double: George Lazenby) |
| Other Crew | Alex Barbey (ski cameraman) |
| | Maurice Binder (title designer) |
| | Willy Bogner (ski camerman) |
| | Jackie Cummins (wardrobe mistress) |
| | Hal David (lyricist) |
| | Joan Davis (continuity) |
| | Roy Ford (camera operator: second unit) |
| | John Jordan (aerial camera) |
| | David Middlemas (production supervisor) |
| | Alec Mills (camera operator) |
| | Monty Norman (Bond theme composer) |
| | Anthony Squire (stock car sequence director) |
| | Egil S. Woxholt (camera operator: second unit) |
Titeln syftar på att James Bond är anställd av den engelska underrättelsetjänsten, som från början var kungahusets spioner.
Soundtrack


Övriga soundtracket skrevs av John Barry.
Originalversion
"We Have All the Time in the World" – Louis Armstrong
"This Never Happened to the Other Feller"
"Try"
"Ski Chase"
"Do You Know How Christmas Trees Are Grown?" – Nina van Pallandt
"On Her Majesty's Secret Service (Main Title)"
"Journey to Blofeld's Hideaway"
"We Have All the Time in the World (Instrumental)"
"Over and Out"
"Battle at Piz Gloria"
"We Have All the Time in the World/James Bond Theme"
Remastrad version
[
"We Have All the Time in the World" – Louis Armstrong
"This Never Happened to the Other Feller"
"Try"
"Ski Chase"
"Do You Know How Christmas Trees Are Grown?" – Nina van Pallandt
"On Her Majesty's Secret Service (Main Title)"
"Journey to Blofeld's Hideaway"
"We Have All the Time in the World (Instrumental)"
"Over and Out"
"Battle at Piz Gloria"
"We Have All the Time in the World/James Bond Theme"
"Journey to Draco's Hideaway"
"Bond and Draco"
"Gumbold's Safe"
"Bond Settles In"
"Bond Meets the Girls"
"Dusk at Piz Gloria"
"Sir Hilary's Night Out (Who Will Buy My Yesterdays?)"
"Blofeld's Plot"
"Escape from Piz Gloria"
"Bobsled Chase"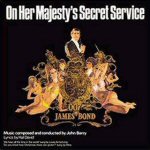 1969 On Her Majesty's Secret Service John Barry Soundtrack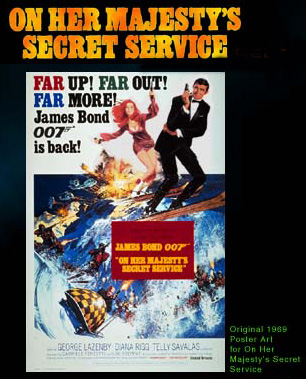 George Lazenby in front of Big Ben Liondon
"On Her Majesty's Secret Service 1969"


Fakta om "I hennes majestäts hemliga tjänst":

"I hennes majestäts hemliga tjänst" är en av de filmer som är mest trogna Ian Flemings bokförlaga. Det mesta som sker i filmen är också med i Flemings roman.

Inte bara George Lazenbys första Bondfilm, utan också hans skådespelardebut. För att bättre komma in i rollen gick han till samma skräddare och frisör som Sean Connery hade använt sig av.

En av de få Bondfilmer där Q:s signaturgadgets inte är med.

Tyskan Ilse Steppat, som spelar Blofelds medhjälpare Irma Bunt, gick dessvärre bort fyra dagar efter filmens premiär. Hon blev 52 år gammal.

Håll utkik efter Joanna Lumley ("Helt hysteriskt") i en extremt liten roll som en av Blofelds och Irma Bunts "dödsänglar".

I den här filmen blir det känt att Bondsläktens vapensköld bär mottot "Orbis non sufficit", vars engelska tolkning "The World Is Not Enough" blev titeln på en kommande 007-film. Mottot härstammar faktiskt från en brittisk baronet, Sir Thomas Bond, som levde på 1600-talet.

Bondbruden upptäcktes i TV-serien "The Avengers" ("Hämnarna"), men rollen mot Lazenby är fortfarande hennes största. Sedan dess har det mest åter blivit teater, serier och TV-filmer för nu 73-åriga Dame Diana Rigg.

MISSAR

+ Bond flyr från Blofelds alpcenter och håller på att falla utför ett stup. Titta noga runt vänster ben, så syns linan som ser till att Lazenby´s stand in inte ska ramla ner.

Lite fakta från VIC ARMSTRONG

Helikopteranfallet och skidjakten satte en ny standard för action. Spelplatsen var ju så vidsträckt, och sättet de använde sin utrustning på outstanding. Skidjakten filmade vi på ett nyskapande sätt: Johnny Jordan hängde i en fallskärmssele under en helikopter och höll kameran medan han flög paralllellt med skidåkarna. Han var bara någon decimeter över marknivån och bumpade till och med i ibland. Johnny förlorade ett ben på ett liknande sätt i Man lever bara två gånger, men ändå garvade han, skruvade av sig benet och drog i väg.

Lite fakta från JOHN BARRY

Den här låten skrev jag med Hal David; We have all the time in the world". Det var en fras från boken skriven av Ian Fleming själv. Louis Armstrong hade varit riktigt krasslig innan, men han var ett superproffs, satte det på tre tagningar.
Det här är nog min favoritballad.
Patienterna på Blofelds klinik spelades av Norskan Julie Ege, Mona Chong, Sulvana Henriques, Sally Sheridan, Joanna Lumley, Zaheera, Anouska Hempel, Ingrid Back, Helena Ronee och Jenny Hanley.
Diana Rigg är en av ytterst få Bond-brudar som är äldre än den Bond hon spelar mot. Det enda andra exemplet är Honor Blackman som Pussy Galore i Goldfinger.
Trots att filmen inte gick lika bra som de tidigare fem officiella Bond-filmerna (men inte så dåligt som vissa kritiker hävdar), menar många kännare] att I hennes majestäts hemliga tjänst är en av de bästa Bond-filmerna och att Lazenbys rolltolkning ligger väldigt nära Ian Flemings Bond. Vid premiären kritiserades Lazenby för att han inte var (tillräckligt) lik Connery och för att det inte fanns någon gnista mellan honom och Diana Rigg.
Efter alla klagomål blev Lazenby ointresserad av att fortsätta spela Bond, och menade att den smokingklädde hemlige agenten skulle bli föråldrad under det frigjorda 1970-talet. Han lovades ett sjufilmskontrakt och betalades ett förskott, men återbetalade summan och hoppade av. I protest dök han upp under vissa presskonferenser med helskägg. I efterhand har han beklagat de dåliga rådgivare han då omgav sig med.
Filmen hade svensk premiär 18 december 1969 på biograferna Rigoletto, Rival, Riverside, Ri-Paraden och Ri-Cora i Stockholm.
Trots att Bond får sin hämnd på Blofeld i Diamantfeber (även om det skulle visa sig att det misslyckades ändå) nämns inte Teresa/Tracy vid namn i den filmen. Det skulle dröja ända tills Älskade spion innan hon alluderades till, och fram till Ur dödlig synvinkel innan hennes namn förekom igen.
George Lazenby" On Her Majesty's Secret Service 1969"
I Hennes Majestäts Hemliga Tjänst (1969)
:
Bra saker att känna till:
+ Vinjetten i OHMSS stannar till, och vi kan läsa "Harry Saltzman and Albert R Broccoli present", varefter vinjetten fortsätter. Detta var en exakt kopia av hur den första Bondfilmen, Dr. No, hade inletts. En markering att filmen var en del i Bondsagan, trots den nye huvudrollsinnehavaren.

+ En av alla de som provfilmade för rollen som Bond i OHMSS var en 22-årig Timothy Dalton, som precis gjort sin filmdebut i "The Lion in Winter" (även Anthony Hopkins debuterade i den filmen).

+ Först funderade man över att förklara Bonds ändrade utseende med att han plastikopererat sig för att förvirra sina fiender. Idén föll ganska tidigt, men återanvändes i annan form i nästa rulle, Diamonds Are Forever.

+ Bilen Bond kör i början och i slutet av filmen är en Aston Martin DBS. Två bilar användes vid inspelningen. Båda dessa är idag i privat ägo (en i England och en i Australien).

+ Från början var Brigitte Bardot tänkt för rollen som Tracy, men hon hann skriva på kontraktet för westernfilmen Shalako med - Sean Connery!

+ Den enda "tekniska leksak" som finns med i OHMSS (förutom Bonds kassaskåpsöppnare) är Q:s radioaktiva gasbinda som visas i filmens inledning. M avfärdar denna uppfinning, vilket är en klar markering av regissör Hunt att Bond hade blivit alltför beroende av lustiga prylar. I den här filmen får 007 klara sig utan det mesta i den vägen.

+ I OHMSS får vi för första och hittills enda gången i serien se Bonds kontor. Vi blir även fascinerade av att se att Bond sparar souvenirer från sina tidigare uppdrag! (man undrar hur Bond fick tag i dem, eftersom vi inte i någon av de tidigare filmerna ser att Bond tar med sig dessa saker.)

+ En scen i bobsleigh-jakten var i själva verket en olyckshändelse - en stuntman föll av sin bob och skadade sig lätt - men såg så bra ut på film att scenen fick vara kvar.

+ När Bond tillfångatagits av Dracos män, för de honom till Dracos högkvarter. De passerar en städare, som visslar titelmelodin till Goldfinger.

+ En av flickorna på Piz Gloria är Joanna Lumley, numera mest känd från tv-serien Absolutely Fabulous (Helt Hysteriskt).

+ I förtexterna kan man läsa: "Additional dialogue - Simon Raven". Vad kan det vara för något? Jo, det rör sig om den lyriska vers som Tracy deklamerar för Blofeld på Piz Gloria, den som börjar 'Thy Dawn, O Master of the World, thy dawn'. Det rör sig om en omarbetning av en text av 1800-talsförfattaren J E Flecker.

+ Producenterna var upprörda över att regissören Hunt lät filmen bli så lång, 139 minuter. De ville korta filmen så att biograferna skulle kunna visa filmen flera gånger per kväll. Därför cirkulerar två olika versioner av OHMSS. I den korta versionen saknas två scener, bl a den där Bond tar sig in på Gumbolds advokatkontor i Bern. Enligt vissa uppgifter var det biografchefen på Odeon i London (enligt andra var det en VD för en stor brittisk biografkedja) som inte alls tyckte att filmen var för lång, och som därmed indirekt räddade dessa sekvenser från att helt försvinna.

+ Peter Hunt fick verkligen kämpa för att i filmen få ha med det tragiska slutet som finns i Flemings bok. Om Lazenby hade gjort fler Bondfilmer, hade man tänkt sig att låta OHMSS sluta glatt och istället ha med det tragiska slutet på OHMSS i början av nästa film, Diamonds Are Forever.

+ Detta är den enda Bondfilm som inte marknadsförts med huvudrollsinnehavarens namn. Eftersom Lazenby redan före premiären (dumt nog) offentligt sagt att han inte skulle göra någon mer Bondfilm, fokuserades marknadsföringen istället på karaktären Bond ("James Bond 007 is back!").

+ RAF-officeren John Crewdson föreställer Dracos helikopterpilot. Han flög också SPECTRE-helikoptern, som Bond sköt ned, i From Russia With Love.

+ Ett envist rykte påstår att OHMSS blev en ekonomisk flopp. Sant är att filmen tog längre tid på sig att spela in sina kostnader än de tidigare Bondfilmerna, men någon förlustaffär var det absolut inte tal om. OHMSS kostade 7 miljoner dollar att göra och drog in ca 80 miljoner. En väsentlig orsak till att intäkterna blev lägre är helt enkelt att filmen var så lång. Man kunde inte veva den lika många gånger per kväll som t ex Dr. No.

+ Det finns en hel del mer eller mindre fanatiska samlare av Bondprylar, s k collectibles. En av de mest myt-omspunna prylarna som dessa samlare hoppas att någon gång få tag i är en "James Bond-bröllopsring", som det påstås att Arts Galore i London lät framställa i samband med premiären på OHMSS. Ingen verkar dock någonsin ha sett en sådan ring, så det är högst tveksamt om den existerar. Enligt legenden ska det stå "We have all the time in the world" i den.