Gunnar Schäfer name is James Bond Visitors in James Bond Museum Sweden

.

Since 1959 James Bond 007 Museum Sweden, Nybro.
The 007 museum 1000 sq.m. world`s only James Bond 007 Museum
Emmabodav. 20, 38245 Nybro


Contact: 007museum@telia.com

Phone+4648112960 Open Daily 10-17 Sat 10-14 Media To do and see Buy/Köp info Links
James Bond Theme Party PPKGuns Omega Bmw Bollinger Corgi, Cd, Swatch Posters, Specials James Bond store
Welcome to The James Bond 007 Museum Sweden Nybro Booking open mon-fri 10-17, sat 10-14
1 2 3 4 5 6 7 8 9 10 11 12 13 14 15 16 17 18 19 20 21 22
---
Svenskt James Bond-museum
Nästa helg öppnar Sveriges första James Bond-museum på Stufvenäs gästgiveri, tre mil söder om Kalmar.

- Det är bland annat originalaffischer, bilmodeller, klockor, böcker och kläder, berättar Bond-samlaren Gunnar Schäfer, som även hoppas få dit någon av de svenska Bondbrudarna till invigningen.

Besöket kan bland annat kombineras med champagneprovning, à la Bond. (24 Mars 14:33)
Aftonbladet | Resor
007 Museum Fact Files - The Cars

James Bond has probably driven more different vehicles than any handful of other screen characters in cinema history. From the Sixties cool of a Sunbeam Alpine and Aston Martin, through the Seventies and Eighties with svelte Lotus Esprits, to the Nineties chic of BMW sportscars, and speeding into the 21st Century with Aston Martin's beast of a car – the Vanquish. Take a look at the files of just a few of the cars in which James Bond oo7 has created more screen destruction, havoc, mayhem – and motor vehicle madness than a
posse of short-sighted pensioners on the M25 or an Interstate Highway!


Aston Martin DB5 - Goldfinger

When Bond's old Bentley could no longer cut the ice, 'Q' Department came up with this classic British sports car, fully loaded with optional extras...

Front and rear extending over-rider rams.
Front firing .30 calibre Browning Machine. Machine guns behind the front indicators
Retractable tyre slashers
Retractable rear bullet proof screen
Radio telephone concealed in secret door compartment
Radar scanner in racing type wing mirror, tracking screen in the cockpit
Passenger ejector seat - roof panel jettisoned just before the seat is fired
Oil slick ejector from nearside rear light cluster.
Triple spiked nails (calthrops) from the offside rear light cluster.
Cartridge for smoke screen released through the exhaust pipes.
Revolving number plates (BMT 216A - UK, 4711-EA-62 - France and LU 6789 - Switzerland)
Armaments draw under front driver seat
Bullet-proof front and rear screens.


Lotus Esprit - The Spy Who Loved Me

After Goldfinger, James Bond took the DB5 for another quick spin in Thunderball. For the next few films, the 'Q' branch didn't have much to offer in the way of feature packed cars. A brief drive in an Aston Martin DBS during 'On Her Majesty's Secret Service' and a bit of 2 wheel driving in a Ford Mustang - then in 1977 things hotted up...

The Lotus Esprit was full of surprises..

Rear firing mud sprayers.
Full 'underwater' kit turning the car into a fully operative submarine.
Surface-to-air missiles used to end Naomi's helicopter ride.
Depth charges.
Underwater smoke screens
Torpedoes.


Lotus Esprit Turbo - For Your Eyes Only

Featuring the very best in anti-theft systems - a self-destruction device.


Aston Martin V8 Vantage and Volante
The Living Daylights

For the last few Roger Moore films, specialised cars were again sadly lacking. Once Timothy Dalton appeared in The Living Daylights, things were about to get back to normal.
Bond returned in an Aston Martin V8 Vantage along with a soft-topped Volante.
The car was equipped with 'laser guns' in the wheels, out-riggers for 'skiing', automatic, self inflating, spiked tyres, jet propulsion and the usual concealed guns.



BMW Z3 - GoldenEye

Bond returned in 1995 with a German set of wheels - although he only managed a short ride in the country before handing the car over to his American contact, Jack Wade.


BMW 750iL - Tomorrow Never Dies

'Q' delivered a lovely new BMW 750 to Bond and luckily had it fully insured for all eventualities.

Remote controlled from a cell phone, Bond spends a fair bit of time out of the car during the car chase. Fully loaded with weapons, Bond steers the car towards the roof..
The last time it was seen flying off the multi-storey, car park - straight into the 'Avis Rent-a-Car' showroom.


BMW Z8 - The World Is Not Enough

'Q' decided that for the third film in a row, Bond would be happy in a BMW.

His new BMW Z8 was equipped with the normal essentials, such as -

Remote control driving capabilities
Hidden rocket-firing ssystem in the car's side vents.

Sadly, this car also ended up a 'write-off' when Electra sent her 'helicopter attached metal cutter' into battle.


Aston Martin V12 Vanquish - Die Another Day

For the latest of Bond's adventures, Bond returns to an Aston Martin - and this one is more powerful and better equipped than any of his previous vehicles

Four grille mounted rockets along with two machine guns.
Two motion -sensing guns consealed under the bonnet.
Spiked tyres for ice driving.

Plus, just incase none of this gets you out of trouble, you can always flick a switch and become invisible!
Maud Adams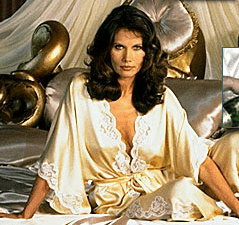 Born Maud Solveig Christina Wikstrom, Maud Adams holds the distinction of being the sole Bond gal to appear in three 007 epics, as Andrea Anderson in The Man With Golden Gun, the mysterious Octopussy in the film of the same title, and as an extra in A View to a Kill (she was filmed on a friendly visit to the set in San Francisco).
Considered one of the most beautiful women in the world, the former model has juggled starring roles as serious actress in movies and television in America, Britain and Sweden while eschewing any "glamour gal" label.
Maud Adams: A selected movie and television filmography


A View to a Kill
Angel III: The Final Chapter
Big Bob Johnson and His Fantastic Speed Circus
Blacke's Magic
The Boys in the Band
Chicago Story
The Christian Licorice Store
Deadly Intent
Emerald Point N.A.S.
The Favorite
for Time
Genova a mano armata
Hell Hunters
The Hostage Tower
Inside A View to a Kill
Inside The Man with the Golden Gun
Inside Octopussy
Inside The Spy Who Loved Me
James Bond: A BAFTA Tribute
The James Bond Story
Jane and the Lost City
Jugando con la muerte
Kafé Luleå
The Kill Reflex
Killer Force
Laura, les ombres de l'été
Mahoney's Estate
The Man with the Golden Gun
The Mysterious Death of Nina Chereau
Nairobi Affair
Octopussy
Pasión de hombre
A Perry Mason Mystery: The Case of the Wicked Wives
Radioskugga
Ringer
Rollerball
Silent Night, Deadly Night 4: Initiation
Tattoo
The Women's Club
U-Turn
Selected Television Appearances:
Blacke's Magic
Hawaii Five-O
Hotel
Kojak
Love, American Style
Mission: Impossible
That '70s Show
This Morning
Walker, Texas Ranger