James Bond Homepage

007museum@telia.com

Donations/Gåvor
James Bond Museum


EON Productions movies
1. Dr No 1962
2. From Russia With Love 1963
3. Goldfinger 1964
4. Thunderball 1965
5. You Only Live Twice 1967
6. On Her Majesty`s Secret Service 1969
7. Diamonds Are Forever1971
8. Live And Let Die 1973
9. The Man With The Golden Gun 1974
10.The Spy Who Loved Me
11.Moonraker 1979
12.For Your Eyes Only 1981
13.Octopussy 1983
14.A View To A Kill 1985
15.The Living Daylights 1987
16.Licence To Kill 1989
17.Goldeneye 1995
18.Tomorrow Never Dies1997
19.The World Is Not Enough 1999
20.Die Another Day 2002
21.Casino Royale 2006
22.Quantum Of Solace 2008
23. Skyfall 2012
24.James Bond 24
25 James Bond 25

Not included in
Bondserie or
EON Productions
Casino Royale 1954
Casino Royale 1967
Never Say Never Again 1983
Producer
Albert "Cubby"Broccoli
Harry Saltzman
Barbara Broccoli
Michael G,Wilson
Writers to all Bond books
Ian Fleming
Amis Kingsley
Raymond Benson
John Gardner
Charlie Higson
Sebastian Faulks
Jeffery Deaver
Neal Purvis screenwriter
Robert Wade screenwriter
Bondbooks
James Bond actors
Barry Nelson
Sean Connery
George Lazenby
Roger Moore
Timothy Dalton
Pierce Brosnan
Daniel Craig

James Bond Composers
Monty Norman 1
John Barry 11
George Martin 1
Marvin Hamlisch 1
Bill Conti 1
Michael Kamen 1
Eric Serra 1
David Arnold 5
James Bond Music
22 Best Bondsoundtrack
Allias MI6
Moneypenny Maxwell/Bliss/Bond
Q Llewelyn/Cleese
M Lee/Brown/Dench
CIA Felix Leiter
Q = Desmond Llewelyn has
appeared in 17 Bond films
Bondgirls
Honey Ryder Ursula Andress
Britt Ekland
Izabella Scorupco
Maud Adams
Kristina Wayborn
Mary Stavin
Halle Berry JINX

Bond Villians
Jaws (Rickard Kiel)
Venz (Dolph Lundgren)
Pinewood Studios
Before commencing his recent mission to stop the Double-0 agent turned traitor, Alec Trevelyan, from using the Goldeneye Weapons System, James Bond made his by now traditional stop at the laboratory run by Major Boothroyd - "Q". The ill-tempered gadget master has over the years equipped Bond with a wide variety of distinguished, state of the art, automobiles, for Goldeneye it was to be no different. Months before it's release to the general public BMW had provided EON productions with an example of the new roadster that they were readying for production, this exclusivity alone guaranteed that the roadster would generate interest wherever it was driven. The 1996 BMW z3 Roadster was handed over to Bond by Q, however as one would expect Q had modified the roadster to meet his own high standards:
The sleek lined convertible would primarily be a pleasure tool for Bond during this mission, with the elegant lines and handsome body styling fitting Bond's style perfectly. Unfortunately the Roadster saw very little action during the film. It was used in the Carribean to deliver Bond and Natalya to a small plane which would be their transport into Cuba to destroy Trevalyan's Secret Headquarters. Bond is seen to releuctantly hand over the keys to his CIA contact - Jack Wade - who made a rather insincere promise not to have too much fun with it. After a reminder not to touch any buttons, the roadster exits it's brief Bond film tenure.
As previously mentioned the roadster featured in the film months before it's official release to the general public, the model used was a 1.9 litre Roadster finished in Atlanta Blue with a Beige Interior, the original now resides in the exhibition area of The James Bond 007 Museum in Nybro Sweden..
| | |
| --- | --- |
| | |
| BMW Z3 Roadster 1.8 Litre on set during the filming of Goldeneye. | Brosnan on set with the 1995 BMW Z3 Roadster. |
A limited run of "Bond Edition" models was produced which sold out within hours of the release, with each carrying a numbered plaque testifying to their authenticity, these examples are now sought after collectibles in their own right.
This was the first occasion when BMW and EON partnered with regard to the vehicles issued to or used by Bond in the films; in Tomorrow Never Dies, Bond was seen to drive a BMW 750il, and whilst in Vietnam, he appropriated a BMW R1200 Cruiser Motorcycle. In The World Is Not Enough, the chosen vehicle was the z8 Roadster, again seen on screen prior to it's release to the general public, like the z3 Roadster almost 4 years before, the z8 was a closely guarded secret whilst on set.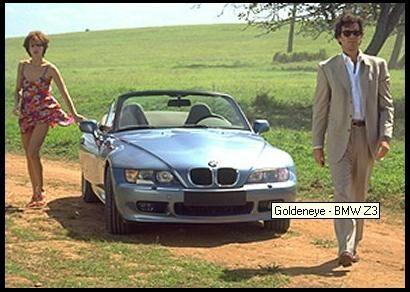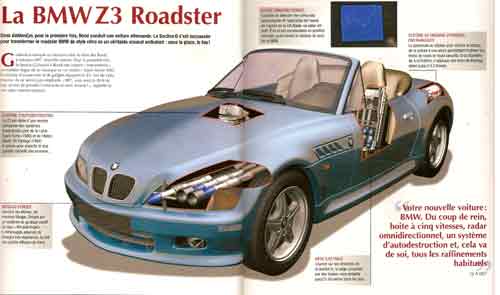 BMW Z 3 Eqipment inside the Stinger Missiles behind the headlights. Ejector Seat. Emergency Parachute Braking System All-points Radar