Svensk Filmdatabas
Internationell titel: Among us
Arbetstitel: Mellan andetag och ögonblick
Produktionsuppgifter:
Produktionsbolag: Drama Svecia AB ()
Sonet Film AB (2) ()
Copyright: Drama Svecia AB (2009)
Samproduktionsbolag: Canal+ Television AB ()
Filmpool Stockholm-Mälardalen ()
Gotlands Filmfond ()
Nouvago Capital AB ()
Nyqvist Film AB ()
TV4 AB ()
Produktionsstöd: Nordisk Film- & TV Fond ()
Stiftelsen Svenska Filminstitutet (2009)
Distributör i Sverige: Svensk Filmindustri AB (2010)
Sales: SF International Sales ()
Regi: Johan Brisinger
Manus: Johan Brisinger
Producent: Mikael Flodell
Peter Possne
Line Producer: Marie Lagerkvist
Foto: Henrik Stenberg
Musik: Henrik Lörstad
Scenograf: Bengt Fröderberg
Klippning: Stephan Walfridsson
Ljudtekniker: Wille Peterson-Berger
Fred Johannesson
Scripta: Kerstin von Bahr
Exekutiv producent: Bo Rehnberg
Åsa Sjöberg
Åke Lundström
Frank Bonn
Inspelningsledare: Staffan Kihlbom
Runner: Joel Funk
Rollsättare: Mia Askerlund
Juliette Ménager
Nina Gold
Filmkonsulent: Peter "Piodor" Gustafsson
Hanne Palmquist
Stillbildsfoto: Johan Paulin
Svensk Filmdatabas
Kostymör: Lisa Holmqvist
Maskör: Anna Carin Lock
Bildformat: Scope (2,35:1)
Färgsystem: Färg
Ljudsystem: Dolby Digital
Originallängd i minuter: 94
Censur: 147.354
Datum: 2009-12-15
Åldersgräns: Tillåten från 7 år
Längd: 2560 meter
Sverigepremiär: 2010-03-19 Sverige 94 minuter
Rollista:
Michael Nyqvist Ernst
Izabella Scorupco Cecilia
Tchéky Karyo Walter
Ewa Fröling Inga Holm
Jacob Ericksson Birger
Saga Gärde Agnes
Melker Düberg Alexander
Donald Sumpter mannen på bänken
Anders Palm
Svensk filmografi
Ernst och Cecilia lever ett synnerligen lyckligt familjeliv i villaförorten. När deras nioårige son
Alexander råkar ut för en olycka och hamnar i koma ställs allt upp och ner och deras relation
knakar i fogarna. Då dyker Walter, en mystisk fransktalande man upp med ett erbjudande
om hjälp. Han vet mer om de båda än vad de själva gör man framför allt Ernst har svårt att
lita på hans goda avsikter.
Defense Minister Dmitri Mishkin

(Character) in

Goldeneye

played by Tchéky Karyo

Dimitri Mishkin: Good morning, Mr. Bond. Sit. I'm Defense Minister Dimitri Mishkin. So, by what means shall we execute you, Commander Bond?
James Bond: What, no small-talk? No chit-chat? That's the trouble with the world today. No one takes the time to do a really sinister interrogation anymore. It's a lost art.
Dimitri Mishkin: Your sense of humour does not sway me, Commander, I'm sorry. Where is the GoldenEye?
James Bond: I assumed you had it.
Dimitri Mishkin: I have an English spy, a Severnaya programmer and a helicopter stolen...
James Bond: ...or at least that's what some traitor in your government wanted it to look like.
Dimitri Mishkin: Who was behind your attack on Severnaya?
James Bond: WHO HAD THE AUTHORIZATION CODES?
Dimitri Mishkin: RUSIIA MAY HAVE CHANGED BUT THE PENALTY FOR TERRORISM IS STILL DEATH!
James Bond: AND WHAT'S THE PENALTY FOR TREASON?
Natalya Simonova: Oh, Stop it both of you! Stop it! You're like boys with toys!

[Ourumov storms into the interrogation room where Bond and Natalya are being held]
General Ourumov: Defence minister, I must protest! This is *my* Investigation! You're out of order!
[Mishkin speaks to Ourumov in Russian]
Dimitri Mishkin: From what I'm hearing it is *you* who is out of order!
General Ourumov: [picking up Bond's PPK] I've seen this gun before...
Dimitri Mishkin: Put it down!
General Ourumov: In the hand of our enemy!
Dimitri Mishkin: Put it down, General!
General Ourumov: Do you know who the enemy is, Dimitri? DO YOU?
Dimitri Mishkin: [getting up from his chair] GUARD!
[firing Bond's PPK, Ourumov shoots the guard and Mishkin. Bond and Natalya fall to the floor]
General Ourumov: Defence Minister Dimitri Mishkin murdered by British agent James Bond...
[Ourumov throws Bond his empty PPK and takes out his own pistol]
General Ourumov: ...himself shot while he was trying to escape. GUARDS!
[Bond trips Ourumov to the floor and rnus out with Natalya Izabella Scorupco]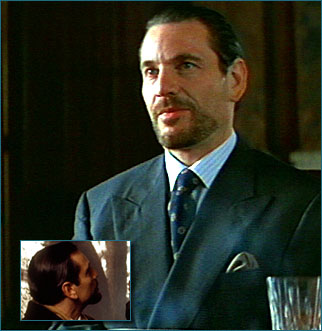 Tcheky Karyo (Defence Minister Dimitri Mishkin)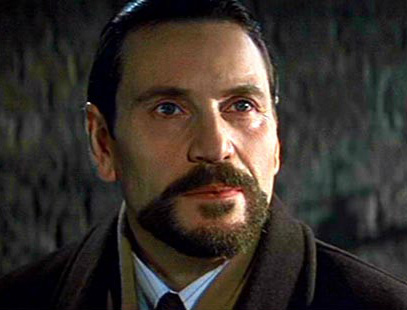 Tcheky Karyo (Defence Minister Dimitri Mishkin)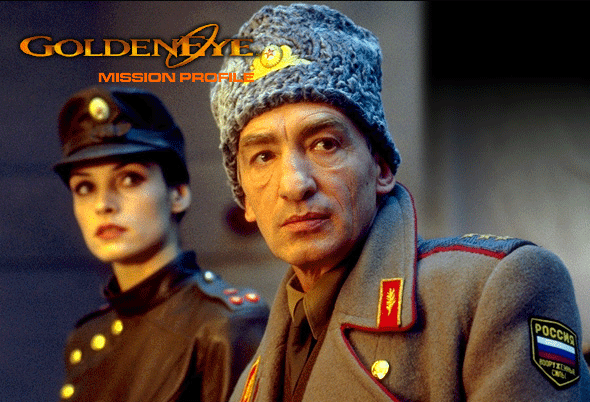 General Ourumov in Goldeneye actor: Gottfried John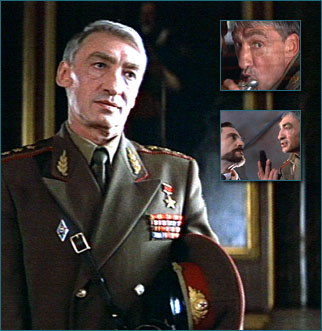 General Ourumov in Goldeneye actor: Gottfried John
Defining dialogue:

Ourumov: This is Colonel Ourumov. Come out with your hands above your head.
Bond: How original.

Ourumov: [to his driver, after entering a crowded marketplace] Use the bumper, that's what it's for!
Izabella Scorupco och Tchéky Karyo var med i James Bond-filmen "Goldeneye". Ryssar som möts i en kort scen när Bond och Scorupcos rollfigurer är på flykt genom Moskva.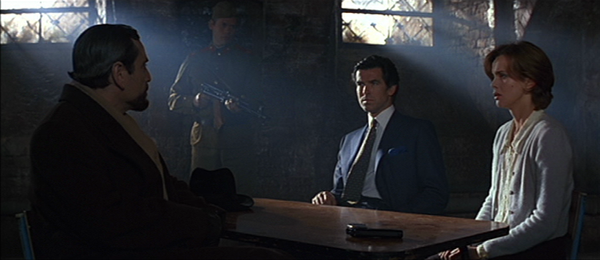 Dimitri Mishkin James Bond and Natalya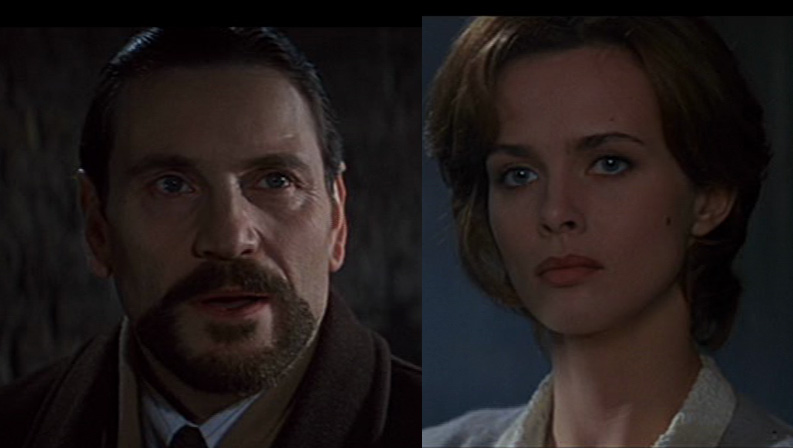 Dimitri Mishkin and Natalya

Dimitri Mishkin James Bond and Natalya