EON Productions movies
1. Dr No 1962
2. From Russia With Love 1963
3. Goldfinger 1964
4. Thunderball 1965
5. You Only Live Twice 1967
6. On Her Majesty`s Secret Service 1969
7. Diamonds Are Forever 1971
8. Live And Let Die 1973
9. The Man With The Golden Gun 1974
10.The Spy Who Loved Me 1977
11.Moonraker 1979
12.For Your Eyes Only 1981
13.Octopussy 1983
14.A View To A Kill 1985
15.The Living Daylights 1987
16.Licence To Kill 1989
17.Goldeneye 1995
18.Tomorrow Never Dies1997
19.The World Is Not Enough 1999
20.Die Another Day 2002
21.Casino Royale 2006
22.Quantum Of Solace 2008
23. Skyfall 2012
24. SPECTRE 2015
25. James Bond 25 2018
26. James Bond 26 2021
27. James Bond 27 2024
28. James Bond 28 2027
29 .James Bond 29 2030
30 James Bond 30 2033

Not included in
Bondserie or
EON Productions
Casino Royale 1954
Casino Royale 1967
Never Say Never Again 1983
Producer
Albert "Cubby"Broccoli
Harry Saltzman
Barbara Broccoli
Michael G,Wilson
Writers to all Bond books
Ian Fleming
Amis Kingsley
Raymond Benson
John Gardner
Charlie Higson
Sebastian Faulks
Jeffery Deaver
Neal Purvis screenwriter
Robert Wade screenwriter
Bondbooks
James Bond actors
Barry Nelson
Sean Connery
George Lazenby
Roger Moore
Timothy Dalton
Pierce Brosnan
Daniel Craig

James Bond Composers
Monty Norman 1
John Barry 11
George Martin 1
Marvin Hamlisch 1
Bill Conti 1
Michael Kamen 1
Eric Serra 1
David Arnold 5
James Bond Music
22 Best Bondsoundtrack
Allias MI6
Moneypenny Maxwell/Bliss/Bond
Q Llewelyn/Cleese
M Lee/Brown/Dench
CIA Felix Leiter
Q = Desmond Llewelyn has
appeared in 17 Bond films
Bondgirls
Honey Ryder Ursula Andress
Britt Ekland
Izabella Scorupco
Maud Adams
Kristina Wayborn
Mary Stavin
Halle Berry JINX
Vesper Lynd Eva Green
Bond Villians
Jaws (Rickard Kiel)
Venz (Dolph Lundgren)

Pinewood Studios

Sir WinstonChurchill. Prime Minister twice (1940-45 and 1951-55)

Ian Flemings boss M

Pierce Brosnan Took 007 into 21st Century
Moonraker
The Facts
Rated: PG
Official Year: 1979
Number in Series: 11
Running Time: 121 minutes
Budget: $34 million
UK Premiere: June 26, 1979
US Premiere: July 13, 1979
Sweden Premiere 18 augusti 1979
Cast
James Bond: Roger Moore
Moneypenny: Lois Maxwell
M: Bernard Lee
Q: Desmond Llewelyn
Bond Girl (Holly Goodhead): Lois Chiles
Villain (Hugo Drax): Michael Lonsdale
Henchman (Chang): Toshiro Suga
Crew
Writing Credits: Ian Fleming
Producer: Albert R. Broccoli
Producer: Michael G. Wilson
Director: Lewis Gilbert
Composer: John Barry
Title Song: Shirley Bassey
Full Cast & Crew:
Recorded in Italien, Brasilien, Guatemala, USA, Boulogne, Eclair och Paris studios, Frankrike och i Pinewood Studios, England.

Despite the previous 007 film telling us that James Bond would return in
For

Your Eyes Only, producer Broccoli chose Moonraker as the next instalment after the success of Star Wars (1977).

The French castle Vaux-le-Vicomte appears for the second time in a Bond movie.

The first was in the opening sequence of

Thunderball (1965).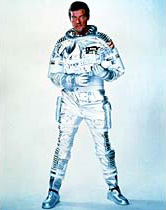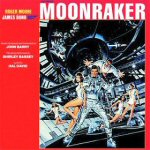 1979
Moonraker
John Barry Soundtrack


James Bond Gunnar Schäfer and Blanche Ravalec "Dolly" in Moonraker 1979)

Gunnar Bond James Schäfer talk to Richard Kiel (Jaws) in Pinewood studios 21/11-2004 and given him a Jaws plate in glassgral gift from
James Bond 007 Museum in Sweden, Nybro.


In Stockholm 25/10 2003 Gunnar Schäfer and Mr Jaws "Richard Kiel" did get a sign 007 frosted champagne glas from 007 museum

Mission
James Bond confronts billionaire industrialist Hugo Drax, who plans to destroy life on earth and establish himself as king of a super-race in outer space.
Moonraker is the eleventh, James Bond is back for another mission and this time, he is blasting off into space. A spaceship traveling through space is mysteriously hi-jacked and Bond must work quickly to find out who was behind it all. He starts with the rockets creators, Drax Industries and the man behind the organisation, Hugo Drax. On his journey he ends up meeting Dr. Holly Goodhead and encounters the metal-toothed Jaws once again.
A Boeing 747 carrying a US space shuttle on loan to the UK crashes into the Atlantic Ocean. When the British examine the wreckage they can find no trace of the spacecraft and send agent James Bond to the shuttle's manufacturers, Drax Industries, to investigate.
A space shuttle called the Moonraker, built by Drax Industries, is on its way to the U.K when it is hijacked in mid-air and the crew of the 747 carrying it is killed. Bond immediately is called into action, and starts the investigation with Hugo Drax himself. While at the Drax laboratories, Bond meets the brilliant & stunning Dr. Holly Goodhead, a NASA astronaut & CIA agent who is investigating Drax for the U.S. Government. One of Drax's thugs, the sinister Chan, attempts to kill 007 at the lab but when that fails, he follows Bond to Venice and tries again there. Bond & Goodhead follow Drax's trail to Brazil, where they once again run into the 7' Goliath Jaws, a towering giant with metal teeth. Escaping from him, they discover the existence of a huge space station undetected by U.S. or Soviet radar, and a horrible plot by Drax to employ nerve gas in a genocidal project! Bond & Holly must quickly find a way to stop Hugo Drax before his horrific plans can be put into effect...
James Bond Adventure. A space shuttle is stolen enroute to London and M sends 007 out to apologize to the shuttle creator - billionaire Hugo Drax. While visiting Drax's estate several attempts are made on Bond's life, making Drax himself the number one suspect. Bond also meets Dr. Holly Goodhead, a NASA scientist who is also a CIA agent investigating Drax. Their investigations lead Bond to discover a plot to murder the world's population so that Drax can repopulate the planet in his image. The chase takes Bond all over the world - California, Brazil, the Amazon Jungle and, finally, to Drax's huge space-city over the Earth. Drax, meanwhile, has hired a old friend of Bond to take care of any problems - the steel-toothed killer Jaws......
When a U.S. space shuttle is stolen in a midair hijacking, only Bond can find the evil genius responsible. The clues point to billionaire Hugo Drax, who has devised a scheme to destroy all human life on earth! As Bond races against time to stop Drax's evil plot, he joins forces with Dr. Holly Goodhead, a NASA scientist who is as beautiful as she is brilliant. And 007 needs all the help he can get, for Drax's henchman is none other Bond's old nemesis Jaws, the indestructible steel-toothed giant. Their adventure leads all the way to a gigantic space station, where the stage is set for an epic battle for the fate of all mankind

Moonraker locations: London MI6, Drax estate, Venice Italy, Rio De Janero, Moonraker location: Drax's 'California' estate: Vaux-le-Vicomte, France


Lois Chiles playing Dr Holly Goodhead
Starred In Moonraker (1979)
Born in Alice, Texas, USA on 15th April 1947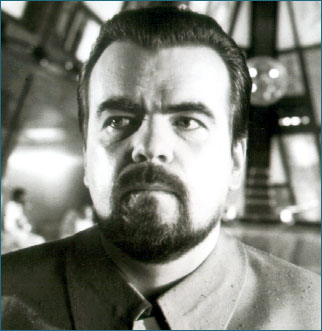 Sir Hugo Drax by Michael Lonsdale (adelskapet är borttaget i filmversionen.


Moonraker Lois Chiles playing Dr Holly Goodhead James Bond Roger Moore Hugo Drax Michael Lonsdale