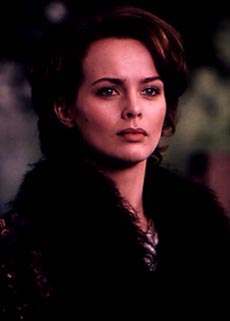 Biography
Izabella Scorupco was born in the northern Polish town of Bialystok in 1970. Her parents divorced when she was a year old. She lived there with her mother, Magdelena who was a doctor. In 1978 they moved to a Stockholm suburb where she attended grade school there. She studied drama and music and, at 17, was discovered by a Swedish film director who cast her in the movie No One Can Love Like Us, which made her a local teenage idol. Izabella turned modeling in 1987 and has appeared in nearly every major European magazine. She became a successful model both in Sweden and throughout Europe, where she made good use of her fluency in four languages.
In 1989, Scorupco displayed another facet of her talents, launching her career as a pop singer with her first single, Substitute. The single and subsequent album, IZA, both went gold, and she followed them up with another hit single, Shame, Shame, which she recorded in 1991. Returning to acting in 1994, she immediately won the lead role in the Swedish film Petri Tears. Scorupco starred as a woman who lives her life as a man in the medieval drama, which was released in August 1995. Her big break came when a Swedish casting director recommended her to be in the James Bond film GoldenEye. "This is politically correct. Bond doesn't fall in love with my character (Natalya) for her looks. It's her intelligence," she said.
Scorupco had to forgo the usual glamour of a Bond girl in GoldenEye. Her character, Natalya Simonova, a computer programmer, does not have much of a chance to relish the good life with 007. Scorupco, though, saw the positive aspects. "I think it's a fantastic opportunity. To be in a Bond film, and at the same time to be able to do just a very human character."
On Christmas Day in December 1996 Izabella married hockey player Mariusz Czerkawski at the Little White Chapel in Las Vegas. She gave birth to daughter Julia in September 1997, but later split with Czerkawski. She then moved to Los Angeles and is currently dating Jeffrey Raymond, the couple had a son, Jacob Martin Raymond, in July 2003.
Since her role in "GoldenEye", Scorupco turned down the lead roles in "L.A. Confidential" (1997) and "The Mask Of Zorro" (1998) directed by Martin Campbell to take a break from her career, but she hooked up with the Bond helmer for "Vertical Limit" in 2000

Musik
"Substitute" (1990)
"Brando Moves" (1991)
"I Write You a Love Song" (1991)
"Shame, Shame, Shame" (1992)