James Bond Homepage
007museum@telia.com
Donations/Gåvor
James Bond Museum



EON Productions movies


1. Dr No 1962
2. From Russia With Love 1963
3. Goldfinger 1964
4. Thunderball 1965
5. You Only Live Twice 1967
6. On Her Majesty`s Secret Service
7. Diamonds Are Forever1971
8. Live And Let Die1973
9. The Man With The Golden Gun
10.The Spy Who Loved Me
11.Moonraker 1979
12.For Your Eyes Only 1981
13.Octopussy 1983
14.A View To A Kill 1985
15.The Living Daylights 1987
16.Licence To Kill 1989
17.Goldeneye1995
18.Tomorrow Never Dies1997
19.The World Is Not Enough
20.Die Another Day2002
21.Casino Royale 2006
22.Quantum Of Solace 2008
23.James Bond 23
24.James Bond 24

Not included in
Bondserie or
EON Productions
Casino Royale 1954
Casino Royale 1967
Never Say Never Again 1983

Producer
Albert "Cubby"Broccoli
Harry Saltzman
Barbara Broccoli
Michael G,Wilson

Writers to all Bond books
Ian Fleming
Amis Kingsley
Raymond Benson
John Gardner
Charlie Higson
Sebastian Faulks
Jeffery Deaver
Neal Purvis screenwriter
Robert Wade screenwriter
Bondbooks

James Bond actors
Barry Nelson
Sean Connery
George Lazenby
Roger Moore
Timothy Dalton
Pierce Brosnan
Daniel Craig

James Bond Composers
Monty Norman 1
John Barry 11
George Martin 1
Marvin Hamlisch 1
Bill Conti 1
Michael Kamen 1
Eric Serra 1
David Arnold 5
James Bond Music
22 Best Bondsoundtrack

Bondgirls
Honey Ryder Ursula Andress
Britt Ekland
Izabella Scorupco
Maud Adams
Kristina Wayborn
Mary Stavin
Halle Berry JINX

Bond Villians
Jaws (Rickard Kiel)

CASINO ROYALE 1953
Live And Let Die (1954)
Moonraker (1955)
Diamonds Are Forever (1956)
From Russia With Love (1957)
Doctor No (1958)
GOLDFINGER (1959)
For Your Eyes Only (1960)
THUNDERBALL (1961)
THE SPY WHO LOVED ME (1962)
On Her Majesty's Secret Service (1963)
You Only Live Twice (1964)
The Man With The Golden Gun (1965)
Octopussy and the Living Daylights (1966)
Buying Signed Ian Fleming First Editions
Buy from Specialist Booksellers
We would recommend using a well-known and established professional book dealer.
This will give you security and peace of mind, not the cheapest option but may save you a fortune in the long run !
Buying at Auction
The fact that an auction house, even the big names, offer such things does not guarantee them as 100% genuine. Seek a specialist opinion before spending a lot of money.
Buying - Bidding on ebay
This is the greatest minefield. I do not suggest that all the examples that have appeared on ebay are fakes - just that almost all the ones I have seen are.
Why ? Well … ebay lends itself to this kind of carry on.
Ebayers tend to be naive and also they are, by nature, bargain hunters !
This is not an area of book collecting best suited to bargain hunters or those with limited resources - playing this game will cost you money.
Provenance - Certificate of Authenticity - COA
True provenance is a great thing but something that rarely appears in written format providing absolute proof, something desirable but not realistic to demand.
A COA is pretty much a waste of time !
They are just printed of on home computers usually. Whilst they are a staple of the autograph market they are not used by professionals in the rare book business.
And Finally …
Unless you personally stood there and saw Ian Fleming actually sign your book you will never have absolute proof and certainty.
However, you can have every confidence if you use common sense and, just possibly, this guide.
We hope you found this useful
Rod Collins
Goldeneye Rare Books
http://www.booksellerworld.com

You'll notice that there are slight differences between the various examples, this is perfectly normal. The biggest mistake people make who are unused to verifying authentic signatures is in looking for an exact match to their sample.
All of our signatures change, especially over a period of years.
You'll not note some salient points though:
The full-stop and underline
The distinctive I and A in Ian and likewise the F and L of Fleming
The most important factor is fluidity, the vast majority of fakes are poor and those that are better still lack the spontaneity that accompanies an original.
If you are considering buying then here is a brief buyers guide:
How to Identify Ian Fleming's Signature


The purpose of this page is to provide a definitive guide on identifying the signature or autograph of Ian Fleming.
The first editions of 007 James Bond books are amongst the most collectable of modern first editions - if signed their value increases hugely. Because of this, some due care and diligence needs to be taken with their authentification.

We have had to protect these pictures with the site name and anti-hotlinking script but should you wish to use this page as a reference or quote anywhere please do feel free to link to it.
Before we get on with it let's clear up a few important points …
You do not want a signed copy of The Man with the Golden Gun or Octopussy. I have been offered both and indeed seen both on e-bay. The author's personal circumstances at the time made it difficult for him to do signings on publication - he was dead
As a book collector himself Ian Fleming was acutely aware of the value his autograph potentially added to a book, consequently he did not sign as many writers do today.
Most copies tended to be to friends or people associated with him in some way.
Flat signed copies are less common.
If you see a copy flat signed on the title page you should be wary from the start, he generally didn't sign on title pages. The Spy Who Loved Me appears to be a slight exception, presumably due to red endpapers.
We have put together the following selection trying to show all the various formats the author used. All are taken from UK first editions. All are true 1st issue-1st impression.
They are all from important close association copies with impeccable provenance and guaranteed 100% genuine.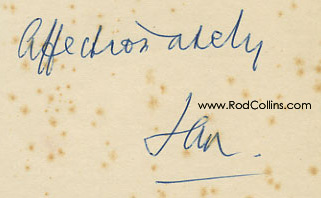 Casino-Royale - 1953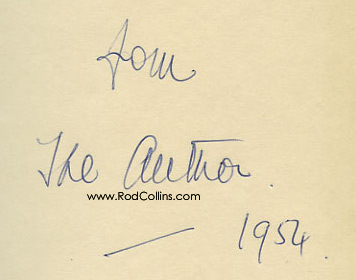 Live and Let Die - 1954
Moonraker - 1955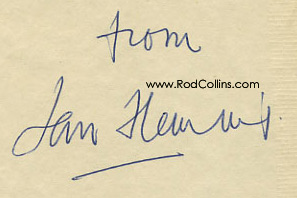 Diamonds Are Forever - 1956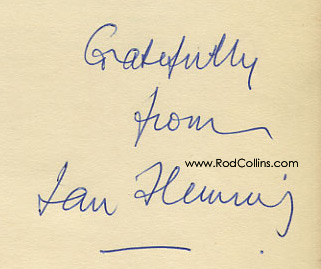 From Russia with Love - 1957
Dr No - 1958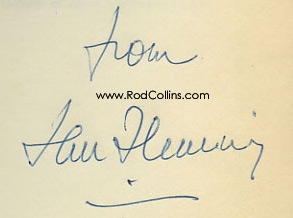 Goldfinger - 1959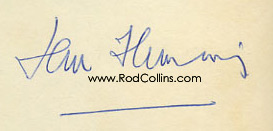 For Your Eyes Only - 1960
Thunderball - 1961
The Spy Who Loved Me - 1962
On Her Majesty's Secret Service - 1963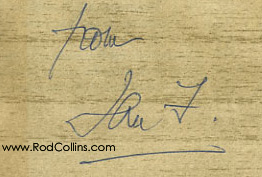 You Only Live Twice - 1964

Published 13th April 1953 by Jonathan Cape in London
CASINO ROYALE 1953

Published in 1953 by Jonathan Cape in London
Black cloth & red lettering & heart on front board
Verso title page states "First Published 1953"

Dust wrapper priced at 10s.6d
Rear panel has pencil drawing of Ian Fleming by Bartlett,
with blurb about Fleming's life below
Front flap has blurb with jacket credit immediately below
There should be NO Times review
Rear flap is blank but for title, author, Cape & price in bottom left corner

4,728 copies were bound up, a large number of which went to public libraries


Published 5th May 1954 by Jonathan Cape in London
LIVE AND LET DIE 1954

Published in 1954 by Jonathan Cape in London
Black cloth & gilt lettering & gilt medallion on front board
Verso title page states "First Published 1954"
Dust wrapper priced at 10s.6d
There are 3 states of 1st edition dust wrappers
First State : No credit for jacket design on front flap
Second State : 2 line credit is positioned midway between blurb end & price
Third State : 2 line credit is positioned directly under the blurb

7,500 copies were printed of the 1st edition


Published 7th April 1955 by Jonathan Cape in London
MOONRAKER 1955

Published in 1955 by Jonathan Cape in London
Black cloth & silver lettering
Verso title page states "First Published 1955"
Dust wrapper priced at 10s.6d
There is a "semi issue point" Page 10 last line shoot / shoo
No priority established but I believe shoot to be preferable
There are also 2 paper thicknesses
One text block measures 19mm whilst the other is 15mm
The 15mm is poorer quality and prone to browning

The 1st print run was 9,900 copies


Published 26th March 1956 by Jonathan Cape in London
Diamonds Are Forever 1956

Published in 1956 by Jonathan Cape in London
Black cloth & silver lettering
Verso title page states "First Published 1956"
Dust wrapper priced at 12s.6d

The 1st print run was 14,700 copies

Published 8th April 1957 by Jonathan Cape in London

FROM RUSSIA WITH LOVE 1957

Published in 1957 by Jonathan Cape in London
Black decorated cloth
Verso title page states "First Published 1957"
Dustwrapper priced at 13s.6d
The 1st set of sheets were of poor print quality and rejected by Cape
These were later sent to the book club
This means that, theoretically, the '1st printing' is the book club edition
Note: The Cape sheets have Cape name and logos on title page
Those with 'Book Club' are later printings and the above does not apply
The Cape edition was published first, and is the first edition

The 1st print run was 15,000 copies

Published 31st March 1958 by Cape in London

Dr No (1958)

Published in 1958 by Jonathan Cape in London
Black cloth with or without "dancing girl" figure
Verso title page states "First Published 1958"
Dust jacket priced at 13s.6d
There is no priority established for the dancing girl
From experience, the ones without the figure appear to be rarer

The 1st print run was 20,000 copies

Published 23rd March 1959 by Jonathan Cape in London

GOLDFINGER 1959

Published in 1959 by Jonathan Cape in London
Black cloth gilt lettering , skull embossed on front board
Verso title page states "First Published 1959"
Dustwrapper priced at 15s

The 1st print run was 24,000 copies

Published 11th April 1960 by Jonathan Cape in London

For Your Eyes Only (1960)

Published in 1960 by Jonathan Cape in London
Black cloth, gilt lettering , eye design on front board
Verso title page states "First Published 1960"
Dust wrapper priced at 15s

The 1st print run was 21,712 copies

Published 27th March 1961 by Jonathan Cape in London

THUNDERBALL (1961)

Published in 1961 by Jonathan Cape in London
Black cloth, gilt lettering , skeletal hand on front board
Verso title page states "First Published 1961"
Dust wrapper priced at 15s

The 1st print run was 50,938 copies

Published 16th April 1962 by Jonathan Cape in London

THE SPY WHO LOVED ME (1962)

Published in 1962 by Jonathan Cape in London
Black cloth, silver lettering , with a dagger on the front board
Verso title page states "First Published 1962"
Dust wrapper priced at 15s
There are copies with a quad mark
between the E & M of Fleming on the title page
This mark is not on the proof sheets and was just a spacer that worked loose during the print run
No priority officially established and not of bibliographical importance, but copies with quad mark are very much scarcer and consequently fetch a premium

The 1st print run was 30,000 copies

Published 1st April 1963 by Jonathan Cape in London

On Her Majesty's Secret Service (1963)

Published in 1963 by Jonathan Cape in London
Black cloth, silver lettering , track design on front board
Verso title page states "First Published 1963"
Dust wrapper priced at 16s
The 1st print run was 45,000 copies

There is a signed limited edition of this title
250 numbered copies - but unnumbered copies also turn up
Jonathan Cape's records suggest there should be approx 43 unnumbered
Ten of these were given to Ian Fleming the rest intended as presentation copies

The 1st print run was 45,000 copies

Published 16th March 1964 by Jonathan Cape in London

You Only Live Twice (1964)

Published in 1964 by Jonathan Cape in London
Black cloth, silver lettering , Japanese lettering on front board
Verso title page states "First Published 1964"
Note: "First Published March 1964" is second state
Dust wrapper priced at 16s

The 1st print run was 56,000 copies



Published 1st April 1965 by Jonathan Cape in London
THE MAN WITH THE GOLDEN GUN (1965)

Published in 1965 by Jonathan Cape in London
Black cloth, gilt lettering
Verso title page states "First Published 1965"
Copies exist with a gun in gilt on the front boards
Dust wrapper priced at 18s

The 1st print run was 82,000 copies



Published 23rd June 1966 by Jonathan Cape in London
Octopussy and the Living Daylights (1966)

Published in 1966 by Jonathan Cape in London
Black cloth, gilt lettering
Verso title page states "First Published 1966"
This title was repriced in order to clear remaining copies
Contrary to popular opinion it was not actually remaindered
A London bookseller bought the last 32,000 copies directly.
He gradually sold them for £1.50 each
Copies with unclipped jackets and
no signs of a price sticker are preferred
Dust wrapper priced at 10s.6d

The 1st print run was 50,000 copies