Mission: Dr. No
Released: October 5, 1962
Bond: Sean Connery
Director: Terence Young
Budget: $1.1 Million
U.S. Boxoffice: $16 Million
Worldwide Boxoffice: $59.6 Million
Running Time: 111 Minutes

Release Data
UK: 5th October 1962 (PG)
USA: 8th May 1963 (PG)
World Premiere: 5th October 1962 (London Pavilion, UK)
UK TV Premiere: 28th October 1975, ITV
US TV Premiere: 10th November 1974, ABC

Running Time: 105 minutes
Classification: PG (UK), PG (US)
Budget: $1.0m
Worldwide Box Office: $59.5m
US Box Office: $16.067m
US Admissions: 19 million
UK Box Office: N/A

Villain: Dr. Julius No
Organization: SPECTRE
Scheme: The interruption of space ship launches
Henchmen: Professor Anthony Dent
Girls: Sylvia Trench, Ms. Taro, Honey Ryder
Allies: Felix Leiter, Quarrel, Pussfella
Bond's Kill Count: 5
Bond's Conquest Count: 3


Mission
James Bond is sent to Jamaica to investigate what is causing interference with American space launches on the island of Crab Key. Bond and adventuress Honey Ryder find the answer to the mystery and come face to face with the diabolical Dr. No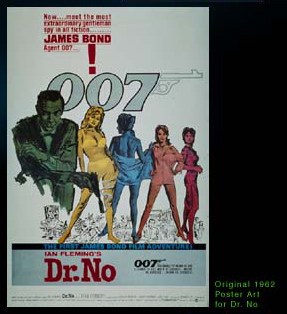 Summary: Bond's mission takes him to the steamy island of Jamaica, where mysterious energy waves are interfering with U.S. missile launches. As he unravels the astonishing truth, 007 must fight deadly assassins, sexy femmes fatales and even a poisonous tarantula. With the help of crack CIA agent Felix Leiter (Jack Lord) and the beautiful Honey Ryder (Ursula Andress), he searches for the headquarters of Dr. No, a fanatical scientist who is implementing an evil plan of world domination. Only James Bond, with his combination of wit, charm and skill, can confront the madman and save the human race from a horrible fate.

Review: The one that started it all. Most of the elements were introduced here: Felix Leiter, M, Moneypenny, and Bond's womanizing. The plot was simple and the movie was very low-key and down to earth; there were no Q gadgets to save the day, only Bond's cunning and intuition. This made it a more realistic film and more like Fleming's novels. Perhaps the best scene was when the tarantula was crawling up Bond's arm. Enhanced by John Barry's stunning score, you could actually see the fear on Bond's face as the spider got closer and closer to his neck.

Another aspect of the film that was very well done was Bond's killing of Professor Dent. Even after Dent was obviously dead, Bond still shot another slug into his back which shows his cold-blooded side. This kind of display is lost in future movies as Bond became more of a people's secret agent. As for Connery, this was a very good start, even though he seemed a bit unsure of the character and its possibilities.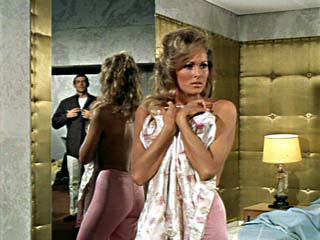 Honey Ryder with James Bond



Best Wishes Zena Marshall Miss Taro in Dr No 1962
to James Bond 007 Museum in Nybro Sweden
Miss Taro ...Zena Marshal

In Ian Fleming novel Honey Ryder was named Honeychile Ryder and she came out of the ocean wearing only a belt and no bikini.

Dr. No was filmed for just under a million dollars.
The close-up shots of Sean Connery with the spider on him were filmed with a glass plate under the spider.

Knowing that they were taking a risk by filming such a potential flop, Saltzman and Broccoli named their production company to fit the situation at hand. Eon Productions, Ltd. is an acronym for "everything or nothing."

M's character is based on a similar character in Alfred Hitchcock's film Secret Agent, made in the 1930's.

Honey Ryder's voice was not that of Ursula Andress; rather, was dubbed by Monica Van der Syl.

Ursula Andress was offered the role after the producers saw a picture of her in a wet tee-shirt contest.

It is actually action-arranger Bob Simmons who appears in the gun-barrel openings of Dr. No through Goldfinger

The scene in which Dr. No's men fire at Bond and his gang had to be shot twice. The first time, a detachment of US Navy officers who were on leave ran over to the bay where filming was taking place to investigate the gunfire.

In the begining of the movie, Bond had his Beretta taken away by M and was given the Walther PPL 7.65mm (32 caliber). However, if you look very closely, when Bond actually pulls it out in Jamaica, the gun is a Walther PP. The primary difference between the PP and the PPK is the barrel length (the PP's barrel is 5/8" longer).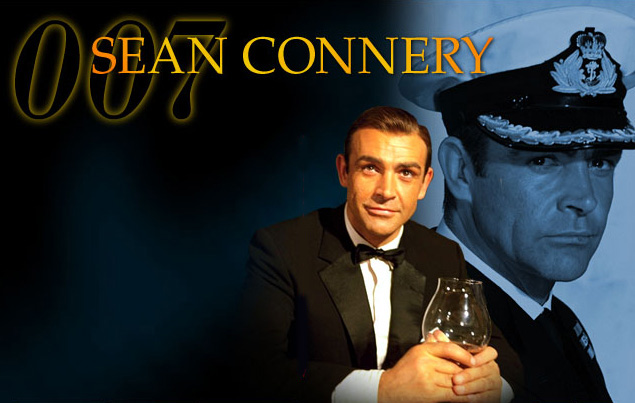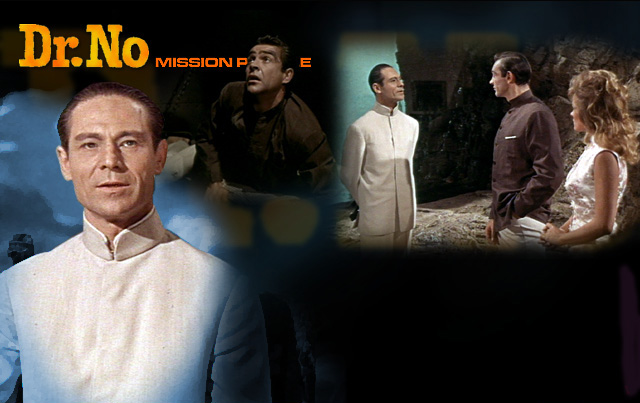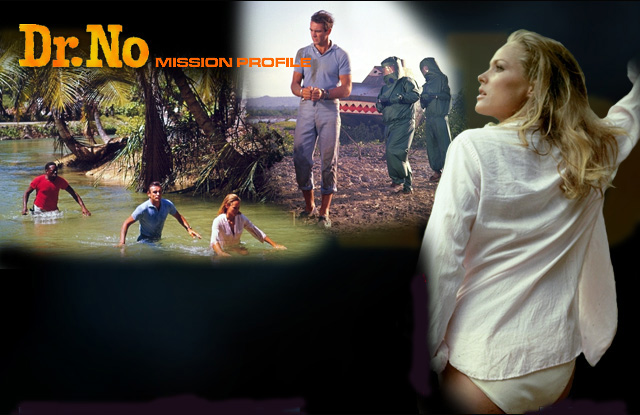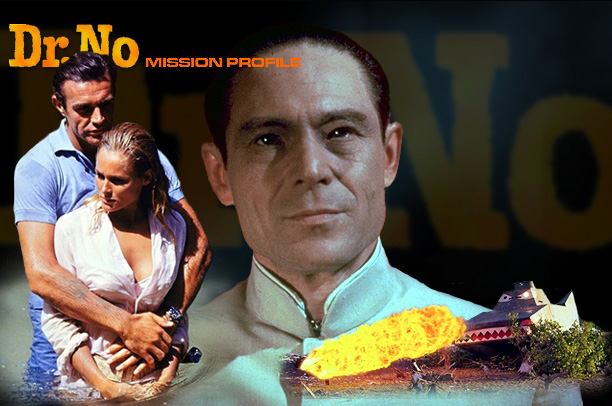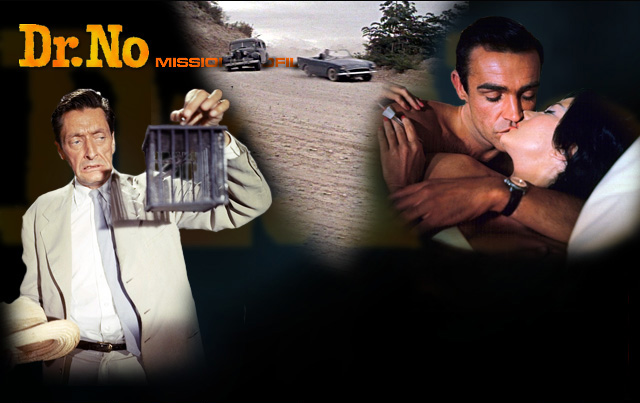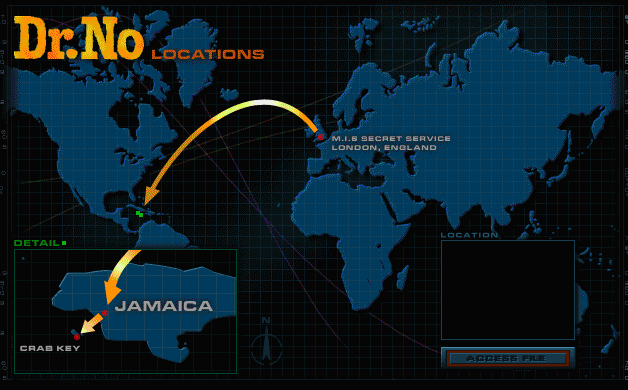 Dr No map and mission to Jamaica
The first gun Bond uses other than the Walther PPK is the Browning 1922 that (the producers I assume) try to pass off as a silenced Walther PPK. You can tell by the "FN" marking on the grip - not to mention the shape of the gun in the scene where he baits the professor into the girl's room and kills him after the professor pumps 7 shots into the mattress.
Bond incorrectly identifies Professor Dent's weapon as a Smith and Wesson when it is, in fact, an M-1911A1 Colt.
On Crab Key, Bond uses a M-1911A1 against the Dragon in one scene, and then a Walther PPK in the other sequence of scenes.
To put to rest an age old theory, Ursula Andress DID have on a bathing suit when she was going through the decontaminator in Dr No's headquarters. You can see a photo of it in the Behind the Scenes section.
Originally, the producer's were going to use The novel Thunderball as the first Bond movie, but when Kevin Mclory sued over the right's of the novel, the producer's decided to go for Dr. No.
Ian Fleming originally wanted Roger Moore to play Bond in Dr. No after Cary Grant said he would only play Bond once.
David Niven was considered for the role of James Bond, a role that he would later play in the 1967 spoof, Casino Royale 1967
Strangways and Quarrel were first introduced in the book Live And Let Die.
When 007 enters Dr. No's dining room he stops to take a second look at a painting. The painting is Goya's picture of the Duke of Wellington, which was stolen in real life week or two before filming began.
Jack Lord, who played Felix Leiter, was more professional than the other Felixes in other Bond movies. The professionalism was also a part of Steve McGarrett in the Hawaii Five-O TV series, which was Lord's best portrayal of a charismatic character on screen.
In the first draft, Dr. No was a monkey.
Felix Leiter does not appear in the book.
The incident mentioned when Bond first gets the Walther PPK involving him being in a hospital for 6 months was based on events at the end of the book Form Russia With Love