Östra Småland 31/1-2003

I Paris oktober 2002 i Eifeltornet from "A View To A Kill"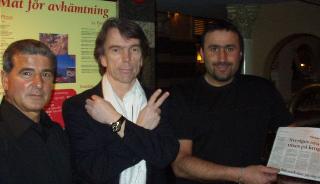 Ernesto and Gunnar .........and .....Jimmy in Ernesto Kalmar
NYBRO
Måndag 3 Mars 2003

Han är Nybros alldeles egen James Bond
NYBRO
Ta två delar vodka och en skvätt vermouth. Skaka, men rör för Guds skull inte om. Servera sedan i ett frostat martiniglas. Vad får man? James Bonds dry martini naturligtvis. Gunnar Schäfer är en auktoritet i ämnet.
| | |
| --- | --- |
| | På Nybro bibliotek kan man fram till den 8 mars se Gunnar Schäfers Bondutställning. Guldkornen är signerade fotografier av Roger Moore och Sean Connery. Foto:Peter Lejon |
För Gunnar Schäfer är vardagen på egna firman Nybro Bildelar en påtaglig verklighet sedan starten 1985. Det drömska agentlivet på Universal Exports och MI6 är en annan. Bond-utställningen på Nybro bibliotek är snart över, men engagemanget tryter inte för det.
- Jag har så många idéer att jag inte vet var jag skall börja, skrattar han när Barometern-OT tar en titt på det utställda materialet.

Smoking och klocka
Han är ändamålsenligt klädd i smoking. Runt handleden sitter klockan från Die Another Day och runt halsen hänger en vit halsduk. Utställningen bjuder på ett urval av vad entusiasten har samlat ihop sedan han upptäckte hjälten 1962 då han tillsammans med sin äldre bror såg Goldfinger på bio.
Här finns modeller av samtliga bilar och andra fordon som förekommit i filmerna. Klockor, tändare, tärningar, affischer
från Agent 007 med rätt att
döda till den senaste Die
Another day pryder väggarna, och exposéns guldkorn är signera-
de foton av alla som spelat Bond: Sean Connery, George Lazenby, Roger Moore, Timothy Dalton.
Gunnar Schäfer är född 1957 och växte upp med Connery, men trots det menar han att den komplette Bond heter Pierce Brosnan.
- Han har precis allt det Bond skall ha - inte minst svårmodet.

Hängiven kämpe
Bond är en klassisk hjälte; en hängiven kämpe oförmögen att älska eftersom hans hjärta
sargats hårt. Hans nyblivna hustru, Teresa, blir mördad i
I hennes majestäts hemliga tjänst och därefter går han som en rastlös, repliksnabb gast från famn till famn. Han hade lika gärna kunnat heta Zorro,
D«Artagnan eller Batman. Lyckan är hans offer - jämvikten är hans mål.
Samlarens favorit bland de tjugo filmerna är I hennes majestäts hemliga tjänst - den som är den mest utskällda bland ickeexperterna.
Gunnar Schäfer menar att det intressantaste i sammanhanget egentligen är den lungsiktige upphovsmannen Ian Fleming som under sitt korta liv - född 1908, död 1964 - skrev tolv romaner och två noveller om sin agent.
- Fleming var inom flottans underrättelsetjänst under kriget. Någon hemlig agent var han inte, men visste vad han skrev om. Det är helt fantastiskt när man tänker efter. Vid skrivmaskinen i huset Golden Eye på Jamaica skapade han en karaktär som i princip är känd vart man än kommer i hela världen - och det är över 50 år sedan det började.
På firman Nybro Bildelar trängs det ordinarie utbudet med allehanda Bondprylar. Bilar, udda affischer - och så förstås ögonstenen: En skogsgrön Jaguar E-type från 1962 - identisk med bilen i Bondsatiren Casino Royale från 1967.
- Jag planerar att skriva en bok om Bond, säger Gunnar Schäfer. Och jag har kontakt med flera bolag som har intressen i Bond - till exempel Jaguar, Omega, Aston Martin och champagneföretaget Bollinger. Intresset för sådant här material är oerhört stort utomlands.

Öppnar eget museum
Och i nästa år öppnar du ett museum - vilka förhoppningar har du?
- Det kommer att bli fantastiskt och jag tror knappt det är sant. Till öppnandet kommer branschfolk och många har visat stort intresse för det jag gör. Visst, det verkar nog underligt, men vadå... Det är oerhört kul och jag älskar verkligen det jag gör, säger Gunnar Schäfer.
PETER LEJON