| | | |
| --- | --- | --- |
| Our Founder: Chris Blackwell | | |
| | | |
| --- | --- | --- |
| | | |
Born in London in 1937, Blackwell spent his childhood in Jamaica. Sent back to England at age 10 to finish his education, Blackwell returned to Jamaica in 1955 and held a variety of jobs, including selling real estate, renting motor scooters and acting as aide-de-camp to the Governor of Jamaica. However, when he heard an ensemble led by blind pianist Lance Hayward at the Half Moon Hotel in Montego Bay, Blackwell decided to record them and, borrowing the name from Alec Waugh's novel, Island in the Sun, founded Island Records.

In 1960, Island Records opened an office in Kingston, Jamaica, and a series of local hit singles soon followed. The growing Jamaican immigrant population in England also bought Island's discs and, finding that he was selling more records in England than in Jamaica, Blackwell moved Island's headquarters to London in 1962. A succession of minor hits followed, mainly ska records from the seminal Jamaican producers of the time, including Duke Reid, Leslie Kong and Clement "Sir Coxsone" Dodd, and within a few years Blackwell had produced or licensed several hundred singles for Island and its various subsidiary labels in Jamaica and Britain. In 1964, Blackwell produced "My Boy Lollipop" by a 15-year-old Jamaican girl named Millie, and it became the worldwide hit that launched Island's global fortunes, selling more than 7 million copies. (Aware of his independent label's limitations, Blackwell licensed the record to Fontana Records to ensure wider exposure and distribution.)

Throughout the '70s, Island Records introduced the world to scores of critically acclaimed artists, and the UK and U.S. album charts were continuously re-stocked with records from Island and its licensees (U.S. distribution was typically licensed to other companies). In addition to Traffic and Winwood, Island formed the launching pad for the recording careers of Free, Cat Stevens, Spooky Tooth, Robert Palmer and Mott the Hoople, and also distributed Chrysalis and E.G. Records (Jethro Tull, Procol Harum, King Crimson, Emerson, Lake & Palmer, Roxy Music, Bryan Ferry, Eno, etc.). The winning streak continued into the '80s and '90s, and artists whose significant releases appear on the Island label include Grace Jones, Ultravox, U2, Tom Waits, The Orb and Pulp.

But perhaps Blackwell's most lasting influence on modern popular music resulted from his Jamaican roots and familiarity with the Caribbean musical heritage. Starting with The Wailers' innovative Catch a Fire album (which featured a Zippo lighter-shaped album cover), Island Records introduced the world at large to Bob Marley and reggae music. Artists such as Toots and the Maytals, Burning Spear, Third World and Black Uhuru not only added a multicultural component to pop music but also had lasting influence on Island Records labelmates and recording artists worldwide. Blackwell was also the first major label executive to expose African musicians, including King Sunny Ade, to a wider audience.

Although he downplays his personal involvement in production and engineering, Blackwell was a hands-on executive for a significant number of Island's records. But if his role as a producer in the studio is not easily defined, his influence on final product is clear. Early in the 1970s, Blackwell foresaw that the LP would replace singles as the primary format. Even as he gave Island's artists unprecedented creative freedom to develop their music, Blackwell also encouraged innovative graphics and album cover design. The company both upended traditional notions of packaging and spearheaded a new sense of style in cover design, as a glance through any coffee-table compilation of album cover art will confirm.

Island and Blackwell also have a long history in film and film sound. Blackwell backed his first film project in 1971, The Harder They Come, starring singer Jimmy Cliff. In 1981, he produced Countryman, which broke all Jamaican box office records. In 1983, Blackwell formed Island Alive, the film production and distribution company responsible for Kiss of the Spiderwoman, which won a Best Actor Oscar for William Hurt, and The Trip to Bountiful, for which Geraldine Page earned a Best Actress Oscar. Island films Mona Lisa and Dark Eyes also garnered Best Actor nominations for Bob Hoskins and Marcello Mastroianni, respectively. Other Island-produced films in the 1980s were A Night in the Life of Jimmy Reardon (starring River Phoenix), Choose Me and Return Engagement (featuring Timothy Leary and G. Gordon Liddy).

In 1989, Island was bought by Netherlands-based conglomerate PolyGram, although Blackwell stayed on to supervise the Island companies. Separately, in the early '90s, Blackwell created Island Outpost, a hotel and resorts company, and debuted in November 1991 the renowned Marlin Hotel in Miami's South Beach and Jamaica's Strawberry Hill in 1992, followed closely by Bahamian Pink Sands and Compass Point and The Caves, Jake's and GoldenEye in Jamaica.

Major Contributor: Jason Ankeny, All Music Guide.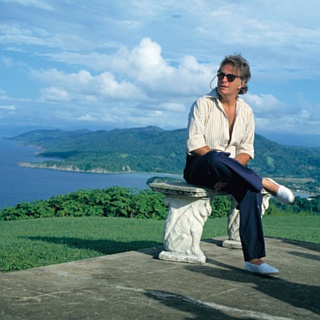 Our Founder: Chris Blackwell
Goldeneye
Goldeneye forms part of an exclusive 18-room beachfront hotel with a loyal, starry clientele including Johnny Depp and the Clintons. The site has a lagoon, tree-packed gardens and 1.5 miles of seafront.

Now owner Chris Blackwell has unveiled ambitious plans for a 90-property, £60-million expansion on this glorious 100-acre site.

Planned property, for sale through Pure International, ranges from one-bedroom Bond suites for about £375,000 (all glass and polished concrete) to four-bedroom Lagoon villas for about £1.6 million.

Two-bedroom island cottages cost about £626,000 and three-bedroom villas are about £1.35 million. Property will be low-level with direct sea access and will come fully furnished with interiors designed by Biba founder Barbara Hulanicki.

Fleming gave Blackwell his first job, recommending him as a location scout on Jamaica for the Bond film Dr No in 1961. From there, Blackwell went on to found Island Records, signing reggae star Bob Marley and U2.

There's no doubting his love for Jamaica and its people. He has accommodated 40 fishermen on his land, paying to improve their boats, and is passionate about encouraging local enterprise. So how does he justify such a dramatic change at Goldeneye?

The benefits to the local community will be huge, with new jobs and opportunities," says Blackwell, a youthful 72-year-old. "Jamaica has always been an inspirational place for me and I want to give something back. I'm very positive about Jamaica's future."

Fears over high crime levels and a lack of suitable property have kept house-hunters away in the past, but things are changing says Nick Simmonds, Goldeneye's managing director.

"The present government is forward-looking and pro-foreign investment," he says. "Crime is mainly drugs-related and concentrated in Kingston. Crime against tourists is very rare."

The Goldeneye development is two hours from Kingston and Montego Bay. Completion of the first villas is expected by summer 2010, when facilities will include a spa, restaurants and bars. This is one to watch with interest as Island Outpost, Blackwell's company, handle the delicate balance of transforming a piece of paradise into a larger resort.


Fact File

* Owners at The Colony have 60 days use of their house annually but then must place it into the hotel rental pool. They have free access throughout the year if it is not rented (within 21 days) and receive 70 per cent of rental income.
* Owners at Goldeneye can choose to put their property into an on-site rental programme.
* Annual maintenance at The Colony is steep, starting at about £36,000, covering three full-time staff, insurances, green fees and electricity.
* Annual maintenance at Goldeneye is estimated at £6,000 per bedroom.