How many people James Bond kill in James Bond movies? Bodycount, Died in each film?
That's an average death per movie of 16 people killed by Bonds - and 59 from all causes.

Sean Connery's You Only Live Twice 1967 was the most deadly film: 196 deaths. Compare that to the first film, Dr No 1962 with only 12, four of them by Bond.

However the deadliest Bond was Pierce Brosnan - he killed 135 people in four films, an average of 33.8 per movie.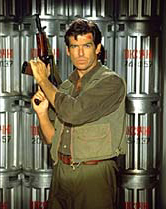 How Many People Craig's Bond Has To Kill To Become The Deadliest 007

Over the 24 James Bond movies released so far, the secret agent has killed 597 bad guys all

together: here are the death tolls of each 007 actor.
As the franchise tallies its 25th film, the kill count read thus: Brosnan holds a commanding lead with 135 kills, Moore comes in second at 90, while Craig rounds out the top three ahead of his final appearance with 76. Behind him is Connery's 72, while Dalton and Lazenby put up a pacifistic 23 and 5 respectively, owing in no small part to the brevity of their 007 tenures. For Craig to earn the silver, he'll have to tally 14 kills in No Time to Die—a very reachable figure. Gold will take a more exceptional effort, as 59 additional kills would nearly double his current four-film total in a single outing.
EON Productions movies
1. Dr No 1962
2. From Russia With Love 1963
3. Goldfinger 1964
4. Thunderball 1965
5. You Only Live Twice 1967
6. On Her Majesty`s Secret Service 1969
7. Diamonds Are Forever 1971
8. Live And Let Die 1973
9. The Man With The Golden Gun 1974
10.The Spy Who Loved Me 1977
11.Moonraker 1979
12.For Your Eyes Only 1981
13.Octopussy 1983
14.A View To A Kill 1985
15.The Living Daylights 1987
16.Licence To Kill 1989
17.Goldeneye 1995
18.Tomorrow Never Dies1997
19.The World Is Not Enough 1999
20.Die Another Day 2002
21.Casino Royale 2006
22.Quantum Of Solace 2008
23. Skyfall 2012
24 Spectre Bond 24 (2015)
25. No Time To Die Bond 25 (2021)