Desmond Llewelyns han som Q visade Bond nya tekniska innovationer som han fick med sig på sina uppdrag. Q var den kanske mest populära karaktären i hela Bondserien, och Desmond Llewelyn blev så förknippad med denna roll, att många trodde att han även privat var ett tekniskt uppfinnargeni. Desmond innehade rollen som Q i hela 37 år - någonting alldeles unikt i den föränderliga filmbranschen.

Den 19 december 1999, en månad efter premiären på den 19:e Bondfilmen The World is Not Enough, var Desmond Llewelyn på väg hem från en boksignering i en bokhandel. Den bok han signerade var den nyutkomna biografin om honom, som skrivits av Sandy Hernu ("Q - The Biography of Desmond Llewelyn" heter den). Inte långt från sitt hem frontalkrockade Desmonds Renault med en annan bil. Han flögs med helikopter till sjukhus, men läkarna kämpade förgäves för att rädda hans liv. Desmond Llewelyn blev 85 år.

När den tragiska nyheten kablades ut över världen försattes Bondvänner världen runt i något sorts chocktillstånd. Desmond var så genuint omtyckt och populär, att många, som aldrig ens träffat honom, kände det som om en nära anhörig gått bort.

Desmond Llewelyn var vid sin bortgång en av världens mest igenkända personer. Expressen toppade sin löpsedel med den tragiska nyheten: "Q död i bilkrasch". Mer behövde man inte säga i rubriken. Alla visste vem Q var.

När man tänker på hur många människor i världen som någonsin har sett en Bondfilm, och att Desmond var med i 17 av dessa filmer, förstår man att mannen som var Q nästan var mer känd än Bond själv.
Den här berömmelsen kom relativt sent i Desmonds liv. Inte många skådespelare befinner sig på toppen av sin berömmelse när de är i 75-80-årsåldern.

Desmond Llewelyn var i början av 60-talet en anonym skådespelare bland många andra. Han hade varit med i teateruppsättningar, bl a tre år i en Agatha Christie-pjäs, och haft ett antal mindre biroller i flera filmer, bl a Cleopatra. Han fick ofta spela poliser, något han hade blivit hjärtligt trött på.

Han spelade också med i Follyfoot en engelsk serie

Desmond Llewelyn, horse (Follyfoot), Ron Stryker (Christian Rodska) Dora (Gillian Blake), Steve Hodson, Arthur English
I den första James Bondfilmen, Dr. No, hade rollen som "The Armourer" spelats av Peter Burton. När man 1963 skulle börja spela in nästa film i serien, From Russia With Love, kunde inte Burton vara med. Regissören Terence Young mindes då Desmond från krigsfilmen They Were Not Divided på 50-talet, som Young också hade regisserat. I den filmen hade Desmond talat med en kraftig walesisk dialekt. Nu ville Young att Desmond skulle använda denna dialekt även som Boothroyd (karaktären kallades ännu inte för "Q"). Desmond invände, och efter en diskussion bestämde han sig för att prata med den grövsta walesiska dialekt han kunde tänka sig. Young insåg att Desmond hade rätt och lät honom spela Boothroyd som en litet snobbig engelsman istället. I den här filmen förses Bond med den sinnrika attachéväska, som sedan blivit så berömd.
Desmond arbetade en enda dag med From Russia With Love och fick ca 30 pund i gage. Han träffade även Ian Fleming, som besökte inspelningarna. Men Bondvågen hade inte satt igång ännu och Desmond tänkte inte så värst mycket mer på filmen sedan han var klar med sin roll.
Det var inte förrän i nästa film, Goldfinger, som Desmonds karaktär i Bondserien utmejslades på allvar. Vid första tagningen av Q-scenen reste sig Desmond upp för att artigt hälsa på Bond. Regissören Guy Hamilton avbröt: "Nej, nej, du gillar inte den här mannen! Han är alltför respektlös mot Q Branch:s arbete." Sedan gjorde man en ny tagning av scenen, som nu fungerade perfekt. Sedan dess spelade Desmond Q i denna stil.
Även i Goldfinger var det meningen att Desmond bara skulle ägna en enda dag åt sina scener i filmen. Han kallades dock tillbaka eftersom det hade uppstått en dispyt mellan de båda producenterna, Harry Saltzman och Albert R Broccoli. Saltzman ville inte att publiken skulle veta om katapultstolen i Bonds Aston Martin i förväg, medan Broccoli menade att om Q fick visa finessen skulle det skapa en förväntan hos publiken. Man kom överens om att kalla tillbaka Desmond, spela in en scen där Bond förevisas katapultstolen, och sedan bestämma huruvida sekvensen skulle komma med i filmen. Och alla var sedan eniga om att den sedan så berömda scenen var så bra att den måste få vara med i filmen.
Q: Now at the top of the gearstick you'll find a little red button. Whatever you do, don't touch it.
007: Why not?
Q: If you do you'll release a section of the roof and engage, then fire the ejector seat.
007: You're joking.
Q: I never joke about my work, 007!
Nu hade Desmond fått ägna hela två dagar åt en Bondfilm. Till Thunderball blev hans roll ännu större: han fick t o m flyga till Bahamas för inspelningar där. Dock var han tvungen att hålla sig inomhus, för Q skulle inte vara solbränd när han kom för att besöka Bond. Desmond fann att det var ett elände att behöva hålla sig inomhus i den karibiska hettan. Av väder-skäl blev man dock tvungen att ändra planerna, så Q:s scener spelades istället in i Pinewood Studios senare.

I Thunderball förekom en av Desmonds favoritprylar: den lilla undervattenskameran. På den här tiden fanns det inga små kameror som kunde ta bilder under vatten, men Nikon jobbade på att ta fram en sådan. När de fick veta att Bond-filmteamet behövde en sådan kamera, skickade de en med vändande post.
I You Only Live Twice 1967 fick Bond använda ett av sina mest berömda fortskaffningsmedel, autogyron Little Nellie. Desmond flög till Japan för att spela in dessa scener på plats.
1968 var Desmond även med i Albert R Broccolis filmproduktion av Ian Flemings barnbok Chitty Chitty Bang Bang. Han spelade bonden som ägde bilen.
I On Her Majesty's Secret Service har Q en av sina minsta roller i Bondserien, mest p g a frånvaron av tekniska prylar i denna film. Han är med helt kort i början (där han förevisar M radioaktiv gasbinda, som M bryskt avfärdar) och i slutet, vid Bonds bröllop. Det är där Bond, spelad av George Lazenby, säger till Q "This time I've got the gadgets - and I know how to use them" (syftande på sin nyblivna hustru Tracy).
Ännu var inte Desmond helt och hållet förknippad med rollen som Q : han fick t ex en stor roll i tv-serien Follyfoot, som gick i flera säsonger i brittisk tv.
Desmonds inspelningsperiod för Diamonds Are Forever var en vecka lång. Han fick då åka till Las Vegas. I denna film använder Q en manick som lurar de enarmade banditerna att ge vinst varje gång. Den fungerade definitivt inte i verkligheten, sade Desmond. Han kunde dock inte låta bli att använda alla 10-centsmynten på riktigt i "banditerna" efter att inspelningarna var klara. "Jag vann inte ett korvöre" sade Desmond.
Det var vid den här tiden som filmbolaget började fatta vilken tillgång Desmond var för Bondserien. Han fick åka på sin första PR-turné som Q, och fick ta med sig attachéväskan från From Russia With Love, tillsammans med en massa andra prylar. PR-turnén, som ägde rum i USA i samband med premiären av Diamonds Are Forever, blev en stor succé. "Det var litet nervöst i början", sade Desmond, "eftersom jag egentligen inte visste något om alla tekniska prylar - jag är ju bara en skådespelare". Han upptäckte snart att han älskade all den positiva uppmärksamhet han fick, och gav prov på sin slagfärdiga humor.
En reporter frågade: "Du får väl lika mycket beundrarpost som Sean Connery?" Desmond svarade gravallvarligt: "Ja, och jag är säker på att det beror på min enorma sex appeal. Tyvärr kommer mycket av uppmärksamheten från skolpojkar som vill veta mera om sprängämnen. En intresserad ung pojke hade, fick jag veta senare, avancerade planer på att spränga sin skola i luften."
Alla förstod dock inte hur viktig Desmond var för Bondserien.
Bondproducenterna Saltzman och Broccoli hade med åren blivit alltmera osams, och hade kommit fram till att bästa utvägen var att turas om att producera varannan film. 1973 års Live And Let Die, den första med Roger Moore som 007, var det Harry Saltzman som skulle producera. Han var inte ett smack imponerad av alla positiva pressklipp som Desmonds PR-turné i USA hade medfört. Han tyckte att Q inte alls behövdes i den nya filmen. Då hade tv-bolaget som gjorde Follyfoot ändå avsiktligt skrivit ut Desmonds karaktär i tre episoder, så att han skulle kunna vara med i Bondfilmen.
Detta är alltså orsaken till att Desmond inte är med i Live And Let Die, något som filmen också lider av. Desmond trodde att han nu fått sparken från serien.
Så var det nu inte: till Moores andra Bondfilm The Man With the Golden Gun var Desmond tillbaka igen som Q. Desmond kände Roger Moore sedan tidigare (de hade bl a spelat tillsammans i tv-serien Ivanhoe) och tyckte mycket om att arbeta med honom. Så värst många prylar var det dock inte i denna film.
Mer av den varan blev det i The Spy Who Loved Me, som var den dittills mest påkostade Bondfilmen. Här hade Desmond hela 4 scener som Q och var även på plats på Sardinien, där han överlämnar den kända Lotus Esprit-bilen till Bond.
Q: Now pay attention 007... I want you to take great care of this piece of equipment.
There are one or two rather special accessories...
007: Q, have I ever let you down?
Q: Frequently!
Nu började Desmonds beundrarpost öka i volym. Han fann också att han tjänade en hel del på sina ganska korta scener i Bondfilmerna. Det blev även en del reklamuppdrag. Hans fru Pamela var dock måttligt imponerad. Hon var inte speciellt förtjust i Bondfilmerna och hade t o m nickat till under en premiärvisning. Hur som helst fann Desmond att han inte längre erbjöds andra roller: han var nu så oerhört förknippad med rollen som Q. Hans världsberömmelse ökade dock hela tiden för varje ny Bondfilm han var med i.
En taxichaufför frågade Desmond: "Har du någonsin fått höra att du liknar Q?" "Ja", svarade Desmond klurigt, "det har väl hänt en eller två gånger".
Moonraker 1979 visade prov på nya fantasifulla Q-prylar - alltför fantasifulla, ansåg kritikerna. Här förekom dock en av Q:s mest minnesvärda repliker. I slutet av filmen ser man Bond och Holly tätt omslingrade i rymdkapseln. Q, med ryggen mot tv-skärmen, säger (syftande på Bond) "I thing he's attempting re-entry, sir".
Roger Moore brukade skoja med Desmond under inspelningarna. Eftersom Desmond avskydde att gå klädd i shorts, försökte Roger få till en sekvens där Desmond måste bära shorts. En annan gång, vid inspelningen av For Your Eyes Only, lurades Desmond att lära sig långa tekniska repliker, bara för att sedan få veta att Roger tillsammans med regissören John Glen hade hittat på allting. Desmond tog inte alls illa upp, tvärtom berättade han att han trivdes utmärkt med Roger och hans skämtlynne.
007: Forgive me Father, for I have sinned.
Q: That's putting it mildly, 007.
Octopussy gav Desmond hans dittills största roll som Q. Bonds och Q:s scener i den här filmen är fantastiskt bra: Q skickas ut till Indien och klagar över de dåliga förhållandena där för Q Branch. Dialogen och timingen mellan Desmond och Roger är oerhört bra. Dessutom fick Desmond för en gångs skull frottera sig med Bondflickorna i slutet av filmen.
I samband med premiären fick Desmond dessutom åka ut på en ny PR-turné som Q, och den turnén förde honom bl a till Sverige. Det blev jättelika artiklar i kvällstidningarna, nyhetsinslag i både Rapport och Aktuellt. Att Desmond "Q" Llewelyn kom till Sverige var en stor nyhet.
Många utgick ifrån att Desmond även privat var en teknisk expert, något han alls inte var. När han vid ett tillfälle lämnade in en trasig klocka hos en urmakare, tittade denne förvånat upp som för att undra "kan inte du fixa detta själv?"
Nästa film, A View to a Kill, var Roger Moores sista Bondfilm, och Q hade inte lika stor roll i denna. Det mesta av hans roll verkar ha klippts bort. Hur som helst var han återigen ute på PR-turné (tillsammans med Fiona Fullerton) i samband med att den filmen släpptes.
Timothy Daltons entré som Bond ägde rum i The Living Daylights 1987. Här hade Desmond en större roll igen, men inte lika stor som i nästa film, Licence to Kill. Aldrig förr har Q haft en så stor roll i en Bondfilm. Desmond, som många andra, tyckte dock inte om de våldsamma inslagen i denna film.
Q: Remember: If it hadn't been for Q Branch, you would have been dead long ago.
Åren gick. P g a ett komplicerat juridiskt bråk gjordes inga Bondfilmer på sex år. När Desmond 1994 tillfrågades om han ville ställa upp som Q igen i nya filmen Goldeneye, blav han glatt överraskad. Han trodde att när de bytt ut allt annat: ny Bond, ny M, ny Moneypenny, osv, så skulle de även byta ut Q. Desmond var så stolt över att vara den ende från 80-talets Bondfilmer som fick vara med i den nya filmen, att han sade att "det förlängde mitt liv med flera år". Och det syns i filmen att Desmond är på ett glatt humör. Nu var han den enda länken som var kvar från original-rollbesättningen i Bondserien.
I den här vevan upptäckte Desmond att hans fru Pamela, som han varit gift med sedan 1938, inte mådde riktigt bra. Senare skulle det visa sig att hon utvecklat Alzheimers sjukdom. Desmond skötte henne länge hemma, innan han insåg att det inte gick längre. Pamela togs in på ett vårdhem, och Desmond besökte henne där varje dag. Det blev allt plågsammare för honom att besöka sin fru: mot slutet kände hon inte längre igen honom... de hade varit gifta i över 60 år och nu mindes hon inte längre deras liv tillsammans.
Tillsammans med Pierce Brosnan upplevde Desmond åter Bond-succén. Han var över 80 år och nu fick han uppleva några av sina mest intensiva år i rampljuset. Massor av PR-turnéer, tv-framträdanden etc följde.
Vid inspelningarna av Tomorrow Never Dies fann Desmond att han inte längre var lika bra på att lära sig sina repliker, så tagningarna tog längre tid än vanligt, men Brosnan och de andra i filmteamet var naturligtvis tålmodiga. Desmond avskydde dock den röda kavajen han var tvungen att ha på sig i filmen.
Så fort något James Bond-relaterat skulle tas fram tillfrågade man Desmond, som nu hade blivit en livs levande symbol för hela serien. Nöjesparken Licence to Thrill i USA och i England har scener med Q på storbildsskärm; cd-rom-utgåvan The Ultimate James Bond 007 Dossier presenteras av Q; i ett brittiskt köpvideopaket med Tomorrow Never Dies medföljer en särskild kassett om inspelningen, ett reportage där Desmond är värd... osv.
1999: Den 19:e Bondfilmen The World is Not Enough skulle färdigställas. Desmond började nu känna sig något sliten: han var ju ändå 85 år. Redan tidigare hade han bett producenterna att skaffa honom en assistent. Det blev John Cleese som fick detta uppdrag. Han kontrakterades dessutom för ytterligare tre Bondfilmer. Detta betydde inte att Desmond skulle pensioneras ur Bondserien: producenterna sade att han hade en roll i Bondserien så länge han själv ville. Desmond sade också "Jag kommer att vara med i Bondfilmerna så länge producenterna vill ha mig där och 'the Almighty' inte vill det."
När Pierces och Desmonds scener skulle spelas in, var det oklart när den kommande Bondfilmen skulle släppas - om två eller kanske rentav tre år? - och Desmond visste ju faktiskt inte om han skulle vara med då. Manusförfattare Bruce Feirstein fick i uppdrag att "skriva ut mig ur serien med värdighet" som Desmond sade. Feirstein ville inte att scenen skulle bli sentimental - antagligen skulle ju Desmond vara med även i filmen därpå men man kunde ju inte veta säkert. Feirstein sade att han plötsligt insåg att det handlade om Merlin som säger adjö till kung Arthur (som i den gamla riddarlegenden).
007: You aren't retiring anytime soon... are you?
Q: Pay attention, 007. I've always tried to teach you two things. First: Never let them see you bleed.
007: And the second?
Q: Always have an escape plan.
Med tanke på att detta faktiskt blev Desmonds sorti ur Bondserien, är denna scen redan ansedd som klassisk.
Desmond Llewelyn var i många avseenden en unik skådespelare. Han uppnådde sin världsberömmelse i hög ålder genom att spela samma biroll i 37 år. Han var älskad av både publik och kollegor. Ingen hade någonsin ett ont ord att säga om honom, och han blev med åren en av världens mest kända och respekterade skådespelare. Därför var hans hastiga och oväntade bortgång så djupt tragisk.
I den långa serien av James Bondfilmer har skådespelare kommit och gått. Bond själv har spelats av fem olika personer, M av tre, Moneypenny också av tre, Felix Leiter av sex (i den officiella serien). Men det kommer för alltid att finnas bara en Q - Desmond Llewelyn. Hans Q var en så mänsklig karaktär, som med åren blev den kanske populäraste karaktären i hela serien. Desmond gav värme och humor till denna biroll, som ju faktiskt inte får så många minuters tid i varje film. På så vis gjorde han Q till en så minnesvärd och omtyckt figur.
Under 90-talet blev Desmond, särskilt sedan den gamle producenten Albert R Broccoli avlidit 1996, åldermannen i Bondgänget. Han blev en levande symbol för hela serien, och en fantastisk goodwill-ambassadör för Bondfilmerna. När Desmond anlände till en ny Bondpremiär, ville jublet från publiken utanför biografen aldrig ta slut. Ville man leta efter Desmond på ett Bond-konvent, var det bara att leta efter den längsta kön på konventet. I ena änden av kön fanns alltid Desmond.
Desmond var även känd för att ge sig tid för fansen. Många är de berättelser från Bondfans, där de berättar om hur Desmond glatt poserat för fotografier och gett autografer. Han bjöd på sig själv och var genuint omtyckt av alla. När han tillfrågades om hur det hade varit att samarbeta med alla "Bondar" hade han aldrig något negativt att säga om någon av dem. Man frågade honom om inte hans skådespelarkarriär hade pajats av att han aldrig fick några andra roller. Desmond svarade att utan Q hade hans karriär tagit slut för länge sedan, och ingen hade kommit ihåg honom idag.
Hans båda söner Ivor och Justin sade efter Desmonds bortgång att den karaktär han spelar på bioduken var den äkta Desmond: han var lika vänlig och humoristisk privat.
Pierce Brosnan fick frågan om vilken scen under den nya Bondfilmens tillkomst som han såg fram emot mest att få göra. Brosnan svarade omedelbart: Scenen med Q.
Det var många i filmteamet som alltid såg fram emot dessa scener: Desmond brukade vara i högform, gick runt i studion hela dagen, skrev autografer, berättade historier, osv.


Personal
information
Desmond Llewelyn playing Q
Born in Newport, South Wales, UK on 12th September 1914
Died 19th December 1999
Starred In From Russia with Love (1963), Goldfinger (1964), Thunderball (1965), You Only Live Twice (1967), On Her Majesty's Secret Service (1969), Diamonds Are Forever (1971), The Man with the Golden Gun (1974), The Spy Who Loved Me (1977), Moonraker (1979), For Your Eyes Only (1981), Octopussy (1983), A View To A Kill (1985), The Living Daylights (1987), Licence To Kill (1989), Goldeneye (1995), Tomorrow Never Dies (1997) and The World Is Not Enough (1999).
Film
information
Q played by Desmond Llewelyn appears in seventeen James Bond films starting at From Russia With Love through Diamonds Are Forever and The Man With The Golden Gun through The World Is Not Enough.
Q is invited into M's office after he has given Bond his briefing to tell Bond about the new Attaché Case that is to become standard equipment. It is not until Goldfinger that the famous scenes between Q and Bond are established. After Bond watches the curious experiments being conducted in Q's workshop in Goldfinger, Q introduces Bond to his new car – the famous Aston Martin DB5. Whilst Q is explaining the gadgetry of the car, Bond is clearly becoming bored, until Q explains the car is fitted with an ejector seat. Bond perks up and quips "Ejector seat? You're joking!" leading to Q famously replying, "I never joke about my work 007."
Thunderball sees Q for the first time 'in the field' in Nassau. Bond comments on his regret when he spots Q, with Q also telling Bond that he would rather be back in London, finding equipping him in the field highly irregular. For the second time in two films Q travels to Japan on Bond's request to deliver Little Nellie. Bond revels in antagonising Q, knowing that he dislikes field assignments, which only proves to deepen Q's bad mood. On Her Majesty's Secret Service sees little appearances from Q, who is restricted to a couple of small scenes. Q tries to demonstrate an uninteresting looking object in the pre-title sequence and later at the end of the film, congratulates Bond on his marriage.
Unusually Diamonds Are Forever sees Q enjoying his field assignment in Las Vegas where he tells Tiffany Case that he has been aching to try out his new Electro-Magnetic RPM Controller. He also provides a number of gadgets that allow Bond to take on Peter Franks' identity and imitate Bert Saxby's voice to fool Ernst Stavro Blofeld and rescue Willard Whyte. Sadly, Q is given little to do in The Man With The Golden Gun, merely meeting Bonds unique request for a 'third nipple.'
The Spy Who Loved Me happily features Q appear in a number of scenes. Bond, M, Major Anya Amasova and General Gogol visit Q's workshop hidden inside an Egyptian pyramid where a number of unusual gadgets are demonstrated. Q then leads a briefing as to the contents of the submarine tracking system. Later in the film Q drives Bond's Lotus Esprit to Sardinia where he tries to explain the cars gadgetry but 007 impatiently drives off. Moonraker sees Q inside a monastery, where he demonstrates the latest gadgets, and informs Bond about the liquid taken earlier from one of Hugo Drax's globes in Venice. Q is also present with the minister of defence and M at the end of the film, where he comically unwittingly replies to Sir Frederick Gray's question as to what's Bond doing with "I think he's attempting re-entry sir."
In For Your Eyes Only Q provides Bond with the latest gadgets in his workshop, and helps him identify the man who paid off Hector Gonzales by means of the 3D Identigraph. Amusingly Q reappears much later in the guise of a priest to inform Bond of some information. In Octopussy Q's workshop provides refuge from Gobinda after a car chase, where the gadget king demonstrates the latest gadgets and makes sure Bond has all the right equipment. Q later appears in the film when he assists Vijay in watching Octopussy's Floating Palace, although is sadly not around to prevent Vijay's untimely demise. In a highly amusing scene Q pilots a large union jack covered hot-air balloon over Kamal Khan's Monsoon Palace allowing Bond to attempt to rescue Octopussy. After Q unwittingly lands the basket, knocking out one the guards, a bevy of beautiful women surround him giving his plenty of loving attention, where Q tells his admirers "Not now! Maybe later."
Q leads a briefing in A View To A Kill about a microchip and Max Zorin's connections, and then travels to Royal Ascot with M, Moneypenny and Bond to investigate Zorin. Appearing at the end of the film Q finds Bond (after being presumed dead) in the shower with Stacey Sutton. After M enquires as to what Bond is doing, Q disapprovingly remarks, "Just cleaning up a few details." The Living Daylights features Q assisting Bond in his mission to help General Georgi Koskov defect, and as usual provides the latest gadgets to Bond at his workshop.
Licence To Kill sees Q's biggest role when he takes a leave of absence to unofficially assist Bond in the field. Initially refusing his help, Bond is grateful of Q's gadgets to help get revenge on Franz Sanchez. Q takes on a number of guises and along with Pam Bouvier helps Bond get access to infiltrate Sanchez's inner circle. In an amusing sequence near the end of the film, Q uses the Broom Transmitter. He then ironically throws the gadget into the bushes - the practice Q had frequently complained to Bond about since Goldfinger.
The appearance of Q in Goldeneye marks him as the only actor to have played alongside all five James Bonds. The gadget maestro is light-hearted and comical, enjoying demonstrating the latest gadgets to Bond and even joining in with a few of Bonds quips. Tomorrow Never Dies features Q back his usual disapproving self, when he runs through a list of insurance options posing as an Avis car hire salesman. After Bond shows off with the BMW Remote Control, Q doesn't hesitate to tell him "Grow up 007!"
Sadly, The World Is Not Enough features the last appearance of Desmond Llewelyn as Q, who had played the gadget expert for nearly forty years. Q exclaims when Bond steals the Q-Boat telling Bond it was for his retirement when they meet later at the MI6 Scottish HQ. After introducing his new assistant, Q issues Bond with some final tips before he disappears by descending into the floor.
Character
information
The beloved Q, or more formally Major Boothroyd, has been the lifesaver of Bond's life many times by using his ingenious inventions. Disapproving of Bond's caviller attitude towards life and his womanising ways, Q frequently finds his gadgets at the brunt of Bond's ways. Often having to deal with Bond's impatience and lack of respect, Q is often at the source of Bonds quips and antagonistic ways, and frequently has to remind him to return his gadgets.
Q has undergone a number of changes throughout the films. In the early films the relationship between Q and Bond was quite tense. Q would frequently get annoyed at Bond for not listening ("Pay attention 007!"), abusing his gadgets and simply never returning them in one piece. However as the films progressed so the relationship grew stronger. In Q's final appearance Bond issues his serious concern when Q mentions his retirement.
gadget (gajit) n. 1. A small specialised mechanical or electronic device; a contrivance. 2. Any ingenious device, especially one that is labour-saving.
Little Nellie:

this waspish autogyro saves Bond's bacon in You Only Live Twice when he's set upon by a fleet of SPECTRE bad guys' helicopters. Literally a flying arsenal with a lot more than a sting her tail : 2 fixed forward-firing machineguns synchronised to 100 yards – using incendiaries and high explosives; 2 rocket launchers forward-firing on either side; heat-seeking air-to-air missiles – 60 a minute; Flame guns – 2 firing astern, range 80 yards; 2 smoke ejectors; Aerial mines; Cine camera in pilot's helmet; Radio tuned to 410 megacycles.
After vanquishing the foe 007 sends this message: "Hello Base One – Little Nellie got a hot reception. Four big shots made improper advances towards her – but she defended her honour with great success."
Hasselblad Camera Signature Gun: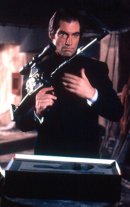 This deadly gadget really does have a viewfinder to a kill! The film magazine contains a magazine of .220 high-velocity bullets, while its tripod-like attachments screw into the body to form the butt and barrel of a deadly sniper's rifle. The handle of the gun also contains an optical palm reader, ensuring only the person programming the computer sequence can fire the weapon at a later date.
In Licence To Kill, Bond uses the Signature Gun (one of Q's most ingenious and lethal gadgets) in an attempt to avenge the murder of his best friend's wife. On this rare occasion, 007 misses his target, South American drug baron Franz Sanchez, when he is overcome by a group of Ninjas.
Parker Pen Class 4 Grenade: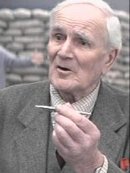 on this occasion, thanks to Q, the pen is indeed mightier than the sword! 3 clicks of the pen arms its 4 second fuse, while a further 3 clicks disarms it. The writing's on the wall for treacherous ex-British agent Alec Trevelyan (006), when Bond uses this harmless-looking everyday object to prevent Trevelyan from using the Goldeneye satellite to devastating effect.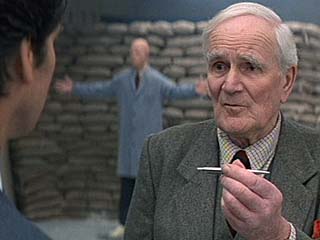 Snooper:

a robot 'dog' whose movements are controlled by remote control. Snooper transmits video images via its eyes. It also has a telescopic neck for peering over or around objects obstructing its view.
While searching for 007 with Snooper at the end of his mission in A View To A Kill, Q is shocked, but hardly surprised, to find Bond sharing a shower with heroine Stacey Sutton. Oh James!
Desmond has appeared in: 17 film
From Russia With Love (1963)
Goldfinger (1964)
Thunderball (1965)
You Only Live Twice (1967)
On Her Majesty's Secret Service (1969)
Diamonds Are Forever (1971)
The Man With The Golden Gun (1974)
The Spy Who Loved Me (1977)
Moonraker (1979)
For Your Eyes Only (1981)
Octopussy (1983)
A View To A Kill (1985)
The Living Daylights (1987)
Licence To Kill (1989)
GoldenEye (1995)
Tomorrow Never Dies (1997)
The World Is Not Enough (1999)
Desmond Llewelyn did not make an appearance in:

Dr.No (1962)
Live And Let Die (1973)