Q John Cleese in 2 James Bond film The World is Not Enough 1999 and Die Another Day 2002 now works for Swedish Elgiganten. (after divorce with Alyce Faye Eichelberger)

Den brittiske skådespelaren och komikern John Cleese betalar motsvarande 143 miljoner kronor i skilsmässan från sin tredje hustru, Alyce Faye Eichelberger.

John Cleese signs up for the Swedish company Elgiganten



John Cleese as Q and the real Q was Desmond Llewelyn
"Q" or "R" John Cleese The World Is Not Enough as Q's assistant, referred to by Bond as R.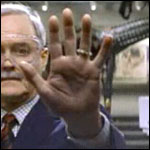 2 James Bond film
The World is Not Enough 1999 as Q's assistant, referred to by Bond as R.
Die Another Day 2002 now Q after Desmond.
Cleese was cast as Q's deputy 'R' in The World is Not Enough. Following the sad death of Desmond Llewelyn in a car accident.
Cleese has taken the title 'Q' for Die Another Day.
Famous for his roles in Monty Python and Fawlty Towers, John should suit this role perfectly.
Q's best quote from Die Another Day:
James Bond: You know, you're cleverer than you look!
Q: Better than looking cleverer than you are.

"Right now, pay attention!"
John Cleese har gjort ett antal nya reklamfilmer tillsammans med Elgiganten och filmerna baseras på Johns privatliv. Bakgrunden är att John nyligen genomgått en kostsam skilsmässa där han fick dela med sig av en stor summa pengar. Som tittarna kommer att få se är temat för reklamfilmerna – "Thank God for Elgiganten" eller tacka gud för Elgiganten, där John kan köpa nya saker till hemmet till väldigt låga priser.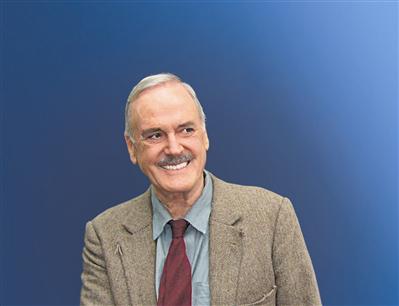 Eichelberger får knappt 95 miljoner kronor i kontanter och tillgångar, inklusive en lägenhet i New York, ett hus i attraktiva Holland Park i London samt hälften av en strandvilla i Santa Barbara i Kalifornien.

Eichelberger har dessutom tilldömts ett underhåll på motsvarande 7 miljoner kronor per år i sju år.

Cleese och Eichelberger var gifta i 16 år och skilsmässan har skapat stora rubriker i England. Den 70-årige Cleese har offentligt beklagat sig över beloppens storlek, som enligt honom själv gör ex-hustrun till en mer förmögen person än han själv.

Han har bland annat sagt att "det jag tycker är orättvist är att om vi båda skulle dö idag så får hennes barn mer än mina… Men om jag i framtiden går ut med en kvinna så vet jag åtminstone att hon inte är ute efter mina pengar."

Domstolsförhandlingarna om skilsmässan har följts i brittisk press och Faye Eichelberg, som arbetar som psykoterapeut, har representerats av den i Storbritannien välkända skilsmässoadvokaten Fiona Shackleton som tidigare bland annat representerat Paul McCartney i hans skilsmässa.

Cleese befinner sig för närvarande i New Forest i södra England och skriver på en föreställning som han kallar "My Alyce Faye Divorce Tour" och han skriver också på ett nytt filmmanus.