Product Code: C3091A
History
Widely recognised as one of the most famous cars of all time, the sleek Aston Martin DB5 became the very first car of choice for James Bond in Goldfinger (Sean Connery, 1964); the third film in the iconic Bond series.
One of the most memorable scenes features Bond being issued with his DB5 prior to his assignment. The DB5, modified by Q, included an ejector seat, machine guns, oil slick emitter, rear window shield and bullet proof glass.
The quintessential Bond vehicle appeared again in Thunderball (registration BMT 216A). Alternative versions of the DB5 have also played cameo roles in later Bond movies such as Tomorrow Never Dies and Casino Royale.
The Scalextric Model
This model recreates the beauty of this iconic car and includes working gadgets, such as an ejector seat (activated when passing the special trackside bollard) and manually-triggered rear shield.
This highly detailed car features working lights, Magnatraction™ and easy change pick-ups.
James Bond materials © 1962-2010 Danjaq, LLC and United Artists Corporation
Scalextric James Bond 007 Skyfall Set
Product Code: C1294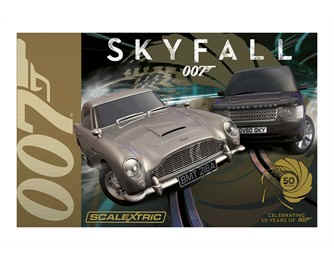 James Bond's loyalty to M is challenged over secrets from her past. When MI6 is attacked, it falls to Bond to seek out and eliminate the threat regardless of the cost to himself.
Re-enact scenes from the story on track or make up your own exciting chases scenes using the gravity defying flying leap. A chicane and crossroads form part of the extended figure-of-eight for endless dare-devil manoeuvres with the two James Bond cars - an Aston Martin DB5 and Range Rover. The ramps and chicane can change position for a different challenge.
The Scalextric Range Rover has had a facelift and differs from previous releases of the Range Rover with a new front grill, head lights, side grill, rear lights and new wheels.
Skyfall © 2012 Danjaq, United Artists, CPII.
007 Logo © Danjaq and United Artists. TM Danjaq.