Royal Doulton Bulldog Jack Collectors Edition James Bond 007 Skyfall 2012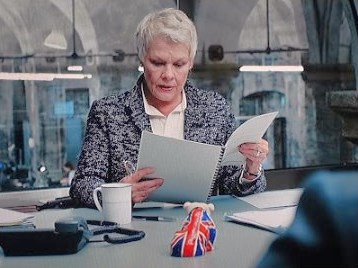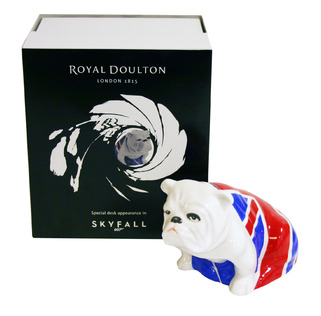 M (Judi Dench) and Jack the Bulldog in Bond movie

Skyfall 2012 M's bulldog that she left to Bond is a feature of this and the following 'SPECTRE'. ... Royal Doulton . As the film franchise also celebrated a half a century in 2012, Bond Of her seven Bond films as M, 'Skyfall' Judi Dench.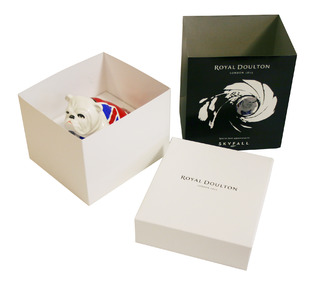 Meet the highly exclusive, limited edition, Jack the Bulldog, handmade in the UK by English ceramics experts Royal Doulton.
This grumpy faced dog made his first appearance on M's desk in Skyfall. He went on to survive the resulting office explosion, with little more than a few cracks to his face and some charring to his draped Union Jack flag before reappearing in her new underground office. After M's tragic death he was passed to 007 by Moneypenny in a memorable London rooftop scene that also revealed M's real name for the first time. Jack went to live another day on 007's coffee table in Spectre - will he be back in No Time To Die?
Like all Royal Doulton figures, Jack is handmade in the UK and hand decorated by skilled ceramic artists. He comes boxed and all ready to growl. To mark his ongoing role in the Bond films, Jack has the reference number DD 007 M printed on his base and comes with a certificate of authenticity.
Founded in London in 1815, Royal Doulton first began making British bulldog models during the First World War. Jack's Union Jack-clad ancestors appeared in 1941, symbolising the steely British spirit in the darkest hours of wartime. He was modelled by the company's art director Charles Noke and was joined by bulldogs inspired by Prime Minister Winston Churchill, and others featuring the flags and hats of the Army, Royal Navy and RAF.
Dimensions. W 8.5 cm / 3.35 in, H 10 cm / 3.94 in, D 15.6 cm / 6.14 in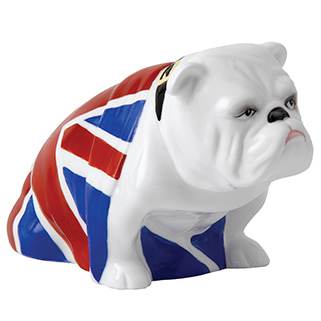 SKYFALL' GETS THE ROYAL DOULTON TREATMENT
Opportunity for fans to get their very own piece of iconic memorabilia

Bond fans and critics have heralded the release of new Bond movie Skyfall, as a great British bulldog of a film. It's fitting then that an iconic and original Royal Doulton bulldog takes on a starring role in the 23rd outing of this British movie blockbuster.

Now Bond fans are in for a treat with the chance to get their hands on their very own reproduction. In honour of his special appearance in Skyfall, Royal Doulton has reproduced this charming British icon, sure to become a coveted collectors' item, just like the original. The new bulldog is named 'Jack' and has a special Skyfall backstamp which includes 'DD007' (where DD stands for Doulton Dog) and a Skyfall box sleeve.

Named after the bold Union Jack flag that is emblazoned across his back, Jack is based on an iconic bulldog, originally modelled in 1941 by Royal Doulton's great art director Charles Noke.

Since the 19th century the Bulldog has symbolised the steely determination of the British character and, given wartime Prime Minister Winston Churchill's uncanny facial resemblance to the dog with its many fleshy and drooping jowls, it was inevitable that the 1940s saw a plethora of bulldog-linked propaganda and imagery. Seventy years on, and in harmony with a momentous year for Great Britain, the Royal Doulton bulldog takes centre stage once again.

Royal Doulton bulldog 'Jack' sits pride of place on M's desk in several of the film's MI6-based shots; he survives an explosion and plays a poignant role in the film's final scenes.
Bulldog Jack
By Royal Doulton
Product Code (UPC): 652383748002
Jack is based on an iconic bulldog, originally modelled by Royal Doulton's great art director Charles Noke in 1941. An original Jack features on M's desk in the 23rd James Bond Movie, Skyfall.
Price €950
Royal Doulton Bulldog Jack Collectors Edition James Bond 007 Skyfall 2012 In stock 3