Contact: 007museum@telia.com Phone+4648112960 Open Daily 10-15 Sat 10-14 Media To do and see Buy
James Bond Theme Party PPKGuns Omega Bmw Bollinger Corgi Swatch Posters James Bond store Links
Welcome to The World's only James Bond 007Museum Sweden Nybro. Booking open mon-fri 10-17 sat 10-14
Kristina Wayborn (Britt-Inger Johansson) born in Nybro (www.007museum.com) Octopussy (1983) - Roger Moore
Roger Moore as James Bond with Kristina Wayborn as Magda in Octopussy Location Lake Picchola, Udaipur Taj Lake Palace. www.tajhotels.com
Taj Lake Hotel is featured in the 1983 Bondmovie Octopussy with Roger Moore as James Bond. One of the Bondgirls, Magda played by Kristina Wayborn is actually born in Nybro town were the 007-museum is located
Kristina Wayborn var med i:
Octopussy (1983) Magda


Roger Moore as James Bond with Kristina Wayborn as Magda in Octopussy

Octopussy (1983)
Kristina Wayborn .... Magda

Kristina Wayborn, född Britt-Inger Johansson 24 september 1950 i Nybro, Kalmar län, är en svensk skådespelare verksam i USA.
Hon valdes till Fröken Sverige 1970 . Hon är mest känd som bondbruden Magda i Octopussy (1983). Hon har även spelat gästroller i tv-serier som General Hospital , The Love Boat, MacGyver, Baywatch och That 70s Show. Hon porträtterade Greta Garbo i tv-filmen The Silent Lovers (1980).
Britt har sprungit 100 m på 11,3

Fullt namn: Britt-Inger Johansson
Födelsedatum: 24 september 1950
Födelsestad: Nybro, Sweden.
Höjd: 172 cm
Roll: Magda
Ålder: 63 år
Magda (Kristina Wayborn)

Datastream
Actress: Kristina Wayborn
Character: Magda
Movie: Octopussy 1983
Date of Birth: 24th September 1950
Place of Birth: Nybro, Sweden
Trivia: Broke several toes whilst shooting a fight scene for "Octopussy"

Pleased To Meet You
007 spies Magda alongside the villainous Prince Kamal Kahn at Sotheby's auction of fine Faberge eggs. The beautiful and mysterious girl works with Kahn to retrieve the fake jewels and prevent the smuggling ring from being exposed.

Caught In The Act
Bond and Magda rendezvous in Udaipur, India, whilst Bond is tracing the source of the faux antiquity. The pair enjoy an outdoor candlelight dinner before retiring with a bottle of champaign. 007 discovers her 'little Octopussy' - much to his bemusement - before Magda makes a sweeping exit and Bond is captured by the substantially less charming Gobinda.

"He suggests a trade. The egg for your life. "

Profile
The right-hand-lady of the mysterious jewel smuggler Octopussy 1983, Magda is a confident but reserved lady with a rare talent as a circus performer. She seduces James Bond with remarkable ease and spends a passionate night with the British Agent.

Memorable Quotes
Magda: I collect memories.
Bond: Well, lets get on with making a few.

Magda: I don't know how to say goodbye.
Bond: Actions speak loader than words.

Bond: Up to now you are the least lethal and by far the prettiest of Kamal's friend's that I've come across.
Magda: Thank you.
Bond: So, does he have a proposition for me, or do you?
Magda: He suggests a trade. The egg for your life.
Bond: I heard the price of eggs were going up...

Magda: You have a very good head for faces.
Bond: And figures...

Biography
Born as Britt-Inger Johansson in September 1950, she began modeling at an early age. By age 20, she was enrolled in the Miss Sweden modeling competition and won her nation-wide competition. The same year she was entered into Miss Universe and made the semifinal. As it was she was also selected to be Miss Scandinavia the same year - the beauty pageant for Nordic nations including Denmark, Iceland, Norway, Finland and of course her home country of Sweden.

She made her Television debut six years later as Claudine in the made-for-TV Drama "Victory at Entebbe" which starred Kirk Douglas and Richard Dreyfuss. It was not long before James Bond was knocking on her door.

As a relatively fresh-faced actress but a stunning and professional model, Wayborn worked opposite Maud Adams - her Swedish co-star - and the pair apparently had a ball on set. She won the role by proving her ability and physical fitness to at least appear to be a skilled acrobat.

Cubby Broccoli spotted his newest Bond girl when he saw her performing in 1980's "The Silent Lovers". In this role she played the iconic Swedish silent film actress, Greta Gabo, in a 1930s set romance story between John Gilbert and Garbo. Gilbert was played by "Spin City" star, Barry Bostwick.

Beyond Bond, Wayborn made a token few TV appearances in '80s sit-com "The Love Boat" as well as adventure "MacGyver" and even the long-running American drama, "Dallas". Her most recent screen appearance was in the action-packed but poorly rated "Forbidden Warrior" (2004).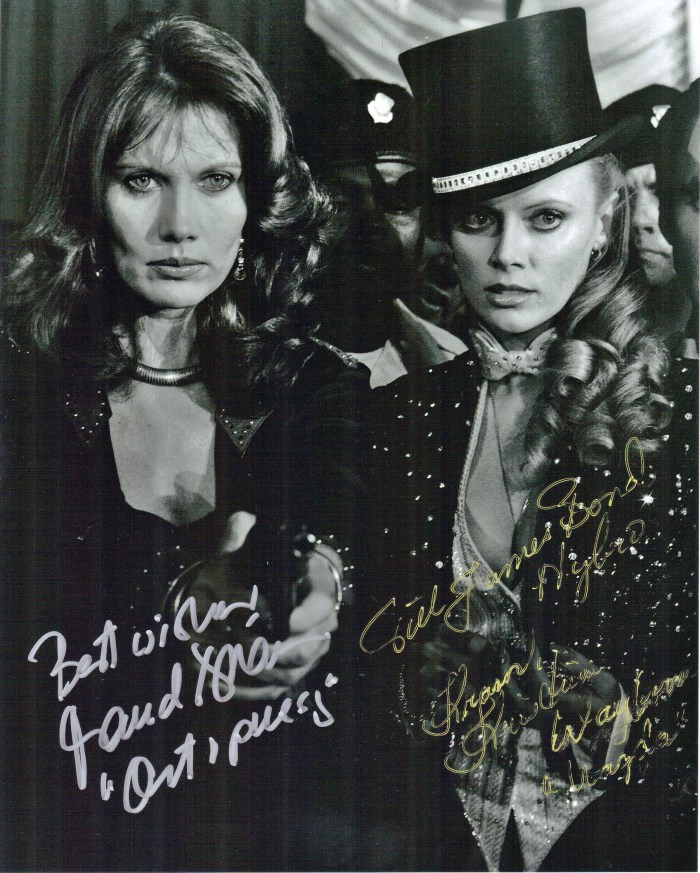 Bondgirl from Octopussy 1983 Maud Adams and Kristina Wayborn Britt-Inger Johansson, with James Gunnar Schäfer Bond in James Bond 007 Museum Sweden Nybro.
Film Octopussy (1983)
Location Lake Picchola, Udaipur
Scene Disguised as a crocodile, Bond swims up to the 'floating palace', populated only by attractive women, and the lair of Octopussy, whom he suspects to be involved with the smuggling of a Fabergé egg.:
STAY
Guests - both female and male - can actually stay at Octopussy's island hideaway, Taj Lake Palace. The hotel is lavishly decorated with ornate, carved windows and domed turrets.
Taj Lake Palace, Lake Pichola, Udaipur, Rajasthan, India(00 91 294 242 8800; www.tajhotels.com). Doubles from Rs23,100 (about £300)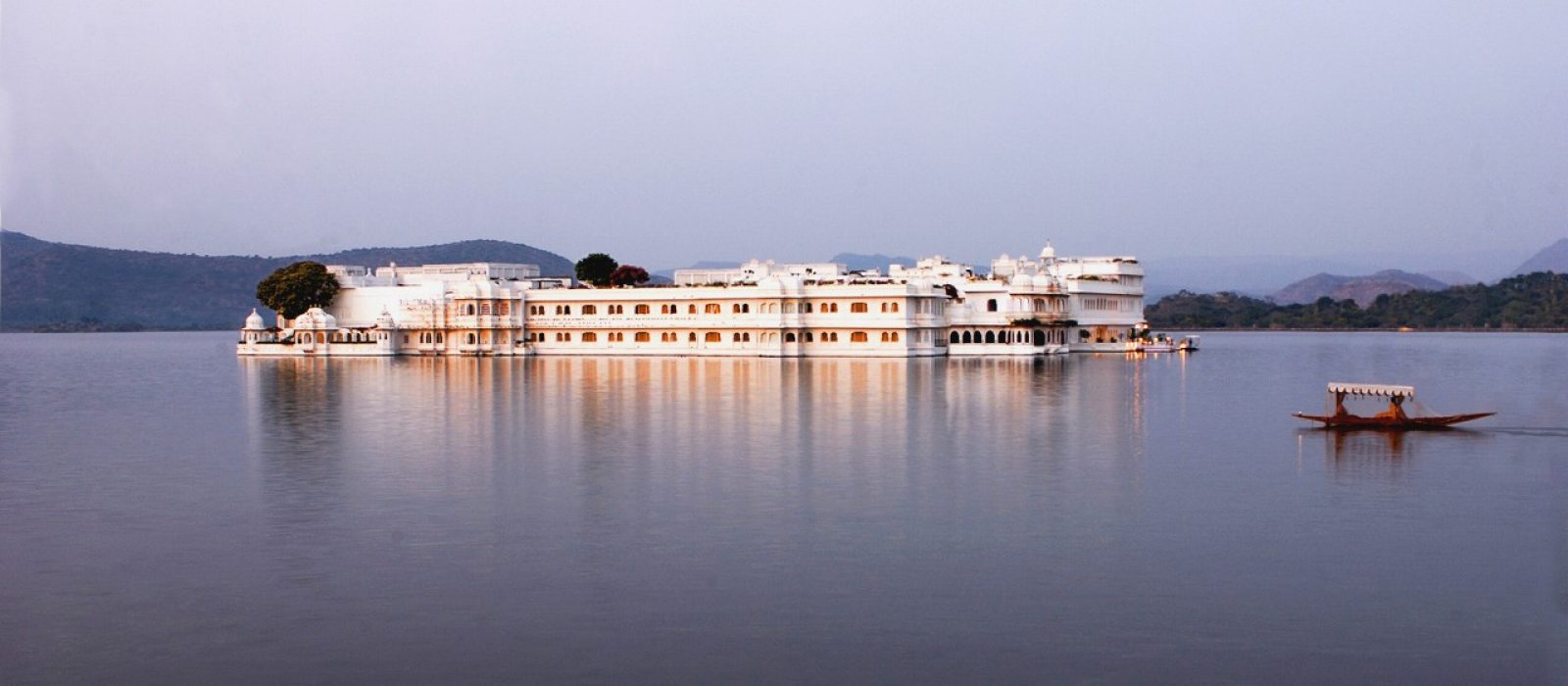 Location Lake Picchola, Udaipur Taj Lake Palace. www.tajhotels.com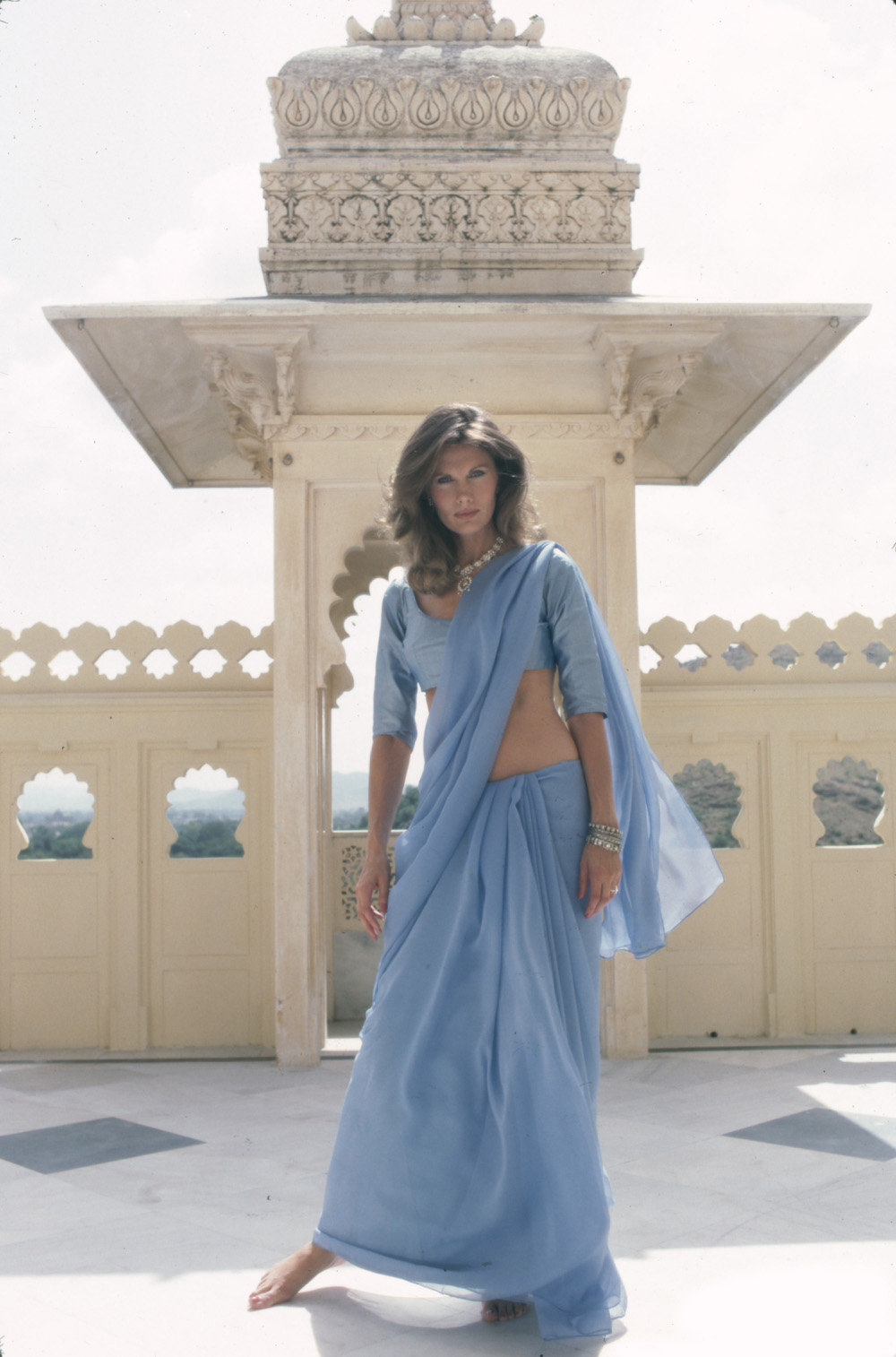 Bond girl Maud Adams as Octopussy
Louis Jourdan as Kamal Khan Bond girl Maud Adams as Octopussy

Magda Khristina Wayborn

Magda Played by: Kristina Wayborn
Description: At first glance, Magda appears to be one of Kamal Khan's henchman after she sleeps with Bond and steals the Faberge Egg. However, it is later revealed that she is in fact a member of Octopussy's Traveling Circus and helps lead the attack on Kamal Khan's palace during the film's finale.

Octopussy 1983 Magda (Kristina Wayborn) Kamal Khan
Octopussy 1983 Magda (Kristina Wayborn)
Britt -Inger Johansson
Born: Sweden, Nybro

From Faberge perfume to Faberge eggs, from Ingmar Bergman to James bond, Kristina Wayborn who plays the enigmatic Magda in Octopussy 1983 has seen it all.

Born in a small town Nybro, nearly deserted Baltic Sea island off Sweden`s east coast, Kristin Wayborn maintained an academic record of top honors while also developing some very unusual skills. Britt -Inger Johansson , Kristina Wayborn
was a Swedish track champion, running 100 meters in 11.3 seconds. Asa lark, she decided to enter a light-weight arm-wrestling championship contest which she won. She has been a race car driver, a jockey and horsetrainer,a wild animal trainer, a clothes designer, and she takes more than a passing interest in gourmet cooking.

Wayborn was spotted by famed Ingmar Bergman while performing a play and subsequently trained with him for three years at the Royal Academy in Stockholm.
This was not enough acitivity for Kristina Wayborn, so she studied to become a veterinarian as well. But she never to forgot her desire to come to Hollywood and become a respected actress.

As a teenager on her first trip to the United States, Wayborn sent pictures of herself to top modeling agents in New York. Shortly thereafter, Faberge invited her to their office and promytly signed her to an exclusive five-year contract. This took her to Hollywood, but she was put off by the exploiers who were only concerned with her looks and nother talent. After appearing in the televison movie "Victory at Entebbe" in 1976, she returned to Sweden, and learned that DavidWolper and Stan Margulies were going to film Greta Garbo`s life story for television, Ingmar Bergman suggested to Wolper that he meet Kristina, so she flew to Hollywood once more and landed the part.

When Albert Cubby Broccoli was casting for Octopussy 1983, he remembered
her sensitive portrayal of the legendary Garbo and invited her to play a starring role in the 007 epic. Wayborn said "It`s a wonderful picture to be part of and I couldn´t be happier. The costumes are wonderful and the action which involves me is exciting and dramatic. The director, John Glen allows me to do a few minor stunts-which have always interested me-and I have been able to perform some very athletic scenes without the use of a double"
Filming one fight scene, Wayborn sent a stuntman to the sick bay with the unexpected power-punches she landed in his abdomen.



http://www.imdb.com/title/tt The Silent Lovers Greta Garbo`s live Kristina Wayborn
THE SILENT LOVERS 1980 USA

High resolution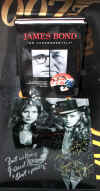 High resolution
Britt-Inger Johansson
Född: Sverige, Nybro
Från Faberge parfym till Faberge ägg, har från Ingmar Bergman till James bond, Kristina Wayborn som spelar den gåtfulla Magda i Octopussy 1983 sett allt.



Född i en liten stad Nybro, nästan öde ö i Östersjön utanför Sveriges `s östkust, underhålls Kristin Wayborn en akademisk rekord av högsta utmärkelser samtidigt utveckla några mycket ovanliga färdigheter.

Britt-Inger Johansson, Kristina Wayborn


var ett svenskt spår mästare, kör 100 meter på 11,3 sekunder.

Asa lärka, bestämde hon sig för att skriva en lätt arm-wrestling championship tävling som hon vann.

Hon har varit en racerförare, en jockey och horsetrainer, ett vilt djur tränare, en kläddesigner, och hon tar mer än ett flyktigt intresse för gourmet matlagning.

Wayborn sågs av berömda Ingmar Bergman medan du utför en pjäs och därefter tränade med honom i tre år vid Kungliga Akademien i Stockholm.


Detta var inte tillräckligt acitivity för Kristina Wayborn, så hon studerade för att bli en veterinär samt.

Men hon aldrig glömde sin önskan att komma till Hollywood och bli en respekterad skådespelerska.



Som tonåring på sin första resa till USA, skickade Wayborn bilder av sig själv till toppen modellering agenter i New York.

Kort därefter bjöd Faberge henne till sitt kontor och promytly signade henne till ett femårigt exklusivt avtal.

Detta tog henne till Hollywood, men hon blev avskräckta av exploiers som var bara om hennes utseende och nother talang.

Efter visas i televison filmen "Victory at Entebbe" 1976, återvände hon till Sverige och lärde sig att DavidWolper och Stan Margulies skulle filma Greta Garbo `s livshistoria för tv, föreslog Ingmar Bergman att wolper att han möter Kristina, så

Hon flög till Hollywood igen och landade på sidan.

När Albert Cubby Broccoli castade för Octopussy 1983, mindes han


hennes känsliga porträtt av den legendariska Greta Garbo och uppmanade henne att spela en huvudroll i 007 epos.

Wayborn sa "It` sa underbar bild att vara en del av, och jag kunde inte vara lyckligare. Dräkterna är underbar och de åtgärder som involverar mig är spännande och dramatisk. Regissören John Glen tillåter mig att göra några mindre stunts-som

har alltid intresserat mig, och jag har kunnat utföra några mycket atletiska scener utan användning av en dubbel "



Filmning en kamp scen, skickade Wayborn en stuntman till sjukan med de oväntade power-stansar hon landade i hans mage.


Kalmarposten 13/9-2013
| | |
| --- | --- |
| | Bondgirl from Octopussy 1983 Kristina Wayborn Britt-Inger Johansson, with James Gunnar Schäfer Bond in James Bond 007 Museum Sweden Nybro, here with La Gondola from Moonraker 1979. |
Bondgirl from Octopussy 1983 Kristina Wayborn Britt-Inger Johansson, with James Gunnar Schäfer Bond in James Bond 007 Museum Sweden Nybro.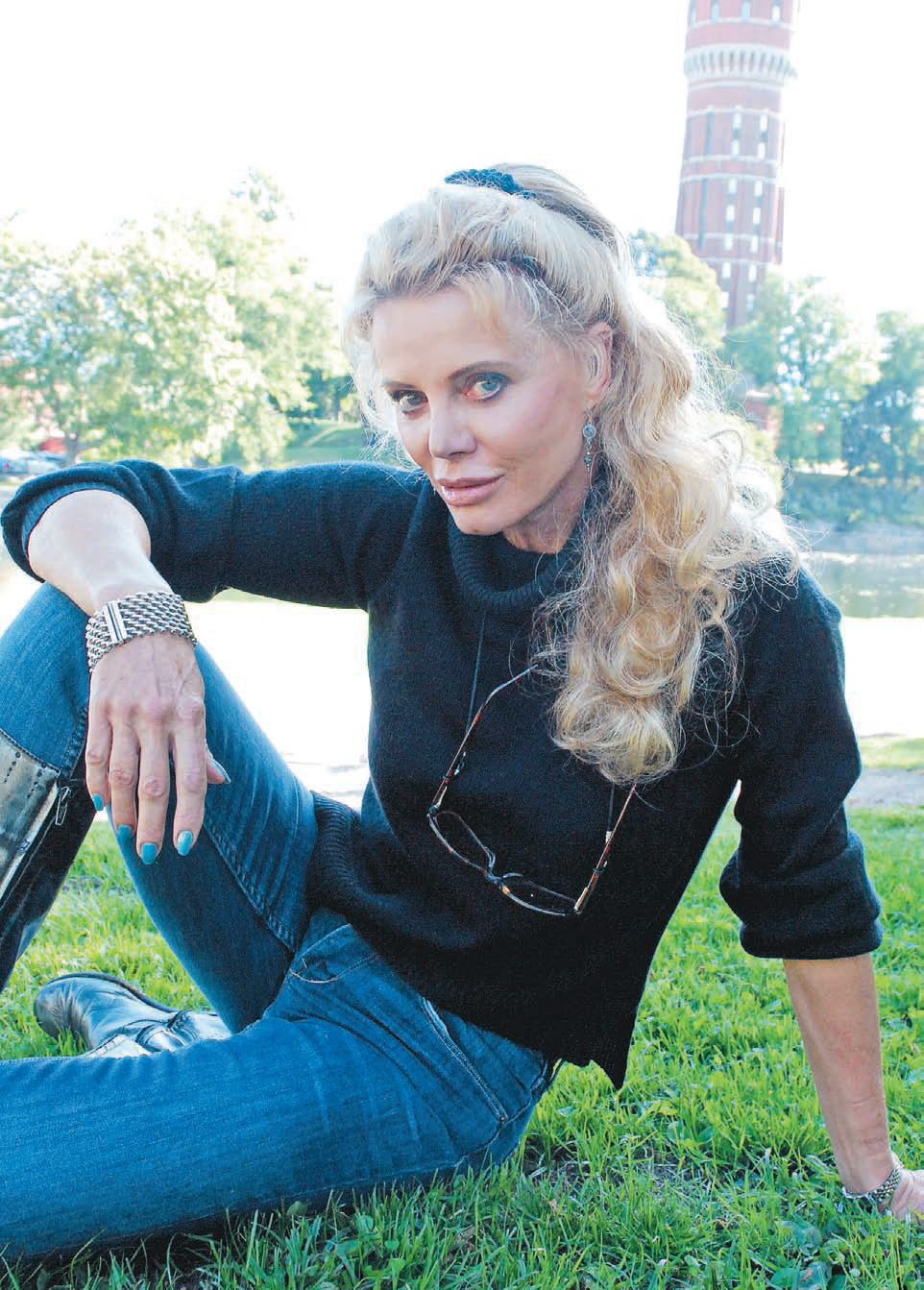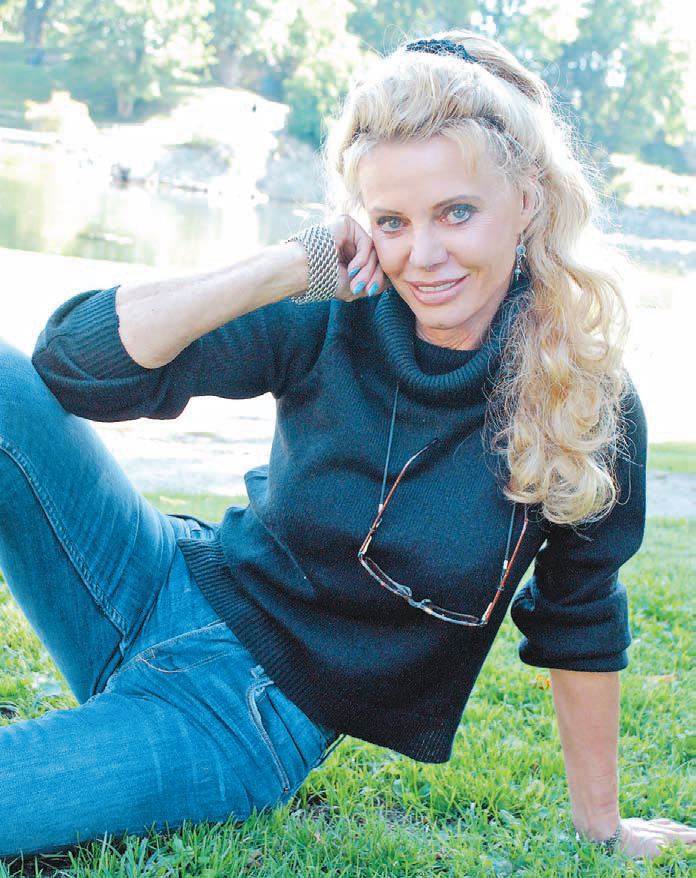 Bondgirl from Octopussy 1983 Kristina Wayborn Britt-Inger Johansson, with James Gunnar Schäfer Bond in James Bond 007 Museum Sweden Nybro.
7 augusti 2013 visit by Bondgirl from Octopussy 1983 Christina Wayborn Britt-Inger Johansson, with James Gunnar Schäfer Bond in James Bond 007 Museum Sweden Nybro



Bondgirl Magda from Octopussy

Christina Wayborn
James Bond Gunnar Schäfer is ownwer and President/CEO of The James Bond 007 Museum Nybro Sweden



Bondgirl Magda from Octopussy

Christina Wayborn
James Bond Gunnar Schäfer is ownwer and President/CEO of The James Bond 007 Museum Nybro Sweden