Gunnar Schäfer name is James Bond Visitors in James Bond Museum Sweden

.

Since 1959 James Bond 007 Museum Sweden, Nybro.
The 007 museum 1000 sq.m. world`s only James Bond 007 Museum
Emmabodav. 20, 38245 Nybro


Contact: 007museum@telia.com

Phone+4648112960 Open Daily 10-17 Sat 10-14 Media To do and see Buy/Köp info Links
James Bond Theme Party PPKGuns Omega Bmw Bollinger Corgi Cd Swatch Posters Specials James Bond store
Birds of the West Indies (ISBN 0-618-00210-3) is a book containing exhaustive coverage of the 400+ species of birds found in the Caribbean Sea
Written by ornithologist James Bond and first published in 1936 by the Academy of Natural Sciences as part of the International Series. It has been reprinted several times since then, including a September 1, 1999 edition from Houghton Mifflin and a March 4, 2002 edition from Collins.
The book contains approximately 256 pages.
James Bond (January 4, 1900 – February 14, 1989) was a leading American ornithologist whose name was appropriated by writer Ian Fleming for his fictional spy James Bond.
The real Bond was born in Philadelphia and worked as an ornithologist at the Academy of Natural Sciences in that city, rising to become curator of birds there. He was an expert in Caribbean birds and wrote the definitive book on the subject: Birds of the West Indies, first published in and, in its fifth edition, still in print.
Birds of the West Indies is known not only for its exhaustive study of Caribbean birds, but also for its author, whose namesake became famous as the fictional Agent 007 of Her Majesty's Secret Service. The name of the book's author, the ornithologist James Bond, was used by Ian Fleming for the name of his popular British secret agent, Commander James Bond.
Fleming, a keen bird watcher while living at his estate in Jamaica, owned the book. He later explained that the author's name was "brief, unromantic, Anglo-Saxon, and yet very masculine – just what I needed." The book has since become a collector's item amongst Bond fans and was featured as an homage in the twentieth James Bond film, Die Another Day when Bond poses as an ornithologist while in Cuba.
A Field Guide to Birds of the West Indies



Author:

James Bond

Category:

Outdoor, Nature

Publisher:

Houghton Mifflin

ISBN-10:

0618002103

ISBN-13:

9780618002108

New

Format:

Softcover

Publication Year:

1999

Special Attributes: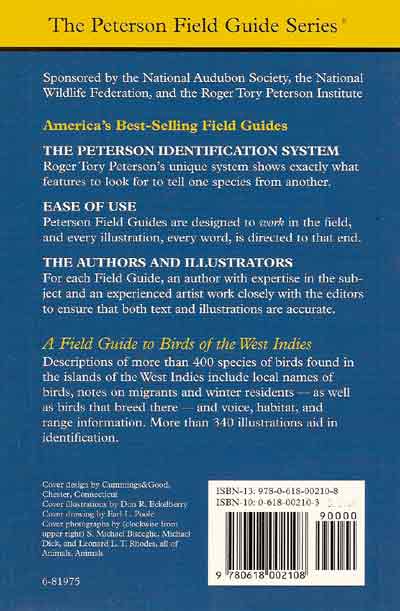 Copyright © 1959-2017 www.007Museum.com All Rights Reserved





James Bond 007 Museum Nybro, Sweden . www.007museum.com
Contact: 007museum@telia.com tel. +46-481-12960 .Open Daily 10.00 - 17.00 (lunch 13-14) Sat 10.00-14.00
Adress: James Bond 007 Museum, Emmabodav.20, 382 45 Nybro, Sweden 0481-12960
James Bond Materials© 1962 - 2017 United Artists Corporation and Danjaq, LLC. 007 Gun Logo© 1962 United Artists Corporation and Danjaq, LLC. 007 Gun Logo, Iris Logo,
JAMES BOND and all other James Bond related trademarks - Danjaq, LLC. All Rights Reserved. Copyright