Obviously, Bond got his request. The nickname "Silver Beast" first appears in this second book. Gardner's recollection was that it was his son Simon who gave the car its now famous moniker. In his "Author's Acknowledgments," Gardner thanks Saab (GB), Ltd., and Saab-Scania of Sweden "for the amount of time, trouble, patience, and enthusiasm they have put into proving that the James Bond Saab really does exist."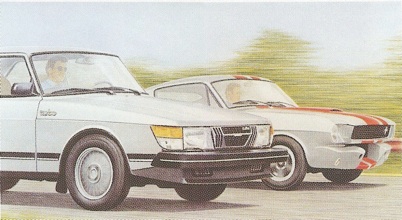 For Special Services
features what is arguably the best Saab action scene in any of the Gardner books, when Bond races a Shelby-American Mustang GT 350 driven by henchman Walter Luxor. Bond kicked on the accelerator, sensing the Saab's spoiler push the rear down onto the road. His own body was forced back into the driving seat as full power took hold. Of course, no henchman plays fair, and we get to see some defensive mechanisms on the Saab that we didn't see in
Licence Renewed
—such as an automatic fire extinguisher system, which Bond uses when the race becomes a little overheated.
German Gardner Paperbacks "Moment Mal Mr Bond", "For Special Services" 1982, John Gardner
For this mission, the Saab's secret dashboard compartments are also modified to include a compartment that holds rare prints (as Bond is undercover as a rare print dealer in this book). A favorite feature—the blinding aircraft landing light hidden behind the front license plate—also gets nice play in this book.
Once again, the Saab takes a beating aiding Bond's escape from the villain's Texas ranch estate (this time, launching aboard a moving monorail); and once again, the book made the best-sellers list. The new series was working. There was even reports that a Saab would appear in
Octopussy
, the next James Bond film (ultimately, this proved to be false). James Bond and his Silver Beast would return the following year in a book generally considered to be Gardner's best. But it would be their last ride together. A "million-dollar prostitute" would soon come between a man and his Beast.
Breaking the Ice
"You have a car here, I believe. A Saab 900 Turbo. Silver. Delivered in the name of Bond, James Bond."


– Icebreaker (1983)
Published in 1983,
Icebreaker
sees 007 sent to the Arctic Circle to do battle with a Neo-Nazi army. Once again, the Saab sees action, this time facing off on the icy roads of Lapland with three menacing snow-plows. "There was no doubt. They were going in for the kill, prepared to slice the Silver Beast in half. Silver versus yellow, Bond thought, and raised his right arm, the left hand still clutching the stun grenade…"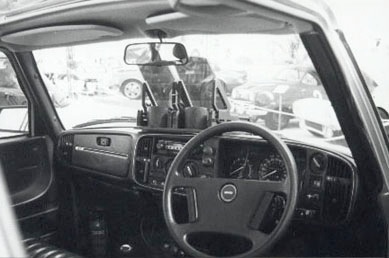 Icebreaker is a fan favorite and remained Gardner's personal favorite Bond novel for many years, mainly because of his own experiences in the Arctic Circle, a trip hosted by Saab-Scania. Gardner shared his Arctic adventures with the James Bond International Fan Club magazine, OO7.
"As I had already managed to skid a Saab into snow drifts on three occasions, I had a very good driver who promptly managed to do the same -- but right on the Russian border. Happily, the Finnish army was on hand, and an officer walked the best part of two miles through icy conditions to bring help. We were finally towed out and all ended well."
The author's photo on the back of the U.S. edition shows Gardner on a snowmobile (right) and is credited to Saab-Scania, Sweden. Gardner offered additional thanks by including one of his Arctic traveling companions, international rally racing star Erik Carlsson (aka "Mr. Saab"), in a passage in the book. When Bond is preparing for his own journey deep into the "land of the rising sun," he finds a note in his glove compartment: "Good luck, Whatever You're Doing... Remember what I've taught you about the left foot!!! -Erik.
Saab once again helped promote the paperback release of the book with a "WIN BOND'S SILVER SAAB TURBO!" contest arranged in conjunction with Berkley Publishing. Large standees (called "dumps") containing the paperback edition of the book had tear-off coupons attached, which customers could fill out and send into the "
Icebreaker
/Saab Consumer Drawing." The prize was, indeed, a silver Saab Turbo, "the driving machine of a lifetime for some lucky Bond fan." The winner was announced on May 31, 1984.
Never Say Never


Bond left the room and hurried downstairs to reception to ask what self-drive hire cars were available quickly. For once, Bond seemed to making his own luck. There was a Saab 900 Turbo—a car which he was well used to—which only just had been returned.
– Nobody Lives Forever (1986)
Gardner may have put 007 together with a "million-dollar prostitute," but he still liked to revisit his $300 call girl (sorry, he started it). Saabs continued to make cameo appearances in many of Gardner's later Bond books. In 1986's
Nobody Lives Forever
, Bond rents a Saab 900 in order to make an undercover side trip to the Klinik Mozart just outside of Salzburg. Bond again rents a Saab for a dangerous mission in Dublin in 1987's abysmally titled
No Deals, Mr. Bond
. M drives a Saab 9000 CD in 1991's
The Man From Barbarossa
(the book which replaced
Icebreaker
as
Gardner's personal favorite). One gets a feeling that Gardner missed the old Silver Beast as much as the fans did.
Then as the Gardner era ran down, James Bond and Saab were reunited. In
Never Send Flowers
(1993) and
SeaFire
(1994), Bond suddenly drives a Saab 9000 CD Turbo. This choice may have been influenced by the fact that Gardner, who was now living in the America, drove a white Saab 9000 CD himself.
The Saab 9000 CD is a mysterious presence at the end of the Gardner era. Gardner never explains what happened to the Bentley (actually the second Bentley as Bond trades up to a Turbo R at some point), nor whether this Saab is Bond's personal property or part of the MI6 motor pool. Is it supposed to be the same car we saw M driving in
Barbarossa
? The Saab 9000 is a conservative four-door sedan, Saab's entry into the luxury car market. It's no Beast. Still, it's a Saab, and it seemed a fitting way to send Gardner's Bond out.
Gardner retired from the Bond series in 1996. Raymond Benson took over and put Bond in a sleek new Jaguar XK8. Saab was purchased by American car giant GM who, over the years, have gentrified the cars and, incredibly, rolled back many of Saab's unique innovations. Under GM, Saabs have ceased to be the hot car of the '80s and early '90s, and now some younger Bond fans question the wisdom of James Bond ever driving a car they see as one their mothers might buy.
Ah, but there was a time when James Bond and his "Silver Beast" raced along the backroads of Surrey—
clinging to the grass shoulder, putting a fraction more power to bring the car out of the bend
—and the two together seemed to embody all that was cool, sophisticated, and European in the 1980s. For a time the original promotional tour Saab 900, still outfitted with its deadly arsenal, was displayed in a museum in Trollhattan, Sweden, on its hood is one of the bold colorful posters from 1981—proof that at one time a Saab 900 Turbo was the car of choice for that great connoisseur of motor vehicles (and other earthly delights)—Bond, James Bond.
It was a great ride.