Daniel Craig Replaces Pierce Brosnan as James Bond ... Again
First trailer Nintendo Wii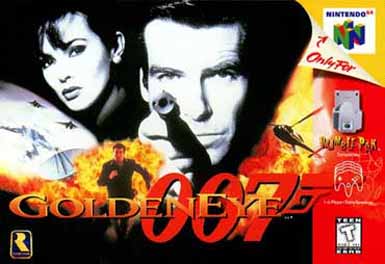 GoldenEye (1997) Nintendo
Manufacturer Rareware Ltd / Nintendo
Release Date: 7/31/1997
Platforms: N64


Goldeneye till Nintendo 64 är definitivt ett utav de bästa spelen som någonsin har gjorts, när det väl var som nytt så var grafiken fantastisk, kontrollen var grym och ljudeffekterna riktigt häftiga. Variationen på spelets banor i ensamspelläget var underbar, vissa utspelade sig på en rysk militärbas medan andra banor kunde utspela sig i den kubanska djungeln eller på ett militärt tåg.

Spelet erbjöd även ett mästerligt flerspelarläge, som tillät en matcher mot totalt fyra personer. Det fanns en otrolig mängd olika karaktärer att välja mellan och urvalet av banor var inte dum heller.

Om man vill spela spelet som satte stor förändring för spelindustrin, då är det bara att beställa denna oförglömliga klassiker.

Finns att provspela i James Bond 007 museet i Nybro.

Spelet ett av de mest populära till Nintendo 64, med över 8 miljoner kopior sålda
On their quarterly conference call for shareholders, Activision re-confirmed that their next James Bond licenced videogame would be out in 2010.

The company's CEO, Mike Griffith said that the company will publish new games in the James Bond, Tony Hawk and Spider-Man franchises in 2010.

Griffith first announced this news back in November last year, saying the second 007 title had move "out of 2009 and into early 2010, due to the impending release of "Call of Duty: Modern Warfare 2″ later this year. The company believes sales of "Quantum of Solace" were impacted by releasing "Call of Duty: World at War" around the same time in 2008 and hopes to avoid the same issue with their next "James Bond" product."

Some industry watchers were not convinced by this reasoning as "Quantum of Solace: The Game" did not impress critics and suffered sluggish sales due a lack of buzz around the title.

Back in November, Griffith said "the movement will have an added benefit in staggering the completions of our racing title and the next Bond, both in development at Bizarre Creations. This will allow the studio to give each title the time and attention it deserves for finish and polish."

GOLDENEYE 007 Wii
James Bond: Bloodstone, British agent 007 James Bond from Bizarre Creations, with Daniel Craig and Judi Dench.
NINTENDO 64 GOLDENEYE play Nintendo 64 Goldeneye James Bond 007 Museum in Nybro Sweden


Activision släpper ett nytt James Bond spel GoldenEye-remake
Det nyligen utannonserade Activision-utvecklade spelet med titeln "GoldenEye" kan mycket väl vara en remake av det otroligt klassiska N64-spelet med samma namn.
Activision är i full färd med att samla in folks åsikter om en Golden Eye 007-remake, rapporterar VG247. Tanken är att eventuellt släppa en nyversion till Wii med ingen mindre än Daniel Craig i huvudrollen. Även om enkäten av allt att döma är äkta, är det dock ingen bekräftelse på att spelet faktiskt kommer, men åtminstone ett tecken på att hoppet fortfarande finns.
Speculations are flying high that Activision could use the upcoming E3 event to announce the details of the remake of first-person shooter James Bond 'GoldenEye: 007' that was originally released on Nintendo 64 in 1997.
Reports suggest that the UK-based Eurocom and the US-based n-Space are developing the game for Nintendo Wii and DS. The game will not be produced for the PS3 or Xbox 360.
According to gaming site Eurogamer, Activision has plans to release the game in autumn.
Commenting on the new GoldenEye, Eurocom said, "The new title will be hitting shops in November and may be a remake of the classic Nintendo 64 first-person shooter, originally developed by Rare."
However, the developer Rare is not involved in the development of the updated version of the original game.
NINTENDO 64 GOLDENEYE play Nintendo 64 Goldeneye James Bond 007 Museum in Nybro Sweden