Contact: 007museum@telia.com Phone+4648112960 Open Daily 10-15 Sat 10-14 Media To do and see Buy
James Bond Theme Party PPKGuns Omega Bmw Bollinger Corgi Swatch Posters James Bond store Links
Welcome to The World's only James Bond 007Museum Sweden Nybro. Booking open mon-fri 10-17 sat 10-14


Open during September 2017 to May 2018 Monday-Friday 11-15. Saturday 10-14. Other times appointment.
Bokprat Dillbergs Round Table 007 Bond museet Chalmers I-dagen James Bond Sveriges James Bond på pressvisning Quantum of Solace
Presskontakt 0734-477007 läs Recensionen Nyheter24 Sveriges James Bond James Bond JR Ljudklipp QoS Sonypictures advertising
Contact 007museum@telia.com 0481-12960 James Bond Museum & Shop Emmabodav.20, 382 45 Nybro, Sweden Nybro. info 007 fanclub
Hyr hela James Bond museet Företag ,Bond Event Open Daily 10 -17 (closed13-14) Sat 10.00-14.00 Sunday closed 46 years, 22 films,billions of fans!
Bmw Dvd/Vhs Swatch Bic Corgi Posters Literature Cd / Lp Game Links PPKGuns Member Guestbook
Mediainfo Buy/Köpinfo
Sony Ericsson K800i Swedish M600i






Casino Royale Bollinger CR Ian Fleming

På Spikgatan 10 i Kalmar hos Gunnar Schäfer James Bond Goldeneye hus med besök av Berry Rommedahl från St- Raphael i Frankrike inför premiären av Quantum of Solace

James Bond och Berry Rommerdahl i Goldeneye house
Gunnar Schäfer - 007 mannen
Att kokettera med sitt intresse för James Bond och den mansestetik som omgärdar den brittiske superagenten är något som förenar miljontals män som har passerat 40-strecket. Gunnar Schäfer från Kalmar är emellertid ett unikum, då han har omvandlat sin fascination till en veritabel livsstil. Var går gränsen mellan Gunnar Schäfer och James Bond? Vi åkte till Nybro för att hitta svaret, och hittade en man som bär smoking på jobbet, sörplar Bollinger hela dagarna och käkar 007-pizza till lunch. Dessutom har han öppnat ett eget Bond-museum och besökt alla platser, som förekommer i filmerna. Sa vi förresten att temperaturen i hans kylskåp alltid är sju grader?
Filip Gunnar Fredrik från Kanal 5 2007-02-05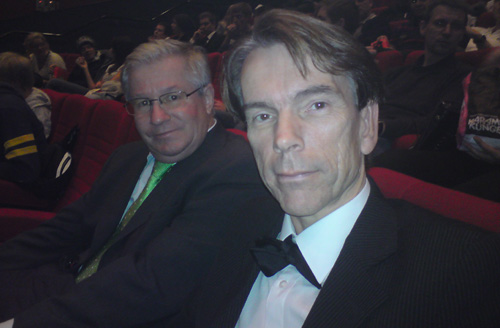 Premiär på den nya James Bondfilmen "Quantum of Solace" Biostaden i Kalmar med Berry Rommedahl och James Bond - Gunnar Schäfer

Copyright © 1959-2018 www.007Museum.com All Rights Reserved






James Bond 007 Museum Nybro, Sweden. www.007museum.com
Contact: 007museum@telia.com tel. +46-481-12960 Open Daily 10.00 - 17.00 (lunch 13-14) Sat 10.00-14.00
Adress: James Bond 007 Museum, Emmabodav. 20 382 45 Nybro, Sweden 0481-12960

James Bond Materials© 1962 - 2018 United Artists Corporation and Danjaq, LLC. 007 Gun Logo© 1962 United Artists Corporation and Danjaq, LLC. 007 Gun Logo, Iris Logo,
JAMES BOND and all other James Bond related trademarks - Danjaq, LLC. All Rights Reserved. Copyright