"The Man With The Golden Gun" Pistol från James Bond 007 museum
Gunnar James Bond Schäfer i James Bond 007 museums utställning Goldfair mässan på Berns med i action
Se artiklar om James Bond museum på Goldfair mässan på Berns Blt Sydsvenskan Stureplan Metro Ekonominyheterna
Guldkvällen på Berns Fredag 12 oktober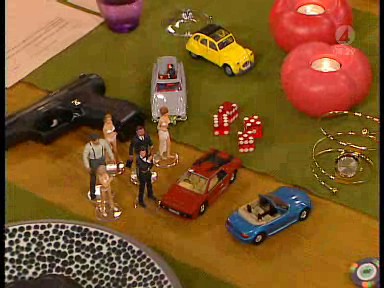 SPECTRE is the organization created by Blofeld, Bond's archienemy.
This time, we offer the organization's characteristic ring, such as worn by his Nº1, Kronsteen, Largo, Dr No, etc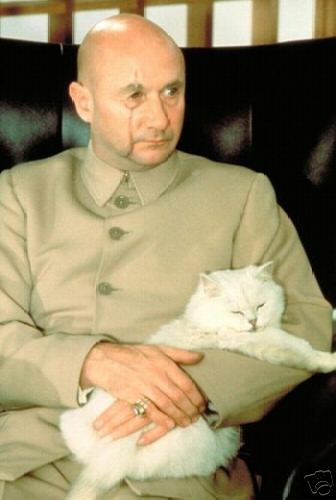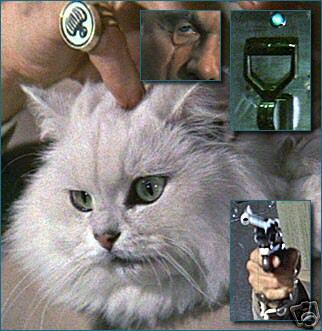 | | |
| --- | --- |
| | |
| | |
"Goldeneye" Gold Key
This is a Goldeneye Gold Key as seen in film. Russian General Ourumov & Xenia arrive on a VIP visit to "Severnaya." A secret Russian outpost just inside the Artic Circle. Ourumov tells the duty officer that they are here to test the secret spaced-based weapons program, GoldenEye. Xenia steps forward and shoots everyone in the room with her machine gun, apart from Ourumov. Then the systematic turning of the Gold Keys takes place & the system is activated

Q provides Bond with this silver Parker pen that contains a four second fuse and was armed when the top was clicked three times. Bond arms the pen and then teasingly asks Q how long the fuse was. At the end of the film when Alec captures Bond, he watches Boris play with the grenade pen. After a tense sequence counting the number of clicks, Bond manages to throw the pen into a pool of flammable liquid causing a distraction giving him and Natalya enough time to escape.
"Goldfinger" Nazi Hoard Gold Bar
It is a Goldbar of the "Secret Lake Toplitz Lost Nazi Private Gold." These Gold bars in realty were lost at the end of World War II & never found to this day. However pictures, documentation & films exist with these Gold Bars included. In "Goldfinger" 007 uses this rare gold bar as bait to play golf with the enemy by the same name he of course wins & at the payoff Goldfinger warns him about interfearing. It is at this point Odd Job Throws his hat & slices the Statues head off.
007 James Bond Goldfinger, German Gold Bar

"Goldfinger" Fort Knox Gold Bar

This Fort Knox Gold bar was made from a mold taken off a real prop from the film. This bar was used at the scene where 007 fights the arch villian with the deadly hat "Odd Job".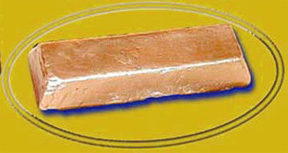 "The Man With The Golden Gun" Golden Gun Pistol
This pistol is the original prop. It is 9.5" long X 5.25"high X .75" deep. . It is Gold Leafed to make it appear more like real metal then finished off with a clear coat for protection. Secret documents that contain a couple of photos of Christopher Lee with original Gun & also some other top secret documents.
One of the most famous James Bond guns, the Golden Gun is the weapon of choice for Francisco Scaramanga. Even more concealable than Bond's Walther PPK, the 4.2 calibre Golden Gun is made up of 5 components. These were a ballpoint pen (the barrel), cigarette lighter (the chamber), cigarette case (the handle), cuff link (the trigger) and a bullet stored on Scaramanga's belt. Each component was made out of solid gold and could be assembled and disassembled within seconds. Supplied by world famous gunsmith Lazar, he provides Scaramanga with very expensive gold bullets

"007" SPECTRE Ring 14KT Solid Gold

This is a very nice brand new in box Real 14KT Gold Solid SPECTRE Ring. It was modeled after the type of signature style ring used in "From Russia With Love" & also by SD Studios in their brass plated ring. Being a signature ring the SPECTRE agents could put their mark in wax on various documents.This ring is solid, is full in the back & is also stamped 14KT inside. This ring however is made out of solid real 14KT gold. It is very heavy in weight & comes presized to your ring size or can be resized by any jeweler
"Goldeneye" Pen Grenade

This is it the 007 Pen Grenade desktop set. Q gives the deadly implement, which contains a class 4 grenade to 007 & states "3 clicks arm the fuse". Bond then arms it by clicking it three times in rapid succession & disarms it by clicking it 3 more times. The pen saves the day at the end of the film when Boris toys with it.This would make a fine edition to any secret agents desktop


Glass Shattering Ring

Description: Q equips Bond with a ring that emits an ultra-high-frequency pulse that can shatter any piece of glass: even bulletproof. Bond uses it to escape from Gustav and to break the front window of his Aston Martin.

Glass-Shattering RingQ equips Bond with a ring that emits an ultra-high-frequency pulse that can shatter any piece of glass. Bond uses it to escape from Graves in his headquarters and to break the front window of his Aston Martin to save Jinx from drowning.
James Bond manchetter with James Bond 007 logo

215 € $ 240 Kr 1995:-
Make-Up "Goldeneye"Revlon

Promotional Make-Up from Goldeneye all is in Gold with the theme of a famous Goldeneye 007 film.
This Revlon Make-up was released at the same time the film was & sold in the USA

James Bond Thunderball Gamma Gas Tube

This is a desk top replica of the famous Gamma Gas Cylinder that SPECTRE agent Angelo Palazzi uses to murder the crew & steal 2 atomic bombs in the 007 thriller Thunderball. He then is killed for trying to extort more money out of SPECTRE.

You get the Metal Gamma Gas Cylinder, with a red stripe, that is threaded so you can screw it into it's desktop plaque, of which, explains the whole scene to you.
James Bond DAD Ice Palace Entry Key, Clear Acrylic
In "Die Another Day, " agent 007 visits Gustav Grave's Ice Palace. He needs a Ice Entry Key with the GG initials on it. Bond heats up Miranda Frost in order to get her key to provide him access. 007 then proceeds to save the day.
This Ice Entry Key is perfectly clear & made out of Acrylic. It measures; 3.25" long x 2" wide x 3/16" thick. It has the GG logo indented on top of flat part. It is .75" wide x 1.25" long and starts in center .5" from top.
It does not come with with the plaque as shown. .
James Bond, Jaw's Teeth, Richard Kiel, Moonraker
From the hit James Bond film "Moonraker" (1979) starring; Roger Moore as 007 & Richard Kiel as "Jaws" This is a set of Replica "Jaws Teeth." Jaws first appeared in "The Spy Who Loved Me" & Then because of popularity continued & in "Moonraker" ended up saving the world.
These teeth are made out of solid resin & fit together perfectly.
Casino Royale James Bond Cufflinks

Casino Royale Cufflinks

Daniel Craig in a Poker Chip




These are very rare cufflinks with a scene from Casino Royale making up the image in the centre of a suited poker chip.

115 € $ 140 Kr 995:-
James Bond

"From Russia With Love" Cufflinks

James Bond


"From Russia With Love" Cufflinks


These come with a licence to thrill

Stylish with Sean Connery as the definitive Bond with trademark Walther PPK gun

Picture used is from a publicity shoot for the release of "From Russia with Love" (1963)

A must for Bond fans highly collectable

Comes gift ready with a presentation box
215 € $ 240 Kr 1995:-
This Seamaster Planet Ocean was used in « Casino Royale »
Even whilst relaxing on the beach, only the best is good enough for James Bond, an ethos perfectly reflected in his choice of diving partner.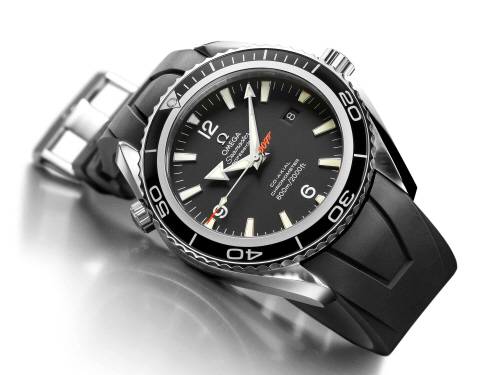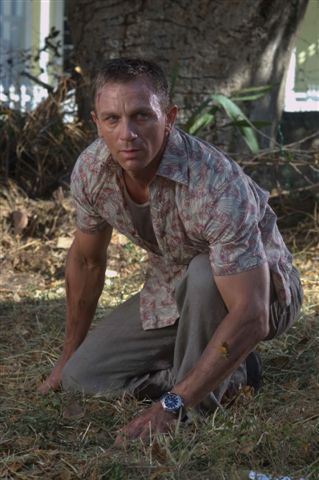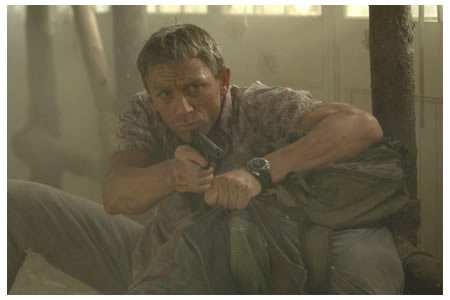 The Seamaster Planet Ocean "Casino Royale" is a potent combination of technical complexity and aesthetic elegance.
This
Omega Seamaster was used in Die Another day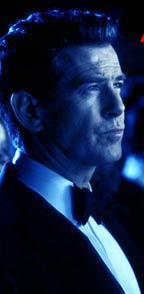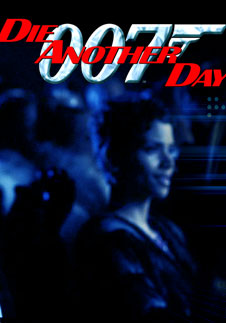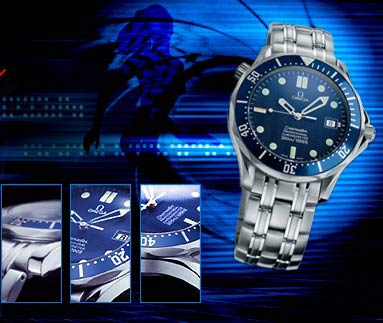 In late 2002, for the 40th anniversary of James Bond movies and to tie in with the release of the latest Bond film Die Another Day, OMEGA released a special 007 edition of the Seamaster Professional. In addition to special packaging, the watch itself has the 007 gun logo as a pattern on the dial and a special inscription on the back. Limited (if you can really call it that) to 10,007 pieces worldwide
Tillverkare: Omega
Serie: Seamaster Diver black Dial Bracelet Chronometer 007 limited edition.
Modell: 2531.80
Urverk: Mekanisk, Automatisk
Boett: Stål
Urtavla: svart
Glas: Safir
Armband: Stål, töjbart
Spänne: Placeringsspänne
Mått: Ø41 mm
Vattenskydd: 300 Meter
Typ: Herrklocka
GOLDFINGER



YCG401 Swatch James Bond 007 "GOLDFINGER" 1964

Watch Type: Irony Chrono

Textured black leather strap with gold tone buckle; gold tone steel case; black metal bezel inscribed with tachometer; black dial; white markings for hours; three fold colored chrono sub dials; date window set at 4; reflective hour hands; gold tone seconds hand; gold tone chrono function buttons and crown.

Goldfinger 1964 printed on strap; 007 logo printed on loop.

The Spy Who Loved Me



YSG115G

James Bond:

For your eyes only is 007 collection watch
gold tone metal link bracelet accented with open arrowhead shape; gold tone case
black dial accented with a shooting target and four crystal bullet hole markers; gold tone hour hands; gold tone crown
water resistant up to 30 meters / 100 feet.

THE MAN WITH THE GOLDEN GUN


James Bond materials and stils from the James Bond films. Copyright 1962-2003 Danjac LLC and United Artists Corporation.All Rights Reserved. 007 and other Bond trademarks TM DanjacLLC. Eon Productions Ltd

The Man with the Golden Gun - Swatch
James Bond 007 40th Anniversary Collection!!

Super Agent 007 is pulled from a missing person case, in order to track down a legendary hit-man, using custom made Golden Bullets to silence his targets. The film is captured in the design of this Original Gent Swatch, featuring graphics of the film on the face and strap. Engraved on the band it says 'The Man with the Golden Gun 1974' as this watch is to commemorate the James Bond movie of the same name. The James Bond 007 registered trademark (with the gun) is engraved on the stay of the watch band. Great watch to wear or collect!

Functions & Features: Gold hands on silver watch face 100 feet water resistant Shock resistant Quartz precision Size of watch case is 1 1/4 inches in diameter


LICENCE TO KILL



James Bond 007 40th Anniversary Collection!!

Super Agent 007 is pulled from a missing person case, in order to track down a legendary hit-man, using custom made Golden Bullets to silence his targets. The film is captured in the design of this Original Gent Swatch, featuring graphics of the film on the face and strap. Engraved on the band it says 'The Man with the Golden Gun 1974' as this watch is to commemorate the James Bond movie of the same name. The James Bond 007 registered trademark (with the gun) is engraved on the sta
OCTOPUSSY







YLG115H


"Octopussy" is James bond 007 Collection
Gold hands and numbers
water resistant up to 30 meters / 100 feet

GOLDENEYE Swatch Uhr James Bond SUYB 102 Goldeneye






James Bond Swatch Skin Chrono, Quarzwerk, Stopfunktion, Kunststoffgehäuse, Lederarmband, Wasserdichtigkeit: 3 bar

Swatch Skin Chrono aus der James Bond Sonderkollektion. Mit nur 6,6 mm Gehäusehöhe der flachste Chronograph der Welt, Kunststoffgehäuse 37 mm Durchmesser, präzises Schweizer Quartzwerk mit Batterie, stoppt Minuten, Sekunden und 1/10 Sekunden, Messung von Zwischenzeiten, Lederarmband, wasserdicht bis 3 bar, 24 Monate Herstellergarantie

Swatch - SUYB102

Brand: Swatch
Model: SUYB102
Size: Men
Band: Brown patterned leather strap with black buckle
Case/Dial: Black plastic case, Gold-tone dial with 3 subdials
Description: Quartz movement, Chronograph, Black hands and gold-tone numbers, Water-resistant
WatchWidth: 3.9 cm







James Bond saker :
Goldeneye satelit klocka Kalmar
GOLDENEYE VÄSKA MED FILM ,CD,VIDEO
Bic tändare Goldeneye,mm

Poster ;Goldfinger,Goldeneye,
Official Albert R. Broccoli 007 Stage Clothing Sweatshirt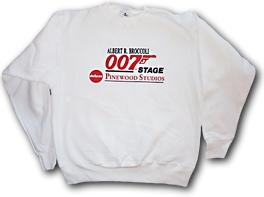 JAMES BOND SHOP NEWS
"Die Another Day" 007 Promo Minature Digital Camera
This is a Rare Promo Minature 007 Digital Camera with keychain attachment. this was given out in the premier in Germany & is a very rare item. Brand new & comes with original box.
PRICE $ 345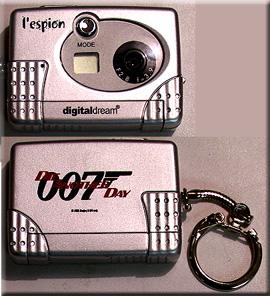 Copyright © 1959-2020 www.007Museum.com All Rights Reserved




James Bond 007 Museum Nybro, Sweden. www.007museum.com
Contact: 007museum@telia.com tel. +46-481-12960
Adress: James Bond 007 Museum, Emmabodav. 20 382 45 Nybro, Sweden 0481-12960

James Bond Materials© 1962 - 2020 United Artists Corporation and Danjaq, LLC. 007 Gun Logo© 1962 United Artists Corporation and Danjaq, LLC. 007 Gun Logo, Iris Logo,
JAMES BOND and all other James Bond related trademarks - Danjaq, LLC. All Rights Reserved. Copyright