Ian Fleming middag tillsammans med

James Bond
Gunnar Schäfer

Förrätt:


Scrambled ägg med bacon med smör salt och peppar a la` Ian Fleming.


Dricka Dry Martini, 2 koppar starkt kaffe.

Middag:
Liten lättstekt, Tournedos med sauce Bearnaise på en kronärtskocksbotten, beluga kaviar på vitt bröd.

Dricka Champagne Bollinger Speciell Cuve`, citronvatten.
Kommer från Casino Royale middag med Vesper 1953

Dessert:
Jordgubbar med vispgrädde och färska fikon.


Dricka: Champagne Bollinger RD.

Fotnot:
Middagen är hämtad från Casino Royales roman från 1953 samt Ian Flemings favoritfrukost och desserten kommer från Flemings böcker och filmer.
Ian Flemings favourite food was scrambled eggs
an Flemings favourite food was scrambled eggs
The 'Vesper' Martini (Fleming's choice) Den "Vesper" Martini (Fleming val)
3 parts Gin

3 delar Gin

1 part Vodka

1 del Vodka

1 part kina lillet 1 del Vermouth

1 Lemon wedge

1 Lemon k
Using a standard cocktail shaker and plenty of ice, vigorously shake until the drink is ice cold. Serve in a champagne goblet with a thin slice of lemon peel.
Scrambled egg with bacon in butter salt and peppar a la` Ian Fleming.
Break eggs into a bowl. Beat with fork and season with salt and pepper. In a small, heavy-bottomed pan, melt 4 oz. of the butter. Pour eggs and cook over very low heat, whisking with a small whisk.
When eggs are slightly moist and not quite how you'd want to eat them, remove pan from heat. Add remaining butter and continue whisking for 30 seconds, adding the herbs. Serve on hot buttered toast in individual copper dishes, with pink champagne.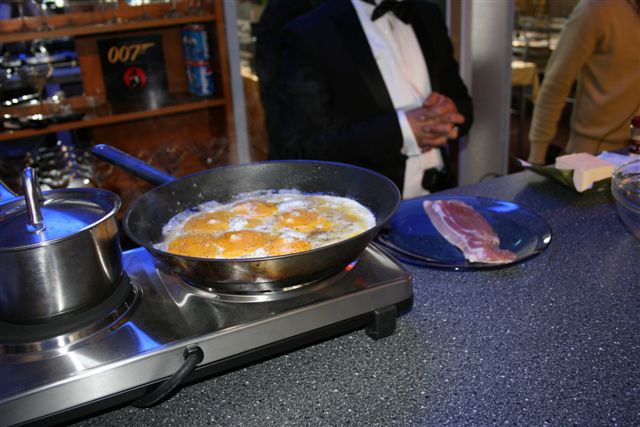 Ian Flemings dinner with James Bond.
From the book Casino Royale there's a scene in which Bond orders dinner at a posh hotel in France: caviar, "a very small tournedos, underdone, with sauce Bearnaise and a coeur d'artichaut. While Mademoiselle is enjoying the strawberries, I will have half an avocado pear with a little French dressing." Bond asks the maître d'hotel if he approves. The maître d' bows: "My compliments, mademoiselle et monsieur."

A travelogue of Fleming's French in Casino Royale ... tournedos, a small, round steak slice taken from the heart of the tenderloin ...