Skakad men inte rörd
Casino Royal. I kapitel 7 sitter Bond tillsammans med Felix Leiter i en bar. Det är då vår Bond beställer en Vodka Martini, skakad men inte rörd. Den skall bestå av följande ingredienser:
Serveras i ett djupt champagneglas dekorerad med ett citronskal.
Vilken vodka som skall användas anger inte Ian Flemming men man kan anta att det är en vodka gjord på säd, inte på potatis. I andra böcker påpekar nämligen 007 potatisens olämplighet vid vodkaframställning. Ian Flemming kallar denna drink "Vesper" efter Vesper Lynd.
Bland kännare är man oense om vodkan tillför eller förstör. Vissa säger att den dödar ginsmaken andra påstår att vodka är smak och luktlös och därför vare sig gör från eller till.
Aperitif eller Vermouth
Stämmer då Amis uppgifter om Kina Lillet som en aperitif? Det kan stämma men det kan också vara så att Kina Lillet är det gamla namnet på tillverkaren, båda uppgifterna finns.
Glaset
Varför då ett djupt champagneglas? Min teori är att öppningen på ett sådant är smalare än på ett vanligt Martiniglas och när man skakar drinken så bildas det luft i drinken som inte försvinner lika snabbt.
Skakad?
Varför över huvud skaka en Martini. Ja, till att börja med så gör detta drinken kallare och det vet alla som tagit en snaps att kallt brännvin är godare än varm. Skakar man en Vesper med is blir den kallare och godare.
| | |
| --- | --- |
| | 007 museum looks back at the literary roots of James Bond's world famous drink "the Vesper", better known as the vodka martini... |

James Bond's Vodka Martini
8th November 2006

If being the central character to the world's most famous and most successful film franchise is not enough, Ian Fleming's creation can lay claim to one other pop culture icon - the vodka martini. Now popular in bars throughout the Western world, and more so following the 2006 big screen adaptation of "Casino Royale" when 007 invents the drink, the vodka martini is as synonymous with 007 as the Walther PPK, the Aston Martin DB5 or the sight of a beautiful girl hanging off his gun arm.

James Bond first ordered his trademark drink when he met CIA agent Felix Leiter in an early chapter in Ian Fleming's debut novel "Casino Royale", first published in 1953:

'A dry martini,' he said. 'One. In a deep champagne goblet.'
'Oui, monsieur.'
'Just a moment. Three measures of Gordon's, one of vodka, half a measure of Kina Lillet. Shake it very well until it's ice-cold, then add a large thin slice of lemon-peel. Got it?'
'Certainly, monsieur.' The barman seemed pleased with the idea.
'Gosh, that's certainly a drink,' said Leiter.
Bond laughed. 'When I'm . . . er . . . concentrating,' he explained, 'I never have more than one drink before dinner. But I do like that one to be large and very strong and very cold and very well-made. I hate small portions of anything, particularly when they taste bad. This drink's my own invention. I'm going to patent it when I can think of a good name.'




Shaken Or Stirred?

The concept of "bruising the gin" as a result of shaking a martini is an oft-debated topic. The term comes from an older argument over whether or not to bruise the mint in preparing a Mint Julep. A shaken martini is different from stirred for a few reasons. The shaking action breaks up the ice and adds more water, slightly weakening the drink but also altering the taste.

Some would say the shaken martini has a "more rounded" taste. Others, usually citing hard-to-track-down scientific studies, say that shaking causes more of a certain class of molecules (aldehydes) to bond with oxygen, resulting in a "sharper" taste. Shaking also adds tiny air bubbles, which can lead to a cloudy drink instead of clear.

In addition the drink is a perfect aperitif - it cleanses the mouth before eating - and the tiny air bubbles restrict the gin (or vodka) from reaching all tastebuds. This is why purists would claim that a martini should always be stirred. Some martini devotees believe the vermouth is more evenly distributed by shaking, which can alter the flavour and texture of the beverage as well. In some places, a shaken martini is referred to as a "Martini James Bond".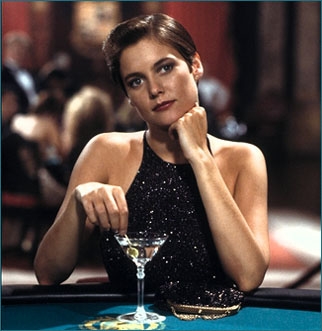 Carey Lowell as Pam Bouvier from Licence To Kill Shaken not Stirred
Shaken_not_stirred.AVI

007 has a refined repertoire when it comes to selecting his preferred poisons. Everyone knows the about his favourite "Martini, shaken not stirred", but how many people have sampled one, let alone know how to make one?

007 dusts off the cocktail shakers for a crash course in making sophisticated spy beverages, shaking - not stirring...
Drink Like 007
26th November 2002
"Bond, James Bond" started Sean Connery's silver screen presence as 007, but the character is perhaps more well known around the world for his favourite aperitif, the now infamous "Vodka Martini, shaken not stirred". Although you will never hear Roger Moore utter the line in any of his 7 films, the legend returned with Timothy Dalton, and now Pierce Brosnan, continuing to knock them back.
007 Vodka Martini

Film: Numerous

3 measures of Gordon's Gin
1 measure of Vodka
1/2 a measure of Kina Lillet

The literary 007 has his own Vodka Martini recipe:

Using a standard cocktail shaker and plenty of ice, vigorously shake until the drink is ice cold. Serve in a champagne goblet with a thin slice of lemon peel.
Mojito

Film: Die Another Day

1 shot of light rum
Half a teaspoon of sugar
Juice of half a lime
Sprigs of Mojito Mint

Bond and Jinx enjoy a Mojito in Cuba, now you can too:

Add all ingredients, fill glass with ice cubes, top up with soda or mineral water, and shake or stir well. Decorate with a sprig of Mojito Mint.
Mint Julep

Film: Goldfinger

2 oz. bourbon
5 to 6 mint leaves
1/2 oz. simple syrup

Straight from the bar of Goldfinger's Kentucky ranch:

Place mint leaves and sugar syrup in a Collins glass. Mash with the back of a spoon. Add 1 oz. of bourbon. Fill with crushed ice. Add remaining bourbon. Stir. Garnish with a mint leaf
Hur gör man en Bond Martini?
"Vodka Martini Shaken, Not Stirred" is a Bond trademark. "Vodka Martini skakas, inte Stirred" är en Bond varumärke. But how does he really take it and how can you make one? Men hur har han verkligen ta den och hur kan du göra en? Here is everything that you need to know about Bond's favorite drink, the Vodka Martini. Här är allt du behöver veta om Bond's favorit dryck, Vodka Martini. It is thought that Bond's liking for Vodka Martinis was lifted from Fleming's own drinking tastes. Det anses att Bond i smaken för Vodka t hävdes från Flemings egen dricka smaker.
Why does Bond like it Shaken and Not Stirred?

Varför Bond gillar det skakas och inte Stirred?
When a Martini is stirred with ice the drink ends up completely clear but Bond prefers the cloudy effect and the extra chill that is given when the mixture is shaken (The shaking breaks up the ice more). När en Martini rörs med is drycken hamnar helt klart men Bond föredrar molniga effekt och extra chill som är given när blandningen skakas (De skakar bryter upp isen mer).
The Bond Martini: Bond Martini:
3 measures of Gordon's Gin

3 åtgärder för Gordon's Gin
1 measure of Finlandia vodka 1 mått på Finlandia vodka

1/2 measure of Kina Lillet vermout

1 / 2 mått på Kina Lillet vermout
Shake it very well until it's ice cold, pour into a deep champagne glass. Skaka det mycket bra tills det är is-kallt, häll en djup champagne glas. Garnish with a large thin slice of lemon peel. Garnera med en stor tunn citronskiva skal.
Adding Up The Tab

Over the 22 films and 6 actors, 007 has clocked up quite a few bar tabs. But which incarnation of James Bond run the most risk liver failure?

| | | | |
| --- | --- | --- | --- |
| Actor | Films | Drinks | Average |
| Sean Connery | 6 | 29 | 4.83 |
| George Lazenby | 1 | 7 | 7 |
| Roger Moore | 7 | 29 | 4.14 |
| Timothy Dalton | 2 | 10 | 5 |
| Pierce Brosnan | 4 | 15 | 3.75 |
| Daniel Craign | 2 | 2 | 1 |

Only The Best

After a tough mission, what better way to unwind than to pop open a bottle of your favourite vintage champagne? 007 has switched brands over his cinematic appearances, initially preferring Dom Perignon, but more recently Bollinger.

Contrary to popular belief, Bond's favourite drink is champagne, knocking back 32 glasses in the 22 films (surpassing a measly 20 Vodka Martini's).