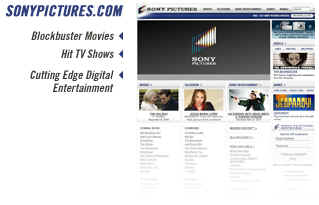 SonyPictures.com provides one of the most innovative platforms for partners to align their brands and products. Representing the full range of studio properties including movies, TV, home video and Pay Per View, Sonypictures.com spans a wide range of demographics and genres, while offering engaging entertainment content, games, sweepstakes with great Hollywood prizing, mobile applications, newsletter marketing and merchandising.
SonyPictures.com is widely supported throughout the company and the Sony Pictures URL is prominently displayed on the studio's movie posters, trailers, print ads, licensed merchandise and VHS/DVD boxes driving billions of offline impressions.
We're committed to working hand-in-hand with our partners to develop customized marketing programs that reach coveted audiences in new and unique ways including:



Innovative sponsorship of an Official film or TV website can include such elements as imbedded messages, product placement and ownership of unique, original content areas allowing brands to be seamlessly integrated into a site design to deliver both a creative and memorable impression.




By co-producing an online game, site or area, you'll be involved on the ground floor as we design and define creative content for the project. As a premiere developer of compelling entertainment, we're equipped to provide consulting and/or production services to facilitate the brand relationship goals you seek.



SonyPictures.com sweepstakes have been extremely effective for partner database capture. Opportunities also exist for partner opt-ins in other promotional areas. Sponsorship opportunities may also include opportunities to host certain Sony Pictures entertainment content and applications on your site as a direct offering to your established user base.

Representerar hela skalan av studio egenskaper inklusive filmer, TV, video och pay-per-view, Sonypictures.com omfattar en lång rad av befolkningsutvecklingen och genrer, samtidigt som engagerande underhållning, spel, tävlingar med stora Hollywood prizing, mobila applikationer, nyhetsbrev marknadsföring och varuexponering.

SonyPictures.com har ett brett stöd i hela företaget och Sony Pictures webbadress är väl synlig på studions film posters, trailers, tryckta annonser, licensierade varor och VHS / DVD-boxar kör miljarder offline visningar.

Vi är fast beslutna att arbeta hand i hand med våra partners för att utveckla skräddarsydda program för marknadsföring som når eftertraktade målgrupper i nya och unika sätt bland annat:




Innovativa sponsring av ett nummer av film eller TV webbplats kan innehålla sådana element som inflikade meddelanden, produktplacering och ägande av unika, det ursprungliga innehållet områden gör det möjligt för varumärken att vara smidigt integreras i en webbplats design för att leverera både en kreativ och minnesvärt intryck.




Genom att producera ett online spel, plats eller område kommer du att vara delaktiga på bottenvåningen som vi utforma och definiera kreativt innehåll för projektet. Som ett ledande utvecklare av tvingande underhållning, vi är utrustade för att erbjuda konsult-och / eller produktion tjänster för att underlätta varumärke förhållandet mål du söker.




SonyPictures.com tävlingar har varit mycket effektiv för partner.
Möjligheter finns även för partner opt-ins i andra PR-områden. Sponsring möjligheter kan även innefatta möjligheter att vara värd för vissa Sony Pictures underhållning innehåll och program på din webbplats som en direkt erbjuder sig att din etablerad användarbas.