Bond. James Bond.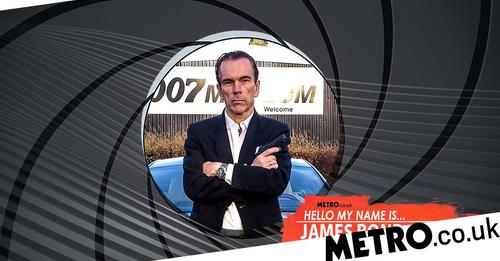 Itís an iconic catchphrase from one of the highest grossing film franchises in the world - not to mention acclaimed books, TV shows, comics and even radio broadcasts.
But imagine hearing it almost every day whenever someone finds out what your full name is. Thatís the reality for three men named James Bond that Metro.co.uk spoke to on the back of film, The Other Fellow, that all three star in.
Here, they talk about what itís like to navigate life in the shadow of the most famous British Secret Service agent in the world.
Bond James Bond, 65
Sometimes when I get mail in the post, I cry.
Itís not because of the content of the letters though, itís because I see the name that itís addressed to and I get emotional.
My name is literally: ĎBond James Bondí. I legally changed it from Gunnar Schšfer to that in 2007 because the fictional international spy means so much to me.
In fact, I consider James Bondís creator, Ian Fleming, a father figure. It feels like heís been there for me throughout my life when my own biological dad left me and my family two years after I was born.
I have absolutely no memories of my dad. He abandoned my mother, two older brothers and I one day but didnít tell anyone. To this day, no one knows where he ended up, but an Interpol search later declared him dead by 1969.
It was really hard for my mother raising three children alone. She did her best, but I always felt lost without a paternal figure to look up to.
Then, my big brothers took me to watch Goldfinger in 1965 at the age of eight. I was immediately drawn to Sean Connery as James Bond, who played the character as this tough, harder guy getting among all the action.
I was hooked on the franchise after that. I actually got a little toy Aston Martin with an ejector seat at the time, which I still have today.
From that moment on, I consumed anything and everything related to James Bond. I went to my local library and read all of Flemingís books, which werenít all that different to each other Ė but I couldnít get enough.
I have followed the authorís life Ė and the wider franchise Ė very closely throughout my own. Iíve seen every film, from Sean Connery to Daniel Craig. Besides the nostalgia of 1964ís Goldfinger, one of my other favourites is actually Daniel Craigís Skyfall (2012) because I feel like there are similarities with my own story.
James Bond visits Skyfall Lodge, his ancestral home where his parents lived before their untimely deaths. I felt like I was watching myself on screen trying to figure out what happened to my own father.
On top of consuming all the films, TV shows and films, I also started collecting memorabilia too. In fact, I had so many artefacts that I opened a museum in 2002 Ė the same year Die Another Day came out Ė called the James Bond 007 Museum, Nybro, in Sweden.
In it, I have my vast collection of cars, clothes, film set props, toys and even vodkas. Some of it can be quite expensive, but to me, itís priceless.
I love the motorcycles I have from No Time To Die and the hovercraft from Die Another Day. But one of my absolute favourites is the motorised 12 metre-long gondola I got from 1979ís Moonraker.
In the film, Roger Moore is chased through the canals of Venice and I just thought that was so cool. It actually took me 10 years before I got approved by the government there to buy it and to take it with me back to Sweden.
Changing my name in 2007 felt like a full circle moment to honour the impact of both the franchise and Ian Fleming on my life. It means the world to me to have the same name as my idol.
People ask if I regret it, and the truth is, not at all. James Bond comforted and helped me while I was growing up, it feels right that Iíve devoted my life to it.
I have travelled the world to see as much as I can in relation to this life-changing spy and actually, itís brought many people to me in Sweden too. Iíve met enthusiasts from all over the world Ė from places like New York, Jamaica, New Zealand and France.
Thatís the power of James Bond Ė he connects us to each other. And Iíll forever be grateful to Ian Fleming for transporting me into this world.
A few years ago, I visited the authorís grave in Swindon and was overcome with emotion. It was very calm and peaceful to visit but all I could think was: ĎThis is the closest I can get to my dad.í